2022 Acura NSX Specs, Price, MPG & Features
The 2022 NSX sports vehicle is Acura's flagship, not a vast sedan or even a well-equipped full-size SUV. There's no need to upset your neighbors with the sound of your idling as you pass through your neighborhood, thanks to the system's twin-turbo V-6 and three electric motors. The McLaren 570S and Mercedes-AMG GT, both of which cost about the same, have sharper handling and greater raw power. Still, the Acura NSX is more tolerable daily. Of course, there are drawbacks, such as the NSX's old interior and outdated infotainment system and its lack of internal storage space.
We have both good and terrible news to report. For those hoping for a 600-hp version of the twin-turbo V-6 hybrid engine, the 2022 NSX will be available with the coveted Type S badge. Standard. The bad news is that the NSX will be retired in 2022, and just 300 will be sold in the United States. New front-end design and Type S badges accompany the 2022 model's boosted powerplant.
2022 Acura NSX Specs
MSRP: $ 171,495
Drive Train: All-Wheel Drive
Engine: 3.5 L Twin Turbo Gas/Electric V-6
Horsepower: 600@6500
Torque: 492
Transmission: 9-Speed Auto-Shift Manual w/OD Transmission
Fuel Mileage: 21 mpg in the city, 22 mpg on the highway, and 21 mpg combined
Length: 178.5 inches
Width: 76.3 inches
Height: 47.8 inches
Wheelbase: 103.5 inches
2022 Acura NSX Exterior Color Schemes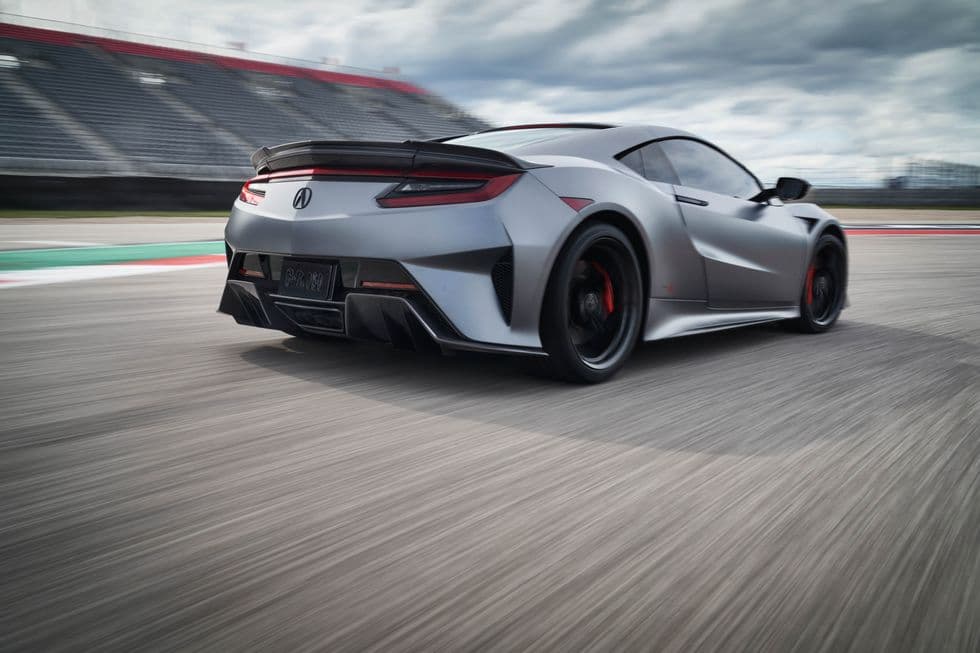 The 2022 Acura NSX's proportions have been governed partly by its mid-engine arrangement, which is good since it remains Acura's most striking vehicle. However, it lacks the glitz (or gaudiness, depending on your point of view) of Italian supercars, which are aggressive, contemporary, and designed for high-speed driving. The base package includes Jewel Eye LED headlights, power pop-out door handles, forged alloy wheels 19/20 inches, power-folding side mirrors, and LED taillights. There is an option for a carbon-fiber roof panel and a carbon-fiber spoiler.
To get the look of the 2022 Acura NSX GT3 Evo racing vehicle, we took some cues from the diffuser on this car. The rear of the Type S has a more prominent carbon fiber diffuser and more angular air intakes. A standard carbon-fiber roof and a rear decklid spoiler made of the same material complete the sporty look. Mirrors in Berlina Black with Type S decals.
Colors for the Outside
The second-generation 2022 Acura NSX, with its supercar dimensions, is a head-turner no matter what color it is painted in. Berlina Black, Nord Gray Metallic, and Source Silver Metallic were some of the most ominous colors available when it initially launched. Valencia Red, Nouvelle Blue, and Curva Red were just some of the most eye-catching colors available. Casino White and 130R White were also featured in the original color palette. Nord Gray was dropped in favor of the blazing-hot Thermal Orange Pearl in 2019. Long Beach Blue and Indianapolis Yellow were added to the lineup for the next two model years. The exclusive Gotham Gray with a matte finish was introduced to the Type S of the NSX. There will only be 70 of these 2022 Acura NSXs built in this color. Therefore its scarcity will further increase the car's value in the future.
Performance of the 2022 Acura NSX's Engine and Transmission
The 2022 Acura NSX can undoubtedly satisfy your need for speed. Still, it can't compete with the Audi R8 or the McLaren 570S in terms of performance. Even with the 573-hp version of its hybrid drivetrain, it still accomplished a 3.1-second sprint from 0 to 60 mph in our tests. In terms of performance, Type S's 600-hp hybrid-electric engine is expected to outperform the conventional vehicle. Still, we haven't had an opportunity to put it through its paces yet. Its electric-only Quiet mode provides it an advantage over its competitors: privacy. V-6, 9-speed dual-clutch automatic gearbox, and one of the electric motors work together to provide rear-wheel drive. " The NSX has an all-wheel purpose because of the two additional electric motors that drive the front wheels. The NSX's steering is light and direct in both Quiet and Sport modes, which we believe is an effort to make the car more usable in everyday situations.
The electric power steering system adds more weight to enhance performance in Sport Plus and Track modes. No matter what the driver chooses, the car's steering is precise and responsive. On the other hand, such a system seems out of place on a vehicle with this level of performance aspirations.
In-Real-World MPG & Fuel Economy for the 2022 Acura NSX
A hybrid car like the Acura NSX is more efficient in city traffic than a gasoline-only vehicle, which is true of all hybrids, including the 2022 model. The 2022 Acura NSX achieved a respectable 23 mpg in our real-world highway fuel-economy test, exceeding its EPA figure marginally but lagging below its non-hybrid competitors. An EPA city rating of 21 mpg is seven mpg better than the Audi R8 V-10. On the interstate, the Porsche 911 Carrera 4S comes out on top, with a 28-mpg rating above the NSX's 22-mpg highway rating; the NSX is rated for 21 mpg city. Visit the EPA's website to learn more about the NSX's fuel efficiency.
The Acura NSX's 2022 Infotainment and Connectivity System
The standard 7.0-inch touchscreen infotainment system has integrated navigation and is connected to an ELS Studio nine-speaker audio. Like other aspects of the interior, the touchscreen system is based on the touchscreen systems seen in lower-priced Acuras and Hondas, and we have the same reservations about them. As a result, we considered the system's user interface antiquated and unintuitive. This is made much more difficult by its lack of unnecessary buttons and the ungainly touch-sensitive volume slider that makes exact changes impossible.
Interior of the 2022 Acura NSX
Alcantara, leather, and other high-quality materials fill the interior, both large and comfy. A unique Alcantara headliner and specifically embroidered Type S emblems distinguish the Type S from the rest of the lineup. The frontal view is superb, and there are no significant sacrifices once seated. The cabin of the 2022 Acura NSX, on the other hand, is now more accessible thanks to the vehicle's lower starting price of $170,000. The car doesn't seem unique as some of its rivals in this market, and there are too many parallels to regular Acura sedans from this viewpoint to make it stand out. There are various issues with the infotainment system, including the lack of tactile volume control. Several standard amenities include parking sensors, dual-zone temperature control, and power-adjustable front seats.
Interior Space and Seating
Driver and passenger will enjoy their time in the NSX's two seats. Compared to a mid-size automobile, there are 42.9 inches of legroom. Although the headroom isn't lavish, our six-foot-one-inch tester didn't experience any discomfort. That also implies that track day warriors in the 2022 Acura NSX won't have any issues donning a helmet. Hip and shoulder space, which is abundant in this supercar, is essential for a comfortable ride. The NSX has adequate elbow space for drivers and passengers to avoid irritating each other over long distances despite the small center console. Despite its broad door sills, which owners must learn to keep clean if they want to avoid wearing muddy trousers, skirts, or dresses, it is also simple to enter and exit.
Colors and Materials in the Interior
A blend of semi-aniline quality leather and Alcantara covers the sports seats in the 2022 Acura NSX model. With a leather-wrapped steering wheel and dashboard, aluminum sport pedals, contrast stitching on door panels, and an Alcantara-covered glovebox lid, the inside of the car is sporty but not overly so. The Type S receives an Alcantara headliner, and a Type S badge stitched on the glove box. Depending on the model, you may choose from various interior color schemes in the following hues: indigo, ebony, orchid, saddle, and red. While the basic 2022 Acura NSX is available in Milano leather, the Type S is only available in semi-aniline leather. The Milano leather option is only available in the Type S. Lighter. The manually adjustable chairs are also available on the base model.
The trunk and cargo area of the 2022 Acura NSX
The NSX's cargo space has a capacity of only 4.4 cubic feet, making it difficult to call it a trunk. Only two smaller bags will fit between the rear bumper and engine compartment in this area. Because of its proximity to the engine, this little trunk compartment is prone to heat accumulation, making it unsuitable for some food items. NSX's frunk is gone since the two electric motors eat all the area in front.
Only a glovebox and a tiny multi-function console between the seats provide much-needed storage space inside the vehicle. Cupholders can be detachable. However, this takes up room on the passenger side of the interior, which isn't ideal.
Frequently Asked Questions
Is the Acura NSX 2022 a Satisfying Automobile?
Despite being an excellent premium sports vehicle, the 2022 Acura NSX is not a great deal. The NSX is equipped with a powerful V6 hybrid engine that delivers exhilarating acceleration and a comfortable ride. The NSX's interior is spacious, the seats are comfy for extended periods, and the guarantee is longer than others. A few things should be improved on the NSX, such as a shoddy interior and a small trunk.
What's New for the Acura NSX in 2022? 
The Type S version of the NSX will be the last model year of manufacturing for the mid-engine sports car, and it's going out with a bang. Acura claims the Type S's powertrain now produces 600 horsepower, a 27-horsepower increase over last year's model. The gearbox has been upgraded to make quicker upshifts. Pirelli P Zero tires, a carbon-fiber diffuser, a carbon-fiber top, and new wheels are among the other updates. An Alcantara headliner, contrast stitching, and an embroidered Type S emblem on the glove box adorns the inside of the Type S. Only 300 units will be sold in the United States.
How Fast is the 2022 Acura NSX?
As one of the most powerful sports cars on the market, the Acura NSX Type S can reach 60 mph in under 2.9 seconds from a standstill! NSX's peak speed is 191 mph, so you'll need a runway to drive it.
Is All-Wheel Drive Available on the NSX?
All-wheel drive is standard on the NSX Type S. Unlike its rivals, the Nissan GT-R has all-wheel drive as standard equipment, unlike the Porsche 911 and Audi R8.
NSX Seating Capacity: How Many People?
For mid-engine sports cars, getting in and out of the NSX may be a challenge. It has two doors and two seats, and it will be on sale in 2022 as the Acura NSX. In addition to being comfortable, the seats provide plenty of space for drivers and passengers who are taller. The car has excellent forward and side vision with its low-slung roof and thin roof pillars, while the rear sightlines aren't overly constrained. The cabin is addition to muffling road and wind noise.
Leather upholstery with Alcantara trim and heated and power-adjustable seats are standard. It's possible to get a full-leather couch.
Is the 2022 Acura NSX an all-electric vehicle?
With its 600 horsepower hybrid-electric engine combining a dual turbocharged 3.0-liter V-6 with three electric motors, the Type S is expected to be faster than the standard NSX. However, we haven't had an opportunity to test it.
Can we expect another NSX from Acura?
According to a new interview with Acura Vice President and Brand Officer Jon Ikeda in The Drive, the NSX will be available in electric form after 2022.
Conclusion
Following up on the original 2022 Acura NSX is a difficult act to follow in the world of second acts. The second-generation Acura NSX, however, looks like it can live up to the original's 'New Sportscar Experimental' designation when you pack a 3.5-liter twin-turbocharged V6 in the middle and augment it with three electric motors to produce 573 horsepower in base form or 600 hp in range-topping Type S guise.
The second generation of Japanese supercars will be phased out in 2022. However, the 2022 Acura NSX is made in the United States. Acura's Super-Handling All-Wheel-Drive system has distributed torque to all four wheels for many years, while a quick-shifting nine-speed dual-clutch gearbox has controlled the combustion engine. The SH-AWD system generally delivers a degree of grip and handling for high-end sports cars with European emblems and a tight, well-balanced chassis.
There are flaws to the new Acura NSX for 2022. While it has a lot of drama on the road, it doesn't have some gasoline-powered rivals, such as the Ferrari F8 Tributo. For $171,495, you get a lot of automobiles for your money. However, some may be disappointed with the inside quality of a 2022 Acura NSX. For now, we're left wondering if the hybrid sequel to the original platinum-selling record will go down in history nearly as well as it did with the original.