2022 Chevrolet Silverado 3500HD: Check Features and More
The new Silverado 3500HD outperforms its predecessor in terms of rigidity and strength, and it also has an increased capability over its predecessor. Customers who choose for the Duramax diesel V-8 get a ridiculously broad torque curve as well as an ingenious 10-speed automatic gearbox that skillfully maintains the engine in its optimal operating range at all times. Because there is never a lag in throttle response, and power is always instantly accessible, driving this vehicle in traffic is a more comfortable experience.
2022 Silverado 3500HD Specs
MSRP: $37,500
Seating Capacity: 2 seater
Engine: 6.6-liter
Horsepower: 401 hp
Torque: 464 lb
Fuel economy: 15 mpg
Length: 250.0 in.
Width: 81.9 in.
Height: 80.9 in.
Wheelbase: 158.9 in.
Silverado 3500HD Engine and Transmission Options
Buyers of the Silverado 3500HD have the choice between two different powertrain configurations, each of which comes standard with rear-wheel drive and has the option of adding all-wheel drive. The base model is equipped with a six-speed automated transmission and a 6.6-liter gas V-8 engine that generates 401 horsepower and 464 pound-feet of torque. The power is delivered by the engine through the transmission. When it comes to ultimate power and torque for pulling stumps, though, the diesel is the way to go almost every time. This alternative is a 6.6-liter turbodiesel V-8 that, when paired with a 10-speed Allison automatic transmission, generates 445 horsepower and 910 pound-feet of torque.
Also Check: 2022 Chevy Colorado Specs, Price, MPG & Features
Towing and Payload Capacity
The top-of-the-line 3500HD is the vehicle to have if you're looking for maximal capability, and the limitations of that capability are quite high. Towing capacities for gas-powered configurations reach a maximum of 16,800 pounds (long box, conventional cab, 4WD) and 17,200 pounds when equipped with a gooseneck (regular cab, long box, RWD). To give you an idea of how much more competent the diesel is, it can pull up to 36,000 pounds when equipped with a gooseneck hitch and up to 20,000 pounds when using a standard hitch.
Cab Options and Interior Space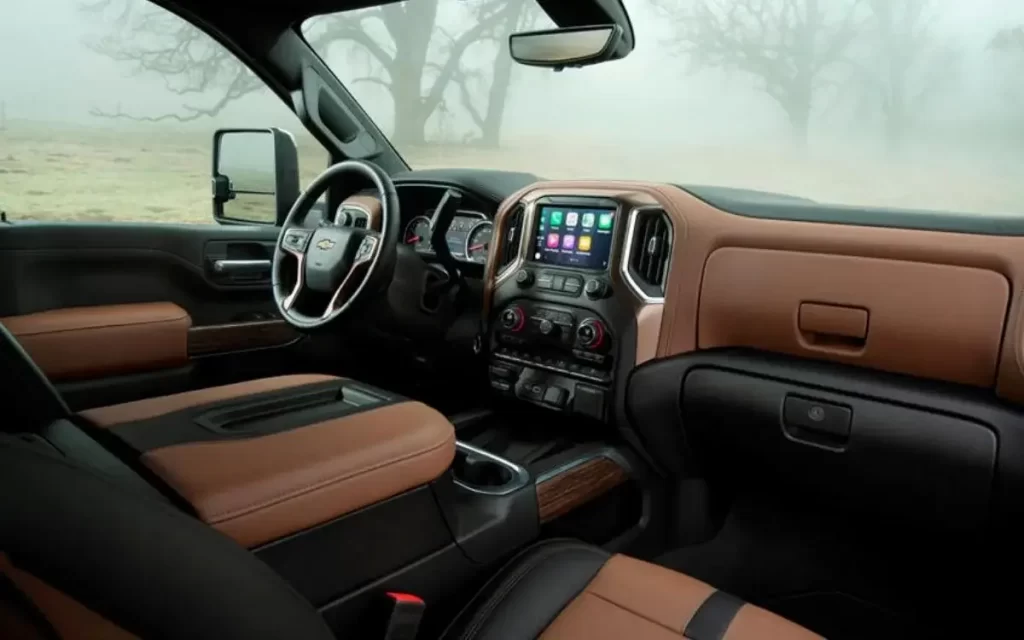 There are three different cab configurations available for the Silverado 3500HD: normal, double, and crew. The regular-cab truck has seating for three people on a front bench, with legroom measuring 44.5 inches and headroom measuring 43.1 inches. Both the double- and crew-cab variants provide accommodation for six passengers, with back legroom measuring 35.2 and 43.4 inches, respectively. The double-cab truck has rear headroom measuring 39.9 inches, while the crew cab has rear headroom of 40.1 inches.
Also Check: 2022 Chevy Malibu: Check Features and More
2022 Silverado 3500HD Technology
There is no such thing as a Silverado 3500HD without a touchscreen infotainment system that is compatible with both Apple CarPlay and Android Auto. Displays measuring 7.0 inches may be found on lower trim levels, whereas displays measuring 8.0 inches can be found on LT versions and higher. The audio system in the Work Truck trim only has two speakers, while the other trims receive a six-speaker arrangement, and the highest-level High Country comes standard with a seven-speaker Bose system. The Work Truck trim is the only one that comes with just two speakers. The screens on the instrument cluster can range in size from 3.5 to 8.0 inches.
Silverado 3500HD Trim Levels
There are four different trim levels available for the Chevrolet Silverado 3500HD, and they are denoted by the letters WT (Work Truck), LT, LTZ, and High Country. A dual-rear-wheel layout is only available for those vehicles that have the available extended bed as an option. The cost of a rear-drive, regular-cab, regular-bed WT will be around $38,000. This will provide you big-time capacity for as little money as feasible. Having said that, a High Country model with four-wheel drive, a crew cab, a long bed, diesel powertrain, High Country Deluxe package, and 20-inch wheels would set you back more than $80,000.