2022 Chevy Colorado Specs, Price, MPG & Features
The Chevrolet Colorado semi pickup truck offers front or four-wheel drive and seating for five. A 6-foot-2-inch bed is standard on the crew and extended cab models; the 5-foot-2-inch and 6-foot-2-inch bed options are available on the latter. This vehicle has a choice of three engines: a 2.8L turbodiesel with 181hp, a 2.5L four-cylinder that produces 200hp, and a 3.0L V6 that produces 308hp. Six-speed automatic transmissions are standard on the four-cylinder and turbo diesel engines. In contrast, an eight-speed automatic is available for the gas V-6.
In terms of off-roading, the ZR2 and Bison models should be on your radar because of their superior heavy-duty suspension, larger track width, and aggressive design. Toyota Tacoma, Nissan Frontier, and Ford Ranger are Colorado's main rivals. The GMC Canyon and the Chevrolet Colorado are mechanically identical.
2022 Chevy Colorado Specs
Price: $26,930
Engine: 3.6 L Gas V-6
Seating Capacity: Four Seater
Drivetrain: Four Wheel Drive
Transmission: 8-Speed Automatic Transmission
Horsepower: 308@6800
Torque: 275@4000
Fuel Efficiency: 17 MPG in the city, 24 MPG on the highway, and 19 MPG combined
Length: 212.7 Inches
Height: 70.3 Inches
Width: 74.3 Inches
Wheelbase: 128.3 Inches
New for the year 2022?
For 2022, the exclusive update to the Chevy Colorado lineup is the new merchant Trail Boss package. Although it's not as severe as the ZR2's set-up, it improves the LT and Z71's off-road performance. The package includes a 1.0-inch rise in the suspension and skid plates bolted forward and centre of the vehicle's undercarriage. Black 17-inch rims based on the ZR2 model are also included, with red tow hooks, a black front air dam, and black exterior emblems.
The Trail Boss Package, available for the 2022 Chevy Colorado LT and Z71, enhances the SUV's off-road performance. There have been no significant changes to the Colorado pickup truck lineup since it was introduced in 2015.
Also Check: CHEVY TRAVERSE 2022 – RESERVE NOW
Mechanics, Engine, and Transmission
For those who want more power, Colorado has a choice of three engines: a standard 4-cylinder with six-speed automated, a potent 308-horsepower 3.6-liter V-6 with just an eight-speed automatic, or an astonishing 369 pound-feet of torque from Colorado's 2.8-liter turbodiesel four-cylinder engine. While the V-6 and diesel are terrific dancing partners for Colorado, the basic 2.5-liter four-cylinder is feeble and surly. In our tests, we found that both diesel and gasoline V-6s can provide excellent service. The diesel-powered ZR2 crew cab falls short of the V-6-powered LT model's 6.1-second time to 60 mph, clocking in at 9.1 seconds. The diesel is the best option for maximum hauling, backcountry hiking, and fuel efficiency.
The pickup does not excel in terms of straight-up performance. Only 200 horsepower & 191 lb-ft of torque are generated with the standard engine. Even with this, the Colorado pickup won't be able to handle any heavy lifting in town, much alone out in the country! In comparison, the V6 is more powerful and accessible across the whole lineup. With 308 horsepower and 275 pound-feet of torque, acceleration is smoother, but the truck's 0-60 mph sprint speeds will never be athletic. However, according to independent testing, the V6 can propel the four-wheel-drive vehicle to 60 mph in a little over seven seconds, which isn't terrible. The drawback of any of the gasoline engines is the restricted towing capability they have. Using a typical trailer, the four-pot can tow up to 3,500 pounds, while the V6 can tow up to 7,000 pounds.
Capacity for both towing and hauling
Adding the Trailering Equipment option increases Colorado's max towing capacity from 7,000 to 7,700 pounds. At 3500 pounds, the standard four-cylinder engine in Colorado is capable. All Colorados come equipped with trailer-sway control, which applies the brakes to the truck and the trailer if the system detects the latter is swaying significantly.
Exterior for the Chevy Colorado in 2022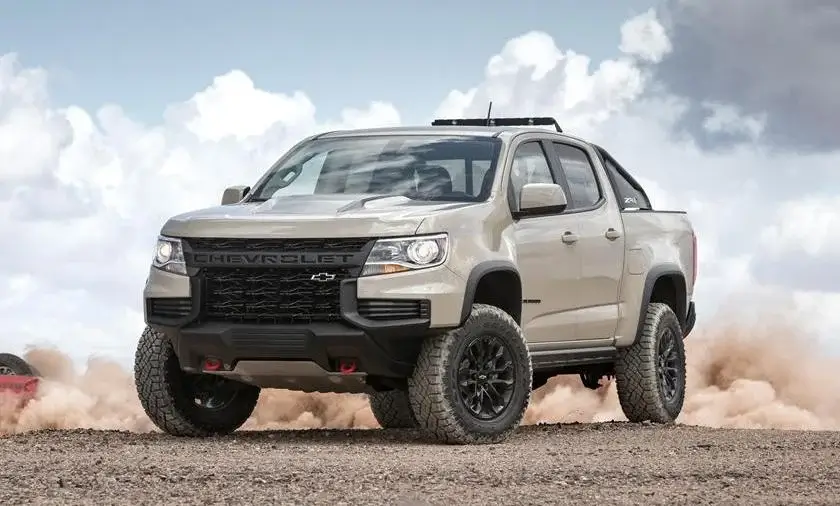 The Colorado pickup's design has always been straightforward, but the most recent update leaves no room for debate. The vast middle bar holding a Chevy golden bowtie adorns the front fascia, making it bold and assertive. The bar separates and defines the ridged black grille between the massive, blocky headlights and the daytime running lights. On the primary WT and LT, they are halogen bulbs, whereas, on the Z71 and ZR2, they are projectors. The Z71 and later models have fog lights as standard equipment. An aggressive black bowtie, a significantly more extensive grille, and distinctive badging distinguish the top-of-the-line ZR2 from the Z71. Wheels on the WT are 17-inch silver-painted steel, while those on the LT are 17-inch alloys. On the other hand, the Z-trims only come with 17-inch alloy wheels and are not available with either 18-inch or 19-inch wheels. You may also choose between an extended or crew cab and a short or long cargo bed for your vehicle's external appearance.
Also Check: 2022 BMW M8 Specs, Price, MPG & Features
The inside of the 2022 Chevy Colorado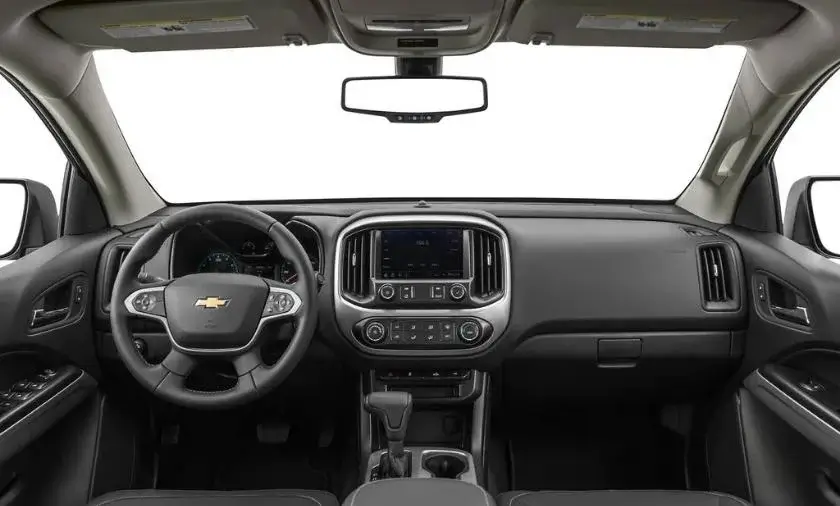 In the Chevy Colorado's interior, things are kept quite basic. However, if you're looking for a simple, practical vehicle, you may want to look elsewhere. The controls are within easy reach of the driver, and the car is built to withstand the rigors of everyday use.
Long-distance highway travel is possible thanks to the sturdy and comfy front seats. Depending on your chosen taxi, you may or may not be able to sit in the rear. There isn't much back-seat room in an ordinarily extended cab; it's more suited for tools and supplies than people.
Additional room in the back seat is essential if you're often transporting people. However, most crew cab trucks throughout this class have more space in the rear than this vehicle.
Real-World Mileage and Fuel Economy
Topping out at 19 mpg in city driving and 25 on the interstate, Colorado's four-cylinder engine's EPA ratings aren't something to write home about. As of this writing, the V-6 can get up to 18 mpg in town and 25 mpg on the open road. The six-cylinder Chevy Colorado crew cab scored 23mpg on our 75mph highway fuel economy route. The most efficient powertrain in the class is the rear-drive diesel, which can get up to 20mpg in the city and 30mpg on the highway.
Also Check: 2022 Infiniti QX80 Specs, Price, MPG & Features
Cargo and Comfort
Drivers used to large pickup trucks will like Colorado's comfortable and roomy interior. Suppose you're looking to fit more than two individuals in the optional crew cab's back-seat, though. In that case, you'll have to make do with cramped seating and shoddy inside materials. The crew cab's back seat has a large storage compartment and a deep bin in the center console. Colorado's cabin holds 11 carry-on luggage, compared to Honda Ridgeline's 18; nevertheless, its two spacious cargo beds may handle more items. There is no way the Ridgeline can match Colorado's 41 cubic feet of short or 50 cubic feet of long box space. Although the Toyota Tacoma has slightly more cargo space than the Honda CR-V, with a short-bed capacity of 38 cubic feet and a long-bed capacity of 47, Colorado takes home the prize for the enormous cargo bed.
Connectivity and Entertainment
The Chevrolet Entertainment news 3 Premium system, a Wi-Fi hotspot, and two intelligent touchscreens keep Colorado at the top of the market regarding in-vehicle technology. Apple CarPlay and Android Auto are available on the truck's 8.0-inch displays. At the same time, the cheapest model has a 7.0-inch touchscreen with Bluetooth music streaming for two devices. Adding telepathy to MyLink would be the only way to enhance the user experience.
These Are the Features You Can Expect To Find
The basic WT trim of Colorado has a minimal list of standard amenities. However, this old-school, simple workhorse is equipped with a few contemporary conveniences. Even a 7-inch color touchscreen with Bluetooth, Android Auto, and Apple CarPlay is included as standard in the infotainment system. The WT model has air conditioning, SiriusXM, a teddy bear mode, a driver information display, and power door locks and windows.
Frequently Asked Questions
Just how cozy is it inside the Chevy Colorado?
Colorado's ride quality is superior compared to other vehicles in its class. It can easily handle both major bumps and minor fractures. Drivers who are used to driving pickups should be able to alter the seats' temperature and position. The front seats are supportive and well-shaped, although they may be too small for drivers who are taller than average. The backrest of the rear bench is a little too high, making it uncomfortable to sit on. The heated seats and steering wheel are functional and straightforward to use.
Getting in and out of Colorado may be challenging for some since the car is high and there are optional stairs. Entry into the back of the vehicle will be more difficult since the door apertures are smaller. Even in the crew cab, there's a lack of legroom in the rear, with the front seats taking up most of the vehicle's interior space.
Is the Chevy Colorado a good truck??
The Chevrolet Colorado is indeed a decent pickup. It features strong V6 and diesel engines, a smooth ride, and better handling than you'd expect from a tiny pickup truck. In addition to being one of the greatest trail runners in its class, it features a class-leading towing capacity. The front seats and the infotainment system have plenty of legroom and comfortable headrests.
Is the Chevrolet Colorado Right for Me?
You should at least look at Colorado since it has a lot going for it and is priced competitively with its peers. Because truck consumers are famously brand-loyal, you probably won't find any incentive to buy this Chevy over a Ford Ranger or a Toyota Tacoma. However, if you're just getting started in the category, Colorado is an excellent pick.
Conclusion
Customers who desire the functionality of a typical pickup but don't need the extra space of a full-size truck will find it in the 2022 Chevrolet Colorado. The mid-size Chevrolet Colorado is simpler to drive. It has an impressive towing capability of 7700 pounds compared to the Chevy Silverado 1500's larger back seat and a towing capacity of half a ton. The 308-hp V-6 and 369 pound-feet of torque from the diesel option make this vehicle a pleasure to drive, despite its simple basic engine. No amount of horsepower can compete with the ZR2's brute force. Still, Chevy's oil-burning engine has a superior driving experience and is more fun to drive. The lack of driver aid technology and the cabin's cheap appearance detract from Colorado's comfortable driving position and robust infotainment system. Still, both flaws should be less off-putting to consumers opting for a more traditional truck experience.