2022 Honda Insight Specs, Prices, MPG & Features
The Civic hybrid's spiritual successor will be the 2022 Honda Insight. Although it has the exact dimensions and styling as Honda's small car, the Insight is quieter at low speeds. It gets higher gas mileage thanks to its gas-electric hybrid drivetrain—the Civic's in addition to a smooth ride and a nice cabin. The Insight is an enjoyable sedan that doesn't cost much more than non-hybrid competitors and saves you money at the pump, although acceleration is a little sluggish.
Honda cancelled the Insight in 2014 because it was a clumsy hatchback. A sleek sedan version of Insight is now available for those looking for an alternative to the Toyota Prius. Other mainstream hybrid vehicles like the Hyundai Elantra Hybrid, Kia Niro, & Toyota Corolla Hybrid are competitors for Insight.
In 2022: What's Different?
The most significant change for 2022 is the elimination of the basic LX trim. That implies that the EX is the first model in the list, while the top Touring version remains intact.
There are no significant changes to this year's Honda Insight hybrid-electric car. However, it is no longer available in the lowest LX variant. As a result, there are just two versions available, each with a single drivetrain and no add-ons.
Also Check: 2023 Honda HR-V Debut with Its New Look
2022 Honda Insight Specs
MSRP: $26,855
Seating Capacity: five Seater
Drive Train: Front-Wheel Drive
Engine: 1.5 L Gas/Electric I-4
Horsepower: 151@6000
Torque: 99@5000
Transmission: Continuous Variable Transmission
Fuel Mileage: 51 mpg in the city, 45 mpg on the highway, and 48 mpg combined
Length: 183.6 inches
Width: 71.6 inches
Height: 55.6 inches
Wheelbase: 106.3 inches
Mechanics, Engine, and Transmission
When it comes to fuel efficiency and performance, Insight outperforms most other hybrids. Even though it's a hybrid, it's faster than any other tiny vehicle we've tried. To go from zero to 60 in 7.7 seconds, the Insight combines a gas engine & electric motors to generate 151 horsepower. It has a one-mile range of electric power alone at modest speeds. Still, if you ask for quick acceleration, the gasoline engine automatically kicks in.
Taking the Insight for a spin is an exhilarating experience. It is stylish, soft, and comfy, and it handles well. That's no surprise, given that it shares many technical characteristics with the Civic sedan. The Insight's motor is quiet and smooth, although it may grow noisy under rapid acceleration. The Insight's ride and handling are excellent, even though it isn't outwardly sporty. Its supple suspension and quick steering allow it to react quickly to bumps in the road.
Insight's brake pedal is reliable and progressive, and it lacks the clunkiness of other hybrids' brakes. The brakes on the Insight are equally as sure-footed as those on a conventional gas-powered car. With a 1.5-litre, 16-valve gas engine and an AC electric motor, the Insight generate 151 horsepower as well as 197 lb-ft of torque.
With EPA-estimated fuel efficiency of 55 mpg in the city, 49 mpg on the highway, and 52 mpg combined in EX versions, this vehicle is equipped with a continuously variable gearbox (CVT). Touring's fuel efficiency decreases by 4 MPG, from 51/45/48 to 51/45/51, due to more equipment and wider wheels.
The exterior of the Honda Insight for 2022
This Honda Insight's external appearance is the least extravagant of the Insight's three iterations. This is a well-executed piece in keeping with the current Honda company design language. If you saw the Insight, you may mistake it for a Civic or perhaps an Accord, and that's a good thing in our book.
Automatic LED headlights and LED taillights are only some of the external improvements that are included in the basic package. Among other things, the Touring model has chrome body trim, LED headlamps, and a sunroof. As far as dimensions go, it's perfectly on par with what you'd get in a small sedan. There is a good chance that the Insight will fit your Toyota Corolla Hybrid vehicle.
The Honda Insight's modest appearance may not be to your taste if you want to make statements about your choice to drive a hybrid vehicle. The Insight is a good choice for those who like the notion of a hybrid economy in the shape of a conventionally styled sedan.
Also Check: 2022 Honda Civic Hatchback, Features, Performance, and Interior
Interior of the Honda Insight for 2022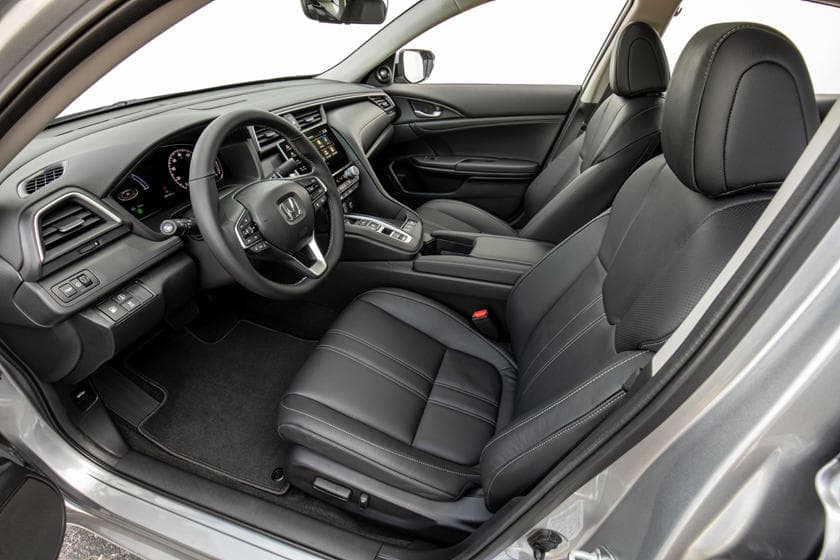 The 2022 Honda Insight is a roomy car, despite its smaller size. A similar sentiment may be said about the interior, which is not too abundant but sturdy. It is possible to see some harsh plastics, although the top trims do better conceal them than the lower ones. Adaptive cruise control, automated temperature control, and LED ambience lighting are just a few conveniences available throughout the lineup. On the Touring model of the Insight, leather-appointed motorised front seats make the car seem more luxurious than its price suggests.
There's enough space for five people in the sedan's unexpectedly roomy interior. However, although legroom is seldom an issue, the back seats don't have nearly as much headroom as the front seats. Getting in or out is simply because of the large doors. The sedan's chairs are comfy regardless of trim level, but you'll have to go to the Touring if you want power-adjustable front seats. This also includes heated front seats and leather-wrapped seats for the whole vehicle. Visibility, on the other hand, is a mixed bag. The wide rear pillars impede the rearview, making it challenging to look over the dashboard. With included blind-spot monitoring & rear cross-traffic warning, the Insight compensates for this shortcoming.
Security Technologies
If you're concerned about safety, you won't have to pay extra for equipment like hill start assistance or blind-spot monitoring in the Insight models.
Six airbags protect the cabin's occupants, while the driver is protected by a variety of monitoring and warning systems. Low-speed follow lane keeping and departure warning systems and collision warning and mitigation are all included in adaptive cruise control with low-speed follow.
Connectivity and Entertainment
With a volume knob included, we're pleased with Honda's new infotainment system. However, specific menus may be unnecessarily confusing, and a tuning knob remains absent. Apple CarPlay & Android Auto smartphone connection and optional in-dash navigation are standards on the 8.0-inch touchscreen.
Also Check: 2022 Honda Civic Touring- All Rounder Sedan
Real-World MPGs & Fuel Efficient
The lighter EX version gets 55 mpg in the city and 49 mpg on the highway, while the better-equipped Touring model gets 51 mpg in the city and 45 mpg on the interstate. The EPA ratings for the Toyota Prius and Hyundai Ioniq are a few mpg lower for all three Insight versions. Our real-world highway test resulted in the Insight Touring getting 47 mpg, two mpg higher than its EPA rating. Hybrids are more effective in city driving circumstances than on the highway, so drivers who do a lot of stop-and-go driving should anticipate even better results.
Comfiness and Carry-on Load
The Insight is competitive with other hybrids and has a premium feel over the Civic. Features and finishes in the interior fall somewhere in the centre of the spectrum between cheap and expensive. Instrument panel displays may be customised to provide a range of data, from fuel efficiency to speed restriction. The front seats of the Insight are low, yet there is plenty of legroom. However, the driver's seat lacks adjustable lumbar support, which disappoints.
The Insight is a typical sedan with a distinct trunk. Still, some of Honda's rivals are hatchbacks, meaning they have larger luggage spaces and are simpler to load. Two people may comfortably fit in the backseats. Since the battery pack is positioned beneath the back seat, the rear seats can still be folded almost completely flat to provide more oversized objects in the Insight. The Insight's centre console is quite versatile and can carry a lot of personal stuff. Additionally, the cargo area has several containers.
2022 Honda Insight Trim Levels
-EX Variant MSRP from $26,205
As a standard feature, every Insight comes with automatic LED lighting, heated powered side mirrors and walkaway auto-locking with remote trunk release. You'll be comfortable in your vehicle with an eight-speaker stereo system, push-button start, and ambient console lighting controlled by climate control. Insight models don't come with any add-ons.
-Touring Variant MSRP from $30,235
In addition to voice-activated navigation, the Touring has a 450-watt ten-speaker sound system that includes a subwoofer.
The dual-zone climate control system includes a cowhide steering wheel and a car rearview mirror. The powered tilt/slide power moonroof opens and closes at the press of a button. The leather seats are heated for the driver and passenger.
Frequently Asked Questions
How does Insight perform?
There is more seriousness in the Insight, yet it is more sophisticated and lively than the Prius. The electric motor has a lot of torque in the city and is quite responsive. With a 0-60 mph time of only 8.1 seconds, the Toyota Prius is among the fastest hybrids. When it comes to cornering precision and the ability to change directions, the steering of the Insight is excellent.
While the class average for this kind of vehicle is 124 feet, the Insight's stopping distance from 60mph was 123 feet. The braking is predictable and simple to modulate. However, the foot seems a little detached under solid braking. We were also concerned that the adaptive regenerative braking kept resetting itself while travelling in regular driving mode.
Is the Honda Insight worth the money?
Many hybrids in its class, such as the Toyota Camry Hybrid and Honda Accord Hybrid, are larger than the Insight. In any case, Insight is a pleasant, fuel-efficient hybrid worth investigating.
For the Honda Insight in 2022, what's the estimated MPG?
You may expect to get one of the best fuel efficiency ratings available in any vehicle. The Insight has 48 to 52 mpg combined fuel economy, according to the EPA. On our 115-mile assessment route, we saw 50.5 mpg, which is in line with the EPA's estimates for real-world driving.
Is Insight a worthwhile investment?
Despite its modest price tag, the Honda Insight is a high-quality car. Comfortable soft touchpoints may be found throughout the vehicle's interior. I don't mind that this is a typical Honda interior design element. Additionally, it's a fantastic deal, and it performs and feels just like a much more expensive car.
Toyota's warranty is on par with Toyota's, while Hyundai's and Kia's warranties are substantially behind Toyota's. Like the Toyota Prius, some rivals provide free maintenance, but that is not normal for Honda's Insight.
Conclusion
An excellent car, the Honda Insight, is on sale. Although the Insight's rear-seat headroom is limited and its handling might be crisper, the Insight is a well-rounded vehicle. Even by the norms of the hybrid vehicle class, its fuel efficiency estimations are perfect. A powerful engine, a stylish interior, and an easy-to-use infotainment system contribute to the vehicle's allure.
Upgrade to the Touring model of the Insight if you want a more upmarket hybrid car at a fair price point. A leather-wrapped steering wheel, heated and electrically adjustable front seats and rain-sensitive windshield wipers are just a few features that make the Insight Touring a more luxurious option than the base model Insight sedan.