2022 Hyundai Ioniq Hybrid Specs, Price, MPG & Features
The 2022 Hyundai Ioniq Hybrid is ideal for those looking for a hybrid or plug-in hybrid hatchback that is unobtrusive and drives like a conventional vehicle. The hybrid's combined EPA rating is 59 mpg, while the plug-in version has an all-electric range of 29 miles. Both Ioniqs are a bore to drive and have some refinement concerns, but they're comfortable and conventional enough to be mistaken for a non-hybrid. The 2022 Ioniq is both eco-friendly and user-friendly, with an interior constructed of sustainable materials and a long list of attractive standard amenities. It's also unpretentious, though uninspiring.
2022 Hyundai Ioniq Hybrid Specs
MSRP: $24695 (base)
Seating Capacity: 5-passenger
Engine: DOHC 16-valve Atkinson-cycle 1.6-liter inline-4
Horsepower: 104 hp
Transmission: 6-speed dual-clutch automatic
Fuel Mileage: 55/57/59 mpg
Length: 176.0 in
Width: 71.7 in
Height: 56.9 in
Wheelbase: 106.3 in
Also Check: 2022 Hyundai Santa Cruz Specs, Prices & Features
Engine and Performance
The Ioniq hybrid was slow, taking 8.9 seconds to reach 60 mph. In Eco mode, shift timing isn't great; the gearbox stops too long to downshift when you want to accelerate. Fans of the Ioniq and its cousin, the Kia Niro, will recognise the plug-in hybrid Ioniq's 1.6-liter four-cylinder engine, electric motor, and six-speed dual-clutch automatic gearbox. On twisty roads, the Ioniq holds its own, reacting attentively to steering inputs and retaining a strong grip on the road. The body leans when pushed hard in corners, but the vehicle seems secure and capable in almost every condition. Its calm ride and easy highway manners are pleasantly surprise. All Ioniqs include steering-wheel paddles for modulating the intensity of regenerative braking, enabling drivers to emulate the one-pedal driving technique popularised by Tesla among EV enthusiasts.
Interior and Comfort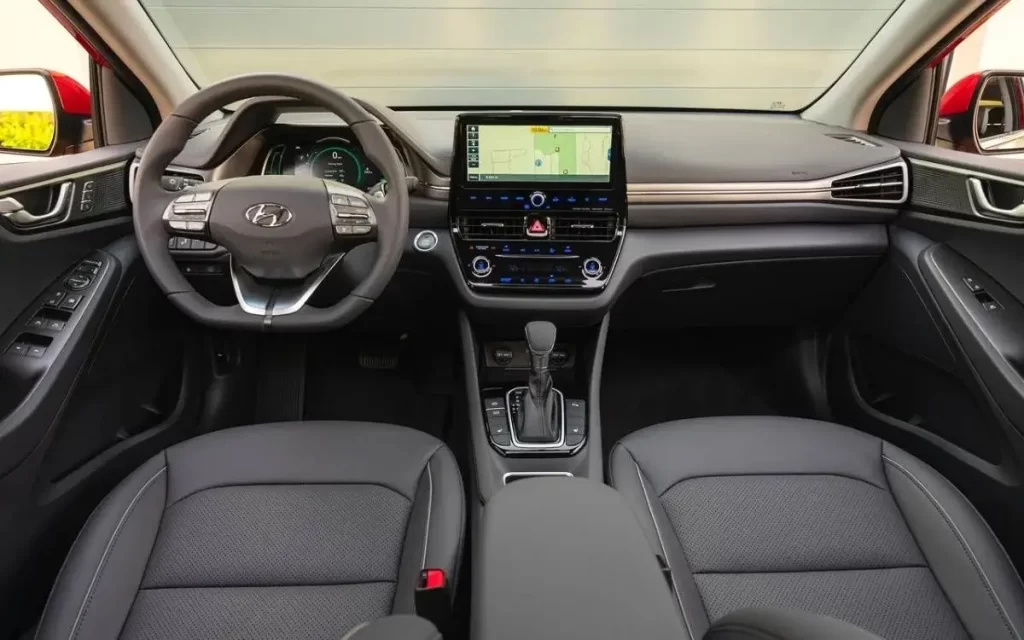 Even in basic trim, the Ioniq's interior is comfortable and appealing, and it may be well-appointed in more costly models. Hyundai chose sustainable elements for its interior, including composites made of sugar cane and volcanic rock, to boost its green credentials. While your passengers will not be outraged by the back seats, numerous rivals provide greater space to stretch around. The Ioniq has about the same amount of baggage capacity as other members of its class and more than some bigger rivals. Although inside cubby storage trails behind rivals, Hyundai has used several ingenious ways to utilise little space is available. The bigger battery pack is to blame for the shortfall, but it shouldn't be a deal breaker.
Infotainment and Connectivity
Even entry-level versions have an 8.0-inch touchscreen infotainment system, Apple CarPlay, Android Auto, and auxiliary and USB ports—swank features for a car this price. The top trims include a 10.3-inch screen with navigation. The Hyundai touchscreen interface is simple to use and worked well in testing.
Also Check: 2022 Hyundai Venue Specs, Prices, MPG & Features
2022 Hyundai Ioniq Hybrid Safety Features
Every Ioniq comes standard with a slew of driver-assistance systems, and higher trim levels include even more active-safety measures, such as the ability to identify pedestrians in the car's path. Key features are:
Standard forward-collision warning and automated emergency braking
Standard lane-departure warning and lane-keeping assist
Available blind-spot monitor and rear cross-traffic alert