2022 Hyundai Kona Electric Specs, Prices, MPG & Features
An electric motor powers the 2022 Kona Electric subcompact crossover for the first time. It resembles an SUV more than other similar-sized crossovers because of its sloping roofline.
The top-of-the-line Limited trim costs $42,500. For the SEL variant of the 2022 Hyundai Kona EV, the price drops by more than $3,000 from the current model. The initial expenses of electric cars may be mitigated by a $7,500 tax credit and additional state incentives.
To acquire a premium, long-range EV in the form of an SUV, you don't need to fork over thousands of dollars to Tesla. Shortly after launching the Kona, Hyundai shocked the compact crossover market by unveiling an all-electric version. By 2022, many improvements to the Kona Electric could keep it competitive with other popular electrics like the Nissan Leaf Plus & Chevrolet Bolt EUV.
2022 Hyundai Kona Electric Specs
MSRP: $35,245
Seating Capacity: five Seater
Drive Train: Front-Wheel Drive
Engine: Electric
Horsepower: 201@3600
Torque: 291
Transmission: Automatic Transmission
Fuel Mileage: 132 mpg in the city, 108 mpg on the highway, and 120 mpg combined
Length: 165.6 inches
Width: 70.9 inches
Height: 61.2 inches
Wheelbase: 102.4 inches
Also Check: 2022 Hyundai Santa Fe, Specs, Price, MPG & Features
Interior of the 2022 Hyundai Kona Electric
The Kona Electric's design isn't very striking, but it's also not obnoxious either. Aside from the redesigned nose and a few light signatures, the Kona Electric isn't significantly different stylistically to get a style point. But the new dashboard design does have updated displays and basic, practical architecture.
This is not your typical Kona, even if it looks like one from the side. The Kona Electric is a whole new design. As with the Tesla Y, here is no grille or dimpled design beneath the nameplate, giving it a clean front like Tesla's model. The Kona Electric has an effervescent form and a warm, welcoming aspect, with its greenhouse perched so high.
There is a new 10.3-inch instrument cluster screen in every Kona Electric model. The basic 8.0-inch touchscreen or the optional 10.3-inch screen sits above the dashboard. The silver accent on the middle console breaks up the otherwise all-black interior.
The exterior of the 2022 Hyundai Kona Electric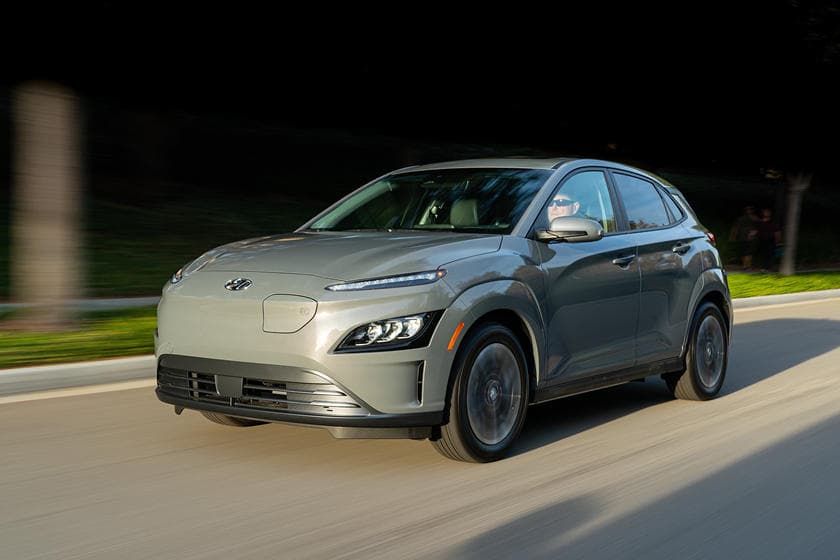 Compared to the previous generation, the 2022 Kona Electric is more energetic and aggressive. You'll be given a tinge of edginess to make you feel more confident. Low-profile front and rear fascias provide a visual impact while maintaining enough ground clearance. On top of that, the car has a sturdy front grille, which houses the charging outlet. This makes it easy to pull in, charge, and then start driving when you're ready to leave. LED lighting and fog lights are also included in the vehicle to enhance your overall driving experience. You may check out the new 2022 Kona Electric review to make your life simpler.
Also Check: 2022 Hyundai Palisade Specs, Prices, MPG & Features
What's new in the 2022 Hyundai Kona Electric?
New front and rear bumpers, wheel designs, and an updated cabin, which incorporates a 10.3-inch digital meter display as standard, are all part of the 2022 style updates for the Kona Electric. The highest Ultimate trim level has been dropped to streamline the portfolio in favor of focusing on the SEL and Limited versions.
The Kona has had a cosmetic makeover, but it isn't a complete reimagining. The 2022 Hyundai Kona lineup includes a new N Line variant with a redesigned exterior and enhanced connectivity, including a giant 10.25-inch touchscreen on specific versions. The subcompact crossover SUV's safety features, like front collision avoidance help and a back seat warning, have been upgraded.
Performance and Power of the Electric Motor
Here is no all-wheel-drive option for this model, but a 64.0-kWh battery pack powers a 201-hp electric motor that drives the front wheels. A 6.4-second zero-to-60mph time for the Kona Electric beat the standard Kona's time by 0.2 seconds. The electric engine of the Kona is just as thrilling to drive on a curvy two-lane road as the standard model. It's hardly a sports vehicle, but it's a lot of fun to drive for a bit SUV. It also handles well at highway speeds because of its low center of gravity and large battery positioned on the floor.
The two-liter gas engine in the SE and SEL variants develops 147 hp and 132 pound-feet of torque, respectively. A variable automatic gearbox achieves an EPA-estimated 30mpg city, 35mpg highway, and 32mpg combined. Econometric performance falls to 28/33/30 MPG with the SEL's optional all-wheel drive (AWD).
The N Line and Limited variants are powered by a more potent 1.6-liter turbocharged gas engine, generating 195 horsepower and 195 lb-ft of torque. Both vehicles have the option of all-wheel drive, which reduces fuel efficiency to 27/32/29 MPG. With a city/highway/combined rating of 29/35/32, front-wheel-drive versions do somewhat better.
The Kona Electric, like many other electric vehicles, is equipped with a single-speed automatic gearbox. A 64-wh battery pack powers a 150-kW electric motor in the Kona Electric's front wheels. When it comes to horsepower and torque, the Kona Electric outperforms its gas-powered predecessor.
The EPA estimates that the Kona Electric's combined range and MPGe (miles per gallon equivalent) is 258 miles and 120 miles per gallon, respectively. Hyundai claims that a totally empty battery can be recharged in roughly 9 hours and 15 minutes on a home charger. It takes 47 minutes to charge a car to 80% of its capacity at a commercial charging station.
Also Check: 2022 Hyundai Santa Cruz Specs, Prices & Features
MPGe is the Real World and Fuel Economy
The overall rating of 120 MPGe has been shown to Kona Electric by the EPA. However, we only got 86 MPGe and a driving range of 160 miles in our accurate highway fuel economy tests. According to our trials in Michigan, where temperatures often fall below freezing, a 2019 model performed well. We also tried the Bolt EV, which is rated for 238 miles of range, and it only managed 140 miles.
Connectivity and entertainment
In addition to the 10.3-inch digital gauge display on the Limited model, all models have an 8.0-inch touchscreen in the SEL trim level or above, which comes with Apple CarPlay and Android Auto compatibility. The Limited model comes standard with a 10.3-inch touchscreen with navigation. It comes standard with six speakers, but the Limited variant has an eight-speaker Triton audio system that produces a more expansive sound.
Security Technologies
Six airbags, a stability control system and traction control with brake aid come standard on every Kona. Rear occupant warning and a safe exit alert system are included for the first time in 2022 on cars with the SEL trim level or above.
Rear cross-traffic collision prevention and blind-spot alerts are only available on the SEL and Limited trim levels; they are not available on other trims. Intelligent cruise control, a rear parking distance warning system, and a driver attention monitor all come standard on this one-of-a-kind vehicle. Limited is the best option if safety is your primary concern.
Also Check: 2022 Hyundai Genesis GV80 Overview Specs, Price, & Key Features
Comfiness and Carry-on Loading
Kona Electric's interior is similar to its gas-powered predecessor in terms of quality, comfort, and amenities. Compared to other subcompact crossovers, the Kona Electric's backseat and cargo space are cramped, but that's expected in a vehicle of this size and kind. Testers accommodated five carry-on luggage with the rear seats in position and 15 with chairs folding in the standard Kona's cargo space.
2022 Hyundai Kona Trim Levels
-SE Variant MSRP from $22,135
They include automated headlights & daytime running lights. Power windows and air conditioning, keyless entry, and an eight-inch screen infotainment system are all standard features within the interior. However, SE-spec Konas are generally lacking in the exterior embellishments featured on higher versions. This model does not support any packages.
-SEL Variant MSRP from $23,935
It's worth the $1,790 to go from the SE trim level to the SEL model. Roof rails, rear privacy glass, and heated outside reflectors with turn signals are standard on SEL models. Additionally, satellite radio and Bluelink connection are welcomed features in the cabin, and the push-button start and recognition key entry system.
The Convenience Package, which costs $1,700, is well worth the money. The front seats are heated, and the temperature control is automatic. In addition to the heated steering wheel & shift knob, it has a motorized sunroof and wireless device charging.
-N Line Variant MSRP from $26,685
The leather-wrapped wheel and gear knob are standard on the N Line, which is the first time Kona has offered heated sports front seats with eight-way power adjustment for the driver. Harman Kardon's eight-speaker audio system and automated temperature control make the interior more comfortable. The inside has red and glosses black accents and aluminum-alloy pedals to accentuate the power windows' one-touch operation further.
The Tech Package includes a 10.25-inch touchscreen navigation system with dynamic speech recognition, adaptive cruise control, LED headlights and taillights, a power roof, and highway driving assistance for $2,500 (plus tax).
-Limited Variant MSRP from $29,435
N Line's Tech Package includes a dark grey body cladding option for Limited vehicles. This model is all unique to this model because of intelligent cruise control, pedestrian recognition, lane-keeping assist, and a driver attentiveness warning system. In addition to leather seats, motorized lumbar support, and USB ports in the back, this is the only Kona equipped with these features.
Understandably, Limited models lack optional packages due to their specialized configuration.
-Electric Variant MSRP from $35,185-$43,685
Automatic temperature control, push-button start, and proximity key access are standard on the SEL. 17-inch alloy wheels are also included. The roof is black, and the body may be completed in whatever color the customer desires.
A slew of significant enhancements accompanies the Limited's hefty price tag. An eight-way power driver seat, leather-wrapped steering wheel, a sunroof, and a vehicle rearview mirror with a universal home remote are features included on the inside. An all-LED lighting system and body-colored roof are added to the façade.
As far as we're concerned, this is one of those situations when it makes sense to fork out more than $8,000 for the Limited version of a vehicle. Just because the SEL costs so much doesn't mean that it's the best electric vehicle.
Frequently Asked Questions
My question is, which Hyundai Kona Electric should I purchase?
At $35,245, the SEL is a great value for most consumers. The clean style of Hyundai's infotainment system is praised. It is essential, yet it is pretty compelling. Redesigned standard features include an 8.0-inch touchscreen with Android Auto and Apple CarPlay wireless connection. Two front USB ports and a 10.3-inch instrument cluster display are also included as standard equipment.
Is Kona Electric a safe vehicle?
It's impossible to tell that the Kona's gas-powered models offer the same level of safety as the electric models because of their different structures and heavier battery packs. To get an official rating from us, the Kona Electric will have to wait, even if it has a solid safety package.
The Kona Electric's big windows provide excellent visibility out of the vehicle. Standard safety features include automatic emergency braking, blind-spot monitoring, active lane control, and a driver attentiveness monitor. Autonomous high beams, adaptive cruise control, and a rear parking sensor are all available as options on the Limited trim level.
What is the top speed of the Hyundai Kona Electric?
Hyundai has not officially released the 0-60 mph time for the 2022 model. Still, it is expected to be similar to last year's 7.6-second pace. A single motor generates 201 horsepower and 290 lb-ft of torque.
Is there going to be a Hyundai Kona in 2022?
Four trim levels are available for the new Hyundai Kona in 2022, starting with the SE and going up to the Limited and N-Line versions. The 276-horsepower Kona N variant will be available shortly.
Conclusion
But although Tesla and Ford are making headlines, Hyundai's Kona Electric is an excellent electric vehicle (EV) for daily usage, competing primarily with the Kia Niro Electra (its somewhat bigger brother) and other modest compact electric cars. Unlike the previous Kona Electric model, the new 2022 model has a more angular look, a longer battery life, and more connection and safety features. The lack of an AWD option and our dissatisfaction with the SUV's handling doesn't diminish that you get a lot for your money.