2022 Hyundai Palisade Specs, Prices, MPG & Features
The 2022 Hyundai Palisade is almost identical to the 2021 model save for the new features. For 2022, the Hyundai Palisade will come equipped with even more standard amenities than before. Standard safety features include blind-spot tracking, turn signal mirrors and rear cross-traffic warning, and Safe Exit Assist.
In terms of SUVs, the Hyundai Palisade delivers. It is equipped with a V6 engine capable of providing adequate power and strong acceleration. Considering its size, the Palisade is also quite simple to drive, and it rides well even on bad pavement. Upper-level models match certain luxury SUVs in terms of inside quality. All three rows of seats are roomy enough for adults. The trunk has plenty of room for luggage because of the excellent overall balance between quality and price.
This SUV from Hyundai has a cabin that might be mistaken for a luxury model from the Genesis line if it were equipped with the higher-end trim levels. It is not a Genesis; instead, it is built on the same platform as the equally impressive Kia Telluride. A well-rounded SUV, the Palisade has a high-end feel about it. It comes standard with an eight-speed automatic transmission and a 3.8-liter V-6 engine with plenty of grunts. Front-wheel drive is standard, but an all-wheel purpose is an option. An abundance of high-tech driving aids and cutting-edge communication technologies are included as standard equipment. Seating for up to eight people in a conventional three-row configuration makes the interior spacious and comfortable.
Also Check: 2022 Hyundai Venue Specs, Prices, MPG & Features
2022 Hyundai Palisade: What's New?
Several active safety features, including rear cross-traffic obstacle detection and blind-spot collision warning, have been standard throughout the Hyundai Palisade portfolio for 2022. These features intervene if the driver ignores the accompanying warnings of possible impediments. Side mirrors with integrated turn signals are now standard equipment on all automobiles. The dark brown leather is no longer available on the best Calligraphy model.
2022 Hyundai Palisade Specs
MSRP: $34,845
Seating Capacity: Eight Seater
Drive Train: Front-Wheel Drive
Engine: 3.8 L Regular Unleaded V-6
Horsepower: 291@6000
Torque: 262@5200
Transmission: 8-Speed Automatic Transmission
Fuel Mileage: 19 mpg in the city, 26 mpg on the highway, and 22 mpg combined
Length: 196.1 inches
Width: 77.8 inches
Height: 68.9 inches
Wheelbase: 114.2 inches
Hyundai Palisade 2022 Exterior Styling Concept
The Hyundai Palisade's exterior design tends to divide opinion. Some individuals adore it, while others despise it. A similar-looking light signature accompanies an eye-catching grille opening to that of the Hyundai Santa Fe. However, if you're not sold on the Palisade's looks but still want the same level of performance, try the technically equivalent but less expensive Kia Telluride.
The Palisade's appearance improves with model level. Trim levels SEL and Limited have body-colored wheel arches, and matte chrome door handles. The Calligraphy grade comes with a unique grille, front and back fascias, side finishers, & 20-inch alloy wheels as part of its look package.
Also Check: 2022 Hyundai Santa Cruz Specs, Prices & Features
Interior of the Hyundai Palisade for the year 2022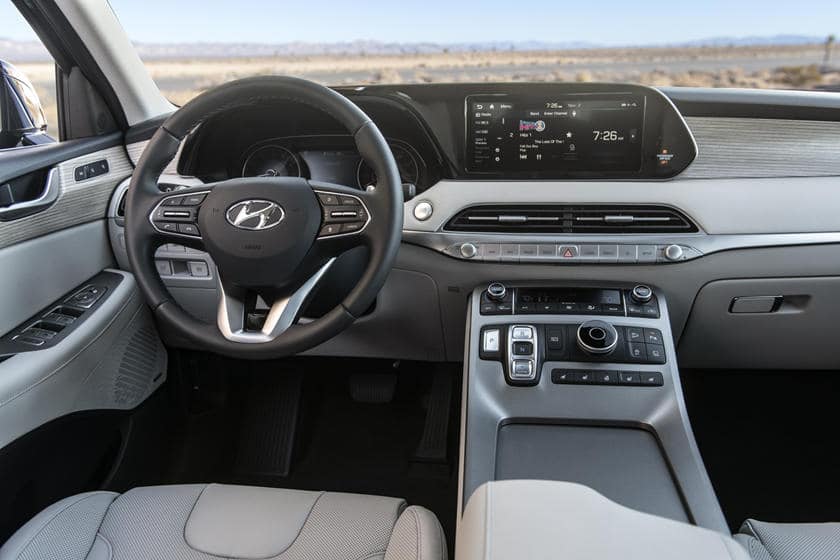 If you're in the market for a luxury SUV in the 2022 model year, go no further than the Hyundai Palisade, a three-row SUV with remarkable cargo capacity and various comfort amenities and innovative technologies.
The Hyundai Palisade's interior is a significant selling point. The third row of seats or cargo room may be limited in some of the 3-row SUVs in this class. Midsize SUV Palisade has plenty of room for passengers and goods in the third row, making it suitable for families.
As a modern Hyundai Palisade driver, you can look forward to several cutting-edge features, such as Hyundai's Driver Talk in-car loudspeaker, wireless device charging, and a high-resolution 10.25-inch touchscreen navigation system. Additionally, the modern Hyundai driver has options for seven or eight seats in the cabin with soft-touch surfaces, such as quilted Nappa leather.
Powertrain Components and Overall Performance of the 2022 Palisade
A 3.8-liter V-6 powers the Palisade. The engine's 291 horsepower is sufficient when coupled with an eight-speed automated gearbox. There are steering-wheel-mounted paddles that allow the Palisade to be manually shifted in the gearbox. When driving downhill, the transmission changes quickly, but when ascending a hill, the gears shuffle a lot. In the SE, SEL, and Limited trims, front-wheel drive is standard; the all-wheel purpose is available but not expected on the Calligraphy.
Pre-wiring & sway control for trailers are included on all Palisades models. Using the factory-installed trailer hitch, it can pull 5,000 pounds. We tried an all-wheel-drive SEL at our test track, and the results were decent but not extraordinary. This vehicle took only 6.9 seconds to reach 60 mph, and it took 182 feet for the Palisade to come to an abrupt halt from 70 mph. It was a little faster than the Telluride, while the Chevrolet Traverse was somewhat slower.
Also Check: 2022 Hyundai Elantra N Line Specs, Prices, MPG & Features
Connectivity and Entertainment
Standard on the SE and SEL grades are 8-inch touchscreens with Android Auto and Apple CarPlay compatibility. SiriusXM satellite radio is available as an option. It is standard on the Limited and Calligraphy models. At the same time, a snappy and intuitive 10.3-inch display with excellent quality is standard on the SEL. For both systems, actual knobs and buttons may be used to control them. It is possible to add as many as seven USB ports and the capacity to connect up to two Bluetooth devices at once. Remote locking and unlocking, and starting the Palisade may be accomplished through Amazon Alexa or Google Assistant if the vehicle has Hyundai's Blue Link app installed.
Additional Options
The Hyundai Palisade has a lot to offer in terms of technology. Hyundai is well-known for its affordable automobiles equipped with a slew of additional amenities such as standard equipment. Additionally, the Palisade provides an excellent warranty on top of this.
The basic Hyundai has LED headlights, 18-inch rims, an 8-inch control display, and a wireless phone connection. Front-wheel drive is standard on all trims, while all-wheel drive is an additional $1,700. The entry-level variant has eight cloth-upholstered seats.
Nappa leather seats on the Calligraphy model let you claim that the Palisade is a high-end vehicle. The bench seat is replaced with second-row captain's chairs as you go through the trim levels. Optional features include a dual-pane sunroof, leather interior, and 20-inch alloy wheels. Among the new features are parking monitors and a 10.3-inch touchscreen with built-in navigation. A 12.3-inch digital instrument cluster, a surround-view lens, and a head-up display complete the list of options.
Also Check: 2022 Hyundai IONIQ 5 Review, Prices, Specs & Battery Life
Comfiness and Transportation
The SE and SEL trims have eight people, while the Limited & Calligraphy have room for seven, and there's plenty of room in all three rows for the passengers. Seats on the second row may be moved forward by pressing a single button, making it easier to get into the third row. The sequence is optional on the SEL but standard on the Limited when the second and third rows of seats are folded. Testers put 33 carry-on luggage in the cargo area behind the front seats during our testing. Stowage space is increased to 46 cubic feet by erecting rows and folding the third. There are just 18 cubes of space left after adding the third row. Muddy or damp objects may be safely stored under the load floor. The doors do an excellent job of dampening road-noise, but a lot of wind noise gets through. The door cubbies are small, but there is a fair amount of storage in the floating-bridge center console and underneath it.
Features That Protect You
The IIHS awarded the Palisade a Top Safety Pick+ grade. The NHTSA also gave it a five-star rating. It's impossible to get any better than that.
Hyundai's Palisade is well-equipped with plenty of standard safety features and high safety ratings. Blind-spot detection, active lane control, automated emergency braking, and rear parking sensors are just a few examples of the technology available in new cars. There are also front parking sensors, a head-up display, and a blind spot camera system available on most models.
2022 Hyundai Palisade Trim Levels
-SE Variant MSRP from $34,335
Standard features for the base SE grade include 18-inch wheels with heated outside mirrors; cloth upholstery; cloth seats; eight-passenger capacity; LED headlights; and a height-adjusted driver seat.
-SEL Variant MSRP from $36,685
It's hard to beat the SEL in value since it comes equipped with a slew of extras. A sunroof, heated front seats, power-adjustable driver's seat, second-row captain's chairs, leather-wrapped steering column, and seven-passenger capacity are all included as standard features.
Both of the SEL trim's primary packages are available. The $2,400 Convenience option adds a hands-free power liftgate, wireless smartphone charging, self-leveling rear suspension, and front self-parking.
The giant touchscreen, leather upholstery, power-adjustable forward passenger seat, heated second-row seats, steering wheel, and energy third-row seats are all part of the Premium package. The Premium upgrade costs $3,200 and needs the Convenience package purchased separately.
-LIMITED Variant MSRP from $46,575
Upgrading to the Limited model adds a slew of premium options. Additionally, it comes with heated and ventilated seats in the second row and an intercom system, a wireless phone charger, and a digital instrument cluster. Nappa leather upholstery is included in the trim.
-Calligraphy Variant MSRP from $47,875
The Calligraphy trim is where Hyundai shows off its opulent side. The inside has quilted leather door panels and a suede headliner. Additionally, it has a rubber outsole steering wheel, distinctive alloy wheels, a custom rear lighting system, puddle lights, and then a unique grille design as standard equipment.
Frequently Asked Questions
The 2022 Hyundai Palisade has what?
Side mirrors with integrated turn signals are now standard, as are safe exit assist, blind spot and rear pass collision avoidance assistance, and other new features.
How does the Palisade get its power?
A solid and well-rounded skill set makes up for the Palisade's lack of all-out performance. The average time for a three-row SUV to get from 0-60 mph in 7.6 seconds. Driving at high speeds is not impossible if you are confident. The Palisade performed well in our emergency braking testing, with firm and consistent braking. The brake pedal is simple to handle for smooth stops in everyday driving.
The Hyundai's handling and steering aren't outstanding, but it doesn't seem sloppy or out of place when driving through corners. The Palisade's eight-speed automatic transmission makes it a joy to drive in city and highway conditions.
How's the storage situation going?
The trunk has 87 cubes of storage capacity or 18 cubic feet behind the third row with two rows folded down. In addition, the hatch's aperture is generous in size. In addition, there's a helpful under-floor storage area. When properly outfitted, the Palisade can pull up to 5,000 pounds, typical for its class.
Storage for small items is almost too much: a large center bin that can be closed, a second bin on the floor between the front passenger seats, and a standard center console. It is simple to install even the largest car seats, and finding the seat anchors is not a problem either. Cupholders can be retracted, although smaller bottles may still slam about in them.
What's the gas mileage like?
The fuel efficiency of some competing SUVs is superior. The EPA predicts that a combined city/highway mileage of 21 mpg is possible with an all-wheel-drive Palisade. On our 115-mile test trip, we were able to replicate it with our test car. In contrast to several competing SUVs, the V6 can be operated on ordinary gas and still provide its advertised power and fuel efficiency.
Conclusion
The Hyundai Palisade may be transformed into a high-end SUV by upgrading to a higher-end model. At the SEL trim level, the captain's second-row seats became standard. The SEL model's options list includes roof rail bars, heated seats, power driver's seat, LED inside lighting, remote start, and three-zone automatic temperature control.
The Palisade Limited costs a little more, but it comes with several additional perks. A double sunroof, Nappa leather upholstery, and head-up display are just some of the other features of the Limited variant.
Crossover utility vehicles with three rows in the medium range face stiff competition. When it comes to beauty and value, the Hyundai Palisade is unbeatable. It's somewhat below average in terms of performance and efficiency, but not by a large margin.