2022 Mustang Mach-E Specs, Price, Range & Features
The 2022 Ford Mustang Mach-E combines well-liked characteristics from both the recent past and the present in an attractive package that augurs well for the development of electric cars in the future. Although it may seem sacrilegious for Ford to call a crossover electric vehicle a Mustang, the company is making a marketing move that is clever by combining a historic moniker with a popular body type. In addition to its eye-catching exterior design, the Mach-E boasts an exquisitely designed cabin that is loaded to the gills with the most cutting-edge technology. In addition to that, it comes with clever storage options, a roomy back seat, and a large amount of cargo capacity. Once you get behind the wheel of the electrified Mustang, you'll notice that it's quite nimble and swift. The most powerful model can accelerate from 0 to 60 miles per hour in 3.7 seconds, which is faster than a Mustang Mach 1, and it is predicted that the most powerful model can go more than 300 miles on a single charge. The 2022 Mustang Mach-E is a revolutionary electric vehicle for all of these reasons and more.
2022 Mustang Mach-E Specs
MSRP: $44995(base)
Seating Capacity: 5-passenger
Engine: 2 permanent-magnet synchronous AC; combined output,
Transmission: 2 direct-drives
Fuel Mileage: 60 MPGe
Length: 185.6 in
Width: 74.1 in
Height: 64.0 in
Wheelbase: 117.5 in
Also Check: All-New 2022 Ford Edge: A Great Midsize SUV
Power and Performance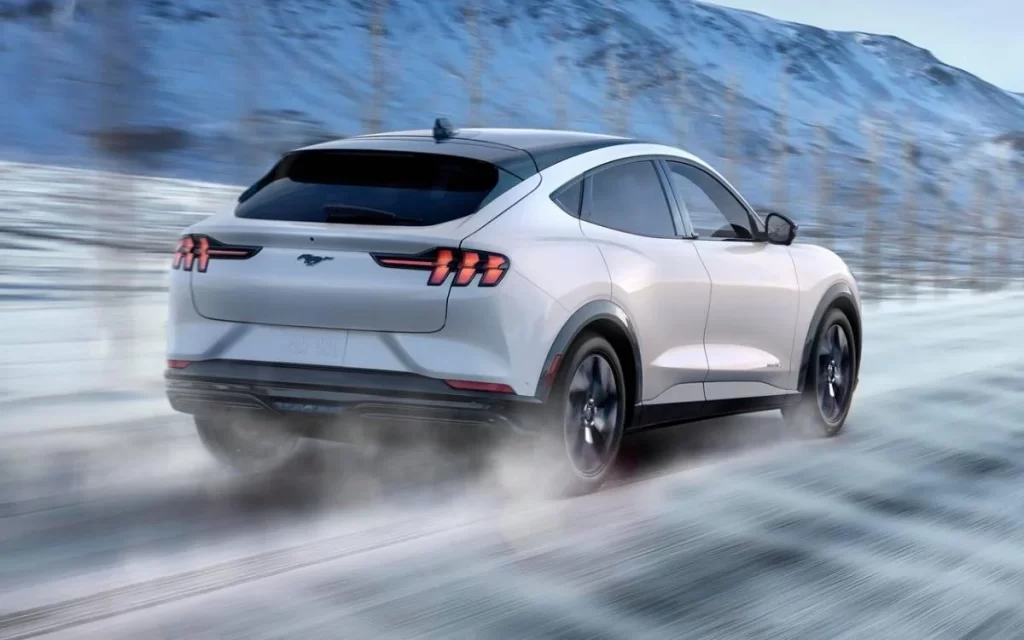 It is possible to order the 2022 Mustang Mach-E with either a standard-range battery pack that has a capacity of 70.0 kWh or an extended-range battery pack that has a capacity of 91.0 kWh. These provide power to an electric motor that is either positioned behind or between the axles. This latter combination results in all-wheel drive, and the combined output of the motors on the sporty GT and GT Performance variants is 480 horsepower and up to 634 pound-feet of torque. In 3.7 seconds, the GT Performance variant was able to reach 60 miles per hour. The power output of less potent variants ranges from 266 to 346 horsepower and from 317 to 428 pound-feet of torque. The Mach-E may be equipped with adaptive dampers, which allow the ride stiffness to be adjusted to suit your preferences, and it rides on wheels ranging in size from 18 to 20 inches. However, motorists shouldn't expect the Mach-E to provide quite the same level of excitement that the standard Mustang does. The most amazing aspects of it were its whisper-quiet operation and its incredibly smooth ride.
2022 Mustang Mach-E Range and Battery Life
The EPA estimates that the range of the 2022 Mustang Mach-E to be anywhere from 211 to 305 miles, depending on the battery pack and the kind of electric motors, which is not even close to being as spectacular as the range of the most powerful Tesla models. Additionally, every model is equipped with the ability to charge quickly. Every Mach-E comes included with a Ford mobile charger that can extend the vehicle's range by up to 30 miles per night when plugged into a 120-volt outlet and restore up to 80 percent of the battery's life when plugged into a 240-volt outlet overnight. You may also place an order for a Ford charge station over the internet, and experienced electricians will set it up for you. It has the capacity to restore 32 miles per hour and will recharge the battery while you sleep.
Also Check: 2022 Honda Civic LX Sedan: Features, Specs & MPG
Interior and Comfort
The battery for the Mustang Mach-E is under the floor of the car, so there is more room for cargo and people. The outside of the Mach-E is a lot like the regular Mustang, but the inside is very different. It has a clean dashboard with an attractive digital gauge cluster and a big touchscreen that is mounted vertically and takes up most of the space. The centre console has a floating, flip-up armrest that can be used to store a purse or other items between the front seats. There are also a lot of cool features, like customizable ambient lighting, heated front seats, a heated steering wheel, wireless charging, a panoramic sunroof, and more. The front trunk is made of strong plastic that can be rinsed and drained, so you can put ice and other messy things in there. Behind the back seats, there is 29 cubic feet of space in the Mach-E, and when the back seats are folded down, there can be up to 60 cubic feet.
Infotainment and Connectivity
Ford's next-generation SYNC infotainment system uses machine learning to fully customise each driver's experience. Right now, it supports three driver profiles and one guest profile. The Mustang Mach-software E's is run by a 15.5-inch touchscreen that is mounted vertically. This makes it easy to use the system's many apps and features. One benefit of the system is that over-the-air updates will be sent out by Ford over time. These updates will make the system better and add new content. Apple CarPlay, Android Auto, a mobile Wi-Fi hotspot, and a Bang & Olufsen sound system are some of the best features.