All-New Features Of 2022 Chevrolet Suburban
There are several large family sedans on the market, but none are as massive as the Chevrolet Suburban 2022. The Suburban has historically been a good choice for anyone looking for three rows of seating and plenty of storage space, and the 2022 model is no exception.
The Suburban, on the other hand, isn't only enormous. It's powerful, and it's loaded with current features. It's safe to assume that whether you're in the driver's seat or the third row, you'll be riding in comfort.
However, there are certain disadvantages to doing so. While the rest of the automobile industry is moving toward electric vehicles, the Suburban is neither electric nor economical. While it is undeniably elegant, it lacks some amenities offered by competitors.
2022 Chevrolet Suburban Exterior Design
Some automobiles appear to have more interior space than they actually do. That is not the case in the Suburban. To be sure, it feels spacious on the inside, but it also appears to be enormous from the outside.
The Suburban is 226 inches long, which is 1.3 inches longer than the previous generation model. It's also bigger than practically any other SUV, including Chevrolet's own Tahoe. It's actually based on the Chevrolet Silverado 1500 pickup truck's basis.
This is the second year of the current Suburban design, which was updated in 2021. It's still essentially a rectangle on wheels. That isn't always a bad thing; it is a very fashionable rectangle.
Also Check: 2023 Corvette Z06 Specs, Prices, MPG & Features
Interior Design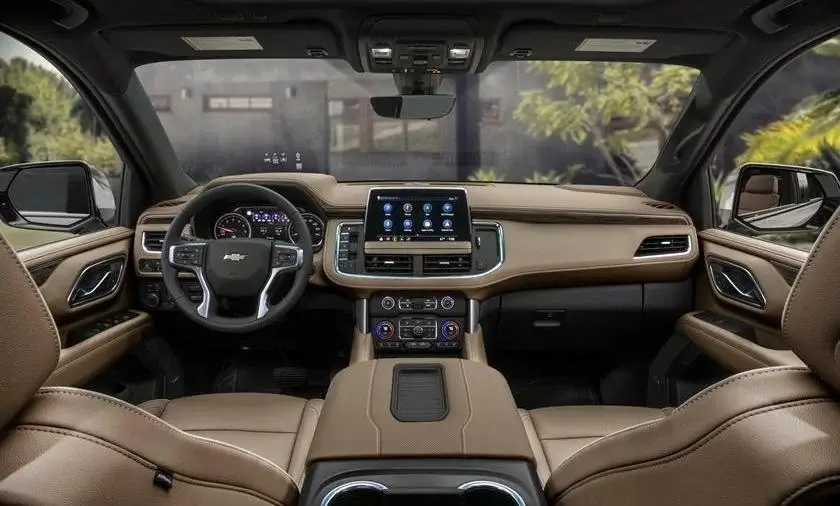 The Suburban's interior is roomy and luxurious. There's plenty of room for both possessions and people, and if you have a large family, you won't be able to do much better than this without purchasing a bus. The Suburban's three rows can hold up to eight seats, but ours only has seven thanks to the executive second-row seats.
The leather on the Suburban is nicely sewn throughout and is relatively supple and comfortable. Chevrolet has replaced the big gear shifter with gear buttons in the front, resulting in a large amount of storage. This features a massive wireless charger, which I struggled to centre an iPhone 13 Pro on.
A number of features make riding in the Suburban more enjoyable. For example, second-row passengers can choose between two entertainment displays, both of which operate with the supplied wireless headphones. There are also cupholders for second-row passengers and tri-zone climate controls so passengers can regulate their own climate.
Infotainment System
On the Suburban, the 10.2-inch infotainment display is bright and simple to see. Even better, the automobile includes Google apps and services pre-installed on the infotainment system. You'll get quick and easy access to Google Assistant, Google Maps, and Google Play, and if you're a Google fan, you'll appreciate what's on offer. I appreciate the dependence on reliable services – Google Maps is simply superior to whatever the automobile makers have devised.
A safety feature on the Chevrolet Suburban for the year 2022
The Chevrolet Suburban offers various safety and driver-assist features that you could find useful, as you would expect from a new automobile in 2022. Blind-spot monitoring and forward-collision warning are included, as well as autonomous emergency braking. You'll also have a lane-keeping assistant who will alert you if you're drifting out of your lane.
The 360-degree camera view, which is featured in our review model, is one of my favourite features, and it comes in handy while trying to park this beast of a vehicle. Only certain trims, notably the highest-end High Country trim, have this function.
Also Check: 2022 Jeep Grand Cherokee Trailhawk First Drive Review
Performance
The 2022 Chevrolet Suburban comes with a variety of engine options. A 5.3L V8 engine or a 6.2L V8 engine is available. Alternatively, the 3.0L Turbo-Diesel engine is the most fuel-efficient of the group. A 10-speed automatic transmission connects all of the engines. The engine in our model is a 6.2L V8.
I found the Suburban to have a fantastic performance with this engine. It's not the most responsive vehicle on the market, but then again, you wouldn't expect it to be. Even so, it's evident that it's got some significant oomph, going from 0 to 60 in less than 7 seconds.
The Suburban has superb braking performance, especially for a vehicle of this size. I discovered that it was also capable of handling fairly effectively. Driving anything this large, especially in metropolitan centres, might be challenging, but it still manoeuvred smoothly, even in tighter corners. It isn't the most responsive vehicle on the market, but you will get used to it.