10 Best Cars For The Mountain Driving in 2022
Be prepared for uphill, winding roads that are often hazardous owing to the presence of snow or rain whether you reside in a region that is mountainous or if you are just visiting. Therefore, it is highly recommended to own the most suitable vehicle to navigate the terrain. So, which is the greatest automobile for mountainous places with plenty of hills?
SUVs and pickup trucks, which often come equipped with AWD, four-wheel drive, and power steering, are excellent choices for driving on mountain roads that are mountainous, particularly in the winter. The automobile needs to have a high safety rating, a potent engine, and decent mileage for its gas consumption. Consideration should also be given to the car's passenger volume as well as its pulling power. The following is a list of the best cars for the mountain driving.
Which Mountain Driving Safety Features Are the Most Essential?
As far as safety features go, you can put an end to the days when the most snow-ready car's trunk could only contain a bag of salt and a shovel. Safety and driver-assist systems are becoming common in today's automobiles, including cars, trucks, and SUVs.
Some safety measures, such as anti-lock brakes and traction control, have been mandated as standard equipment on all passenger cars as of 2013. More and more automobiles and SUVs on the market nowadays are equipped with cutting-edge technology. Some may even help you save money on your auto insurance premiums.
A list of characteristics that we believe improve control and safety in snowy or icy situations was developed. We also tossed in a few more for warmth and convenience throughout the winter. Some or all of these features may be found in our best cars for the mountain driving 2022.
Top 10 Best Cars for Mountain Driving
Must Check: 10 Best Sedans For Snow And Ice Driving
#1. BMW 3 Series
Price: $42,445
Engine: 2.0 L Intercooled Turbo Premium Unleaded I-4
Transmission: 8-Speed Automatic Transmission
The BMW 3 Series, which is at the top of the small luxury sedan food chain, provides xDrive AWD on all of its sedan models, including the hybrid 330e. The entry-level 330i with an all-wheel drive costs an additional $2,000 above the standard 330i model. The 330i xDrive now has a starting price of $43,450. Turbocharged 2.0-liter four-cylinder engine paired to an 8-speed automated gearbox provides the go. '
All 3 Series models come with front collision warning, auto emergency braking, and rain-sensing wipers. Blind-spot monitoring is included with the $700 Active Driving Assistant upgrade, which is an optional add-on. Adaptive LED headlights & automatic high beams are two other possible features to aid the driver in low-light situations.
Pros
Powertrains that are delightfully powerful and smooth
sporty handling, a tranquil ride, and
practical backseat and trunk capacity are all hallmarks of this vehicle
Cons
Manual transmission is missing
steering should be more responsive, and
some competitors provide greater value
#2. Jeep Grand Cherokee
Price: $ 40,120
Engine: 3.6 L Regular Unleaded V-6
Transmission: 8-Speed Automatic Transmission
Several trim levels and price points make the Jeep Grand Cherokee a great choice for anyone looking for a vehicle with actual off-road prowess. Jeep's Quadra Trac II low drive system manages the descent and climbing of slopes in the Cherokee. All Grand Cherokee models, including the entry-level Laredo, come standard with 4WD.
While best cars for the mountain driving, the Cherokee is just as useful for errands as any other vehicle. It has a luxurious cabin and a user-friendly entertainment system called Uconnect. This is a surprisingly fuel-efficient vehicle for an SUV of its size, thanks to the Cherokee's standard V6 engine. Optional on select Jeep models, the Active Safety Group incorporates automatic emergency braking, forward-collision warning, cruise control and parallel and perpendicular parking aid.
Pros
The vehicle's off-road prowess is second to none
A well-balanced driving experience and a comfortable ride
Seats that are both supportive and comfortable
Features of technology that are easy to make use of
Cons
The price tag is astronomical
This vehicle has a lower-than-average capacity for cargo
Also Check: Top 10 New Cheapest Cars With V6 Engines
#3. Subaru Outback
Price: $ 28,820
Engine: 2.4 L Intercooled Turbo Regular Unleaded H-4
Transmission: 8-Speed Continuous Variable Transmission
The Subaru Outback, a five-door crossover SUV debuting in 2009, is a Subaru model. The inside is spacious and comfy andit is the best cars for the mountains. Sway warning, lane departure warning, cruise control, pre-collision brake, electronic traction control, dual-zone temperature control, airbag package, anti-lock brake system, Bluetooth, stability control, and hill descent are some of the safety features included within the Outback.
Pros
Better ground clearance
A cargo-friendly cabin, and
a plethora of technological amenities is all made possible by the vehicle's lifted suspension
Cons
CVT gearbox stifles acceleration
The standard engine is uninspiring in its handling
#4. Land Rover Range Rover
Price: $95,150
Engine: 4.4 L Twin Turbo Premium Unleaded V-8
Transmission: 8-Speed Automatic Transmission
The Range Rover Sport is a variation of the Range Rover that is more focused on speed and handling. With a focus on handling and performance rather than off-road or on-road capability, it's smaller and more agile than its predecessor. Goggles, drinks, purses, and cellphones may all be stored safely within the storage booths. There are four cup holders, a central box, a glovebox, and door panel storage in the driver's seat. Cup holders, front seat jacket pockets and door pockets may be found in the passenger row. There are two cupholders on the third row.
Pros
Beautifully styled
the nice cabin
riding quality that is velvety
Cons
Start-up costs are high
Third-row legroom is minimal
The engines are quite thirsty
Also Check: 10 Best 2nd & 3rd Row SUVs With Captains Chairs
#5. Honda CR-V Hybrid
MSRP: $31,610.
Engine: Hybrid
Transmission: Continuously variable-speed automatic
The Honda CR-V is a little crossover that packs a powerful punch. It has a 2.0-liter four-cylinder motor with two electric motors that create 212 horsepower. Driving in steep terrain is made easier by the quick CVT gearbox that enables seamless shifting. Moreover, the engine is very fuel-efficient, returning 40 mpg on the city streets and 35 mpg on the interstate.
In addition, all-wheel drive is included as a standard, which improves traction control and overall performance. Torque is sent to the back as the vehicle is maneuvered into varied driving conditions. The Honda CR-V boasts a range of 7.8 to 8.2 inches of ground clearance to enable drivers to navigate a variety of terrains.
Pros
Large enough to accommodate both people and freight
Strong and reliable safety technology
Secure and dependable in nature
The engine that is quick and fuel-efficient
Excellent resale value
Cons
Outdated general information and entertainment system
Tows only up to 1,500 pounds at a time
There is no off-roading trim
#6. Toyota RAV4 Hybrid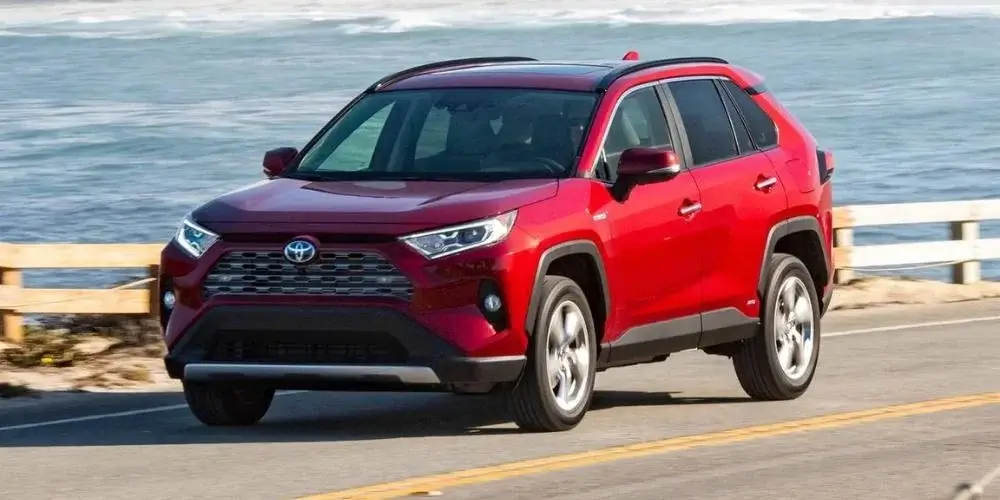 Price: $27,740
Engine: 2.5 L Regular Unleaded I-4
Transmission: 8-Speed Automatic Transmission
The front wheels of the Toyota RAV 4 Hybrid are powered by the engine and motor simultaneously, while the rear wheels are propelled by the rear motor.
The vehicle's 8.4-inch ground clearance is more than enough for traversing the rough terrain: automatic gearbox and a 2.5-liter 4-cylinder engine with two electric motors power the RAV4. An impressive 41 mpg in city driving and 38 on the interstate is achieved thanks to this.
Pros
The inside is roomy
Several common safety measures are included in the package
Excellent mpg on the highway
Reliability and resale prices of Toyota vehicles
Cons
There is a chance that the cabin will be a little loud
Its is one of the more expensive competitors in this class
Also Check: 15 Of The Fastest 4-Cylinder Cars
#7. Hyundai Tucson Hybrid
Price: $26,245
Engine: 1.6 L Intercooled Turbo Gas/Electric I-4
Transmission: 6-Speed Automatic Transmission
Innovative technologies and a hybrid engine are available in the Hyundai Tucson Hybrid, allowing it to best cars for the mountain driving 2022 better while using less gasoline. In addition to the gas engine, the Tucson Hybrid has a 64 kW electric motor that is driven by a lithium-ion battery. Their combined output is 226 hp and 258 lb-ft of torque.
An automated six-speed gearbox that shifts smoothly distributes the power to the four wheels. Hill starts and maneuvering at high speeds need a more advanced AWD system.
Pros
It's possible to have both plug-in hybrid and hybrid models
Displays on large screens
Elegance and sophistication
Cons
The capacity for towing is limited
There isn't any off-road styling
#8. Kia Telluride
MSRP: $34,385
Engine: 3.8 L Regular Unleaded V-6
Transmission: 8-Speed Automatic Transmission
The Kia Telluride is the ideal car for taking on new adventures for being best cars for the mountains. An all-wheel drive is an option. As of the 2022 model, the 3.8-liter V6 engine is able to produce 291 horsepower and 262 pounds of torque. The eight-speed automatic gearbox comes standard with front- and all-wheel drive, as well as the option to upgrade to all-wheel drive.
When compared to other vehicles in its category, this one gets an average fuel efficiency rating. Standard front-wheel drives get 20mpg in the city and 26mpg on the highway, while all-wheel drives get 19mpg in the city and 24mpg on the highway. EPA estimates differ.
Pros
Spacious
Well-equipped
Price wars
Absolute peace of mind
Cons
There is no hybrid version
Also Check: Top 10 Most Comfortable Luxury SUVs For Long Distance Driving
#9. Toyota 4Runner
Price: $38,940
Engine: 4.0 L Regular Unleaded V-6
Transmission: 5-Speed Automatic Transmission
Four-door luxury SUV with five passengers is the Toyota 4Runner. Full-time and part-time 4WD systems are offered for the 4Runner.
Handbags, drinks, telephones, and bottles may all be stored in the 4Runner's multiple storage areas. The center box, two cup holders in the control panel, the glove box, and the storage on the door panel are all located in the front row cabin.
Pros
Realistic off-road prowess.
Inside, there's plenty of room for passengers and baggage thanks to the vehicle's abundance of standard driver-assistance technology
Cons
Poor mpg (miles per gallon)
The materials used in the inside are uninspiring
Newer mid-size SUVs are much more elegant
#10. Nissan Altima
Price: $25,995
Engine: 2.5 L Regular Unleaded I-4
Transmission: Continuaous Variable Transmission
When driving in snow, AWD is available on every Nissan Altima model except for the S grade. The SV is the cheapest AWD variant.
The standard price with an all-wheel drive is $26,950. Standard features include automatic headlights, remote motor start, forward collision warning, automated front emergency braking, blind-spot detection, rear cross-traffic warning, and automatic rear braking makes it best cars for the mountain driving 2022. These features are also available as an option. After paying the $1800 for the Premium Package, you will receive heated front seats as well as heated outboard mirrors.
Pros
Handling abilities that are nimble
Powertrains use a surprisingly little amount of fuel
Great for long-distance snoozes
Cons
The standard powertrain is sluggish and might be loud
Active safety features that may be invasive
Ride quality is harmed by the use of 19-inch wheels and tires
Frequently Asked Questions
Which SUV is best for mountains?
Subaru Outback & Jeep Grand Cherokee are the top two SUVs for mountains.
Is AWD needed for mountains?
The combination of a steep hill, wintry weather, and a heavy traffic flow necessitates all-wheel drive.
Is 4WD better than AWD in snow?
No, automatically distributing torque to all four wheels is another option available with all-wheel-drive systems. All-wheel drive is the greatest option for driving on snowy and icy roads since it provides the most control.
What car is best for driving in snow?
Nissan Altima, BMW 3 Series and Dodge Charger are the top three cars for driving in snow.
Which car is best for climbing hills?
Roller Coaster is the best for climbing hills.