Top 10 Best Electric Cars For Families in 2023
A select few compact and mid-range priced cars have emerged from the deluge of electric vehicles available today. These vehicles may not be as roomy as the long list of hybrids and SUVs. Still, many may compete in range and speed, especially considering the smaller, more maneuverable alternatives.
Today's electric vehicles provide better range, faster charging, and higher fuel savings, making them ideal for transporting children to and from school in a zero-emissions fashion. You can find the greatest electric vehicles and SUVs for families in various configurations and pricing points. These are the most anticipated and the best electric cars for families 2023.
List Of Best Electric Family Cars For 2023
The best-ranked and most beloved EVs for families are these electric crossover SUVs and full-size SUVs. Many top electric cars for families are available, each with its price tag, range, and charging time. If NHTSA safety ratings exist for the vehicle, we have included these. Drop us a line and tell us about the electric vehicles you're considering.
Must Check: New 2023 Cars With Manual Transmission
#1. 2023 Hyundai IONIQ 5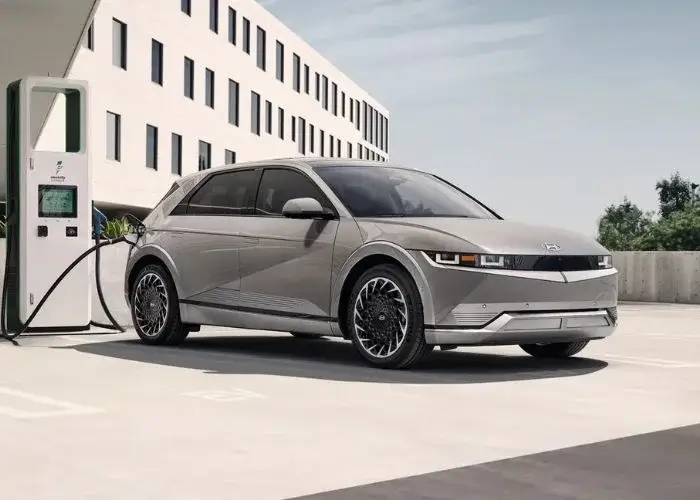 Price: $42,745
Horsepower: 225
Torque: 258
Fuel Capacity (combined/city/highway) (MPGe): 114/132/98
Wheelbase (inches): 118.1
Length (inches): 182.5
Width (inches): 74.4
Height (inches): 63
More and more people are considering buying the best electric cars for families as their next vehicle (EV). Not everybody can afford a Tesla; a Nissan Leaf isn't good enough for some people.
However, the anticipation has been amplified by the recent arrival of a slew of electric automobiles. This is in the same league as the Kia EV6 and the Ford Mustang Mach-E. The Ioniq 5 is a compelling electric vehicle (EV) option due to its extensive baseline features, long list of available upgrades, impressive warranty, and large battery capacity. All wrapped up in a pretty bow that seems like the future it is helping to build.
The Ioniq 5, after a brief 2022 model year, has been selected as our Best New Model for 2023. It's the greatest electric car we've found for most people, making it our Best Buy for that category in 2023.
IIHS has recognized the Ioniq 5 as a Top Safety Pick+. The product was first only offered in a few locations but is now widely distributed throughout the country.
#2. 2023 Chevrolet Bolt EV
Price: $28,795
Horsepower: 200
Torque: 266
Fuel Capacity (combined/city/highway) (MPGe): 115/125/104
Wheelbase (inches): 105.3
Length (inches): 169.5
Width (inches): 69.7
Height (inches): 63.6
As of 2023, the Bolt EV is the least expensive new American-made best electric cars for families. Thanks to Chevrolet's price reduction, it boasts the industry's lowest MSRP. The base price of a Nissan Leaf is $27,400.
However, there is a catch: the Leaf may still earn you a $7,500 federal tax credit. But if you can go 259 miles rather than 149 miles between charges, that could be money well spent.
Also Check: Cheap Cars With Blind Spot Detection
Most electric vehicles are driven with just one pedal, a unique feature. The shift paddle for Regen on Demand is located under the 2023 Chevrolet Bolt EV wheel, allowing for this functionality. When the brake regeneration is turned up, the automobile responds to the driver's pressing on the accelerator pedal.
#3. 2023 Volvo XC40 Recharge
Price: $54,645
Horsepower: 402
Torque: 486
Fuel Capacity (combined/city/highway) (MPGe): 85/92/79
Wheelbase (inches): 106.4
Length (inches): 174.8
Width (inches): 75.2
Height (inches): 65.2
The XC40 Recharge is remarkable in almost every way. The standard all-wheel drive, high-quality construction, elegant interior, external styling, cutting-edge technology, and responsive drivetrain contribute to an enjoyable driving experience.
The only problem is the limited distance that may be traveled on a single charge of the battery. The range of the XC40 Recharge is projected to be about 223. The Lexus RZ 450e is only one example of a competitor that can be outdone, even if only by a small margin. The NHTSA gave it a perfect grade of 5 stars for safety.
#4. 2023 BMW i7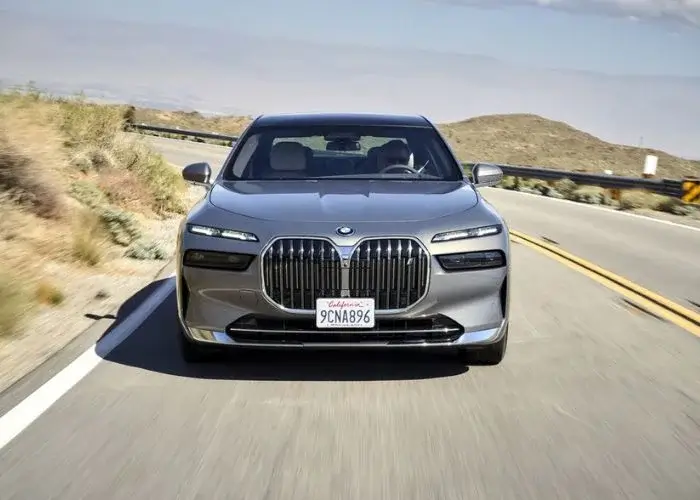 Price: $120,295
Horsepower: 536
Torque: 549
Fuel Capacity (combined/city/highway) (MPGe): 83/81/85
Wheelbase (inches): 126.6
Length (inches): 212.2
Width (inches): 76.8
Height (inches): 60.8
The all-new 2023 BMW i7 sedan will serve as the flagship model for the company and set the bar for the growing segment of high-end, battery-powered luxury sedans. The i7 is a champion for its superior performance and sleek, sophisticated design.
The best family friendly electric cars is an excellent high-end electric vehicle. It has the authoritative handling of BMW's gas-powered 7 Series, a luxurious cabin with seats fit for a king, and many advanced features. The i7's practicality and ease of use are further enhanced by its more than 300-mile range. Which is the biggest drawback of the i7? Minimalist cabin controls might be a distraction.
#5. 2023 Ford Mustang Mach-E
Price: $48,195
Horsepower: 266
Torque: 317
Fuel Capacity (combined/city/highway) (MPGe): 103/110/96
Wheelbase (inches): 117.5
Length (inches): 186
Width (inches): 74.1
Height (inches): 64
The 2023 Ford Mustang Mach-E maintains its reputation for excellence thanks to its extended range on a single charge, engaging driving characteristics, roomy and luxurious cabin, and extensive list of standard amenities. But the best electric cars for families have been eroded by rising prices.
Also Check: Top Best Automatic Sports Cars
Excellent electric sport utility vehicle, that's the 2023 Mustang Mach-E. The Mach-E sprints to 60 mph quickly and can go over 300 miles on a single charge, depending on your options. Its agile handling and satisfying feedback make driving fun on winding roads, and the plush interior has enough capacity for five adults and their luggage and plenty of other comforts.
#6. 2023 Genesis GV60
Price: $60,385
Horsepower: 314
Torque: 446
Fuel Capacity (combined/city/highway) (MPGe): 95/103/86
With its futuristic new features, sleek form, and distinctive details, the 2023 Genesis GV60 is a look into the future. It's a fantastic leap forward for luxury electric SUVs, combining high-end comfort, robust performance, and everyday use.
Excellent sport utility vehicle (2023 GV60). It has competent handling and a comfortable ride, and the two available powertrains cover the gamut from brisk to gleefully quick. An abundance of high-end standard technology, comfort, and driver-aid features make this Genesis an exceptional buy. In addition, it stands out among premium electric SUVs thanks to futuristic details like biometric driver identification. It has just one major drawback, and that is its average driving range.
#7. 2023 BMW iX
Price: $85,095
Horsepower: 532
Torque: 749
Fuel Capacity (combined/city/highway) (MPGe): 77/76/80
Wheelbase (inches): 118.1
Length (inches): 195
Width (inches): 77.4
Height (inches): 66.8
You won't be disappointed with the 2023 BMW iX, a premium electric SUV with everything you can desire. It can go quickly and far, uses little gas, is easy on the driver's eyes, is loaded with high-tech amenities, and is constructed with great care. On the downside, it's not cheap.
The iX's robust electric drivetrain can confidently tow the SUV for almost 300 kilometers on a single charge. The iX handles corners with the grace and skill one would expect from a BMW, and it also provides a remarkably well-cushioned and smooth ride on less-than-perfect roads. But the best electric family car interior is where it shines. Space-age conveniences and high-quality materials abound in the roomy and plush interior. Cargo space in the rear is also ample.
#8. 2023 Ford F150 Lightning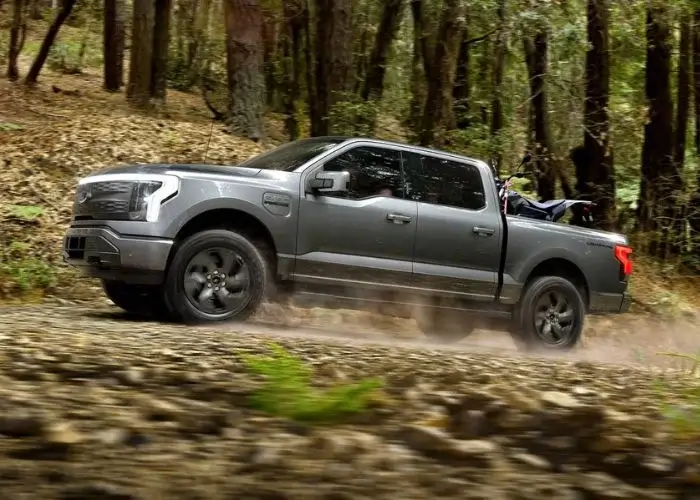 Price: $53,769
Horsepower: 426
Torque: 775
Wheelbase (inches): 145
Length (inches): 231.7
Width (inches): 79.9
Height (inches): 77.2
Ford F-150s have consistently outsold all other vehicles in America. It is a full-size pickup truck that accomplishes all such vehicles are expected to do and frequently does it better. The 2023 F-150 Lightning is similar to previous generations of trucks in many significant respects.
It has a maximum towing capacity of 10,000 pounds and a payload capacity of over 2,000 pounds. All-wheel drive is a standard feature. In contrast to conventional vehicles, it performs their duties without sucking up any fuel.
Also Check: Pros And Cons Of Electric Cars On The Environment
No asterisks are needed to say that the F-150 Lightning is an excellent pickup. That's why we've named it 2023's Top Electric Pickup Truck.
The 240-mile maximum range achieved by the basic battery is an improvement above the 230-mile maximum range achieved by the standard battery in 2017. The longer-lasting battery has an increased maximum range of 320 miles per charge and claims to have greater power.
#9. 2023 Kia EV6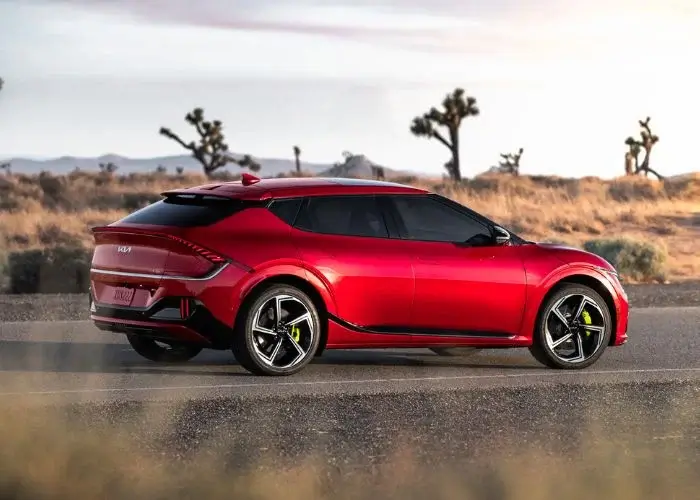 Price: $49,795
Horsepower: 225
Torque: 258
Fuel Capacity (combined/city/highway) (MPGe): 117/134/101
Wheelbase (inches): 114.2
Length (inches): 184.8
Width (inches): 74.4
Height (inches): 60.8
The 2023 Kia EV6 a sibling to the Ioniq 5. Rear-wheel drive is standard.
With its ballistically rapid acceleration and 576 horsepower (with an adaptive suspension), the GT variant has replaced the EV6 as the top dog for 2018. The best family friendly electric cars may be had with either a rear-wheel drive provided by a single electric motor positioned on the axle or an all-wheel drive provided by electric motors mounted in the front and back.
#10. 2023 Tesla Model X
Price: $122,440
Horsepower: 1020
Fuel Capacity (combined/city/highway) (MPGe): 98/103/93
Wheelbase (inches): 116.7
Length (inches): 198.3
Width (inches): 78.7
Height (inches): 66
Although the 2023 Model X benefits from the performance and prestige of the Tesla name, its gimmicks aren't as appealing as they once were. The market for high-end electric SUVs has grown, and with it come improved offerings. Two X versions are available; the first is a dual-motor basic SUV with 670 horsepower and an EPA-estimated 348 miles of range. The Plaid variant is more expensive, but it has an incredible 1020 horsepower and can go up to 333 miles on a single charge.
While a new card-style key fob will be standard on all Model Xs manufactured after 2023, the traditional car-shaped fob will remain an upgrade. The best electric family cars otherwise continues unchanged into the new year.
FAQs About Best Electric Family Cars
Which electric car is best for a family?
The 2023 Hyundai IONIQ 5 is the best ev for families.
Which family electric car has the longest range?
The Tesla Model 3 Long Range, which has a maximum range of up to 374 miles, is the longest-range electric automobile currently available.
What is the lifespan of an electric car?
Experts predict that the typical EV battery will live for roughly 200,000 miles, but some manufacturers are already promising considerably further.
Which is the best 7 seater electric car?
Tesla Model X is the best 7-seater electric car in 2023.
What are the biggest disadvantages of electric cars?
A vehicle's battery is the single most important factor in determining its driving range.
Recharge Points.
Even with a quick charger, which can bring an EV's battery to 80% charge in as little as 30 minutes, recharging an electric vehicle takes much longer than refueling a gasoline or diesel vehicle.
Replacement and repair of EV batteries are expensive.
Conclusion
Discover the most up-to-date information about the best ev for families and SUVs available to purchase in 2023. Before you go out and buy a brand-new electric car or electric SUV, use this comparison review to get a sense of how different models compare in terms of safety, reliability, and range efficiency.