Top 10 Best Gas Mileage Cars For 2022
Gas prices are going up because more and more electric cars are on the market. However, even though you may want to save gas money, switching to all-electric vehicles might be early. The best news is that if you want to save money at the pump, there are a lot of fuel-efficient cars that aren't fully electric yet. As you may have noticed, many automakers have started making more fuel-efficient cars with technology in recent years. It includes smaller engines, hybrid and plug-in hybrid powertrains, and more. In the world of vehicles, 2022 is a year of speed and mileage at an affordable price; therefore, listed below are the best mileage cars of 2022.
List of Top 10 Best Mileage Cars 2022
#1. 2022 Toyota Prius Prime: 55 mpg overall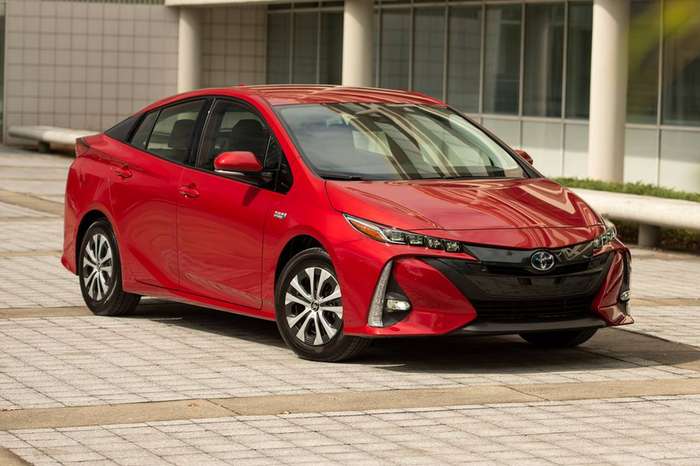 This plug-in Prius can go about 23 miles on electricity alone most of the time. When it's cold outside, the gas engine starts up more often. Charging the Prime through a 240-volt connector takes two hours while charging it through a 120-volt outlet takes five hours. When the Prime isn't running on electric power, it works just like the regular Prius. It mechanically switches between electric and gas power, getting 50-mpg overall. The infotainment system is hard to use because it has a big touch screen that is hard to read. They have a soft ride and quick handling, similar to the regular Prius. If you buy a plug-in Prius, the back seat can fit three people. Among the standard active safety features are FCW and AEB with pedestrian detection. It only comes with the top trim. The starting price for this car is USD 28,220.
Aslo Check: 500 Horsepower Cars Under $20k For 2022
#2. Tesla Model 3: up to 141 mpg

The Model 3 is rapid to get going and very agile when driving. However, even though they're good seats in front, the ride is very rough. The range for this car starts from USD 36,990. The spaces in the back are too low and uncomfortable. There is a Long Range version with a range of 353 miles, but it costs more. There is a 240-volt connector that can charge for 12 hours, but it takes a long time. Distracting: Even simple tasks, like changing the mirrors, must be done on the large touch screen in the middle. The Autopilot system can keep the car going steadily and keep it in its lane. Still, it can't handle all kinds of driving situations, so drivers must stay alert. There isn't a proper BSW. Instead, images of nearby cars are present in the center of the screen. It is by far the best mileage car in 2022.
Also Check: Top 10 New Cheapest Luxury Cars With 600 Horsepower
#3. Hyundai Ioniq: highest up to 60 mpg
Even though the new 2022 Hyundai Ioniq 5 crossover is the most talked-about car, this original Ioniq is worth looking for as a cheap way to get good gas mileage and costs around $40,000. The Ioniq has a 1.6-liter four-cylinder engine and an electric motor that makes 139 total horsepower. It also has a six-speed automatic transmission. The standard features are an eight-inch touchscreen, Apple CarPlay, Android Auto, four doors and a hatchback layout.
Also See: Top 10 Fastest Japanese Cars (With Top Speed & Pictures)
Because it looks like an average car, the Ioniq is even more appealing and in the records of the best mileage cars of 2022. People who want to get to and from work on a budget may like it doesn't show how efficient it is. Also, it costs less than its closest rival, the Toyota Prius, which starts at $24,405. And even though the Ioniq is beginning to appear its age in terms of in-car new tech and interior quality, it's still a good choice for a cheap car ride. A plug-in combination is also available, and it can get money from both the government and the city.
#4. Toyota Corolla can get up to 53 mpg
Like the Camry, the Toyota Corolla has been a popular small sedan for a long time. It was a no-brainer to make a Corolla Hybrid a few years ago. It has a 121-horsepower hybrid powertrain from the Prius, but at a much lower price. At less than $25,000, it's an excellent way to get into a perfect car.
This car comes in one trim level: the Corolla Hybrid. It is well-equipped with Bluetooth and adaptive cruise control, automatic high beam assist, automatic emergency braking with pedestrian detection, lane-departure warning, etc.
These features can also be present on the gas-only Corolla sedan, which gets 40 mpg and costs about $4,000 less. Also, the sedan doesn't have the agility and accuracy of the Corolla compact car, which isn't available as a hybrid, but the sedan isn't. And when it comes to small hybrid sedans, there are more well-rounded options.
#5. Hyundai Elantra: maximum up to 56 mpg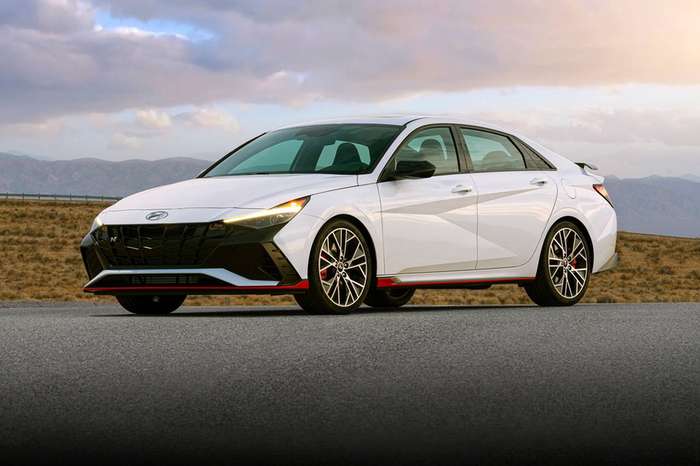 New the year before, the Hyundai Elantra Hybrid looks just like its gasoline-only cousins, and the base price starts from $19,850. When it comes to the Elantra for the first time, it has a hybrid powertrain that makes 139 horsepower, and most Elantras have that. Even better is that the most efficient hybrid model can get up to 56 miles per gallon, which is better, and Gas-only Elantras get 43 mpg. The card gives excellent mileage at an affordable price; subsequently is a great option to choose from the best mileage cars of 2022.
For less than $25,000, the base Elantra Hybrid Blue comes with many standard features, like blind-spot controlling, Apple CarPlay and Android Auto connectivity, heated front seats, and a hands-free trunk opener. These features are also available for an extra fee. The Limited version has a 10.25-inch touchscreen infotainment system with built-in navigation, leather seats with heated front seats, and a leather steering wheel. It costs less than $30,000. It may not be the most elegant small sedan to drive, but the value of the Elantra is hard to ignore.
#6. Chevrolet Bolt: max up to 119 mpg
A 2022 update to the Bolt made the touchscreen infotainment and interior better, and a new version called EUV was a little bigger. It costs around $36500. The 200-hp electronic motor that drives the front wheels of the current Bolt EV is still there. EPA says the Bolt EV can go 259 miles on a fully charged battery, which is a lot. There is a built-in DC fast charging feature on the new Chevy Volt, and Chevrolet says that setting for 30 minutes at a public place will add 100 miles of range. The car's interior has changed, with a more comfortable seat and soft-touch materials for a more upscale look. It is also not just an ordinary choice in the list of best mileage cars in 2022. Infotainment and the gear selector are easier to work within this car.
#7. Hyundai Sonata: max up to 54 mpg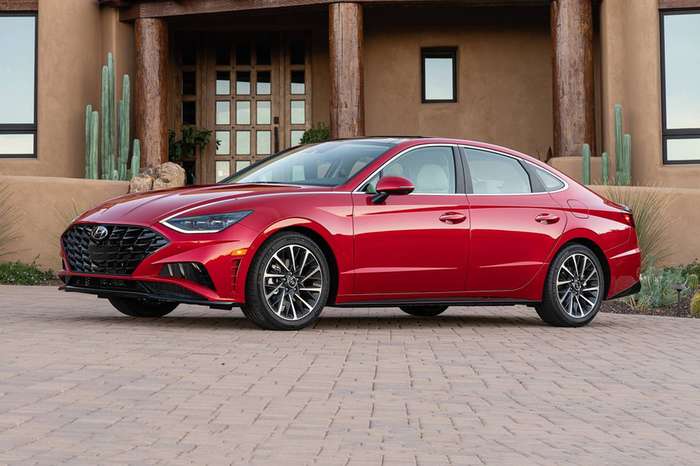 The Sonata is still a good-looking midsize sedan two years after the present system has a coupe-like shape. But the Sonata Hybrid's fuel efficiency is even more impressive. The car can get up to 54 miles per gallon while making 192 horsepower. That's better than many small hybrids, and it should get you 686 miles on a tank in the base Blue trim level. The base price starts from $33,450.
When the Sonata is comfortable and roomy, it helps that it is also a sedan. There will be sufficient room for four adults and even five if you need to. When you buy a car for more than $28,000, you get an automatic emergency stop with pedestrian detection, blind-spot warning and colliding prevention. It also has an eight-inch touchpad with Apple CarPlay and Android Auto connectivity.
It costs more to get the SEL or Limited trims. Still, you get bigger wheels, wireless smartphone charging, solar cells that cool the inside of the car when it's parked. And Hyundai's new park assist feature moves the vehicle into and out of parking spaces when you press the remote.
#8. Kia Niro: up to 53 mpg
They should look into the Kia Niro Hybrid to get the most out of their money. In this case, it has the same 139 horsepower engine and 6-speed automatic transmission as the Hyundai Ioniq Hybrid. Still, it is in a very different shape and looks like an SUV. It is also amongst the most practical, with up to 63.2 cubic feet of space for cargo and enough room for four adults or a few kids in the back seat. Every Niro also comes with an 8-inch touchscreen with wireless Apple CarPlay and Android Auto. Like other cars on this list, the Niro doesn't come with standard advanced driver aids like forward-collision warnings and adaptive cruise control. But for less than $26,000, you get a lot of cars for your money. The base price for this car starts from $24,690.
#9. Nissan Leaf: approximately 56 mpg
In the standard Leaf EV, there is a 40-kilowatt-hour battery that can go for 149 miles. The 2022 Nissan Leaf base cost is $27400. There is a version called "Plus." It comes with a 62-kWh battery, which gives the Leaf an estimated range of 215-226 miles, depending on the trim level. It also has a more powerful motor, making the Leaf Plus go faster from 0 to 60 mph than the 40-kWh Leaf. It takes nearly 8 hrs to charge the standard Leaf and 10.5 hours to charge the 62-kWh Plus. When the Leaf rides, it's a little soft. It makes it feel soft until you hit a bump hard. Handling is tedious, but it's safe. The driving position isn't very comfortable because the steering wheel doesn't move for reach. The optional ProPilot Assist can keep the car in its lane and speed up or slow down based on the speed of other vehicles on the road. All cars come with FCW, an AEB with pedestrian detection, and BSW.
#10. Toyota Camry: max up to 53 mpg
Toyota did a great job putting its popular hybrid powertrain in the best-selling midsize sedan in the US more than a decade ago. The Camry Hybrid is still the best Camry to buy. It can get up to 53 mpg from its 208-horsepower hybrid powertrain, which isn't very noisy and is also very efficient and smooth. According to mileage and price, this car ranks pretty well in the list of best mileage cars in 2022.
LED headlamps, Apple CarPlay and Android Auto connectivity, and a set of Toyota's driver-assist technology are all standards. These include a pre-collision system, lane departure alerts, fully automated high beams, radar power steering, road sign assist, and lane tracing assist. It costs about $28,000 to start, about $2,000 more than a gas-only Camry. Nonetheless, it's the best one in the Camry lineup with at least 30% better fuel economy, more horsepower, and a reasonably quiet experience.
The bigger and more lavish Lexus ES 300h and Toyota Avalon Hybrid use this same hybrid setup, but they cost a lot more and get less mileage.
FAQs
1. What 2022 SUVs have the best gas mileage?
For a long time, SUVs have been known for having poor gas mileage, which has led to a decline in their popularity. However, because of new regulations and different consumer needs, automakers are now looking at ways to improve gas mileage in full-size, crossover, and subcompact SUVs. The new cars and trucks on sale for the 2022 model year will be more efficient than ever before.
Kia Sorento Hybrid 2022- its mileage is up to 34 mpg
When it gets to fuel efficiency, the 2022 Kia Sorento Hybrid is one of the most efficient cars out there right now. AWD Hybrid: This car is powerful and thrifty, with a combined MPG of 35 miles. A turbocharged hybrid powertrain puts out 227 horsepower through the front-wheel drive. The car starts at $33,990. It is the car for you when you want to get the best of all three things.
Many different options are available for the Kia Sorento Hybrid in 2022, and one of them is an FWD version. Liable on the trim level you choose, you might be able to get a higher ride elevation, a roof rack, or optional 20-inch wheels.
Hyundai Santa Fe Hybrid 2022- up to 34 mpg
When it gets to plug-in hybrid SUVs, the 2022 Hyundai Santa Fe Hybrid is one of the best. When electric and gas features are together, this AWD SUV can get up to 76 MPG, and you can still get 33 MPG combined even if you don't use the hybrid function. It makes the Ford Escape Hybrid very efficient for an SUV of this size, so it's so good.
It starts at $34,975 at the base level. In 2021, Santa Fe got a complete makeover, and the PHEV option is now available for the 2022 model year. If you want to get the Limited trim level, you get heated leather seats, Hyundai's Smart Park system, and a 360-degree camera on the 10.3-inch screen. It's a good choice for many people because it has good fuel efficiency and these safety features.
Acura MDX AWD in 2022- max up to 21 mpg
The 2022 Acura MDX AWD gets 21 MPG in the city and on the highway when it comes to gas. It has a lot of power and features, too. It has the same 290-horsepower V6 engine that many other luxury SUVs have on the market when it comes to power, and it's also much more efficient than some of them, though. The all-wheel-drive system helps the car stay on the road better in bad weather, and it also makes the steering feel more responsive. This power is present in an MSRP that starts at $47,200.
As well as being able to get good gas mileage, the MDX has a lovely interior. With more legroom than in previous years and a wide range of interior materials, this SUV is for comfort. Also, the infotainment system is complete, so you can always be sure that you are getting the best possible gas mileage in any driving.
2. Does 2022 Outlander require premium gas?
The Outlander doesn't need to run on premium fuel. If you run it on regular gas, it won't have any problems with the warranty, and it will run well. The engine will make 230 horsepower if you run it on premium fuel. The engine timing can move far enough to get the rated power.
For those impressive fuel economy numbers, all you need to do is drive to the nearest gas station, put your credit card in, and choose "regular." Because the Mitsubishi Outlander takes standard gasoline, this is all you need to do. If you want to do it, you can use premium gas in the car.