Best Winter Wiper Blades For 2023: Reviews and Buying Guide
We've all been there: you're blissfully driving along then all of a sudden, a deluge of heavy rain comes crashing down on you like a pressure washer being turned on from above. During those heart-pounding, white-knuckle moments, your visibility completely disappears. The car in front of you vanishes, and the pounding of the rain drowns out the sound of your music. You give the windshield wiper stalk a quick flick to the maximum speed setting, and then you let it go to work, sending water flying off the windshield in a fury.
Because every car must have a high-quality pair of windshield wipers, we set out to identify the absolute best winter wiper blades that are currently available on the market. To locate them, we placed an order for a set from many reputable manufacturers, including Rain-X, Bosch, and others. After that, we subjected them to a series of tests in which we varied the conditions of the simulated rain and took notes on the ease with which they could be installed, as well as any peculiar squeaking, streaking, or residue that was left behind. Therefore, it is time to change the wiper blades on your car if you have noticed any squeaking, running, or overall poor performance from them. Your visibility will increase with a brand-new, high-quality pair of best windshield wipers for winter, which will keep you, others in the car, and the other cars on the road safer. Here are some of our top recommendations for winter windshield wiper blades that you may purchase for your car.
Best Windshield Wipers For 2023
#1. Bosch ICON 26A Wiper Blade
#2. Michelin 8022 Stealth Hybrid Windshield Wiper Blade
#3. Michelin Stealth Ultra Windshield Wiper Blade
#4. Aero Premium All-Season Windshield Wiper Blades
#5. Rain-X Latitude Wiper Blades
#6. Anco 30-22 Winter Wiper Blade
#7. TRICO Ice Extreme Winter Weather Blade
Best Winter Windshield Wiper Blades (Reviews & Buying Guide)
In this review and buying guide, we have carefully evaluated and compared various winter wiper blades available in the market based on their performance, durability, and ease of installation. Whether navigating through heavy snowfall or facing freezing temperatures, our expert recommendations will help you choose the best winter wiper blades to ensure maximum visibility and safety during the cold months.
Must Check: Best All Terrain Tires for Snow
#1. Bosch ICON 26A Wiper Blade
These durable, all-weather, multipurpose devices may be used in a variety of situations. It is a purposeful design feature of the rubber that it can withstand high temperatures and not degrade when exposed to ozone. They are also assessed for their performance in adverse conditions, which indicates that they are suitable for use throughout the winter. Protected tension springs ensure that there will be flexibility even when the temperature drops. Broad interoperability is one of the benefits offered by the Bosch ICON family of products. You may get only one for beam installations, or you can get a set of two if your windscreen wipers are more conventional. Everything from a pinch tap to a top lock is included in the range of arm kinds addressed. In addition, the purchase comes with two different hook adapters.
The fact that the functioning of this device is completely quiet is yet another advantage offered by it. This is because the spine has a tension spring that applies steady force. If the clattering, squeaking, or any other sounds that come from your wipers get on your nerves, you might consider purchasing these blades. They operate silently to remove any precipitation, snow, or road debris such as bugs that may be on your windscreen. Those who put in a lot of time on the road might also benefit greatly from purchasing one. The asymmetric spoiler makes it possible to maintain constant pressure. Even when the wind pressure rises at quick speeds, this helps to maintain the rod (or rods) placed against your glass so that you can see through it.
Features :
They come in single or double packs.
Beam method.
The included adapter hook measures 9 mm by 3 mm and 9 mm by 4 mm.
Top-lock (19 mm), side-lock (20 mm), Valeo top lock, and pinch tap locks are all discussed.
Effective in every climate.
Compatible with a wide variety of automobiles.
Effective at fast speeds.
Elegant style.
Silent functioning.
Simple set-up.
Strong enough to last a long time.
Hold up under high temperatures.
Streaks were seen by Some users after a rainstorm.
#2. Michelin 8022 Stealth Hybrid Windshield Wiper Blade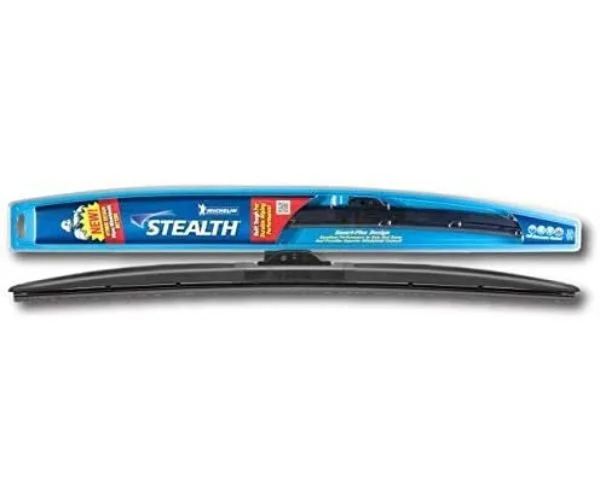 These hybrid windshield wipers from Michelin are formidable adversaries against any kind of wetness. They are an excellent choice for those of you who live in regions that often experience prolonged or intense periods of rainfall. To begin, they provide resistance to the uplift caused by the wind. The blades should remain firmly on your glass even if the storm is very intense or if you are traveling at a high rate of speed. After the rain stops falling, you won't have to worry about dealing with a windshield that is covered in streaks. The fact that these devices will leave your glass as clear as a bell is a significant benefit offered by them. This is due to the one-of-a-kind construction of our patented Smart-Flex technology. Each rod, much like conventional blades, contains pressure points that allow for a more even and consistent wiping movement. It does not matter whether your windscreen is curved or flat; it will fit properly either way.
When combined with a variety of adaptors that are designed to suit certain locks, their compatibility range is significantly expanded. Quickly making and breaking connections is made easy by the connector system's intuitive design. In addition to the instructions that are already included in the package, the Michelin website provides videos that will walk you through the procedure. The all-weather construction of these windshield wipers ensures that they will serve you well throughout the whole year. For the rubber to withstand the heat of the summer months, it has been given a treatment that makes it resistant to UV rays. The durability of these units has been evaluated by Michelin to ensure that they will endure more than one million wipes. If you store this away, you should be OK for at least several stormy seasons.
Features:
Only one in per box.
Sort of a hybrid.
Effective in every climate.
There are adaptors for a variety of locks.
Infrared-cured rubber.
Smothered to forestall jamming.
Change the wipers to fit your windshield.
Get rid of wetness without leaving stains.
Perfect for damp climates!
Maintain safety at breakneck speeds.
Prolonged use is not a concern.
Credible producer.
A small number of users reported confusion about the documentation.
Also Check:
#3. Michelin Stealth Ultra Windshield Wiper Blade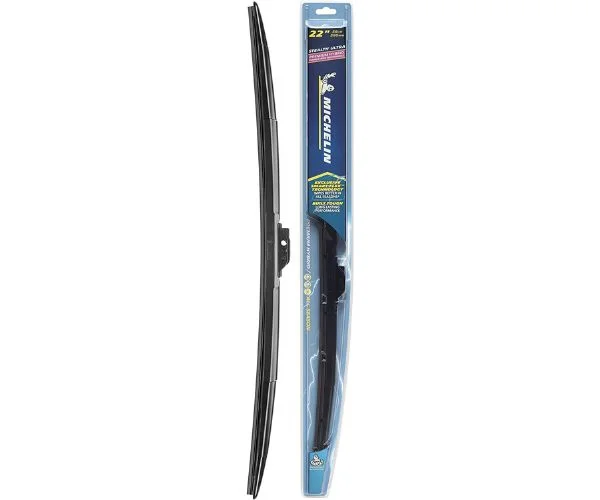 This is the second time that we've included a product from Michelin on our list, and this time it's their Stealth Ultra wiper blades. The hybrid build takes the best aspects of the classic approach and the beam model and merges them. Each rod has a rigid cover that is divided to provide further protection. This ensures that the beams have the consistent pressure that they are known for. While this is going on, the inner framework is derived from more conventional models. The rod's design has a clever hinge near its base, which enables it to conform to either curved or flat surfaces. The second mechanism employs the Smart-Flex technology developed by Michelin to avoid the possibility of the blade tip becoming detached. The finishing touch is an independent suspension system incorporated into the tip. This is another component that ensures the entire wiper is always in contact with the glass. If you are weary of the top of your windshield seeing less activity than the middle and the bottom, then you will like this build.
The premium rubber has a coating that stops it from making a noise as it drags on your glass. You will have unobstructed visibility as a result of the concerted efforts of each of these components working together. They come with several adaptations that enable them to fit a wide variety of locks, just like the Stealth variants that we have evaluated.
Features :
Only a single in per box.
Mixed breed.
It works in every climate.
You may get adapters for many locks.
Prolonged use is not a concern.
original layout.
Good source for products.
All-around firm hold.
Protected from the snow and ice by a roof.
Working quietly.
Compatible with both flat and curved windshields.
You may use it whenever you want, all year round.
Some customers complained that the directions weren't clear.
#4. Aero Premium All-Season Windshield Wiper Blades
These blades can be used in any season because they are designed to withstand extremely high or low temperatures. The lowest temperature they are rated to tolerate is -40 degrees Fahrenheit, and the highest temperature they can withstand is 158 degrees. Because of this, they are well-suited for places that suffer summers as well as particularly harsh winters. The windshield wipers sold by Aero are manufactured with OEM standards in mind. They are an excellent option for splashing out additional money to purchase the originals from the manufacturer of your vehicle. You'll also get a warranty that covers you for six months, free of charge. Customers who have made purchases from the company have reported receiving prompt responses and support, which is beneficial if any problems arise.
The edge of the rubber wiper has a precision-cut design so that it can remove debris and moisture while minimizing the amount of friction that occurs. Pressure is applied by dual-tension springs, and an exterior plastic covering helps to keep the material pliable despite extremes of temperature. They won't make a sound while they go about their business and won't drag, lift, or streak. The exceptionally reliable performance of these devices is a defining characteristic. They are just as capable of dealing with intense snow and sleet as they are with regular rain. You may have peace of mind knowing that they will be able to handle the difficulty of the winters in your area, no matter how harsh they are. The connection mechanism also has the added benefit of being easy to use. You won't need to read any manuals or watch any tutorial videos before or during the installation procedure. Simply remove the cover on the back, reposition the hook, and replace the cover; it's that simple. This is helpful information for those of you who are not very knowledgeable about the care and maintenance of automobiles.
Features:
Pairs are for sale.
Effective in every climate.
Specifically, a beam.
Adapter hooks measuring 8.7 x 9 and 9 x 11 millimeters are included.
Works in environments where the temperature is between -40 and 23 degrees Celsius.
Limited time offer of a six-month guarantee.
OEM standard quality.
Complete with a warranty.
Insensitive to heat or cold.
Simple set-up required.
Interruption-free performance.
Make no noise.
Behaves well in wintry conditions.
Rapid response times from the service team.
Some consumers have noticed connector issues including deterioration or breakage.
Also Check:
#5. Rain-X Latitude Wiper Blades
These robust beam wipers are designed to secure themselves to your glass despite the conditions to which it is subjected. Keep in mind that more pressure results in clearer glass and that more force is required to remove debris. Each rod has a spoiler built into the design to cut down on wind resistance, and the blade is composed of materials-coated rubber to cut down on friction when wiping. The form of the rods has been curved so that they are stable from the base to the tip. Because of this, the upper areas of your windshield will maintain their pristine state. The contour, in a manner similar to that of the spoilers and the materials-edged blade, contributes to the prevention of running and chatter in the same manner. When traveling at any speed, you ought not to be able to hear any bothersome creaks or clunking noises coming from the car.
An important selling element of this product is its wind resistance. If your area is prone to experiencing severe weather that is characterized by high wind speeds, you should probably think about purchasing Rain-X. The windshield wipers must maintain continual contact with the glass when driving in conditions that involve rain or snow. When the wind gets up, these won't be the first thing to start flying off. One other advantageous aspect is the degree of clarity that will be provided to you. In the event of precipitation, your line of sight will not be marred by ugly streaks. The construction is sufficiently weighty to clear away deep snow and sleet without leaving behind irritating stains. You will also receive a warranty that is good for ninety days, which is a great perk to have with any vehicle goods.
Features:
You may buy them alone or in packs of five.
We also offer nine different length options.
Specifically, a beam.
Embedded style.
Made with a spoiler to improve aerodynamics.
Small J-hook adapter is already built in.
This set of adaptors is for big J-hooks, bayonets, side pins, padlocks, and L&L locks.
The guarantee lasts for a full three months.
The majority of automobiles can use it.
Complete with a warranty.
Synthetic rubber is resistant to both high and low temperatures.
Graphite coating ensures a quiet, frictionless cutting edge.
The wind lift is being countered by the spoiler.
A firm hold.
High-powered swiping ability.
Working quietly.
Under the most extreme circumstances, some users have experienced a very limited lifetime.
#6. Anco 30-22 Winter Wiper Blade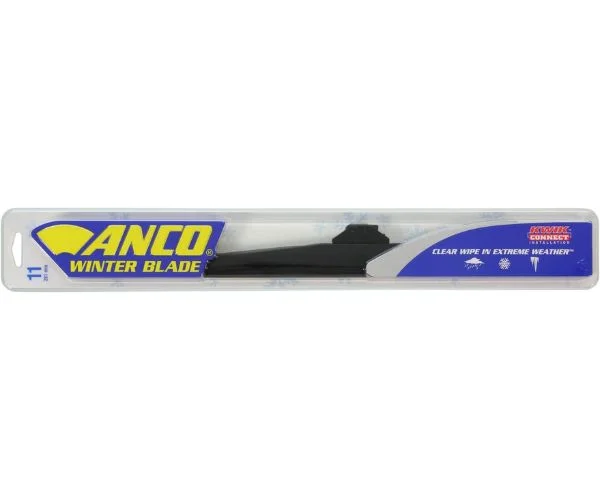 People of you who need windshield wipers that are designed specifically for the colder months may consider purchasing the sturdy units manufactured by Anco. These beam wipers are constructed with the harsh winter weather in mind at every stage of the process. You won't have to worry about the blades becoming unusable after a few months of being stored in the garage thanks to this feature, which is another advantage. Each blade has the rubber sheath that completely encloses it. This resilient rubber will not freeze, fracture, or tear under any circumstances. Moisture will not be allowed to get into the joints or any of the other internal workings. There is no danger of becoming stuck in the event of a heavy snowstorm or slush.
The Drawler rubber is used in the construction of the blade edge. This chemical, which functions to prevent streaks, bears a name that may have given it away to you already. Additionally, it has a firm grip on the glass, allowing for constant and smooth wiping. It has been treated to prevent it from becoming rigid even when exposed to temperatures below freezing. The straightforward nature of the setup is yet another advantage. You don't want to get angry because once a year you have to detach them and then reattach them, so make sure you plan. The innovative Knickknack system is designed to accommodate users with varying degrees of prior familiarity.
Features:
Packages include either one of each length or five of a shorter kind.
Beam structure.
Locks with pins or hooks may use this.
Patterned protection.
Not easily corroded.
Defiant against the cold.
Designed with the cold season in mind.
Can't be frozen.
Built to last.
Designed to resist corrosion.
Be adaptable.
Lasting for a very long time.
Don't get stuck.
Only two lock systems may be used together.
Also Check:
#7. TRICO Ice Extreme Winter Weather Blade
These beam blades are available in a total of 12 lengths, and there are five different lock adaptors to choose from. Because of its flexible profile, the blade can conform to both curved and flat windshields with equal ease. The rubber edging is substantial enough that it may deflect heavy snow away from your window as quickly as it accumulates. The bendable grip will remove all debris and moisture from your glass without leaving any streaks, so you won't have to strain your eyes to see through them. The rubber shouldn't fracture or deteriorate In any other way when exposed to freezing temperatures. Because it maintains its softness and pliability, wiping with it results in no squeaks or chattering at all.
Each rod has protective armor on it so that it can withstand the elements. This sturdy cover will prevent your wipers from becoming rigid or obstructed in any way. In addition to this, it will ensure that the edge is always firmly pressed against your windshield, regardless of the speed. Some consumers have reported leaving these units on even throughout the warm summer months. You may find that they work just as well to remove snow from your windshield as they do bugs. You will be provided with comprehensive instructions that will walk you through the entirety of the installation process.
Features:
There is just one within each container.
There are a total of five different adapters for locks.
There are a total of 12 lengths.
Beam structure.
Patterned protection.
Defiant against the cold.
Modern in style.
Particulars on how to set up the thing.
Built with the cold season in mind.
There are no smudges.
Protected by armor.
Mechanical silence.
Remove the ice and snow.
General applicability.
Strong and long-lasting.
Some users have complained that the experience suffers at faster speeds.
Is There a Big Difference Between All-Weather and Winter Wiper Blades?
You've undoubtedly seen windshield wipers categorized by the seasons. When compared to their summer and all-weather equivalents, how do winter wipers differ? The obvious response is "building and designing." Each variant is designed with a certain climate in mind.
Alternately, all-weather wiper blades
These individuals are meant to carry out their duties over the whole calendar year, as the name of the category implies. The fact that you should not have to replace all-weather blades every fall and spring is the primary advantage of investing in such blades.
They don't get a "break" as seasonal models do, thus they could wear out more quickly as a result. For this reason, those of you who live in locations where the weather is often mild should choose all-season blades.
Summer Wiper Blades
Rain is likely to be the most unfavourable kind of weather to experience throughout the summer months. A construct that is lighter and more slender will suffice to manage it. The majority of the time, you may also wear them throughout the spring and the fall.
Both the rubber covering and the frames are intended to be rather lightweight rather than cumbersome. The rubber has been treated in a way that prevents it from becoming brittle or cracking when it is exposed to sunlight. If you do not have them, they are essentially worthless if a storm occurs or you need to clear your windshield.
Winter Blades
Are we to assume that you switched to your winter tires well in advance of the first snowfall? Your windshield wipers should also be winterized; there is no good reason not to.
Icy roads are responsible for around 70 per cent of all unintentional fatalities. Winter blades are designed to be very long-lasting and strong in every conceivable way. Consider the elements that often accompany a typical winter: snow, sleet, wind, and even hail. And that's without even mentioning the weather, which may drop far below freezing.
All of the internal processes are protected by a cover for them to function properly under these severe circumstances. If this doesn't happen, snow might build up and allow the entire system to get clogged. A thicker cover contributes to a more robust structure. It takes more effort and energy to remove frozen water (snow, sleet, etc.) from your glass since frozen water is heavier.
Strong synthetic compounds like Teflon or silicone are often used in the production of rubber parts. Each of the rods has to maintain its flexibility to avoid rupturing or breaking when exposed to the cold. Because of this, leaving the windshield wipers from the summer turned on after October is not the smartest thing to do. If you live in an area that experiences harsh winters, you run the risk of having useless blades while you need them the most.
Why Do We Have Windscreen Wipers?
You surely didn't give much consideration to how these groups are put together. However, knowing how your automobile works at a basic level is always beneficial. With this in mind, how about we discuss the mechanism?
The windshield wipers are mounted on an arm, for starters. Locking the rods into their holders prevents them from accidentally being removed. There is a wide variety of arm locks, including hooks, bayonets and side posts. The rods need to be subjected to a great deal of force if they are to continue moving. They must be able to slide cleanly and easily across the glass of the windshield without becoming stuck on debris. You're not only fighting the acceleration of the road while you're going fast; you're also fighting the acceleration of the wind.
The arm is powered by the worm gear and an external source. Worm gears are made up of two parts: a wheel and a cylinder that spins. The "worm" is a revolving cylindrical object. The motor supplies the power that rotates the worm gear, which in turn moves the rods into and out of their respective slots. Each wiper may be attached to a separate arcing arm, or a single arm could retract and extend to cover the whole windshield. Everything is conditional on the setup. At slower speeds, the motor is in charge of regulating how often the wipers activate. When turned up high enough, the motor runs for what seems like an eternity. Remember that this is only a simplified overview of the whole process.
Do Winter Blades Have to Be Used This Year?
The usage of winter blades is highly recommended in several sections of the next Year You probably don't need them if you live somewhere where winter lows seldom dip below 50 degrees Fahrenheit. Purchase of this kind is warranted, however, if you happen to reside in a region that regularly receives significant amounts of Best wiper blades for ice and snow throughout the winter months. Having malfunctioning windshield wipers during a snowstorm is a dangerous situation.
Traditional & Beam
Our expertise is mostly in conventional models. They are supported by a metal structure made up of two separate rods. Each of the blades has several claws, also known as pressure points. This makes it possible to wipe with uniform pressure and a fluid motion. The individual rods travel back and forth along an arc that has been defined.
Beams are a relatively new invention that was developed to accommodate the curving windshields of contemporary vehicles. They include a sturdy spine that allows for higher pressure, which in turn results in an enhanced wiping motion. Even while you are travelling at high speeds, the rod will remain firmly on the glass thanks to this feature.
Hybrid Blades
A hybrid windshield wiper has elements of both conventional and beam designs. They may have a structure with points of pressure, but the architecture of their frame would be more beam-like and aerodynamic.
Visible Rubber Effects
Whenever it comes to performance, worn-out rubber is a problem that has to be addressed. Rubber that has been cracked, split, or fractured cannot be fixed. It's possible that the damage was caused by normal wear and tear, improper usage, or environmental conditions like UV rays.
If there is apparent deterioration to the rubber in addition to any of the other indications that we have discussed, then it is time to get a replacement.
Glass with Cracks
Is it possible that your windshield is now more soiled than it was before you switched on your wipers? The rubber may be too old to distribute pressure evenly. You might begin by clearing away the debris around the edges. If things aren't looking up after a certain amount of time, it's usually time to make some changes.
The Mechanism's Attempt at Bending
When the frames (or spines) of the rods get warped, your wipers will no longer function properly. Because the bent section won't be able to reach your windshield, the whole item is going to be worthless.
Sounds Like Chattering
It is not unusual to hear a squeak every once in a while. Blades that create noise regularly do not wipe as well as they should.
The irritating and grating cacophony that you are hearing is the result of random collisions with your windshield. Warped frames, old rubber, or both might be to blame. In any case, it is time to replace the units in question.
A Movement That Is Bouncy or Irregular
If you see movements that are not typical, there may be an issue with a few of the internal mechanics, such as the arm.
If everything appears fine on the exterior, yet the rods keep bouncing, this might be the case. Talk to your mechanic if you need help if you can't figure it out. If even a single component fails, the whole system might be in danger.
FAQs About Best Winter Wiper Blades
What makes winter windshield wiper blades different from regular blades?
Winter windshield wiper blades are constructed to withstand the severe weather that may be encountered during the winter season, including snow, ice, and temperatures below freezing. They are fabricated using a cold-resistant and more long-lasting rubber substance that can endure low temperatures and prevent the formation of ice. In addition, best windshield wipers for snow and ice the blades feature a one-of-a-kind shape that enables them to remove snow and ice more efficiently, guaranteeing that drivers have the greatest amount of sight possible even while driving in harsh winter circumstances.
When should I get new windscreen wipers for the winter?
To maintain the wiper blades on your winter windshield wipers in the best possible condition throughout their use, it is advised that you change them every six months. Nevertheless, it is preferable to replace them as soon as possible if you see any symptoms of wear or strain, such as streaking or skipping in the performance.
Can I use winter windshield wiper blades all year round?
Even though they are intended for use in severe winter circumstances, windshield wiper blades made for the winter may be utilized in any season. However, there is a possibility that their performance could suffer in higher conditions and that they will wear out more rapidly.
How should I maintain my windshield wipers during the winter?
Make use of a gentle soap solution together with a gentle cloth or sponge to clean the winter windshield wiper blades of your vehicle. Wipe the blades down carefully, taking care not to rip or tear the rubber while you do so. It is important to steer clear of utilizing any strong chemicals or abrasive materials since doing so might harm the blades.
Can I install winter windshield wiper blades myself?
The majority of winter windshield wiper blades may be installed by the vehicle's owner since they are simple. Just be sure to adhere to the instructions provided by the manufacturer, which will often include detaching the old blades and reattaching the new ones in their place. If you are unclear on how to install the blades, you should consult either the owner's handbook that came with your vehicle or a qualified technician.
Conclusion
When the weather becomes bad, our best windshield wipers for winter are an essential part of keeping us safe on the road. You shouldn't undervalue the importance of having blades that are of good quality and well-constructed. Nobody likes a streaky or smeared windshield; it can truly take away from the overall appearance of the car that is generally thought to be in perfect condition. One product, in particular, stood out to us as having the best winter wiper blades among all of the wipers that we tested.