Top 10 Cheapest Cars With 400 HP To Buy in 2023
Do you want to travel quickly? Are you an economical person? If that's the case, you're lucky. We searched every automaker's website to find the top 10 cheapest cars with 400 horsepower. We ignored cars with more than 500 horsepower to keep things tidy, but don't worry—you can discover the next tier of budget bruisers right here.
True, achieving 400 horsepower for that little money requires some bending of criteria, particularly how old the automobile should be. Just be aware that owning a secondhand automobile has its ups and downs. Also, look into the car's history. It's no secret that automobiles are becoming increasingly pricey. Advanced crash constructions, high-tech infotainment systems, and fuel-efficient powertrains are all available. As a result, low-cost horsepower has slipped down the priority list. However, some cars will make your heart race without breaking the wallet.
Take a look under the top of your car to see the exposed powertrain. That mess of metal, plastic, and wires is more than simply a power source; it's also a metaphorical ranch, the home of your car's horses. We've well-ordered the participants with the top 10 cheapest cars with 400 hp and AWD, so scroll down to see the best high-horsepower deals.
Related: Top 7 Cars With 300 HP Under $20K
10 Most Affordable Cars With 400 hp
#1. 2020 Chevrolet Corvette: $59,995, 495 HP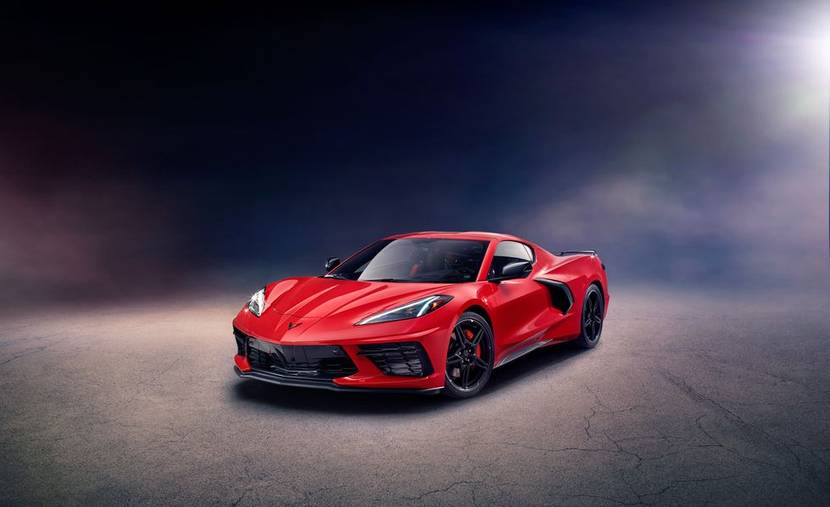 Specifications:
Engine Name- Engine: V8 6.2 Liter
Trim- Stingray 1LT Coupe
Horsepower-490
Torque-465@5,150
Number Of Cylinders- 8
We were about to include the eighth-generation Corvette on this list when we remembered that the Tesla Model 3 Performance existed. If the electric sports sedan hadn't been available, the Corvette would have finished last with its sub-$60,000 495 horsepower, which is still a good deal. For the time being, the Corvette is only available with one engine and transmission, spelled the end of the manual transmission in the Corvette. 
The engine is a new metal block version of the LT2 6.2-liter V-8. When equipped with the Z51 package, it produces 495 horsepower and 470 pound-feet of torque, or 490 horsepower and 465 pound-feet of torque in base form. Direct injection, dry-sump lubrication (a first for a base Corvette), and cylinder deactivation are all included in the engine.
Benefits
The suspension dynamics are forgiving.
The ride is quiet and flexible.
Pricing is quite low.
Performance that rivals that of a supercar
Pricing that is easily accessible
Weakness
Overloaded design
Feel of a brake-by-wire system
#2. BMW M2 Competition: $59,895, 405 HP
Specifications:
Top Speed-250 Kmph
Engine- 2979 cc, 6 Cylinders Inline, 4 Valves/Cylinder, DOHC
Engine Type- S55 Twin-Turbocharged I6
Fuel Type- Petrol
Max Power (bhp@rpm)
405 bhp @ 6250 rpm
The BMW M2 Competition is currently the eighth cheapest automobile on the market. Its turbocharged 3.0-liter six-cylinder engine produces 405 horsepower, and the base model comes with a six-speed manual transmission that lets drivers set their ratios. The M2 Competition was named to our All-Stars team two years ago, and it is one of our favorite sports cars of all time.
Benefits
Charming driving Character
Excellent straight engine
Weakness
Related: Top 10 New Cheapest Luxury Cars With 600 Horsepower
#3. 2012-2013 Mercedes-Benz E550, 402 HP
Specifications:
Engine & Performance
Rear Wheel Drive
8 Cylinder Engine
Turbocharged
Engine Type: Twin Turbo Premium Unleaded V-8
Displacement: 4.7 L/285
Horsepower (Net @ RPM): 402 @ 5000
Torque (Net @ RPM): 443 @ 1600
The Mercedes-Benz E550 is a great way to experience 402 horsepower. The E550 had a 5.5-liter naturally aspirated V8 engine that produced 402 horsepower and 390 lb-ft of torque. The rear-wheel-drive E550 had a quick 0-60 mph sprint time of fewer than 5.0 seconds, indicating its potency. If you go shopping for the correct one, you can get these amazing bargains for roughly $19,000 in 2018 at the ripe young age of just six years old.
Benefits
Excellent scores for dependability and safety
Cabin with a high-end feel and a powerful engine lineup
Weakness
Touchscreen system that is difficult to operate
Ownership costs are high
#4. 2012-2014 Ford Mustang GT, 420 HP
Specifications:
23 combined mpg
Horsepower- 420-hp
4 seats
188.5″ length, 55.8″ height
Rear-wheel drive
The Mustang has gone through several generations, both good and bad. While not as capable as the present generation, the fifth generation had significant clout for the time. The 5.0-liter V8-powered Mustang GT received updated looks and even more power for the 2013 and 2014 model years, gaining 8 horsepower for a total output of 420 horsepower in the rear-wheel-drive pony car. The Mustang comes standard with a 305-horsepower, 3.7-liter V-6 engine and is available with a 420-hp, 5.0-liter V-8. 2014 Ford Mustang GT is the cheapest car with 420 hp.
Benefits
Handling, especially for the Shelby GT500
V-6 gas mileage with a manual transmission shifter
Sightlines
Recaro seats are available for purchase
Weakness
Cabin quality is inconsistent
There are no side curtain airbags
There isn't a telescoping steering wheel.
Suspension and steering modes do not have enough variation (Shelby GT500)
Wider rear tires are required (Shelby GT500)
Related: New 500 Horsepower Cars Under $20k
#5. Chrysler 2008-2010 300C SRT8, 425 HP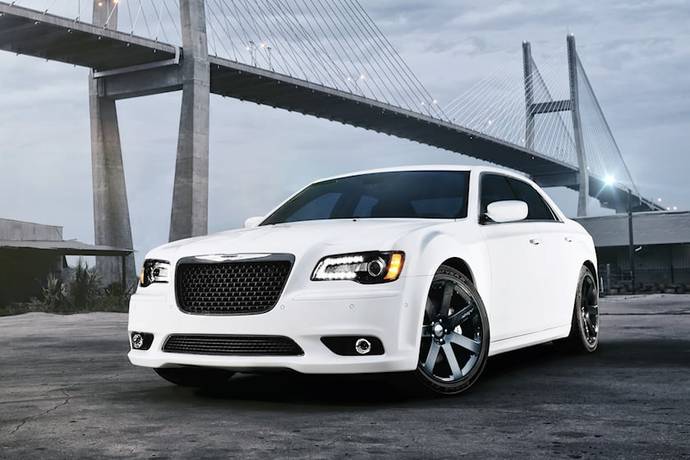 Specifications:
Base engine size- 6.1 liters
Base engine type- V-8
Horsepower- 425 hp
Horsepower rpm- 6,000
The V8 engine leads this list, which should come as no surprise. It's a legend in the world of high-powered engines with 400 horsepower or more. A 2008-2010 Chrysler 300C SRT8 is one of the best ways to break the 400-hp barrier. The SRT8 was the first generation 300's halo model, with a 6.1-liter Hemi V8 delivering 425 horsepower and 420 pound-feet of torque. Getting the rear wheels took just 4.9 seconds to go from zero to sixty miles per hour. Yes, the cabin was a little shabby, and the handling qualities weren't up to level with German sports sedans.
Benefits
The back seat space is comparable in class, and the cabin is spacious
Models with a V8 engine provide tremendous acceleration
Exterior design with a splash of color
Excellent handling and driving performance
Weakness
Issues with visibility could arise
Some interior materials aren't finished well
Important safety measures are missing from the base model
#6. 2020 Infiniti Q60 Red Sport 400: $58,175, 400 HP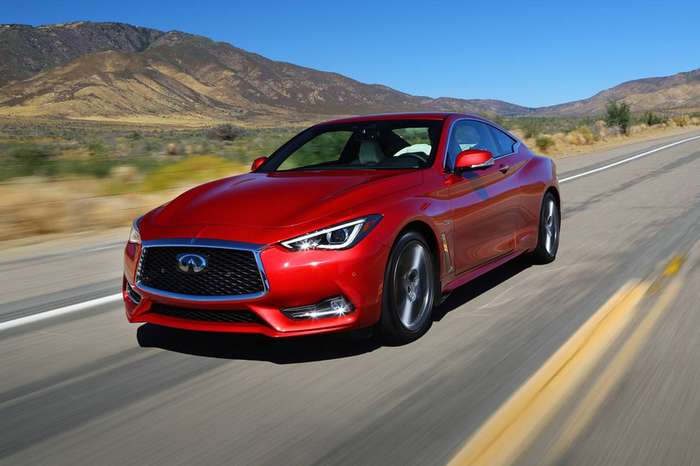 Specifications:
Twin Turbo Premium Unleaded V-6
Displacement (liters/cubic inches)- 3.0 L/183
Fuel System- Gasoline Direct Injection
Maximum Horsepower @ RPM- 400 @ 6400
Maximum Torque @ RPM- 350 @ 1600
The sixth car on our list is an Infiniti Coupe that is a little older but still speedy. The speedy two-door can accelerate from a standstill to 60 mph in just 4.8 seconds thanks to a twin-turbo 3.0-liter V-6 engine with 400 horsepower. The 2020 Infiniti Q60 Red Sport 400 is a high-performance version of the Q60 coupe by Infiniti. It has a more muscular powertrain and a sport-tuned suspension compared to the ordinary Q60. This Infiniti has a 400-horsepower engine, agile handling, and a long list of standard equipment. Its largest flaw is its cabin, which looks much less modern and comfortable than its main competitors. It also has a smaller trunk than rival models. Overall, the Q60 Red Sport 400 is a compelling option worth considering if you're looking for a coupe that combines luxury and performance.
Benefits
Powerful engines
pleasant ride
Weakness
The trunk is rather small
Headroom in the backseat is limited
Also Check: Top 10 New Cars With Remote Start
#7. 2020 Volvo S60 R-Design T8 EAWD Plug-In Hybrid: $56,395, 400 HP
Specifications:
Turbo/Supercharger Gas/Electric I-4
Displacement (liters/cubic inches)- 2.0 L/120
Fuel System- Gasoline Direct Injection
Maximum Horsepower @ RPM–400 @ 6000
Maximum Torque @ RPM- 472
Volvo is one of the most cost-effective 400-horsepower cars on the market right now. This front-engine, rear-motor performance sedan lacks the same vigor as its Polestar Engineered sibling, but its 495 pound-feet of torque should dispel any doubts that the S60 T8 is deserving of its place on this list. Expect a 0-60 mph sprint time of roughly 4.5 seconds thanks to the hybrid all-wheel-drive system.
Benefits
Upscale Cabin
Great Styling
Weakness
Lack Of Physical Controls
Very Heavy
Not Engaging To Drive
#8. 2020 Tesla Model 3 Performance: $56,190, 450 HP
Specifications:
EPA ClassMidsize Cars
Range AWD
Drivetrain All Wheel Drive
Passenger Capacity- 5
Passenger Doors- 4
Body Style- 4dr Car
The Model 3 Performance is the only all-electric car on this list, but it boasts the fastest 0-60 mph time of any car. It can complete the race in under 3.1 seconds because of its two motors and all-wheel drive. That is supercar speed. It features sedan conveniences, including a range of up to 322 miles, equipped with 18-inch wheels.
Benefits
The chassis is responsive, and the steering is accurate
Relevant design
Inside and exterior, minimal style Convenient Supercharger network Excellent range
Weakness
There's a lot more road noise than we'd like
Overly reliant on touchscreens
Also Check: 10 Best Resale Value Cars In USA
#9. 2020 Dodge Charger R/T Scat Pack: $41,990, 485 HP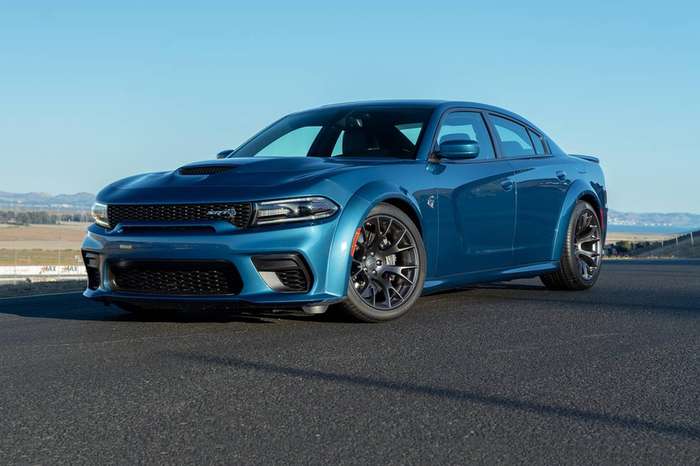 Specifications:
ENGINE- 6.4-liter V8
HORSEPOWER- 485 hp @ 6100 rpm
BODYSTYLE- 4dr Sedan
PASSENGER CAPACITY- 5
TOP SPEED- 186 mph
The 2020 Dodge Charger Scat Pack is only available in one trim level, which starts at $42,000 and comes with a massive 6.4-liter V8 engine and only rear-wheel drive. The Charger Scat Pack gets a WideBody package, which includes bigger bumpers, side skirts, flared fenders, and a wider track, as the name implies. The Scat Pack, on its whole, costs around $47,990.
Benefits
The pricing is reasonable
It provides an exciting driving experience
There are almost no direct competitors
Weakness
The fuel economy is really low.
Unappealing interiors
There is no option for all-wheel drive
#10. 2021 Chevrolet Camaro SS 1SS $38,495, 455 HP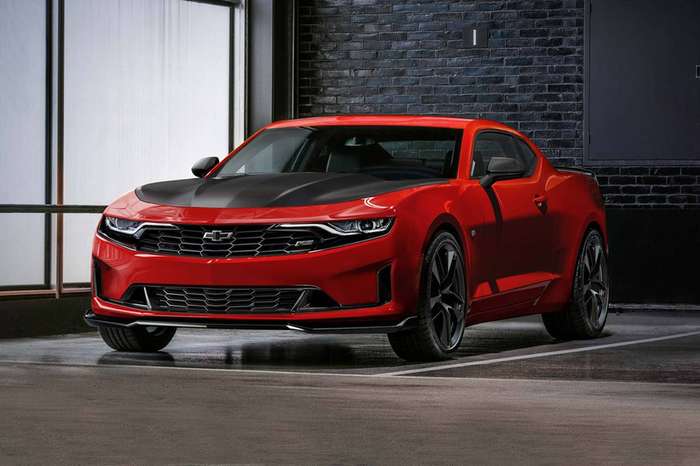 Specifications:
Engine Type – Gas V8
Displacement (liters/cubic inches)- 6.2L/376
Fuel System- Direct Injection
Maximum Horsepower @ RPM- 455 @ 6000
Maximum Torque @ RPM- 455 @ 4400
The 2021 Chevrolet Camaro is capable of much more than tearing down the drag strip. It also has outstanding handling, cutting-edge technology, and plenty of speed, regardless of which engine you choose. The 6.2-liter V8 engine is the crown jewel, but the V6 and turbocharged four-cylinder engines are also capable. In terms of features, the 2021 Camaro now has wireless Apple CarPlay and Android Auto functionality, which means you can connect your phone to the touchscreen without using a USB cord. As before, the Camaro's usability is limited by low visibility and a lack of storage capacity. However, when it comes to driving enjoyment, the Camaro is unrivaled in its class. 2021 Chevrolet Camaro is an affordable car with 455 hp.
Benefits
Curves, the handling is incredibly crisp and quick
Engines provide strong acceleration
The ride is relatively smooth, thanks to the adjustable suspension
Standard features add up to a great deal of value
Weakness
It's difficult to see out of this one
The teeny-tiny back seat is practically unusable
With a narrow aperture, the trunk space is limited
Some controls are difficult to operate
FAQs
Which is the fastest 400 horsepower car?
The 2020 Infiniti Q60 Red Sport 400 is the quickest automobile you can have for a reasonable price. The car is powered by a 6.2-liter twin-turbo 3.0-liter V-6 engine and has a 400-horsepower engine.
Which is the fastest 500 horsepower car?
The 2021 Chevrolet Camaro SS is the quickest automobile you can have for a reasonable price. The car is powered by a 6.2-liter V8 engine with 455 horsepower.
When it comes to horsepower, how much is enough?
If you want a car for everyday use but still desire some adrenaline feeling, a car with between 300 and 400 horsepower would suffice. A 400 horsepower serotonin booster is sufficient if you are not going somewhere to race but want a quality, comfortable ride that can kick in immediately when you are in a pickle.
Furthermore, choosing this horsepower range will cost you less and save you a significant amount of money.
Conclusion
You don't have to give up your dream because you have a limited purchasing budget. All you need is the appropriate instruction to get the astonishing 400 horsepower. This post shows the top 10 cheapest cars with 400 hp.
So, which cars were your favorite?