Hottest Car Reveal: Time to Get to Know the Toyota Sequoia 2023
Toyota has progressed as an automobile manufacturer in recent years. Since 1937, the Japanese brand has been around. In the previous few decades, the corporation has undergone significant transformations in order to ensure its place in the automobile industry's future. Sequoia has ascended to the throne as the largest Toyota SUV available. If you are not already familiar with everything this excellent car has to offer, now is the time to learn more about it.
Modifications
On the SR5, Limited, Platinum, and Capstone grades, the Sequoia will be available with two-wheel drive or a part-time four-wheel-drive system. Only four-wheel drive will be available on the TRD Pro. The part-time four-wheel-drive system is controlled by a transfer case, which may be switched between two-wheel-drive, four-wheel-drive high, and four-wheel-drive low through a lever on the center console. It will have a power output of 437 horsepower and a torque output of 583-pound feet. The maximum towing capacity has been increased by 22% to 9,000 pounds. Blind Spot Monitor, Rear Cross Traffic Alert, and Front and Rear Parking Assist with Automatic Braking are all standard on all grades of the new Sequoia. So, every 2023 Toyota Sequoia prioritizes safety and convenience, whatever the situation.
Read More: 2023 Toyota 4Runner: What You Must Know
Well Serviced
The new Sequoia will include an independent front suspension and a new rack-mounted electronic power steering system for an enhanced steering feel. The 2023 Sequoia is only available as a hybrid. The 2023 Sequoia is expected to be highly competitive in terms of fuel economy, but it also takes advantage of its electric powertrain for remarkable acceleration and rapid responsiveness. A multi-link rear suspension is said to provide a smooth ride and the option to add the available load-leveling Rear Height Control Air Suspension and Adaptive Variable Suspension (AVS) for individuals seeking to tow on a regular basis. This Toyota SUV has an above-average reliability rating, according to Repair Pal. It ranks seventh among full-size SUVs with a score of 3.5 out of 5.0. Sequoia will provide you with the drive you want while keeping you out of the repair shop.
Sales Are Coming Back Up For Sequoia
Toyota is hoping that the new Sequoia generation will boost yearly sales significantly. The Sequoia slipped below 10,000 annual sales in 2020 (7,364), down from 45,904 in 2005, with a minor increase to 8,070 last year. Since 2010, the brand has been stuck between 10,000 and 13,000 for 11 years.
Comprehensive Redesign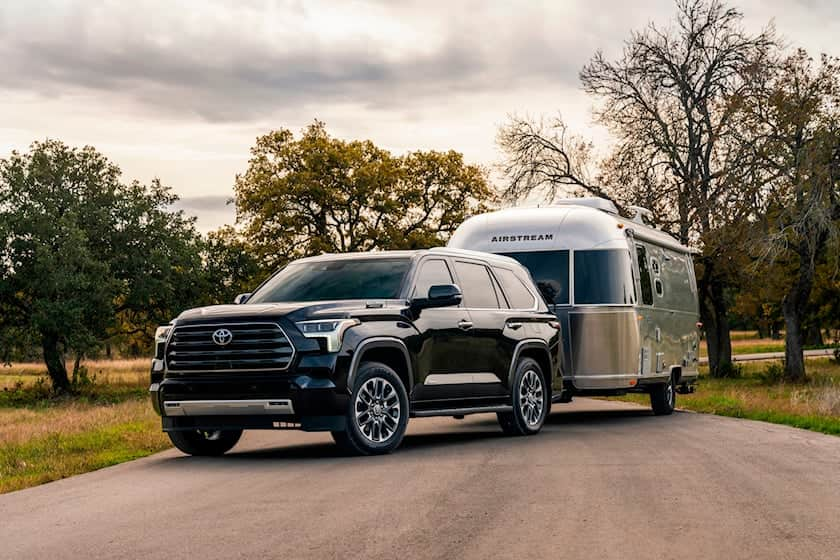 This innovative feature activates both the electric and gas motors, ensuring that you have the power you need to start the trailer moving. The all-new Sequoia is all about luxury. Sequoia is equipped with an expansive panoramic moonroof that can be opened to reveal a world of splendor around us. Sequoia's distinctive 6-inch movable third row provides ample space for everyone to enjoy the trip when passengers are prioritized. Sequoia comes with a slew of high-tech enhancements, including a slew of additional options. Inside, a 14-inch touchscreen display handles all of your multimedia needs. In contrast, a 10-inch head-up display superimposes essential information on your windshield to keep you focused on the road.
Read More: 2022 Toyota Camry XSE: A great value for money car
Price
The 2023 Toyota Sequoia SUV has a starting price of a little more than $50,000, with the top Capstone trim costing around $71,000. In comparison, the Sequoia starts at about the same price as the Ford Expedition, Chevrolet Tahoe, and Nissan Armada, placing it in the proper price range. It is in a price range that people can afford.
Sequoia Has A Distinctive Look
The 2023 Toyota Sequoia is the straight shot you want to drive when you want an SUV that doesn't mess with you. This full-size SUV combines power, size, performance, capability, and durability in one outstanding package. You will appreciate the body-on-straightforward frame's qualities and the ruggedness it adds to your driving. This most sophisticated and capable full-size SUV yet is ready to match the hustle and bustle of your daily routine. The enhanced comfort, upgraded technology, and outstanding capabilities will make you feel even more pampered.
Read More: 2022 Toyota Avalon Specs, Prices, MPG & Features
Luxurious
Toyota claims to have improved access and egress by rearranging the second-and third-row seating. A slide will be included in the third-row seating. According to the manufacturer, the new area can accommodate four full-sized luggage or three individuals. Seating and cargo arrangements for the three-row SUV are known to be highly flexible. Second-row passengers get either bench seating or captain's chairs, depending on the grade. Both recline for passenger convenience or fold down/tumble forward if more cargo room is needed. The third-row passengers have a reclining back seat with power-folding capability and one of Sequoia's most notable new features: a sliding third row with an adjustable load shelf system. It has a six-inch range of adjustment. Depending on the situation, a removable shelf can be placed in a variety of storage places.
In short, when you choose the Toyota Sequoia, you will get three rows of seats, plenty of power, and the reliability that comes with the Toyota name.