New 2022 Honda Civic Ex: A great compact sedan
The 2022 Civic is less daring in appearance, but it has a fresh, appealing interior that emphasizes simplicity. It is designed, with a lower hood and relaxed roof pillars that better define the design. Many fewer lines are slashing across the body—particularly the tail—and the cat-eye treatment of the side rear windows have got improved. All models have a touchscreen with a diagonal of at least 7.0 inches.
SPECIFICATIONS
Engine: 1.5L Turbo Inline-4 Gas
Starting Price: $25,350
Horsepower: 180 horsepower @ 6000 rounds per minute
Torque: 177 lb-ft @ 1700 rpm
Transmission: Continuously Variable Automatic (CVT)
Drivetrain: Front-Wheel Drive
FEATURES
Blind-spot monitoring, a power sunroof, dual-zone automatic temperature control, heated exterior mirrors, and heated front seats are all available on the Civic Ex.
It also has a more powerful 180-hp turbocharged four-cylinder engine as standard.
It includes a basic 7-inch screen which has navigation and all the basic requirements.
The Civic Ex has 12 speakers Bose audio system which is loud enough to rock and roll in noisy environments.
Read More: 2022 Honda Civic Touring- All Rounder Sedan
SAFETY
The Civic Ex also includes safety features such as Adaptive Cruise Control, Active Park assists, Automated emergency braking, and a blind-spot monitoring system. The Civic Ex has received a Top Safety Pick+ grade from the IIHS in both hatchback and sedan versions. Automatic emergency braking, active lane control, adaptive cruise control, and automatic high beams are standard on every Civic.
FUEL ECONOMY
According to the EPA, the Civic is the mid-level EX which is the most fuel-efficient car, which gets 33 mpg in the city, 42 mpg on the highway, and 36 mpg combined.
COMFORT
The 2022 Civic can seat four adults in decent comfort, with 37.4 inches of rear-seat legroom and at least 37.1 inches of headroom, front or back; the back seat is designed ideally for a pair of people, but there's space for a third to rest in the center. The front seats on the Civic are low, and it's one of the few cars where we have to elevate the seat to have the optimum perspective. The Civic Ex has heated front seats as well.
Read More: 2022 Honda Civic Hatchback, Features, Performance, and Interior
INTERIOR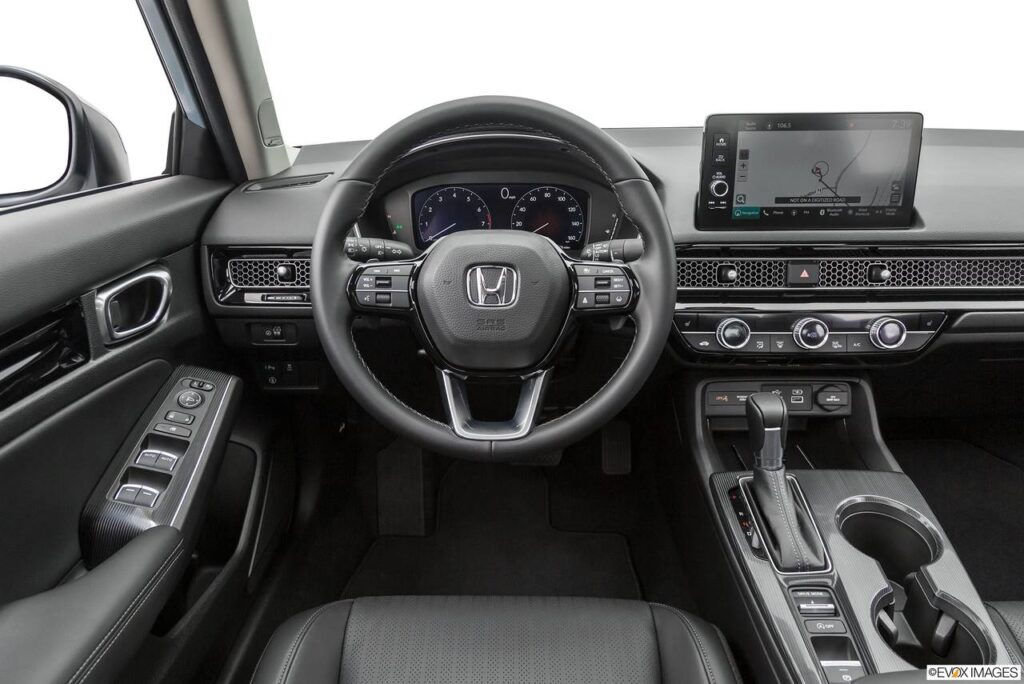 The 2022 Civic Ex has a more streamlined interior design, with smoother lines and a dashboard with a full-width honeycomb-patterned mesh design element that neatly covers the air vents. A broader center console than the previous model appears to be less congested, with what appears to be a large, deep bin in front of the shift lever for storing smart phones, keys, and road-trip food. According to Honda, passenger space is nearly the same, while the cargo compartment is larger.
INFOTAINMENT
A 7.0-inch touchscreen infotainment display will be standard on the 2022 Civic, but a bigger 9.0-inch device, as well as a 10.2-inch digital gauge display, will be available as options. Apple CarPlay and Android Auto are also standard, and when combined with the bigger of the two displays, they also provide wifi connectivity. In-dash navigation, a Bose music system, and a wireless smartphone charging pad are among the other possibilities.
Read More: 2022 Honda Civic Sport: Perfect in performance and price
PERFORMANCE
Even though the new Civic Ex has been completely revamped, Honda has opted to keep the engine options from the previous generation. The base engine is a 2.0-liter four-cylinder with 158 horsepower, while the upgrade engine is a turbocharged 1.5-liter four-cylinder with 180 horsepower. The new Civic Ex is only available as a front-wheel-drive vehicle.