The 8 Best New Cars With 0 Financing Right Now!
Financing anything without paying interest is rare, but when it happens, it's the best offer. For significant purchases like a new automobile, this is particularly true. Zero percent APR might save you hundreds of dollars, especially for a new automobile loan with an interest rate of 4 or 5 percent, depending on how long the loan is.
You can get some of the most popular and well-reviewed vehicles this month with no interest, and some even come with a little extra cash. The Ram 1500 and the Chrysler 300 come with interest-free finance and hundreds in extra money.
Most of the cars on our list come with no-interest financing periods of three or four years, except for GMC's incentives, which give 0% financing for a short time. On the other hand, the popular Chevrolet Equinox may be financed for five years at 0% APR.
Check the internet or with the local dealer to ensure the offer you're interested in is valid in your area since not all specials are available in every location regarding new cars with 0 financing. The most important new vehicle finance deals often demand a good credit score.
Top 8 New Cars With 0 Financing Deals
Also Check: The 10 Best Resale Value Cars Of 2022 in the USA
#1. 2022 Ford Edge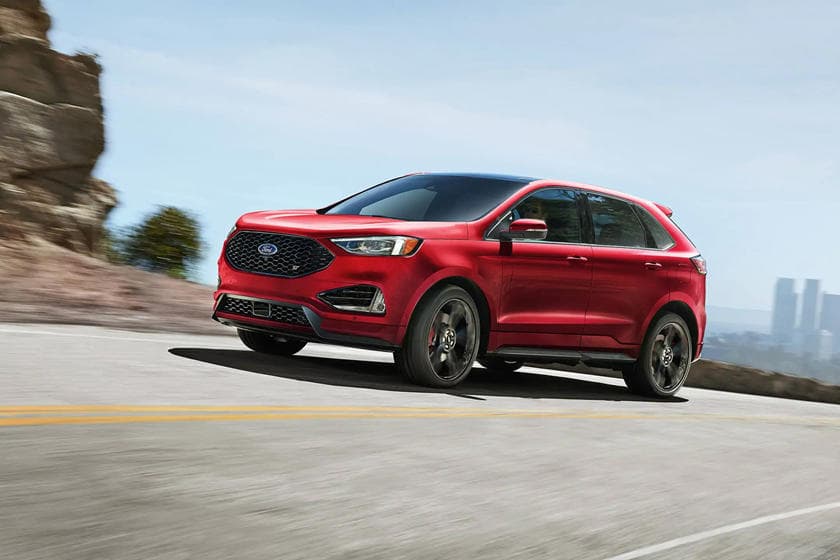 Price: $38,905
Engine: 2.0 L Intercooled Turbo Premium Unleaded I-4
Transmission: 8-Speed Automatic Transmission
Fuel Mileage: 21 mpg city/28 mpg highway
The 2022 Ford Edge or its two-row competitors are available and provide more capacity than most small crossovers if you're seeking a medium-sized vehicle but don't require three rows of seats. A turbocharged four-cylinder or a 335-hp twin-turbo V-6 are available in the Ford. However, the latter is only available in the ST model. It isn't only the Honda Passport, the Chevy Blazer, the Jeep Grand Cherokee, or the Hyundai Santa Fe that offer identical packages; some are just more sophisticated than others. Although the inside of the Edge may be customized with a slew of high-end amenities, such as a 12.0-inch touchscreen screen, the vehicle's dated design and cheap materials rob customers of the premium SUV experience. The Edge boasts the best financing deal of any SUV, according to Edmunds.com. As of July 5, Ford Credit is giving six years new cars with 0 financing right now and a $3,000 bonus. Other 2-row midsize SUVs, such as the Nissan Murano & Honda Passport, are likely to provide better prices than this one.
Pros
There is plenty of electrical power
Sporty Driving Style
Towing Power for Light-Duty Vehicles
Cons
Short-term warranty protection
From the cabin, there is a limited view
#2. 2022 Chevrolet Equinox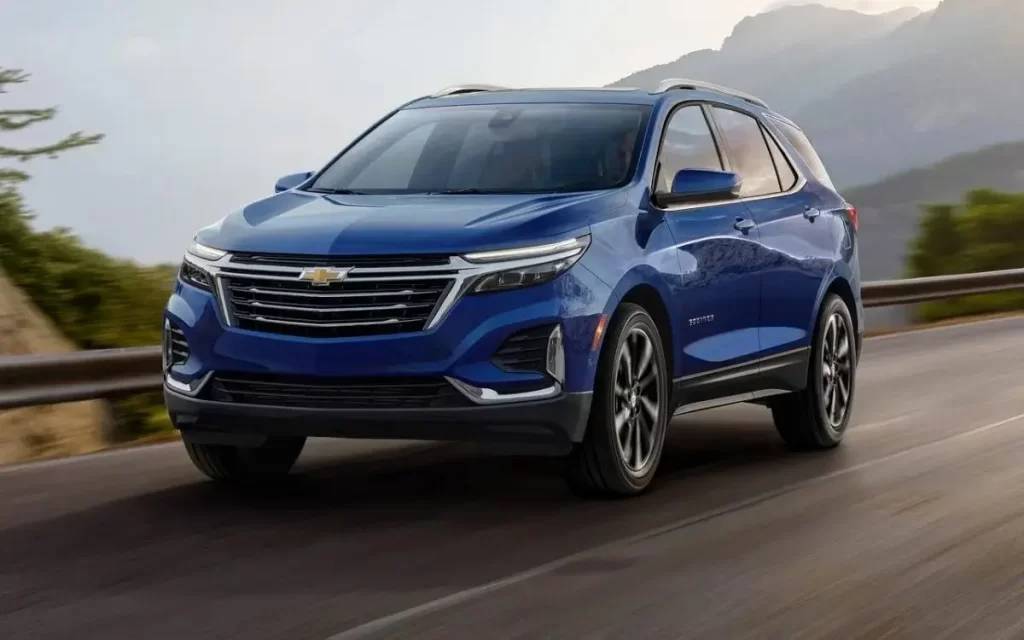 Price: $27,445
Engine: 1.5 L Turbocharged Gas I-4
Transmission: 6-Speed Automatic Transmission
Fuel Mileage: 26 mpg city/31 mpg highway
In the class of small SUVs, the 2022 Chevrolet Equinox is positioned in the middle of the pack's rankings. The Chevrolet Equinox boasts a spacious cabin, an entertainment system that is simple to use, excellent handling, and a respectable expected dependability score; yet, it also has the unimpressive interior quality and a slow acceleration rate. The 2022 Chevrolet Equinox is a tiny SUV with a lot going for it. The inside of the Equinox is spacious enough to accommodate five passengers. It has an information and entertainment system that is simple to use and comes standard with a sufficient number of safety measures. It is not uncomfortable to drive on pavement that is not in ideal condition, and it is not difficult to find one's way about the city. The Chevrolet Equinox 2022 is eligible for Chevy's most excellent discounts in June, including zero percent interest payments for up to 60 months. To put that into perspective, the annual percentage rate (APR) for financing a Toyota RAV4 over five years is 2.75 percent. Suppose you are interested in purchasing a subcompact SUV before July 4. In that case, this may be an excellent opportunity that you should seize as soon as possible rather than waiting.
Pros
a relaxing journey
A seating area is ample
An infotainment system that's easy to use
a very high prediction of dependability
Cons
Weakness in the flow of information
The interiors aren't great
Also Check: 10 Best Cars With Great Factory Sound Systems
#3. 2022 Toyota Mirai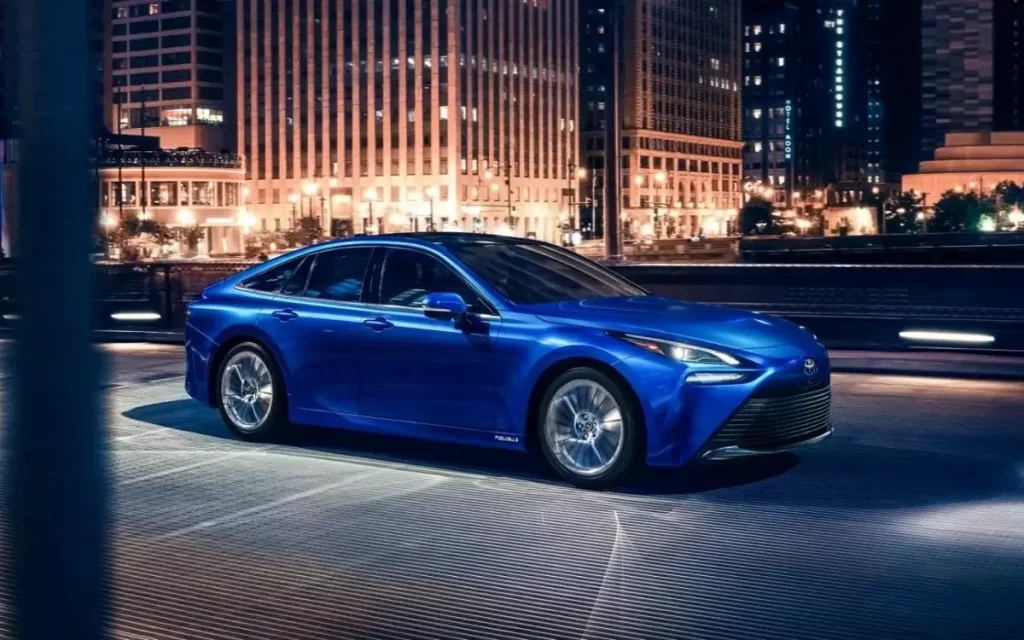 Price: $50,525
Engine: Electric
Transmission: 1-Speed Automatic Transmission
Fuel Mileage: 67 mpg city/64 mpg highway
The Toyota Mirai sedan from 2022, which sports one of the automaker's most stunning designs, seems to have emerged fully from a future in which boxy SUVs have become archaic. Its undulating contours and posh look are meant to draw attention away from its main party piece, which is its propulsion system that is fuelled by hydrogen. The electric motor housed inside the vehicle provides for a slow rate of acceleration; nonetheless, the Mirai is an emission-free alternative that allows drivers to refill in a matter of minutes rather than having to wait around at an electric vehicle charger. The cabin is luxurious, the ride is comfortable, and the handling is surprisingly engaging. Still, the Mirai is limited in its range and must remain within a reasonable distance of locations with hydrogen fueling stations and is a Toyota new cars with 0 financing. Because of this, the Mirai, in addition to its primary competitor, the Hyundai Nexo, is presently only available for purchase in the state of California. A financing offer for the Toyota Mirai offers 0% interest, which almost seems too good to be true. Buyers of the hydrogen-fuel-cell electric vehicle, which is exclusively marketed in California, are eligible for zero percent interest payments for up to six years and manufacturer incentives of up to $25,000. The greatest value is found on the Limited trim, while the XLE, which is the base model, saves $17,000. The caveat is that you can only get these reductions in price if you finance your vehicle via Toyota.
#4. 2022 Alfa Romeo Giulia
Price: $44,945
Engine: 2.0 L Intercooled Turbo Premium Unleaded I-4
Transmission: 8-Speed Automatic Transmission
Fuel Mileage: 23 mpg city/31 mpg highway
Since the company's inception, Alfa Romeo has pursued an approach to automobile manufacturing that is unique and innovative, looking for a point of confluence between style and passion in all of its products—combining legendary Italian design, forward-thinking technology, and a fearless, dynamic attitude in order to evoke genuine feelings consistently. The history of the brand has been updated to include the latest development. The driver and their feelings are the focal point of the universe; innovation results in novel experiences and exceptional levels of safety. In addition to receiving the maximum rating of five stars from Euro NCAP, the Giulia received an exceptional score of 98 percent for protecting adult occupants. This month, Alfa Romeo is providing the finest financing deal available on a performance vehicle by giving a zero percent annual percentage rate (APR) for a period of 48 months on any 2022 Giulia. Even the lightning-quick Quadrifoglio is eligible for a financing option with no interest for up to forty-eight months. Additionally, if you come from a different company, you are eligible for a $750 cash prize for your victory.
Pros
It's a good experience.
Engines with plenty of oomph
A smooth ride.
Recommendable first-row seats
Cons
Inside, rivals are more up-to-date and luxurious
The seats at the back of the vehicle are crammed
There is a high cost
Also Check: Top 10 New Affordable Cars With Pop-Up Headlights
#5. 2022 Jeep Renegade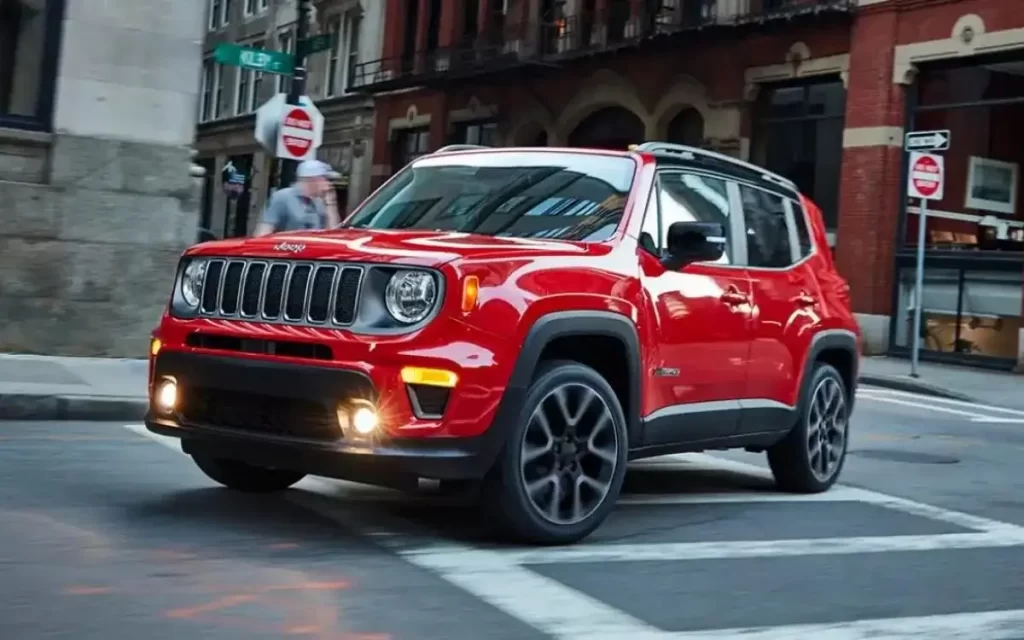 Price: $26,290
Engine: 1.3 L Intercooled Turbo Premium Unleaded I-4
Transmission: 9-Speed Automatic Transmission
Fuel Mileage: 23 mpg city/29 mpg highway
The Jeep Renegade 2022 is the most reasonably priced vehicle in the Jeep lineup. It serves as an entry step for the luxury brand and is a robust alternative to most small SUVs. Even if not all Renegades are made equal when the blacktop stops, the Trailhawk model is the least likely to need a tow and is the one that earns the right to have a grille with seven slots. Even trims that aren't trail-rated feature one of the roomiest interiors in the market, a pleasant ride, and a roster of standard driver assistance. If slinging mud and scrambling over rocks isn't part of your daily routine, the Jeep Cherokee has you covered. It's a shame that the Jeep Renegade comes with two powerplant options that aren't very enjoyable. Similarly, the continuously average quality of the cabin materials seems to deteriorate as the price increases. The 2022 Jeep Renegade is best suited for those who place a high value on new cars with 0 financing deals and amenities such as a detachable sunroof, which is one of the available cool features, even though the brand's reputation enhances the 2022 Jeep Renegade.
Pros
Class-leading off-road prowess
Plenty of headroom in the cabin
Standard features are well-presented and comprehensive
Controls and the infotainment system are simple to use
Cons
Slow reaction time from the transmitter
Poor fuel efficiency compared to industry standards
There has a long history of poor safety ratings
#6. 2022 Buick Encore GX
Price: $27,095
Engine: 1.2 L Turbocharged
Transmission: 8-Speed Automatic Transmission
Fuel Mileage: 29 mpg city/31 mpg highway
The Buick Encore GX is a relatively new subcompact crossover model that offers two rows of seats that are suitable for adult passengers and a large cargo area. It performs very well in crash testing and is equipped with various recent and cutting-edge driver assistance technologies.
The Buick SUV has rapid handling and tight steering, but competitors' vehicles provide more cushioning than this one does. The GX comes standard with a turbocharged three-cylinder engine that produces 137 horsepower and gets the job done. Still, an optional engine with 155 horsepower is also available.
On the inside of the Encore GX, the first row is constructed out of high-quality materials, while the second row contains certain plastic surfaces that are more rigid. The base model has a touch screen of 8 inches, a Wi-Fi hot spot, and wireless Apple CarPlay and Android Auto integration.
Pros
The vehicle has a lot of storage space
Seating for adults.
An engine with a lot of power
Cons
There are a few of the lower-grade plastics
A sluggish infotainment system may be frustrating
Stability issues on bumpier roads
Also Check: Top 11 Older Sports Cars With Good Gas Mileage
#7. 2022 Chrysler 300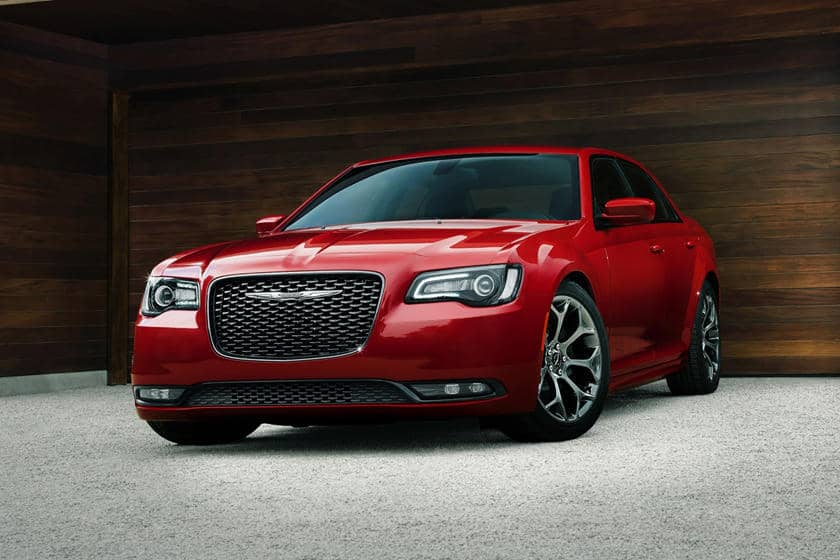 Price: $35,140
Engine: 3.6 L Regular Unleaded V-6
Transmission: 9-Speed Automatic Transmission
Fuel Mileage: 18 mpg city/27 mpg highway
Whiskey, denim, cheese, and leather are just a few examples of goods that improve with age; in certain cases, the same can be said of automobiles. The 2022 Chrysler 300, on the other hand, is just becoming less notable as time passes. Suppose you are one of the dwindling number of consumers looking for a big sedan with four doors. In that case, you won't have many alternatives to choose from, and even among those, the Chrysler 300 isn't very competitive. The base model is equipped with a gas-saving V-6 engine, an eight-speed automatic transmission, and rear-wheel drive. Customers may upgrade to a gas-guzzling V-8 engine, which gives the 300 a little more muscle-car flair. The inside of the Chrysler is pleasant and roomy. Still, drivers who are looking for the luxury that comes standard on comparably sized luxury cars will be disappointed.
Pros
It engines with plenty of oomph
An upscale look
Exceptional passenger room
Information and entertainment elements that are simple to use
Cons
Competitors are better riders and handlers
Interior design that is out of date
#8. 2022 Dodge Durango
Price: $39,355
Engine: 3.6 L Regular Unleaded V-4
Transmission: 8-Speed Automatic Transmission
Fuel Mileage: 18 mpg city/25 mpg highway
Even though it's classified as a medium SUV, Durango is much bigger than many of its competitors. It includes seating for as many as seven passengers across its three rows and substantial cargo space. In addition to these benefits, it has an industry-leading towing capacity and a comfortable ride for new cars with 0 financing right now.
The base model of the Durango is equipped with a 3.6-liter V6 engine that generates 293 horsepower. There are two different V8s available, with the horsepower ranging from 360 to 475, respectively. A Durango that has been suitably outfitted and is powered by the most powerful version of the V8 engine can pull up to 8,700 pounds.
A modern 8.4-inch touch screen, smartphone connection, blind-spot monitoring, rear cross-traffic warning, and rear parking sensors are all standard equipment on the 2022 Dodge Durango. There are a lot of different modifications available, including a lot of different safety measures.
Pros
The choice of a V8 supercharged engine delivers impressive power and performance
The ability to haul a lot of weight
The inside of this home is spacious and well decorated
The infotainment system is simple to operate
Cons
Handling it is time-consuming
Awful gas mileage
Frequently Asked Questions
What vehicles have 0 interest right now?
The vehicles listed below have 0 interest rates right now!
2022 Toyota Mirai.
2022 Hyundai Nexo.
2022 Ford Edge.
2021 Fiat 500X.
2021 Ford EcoSport.
2022 Chevrolet Equinox.
2022 Ford Explorer.
2022 Ford Explorer.
Can you get 0% on a new car?
It is common practice for auto dealerships to provide interest-free financing on brand-new vehicles alone; however, to qualify for such an offer, you often need an exceptionally solid credit history.
How does GMC 0 financing work?
On a scale ranging from 300 to 850, credit scores of 700 or more are generally acceptable. If your score is between 720 and 750, or even higher, you may have an even greater chance of being accepted. However, GMC car loan providers normally do not disclose the minimum credit scores required to qualify for a loan with 0% annual percentage rate (APR).
What car dealers are offering zero-percent financing?
New cars with 0 financing deals in 2022
Cadillac
Ford
Toyota
Chevrolet
Dodge
Is there a catch to 0% APR car deals?
Deals with an APR of 0% are often limited to certain loan periods, typically those with less than 48 months. The length of auto loans may span anywhere from 24 to 84 months, however, the packages offering 0% APR often have shorter maturities. Many borrowers may still be unable to afford the monthly payment for a package with 0% APR if the most common loan period, which is presently 72 months, is included in the calculation.