Top 5 Best Cars With Air Suspension in 2022
Without suspension, your automobile would be a nightmare to drive. You'd probably be in need of a chiropractic visit by the time you got out of your area. An automobile's suspension system does more than support the vehicle's weight; it also controls body movement when the vehicle hits a bump and enhances a good ride by isolating the car from defects in the road surface. Regarding load-bearing, steel or hybrid coil or shock absorbers are generally used, although there are other options. What if a car could travel in the air instead of metal or plastic?
What Is the Process of Air Suspension?
Coil and leaf springs are replaced by pressurized rubber gasket bellows known as air springs in air-suspended vehicles. The vehicle monitors each air source's compressed air and rides height at each turn. Air pressure and ride height may be fine-tuned with an onboard compressor, air drier, and a large air reservoir to give ideal ride quality and size for the work at hand.
In 1901, a "Pneumatic Spring for Automobiles" patent was issued, and the concept of independent suspension has been around for almost as long. During World War II, big vehicles were equipped with this device to keep a constant riding height regardless of weight. Cadillac Eldorado Broughams had air suspension for decades, and now the technology is almost universal in high-end luxury vehicles. Let us look at the cars with air suspension 2022:
5 New Affordable Cars That Come With Air Suspension
Also Check: Top New Cars With Built-in Car Seats
#1. 2022 Audi SQ7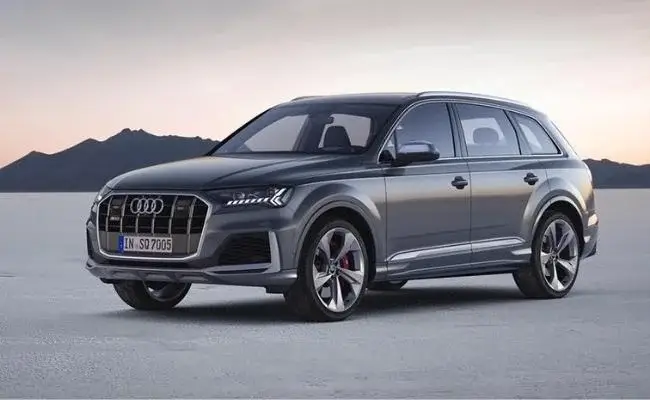 MSRP: $89,695
Horsepower: 500@5500
Engine: 4.0 L Twin Turbo Premium Unleaded V-8
Fuel Mileage: 15 mpg in the city/21 mpg on the highway
Transmission: 8-Speed Automatic Transmission
This is an SUV that tries to do it all: the Audi SQ7 from Audi. As well as a 500-hp V-8 engine that offers spectacular performance, it's luxury enough to warrant its price tag. Compared to the normal Q7, the SQ7 has a more aggressive appearance, improved handling, and more powerful engines and comes under cars with air suspension. As a high-performance luxury SUV, it's a strong rival to the BMW X5 M and the Mercedes-AMG GLE-Class, but it doesn't look nearly as cool as its brother, the sharper Audi SQ8.
Twin-turbocharged 4.0 liter V-8 motor with 500 hp and 568 lb-ft of output is shared with the mechanically comparable, two-row SQ8 SUV. This application uses the same engine that powers the much more powerful RS Q8. It only loses a little amount of power and torque. The SQ7 has a standard eight-speed automatic gearbox and a 0-60-mph time of under 3.5 seconds on our test track.
#2. 2022 Infiniti Q50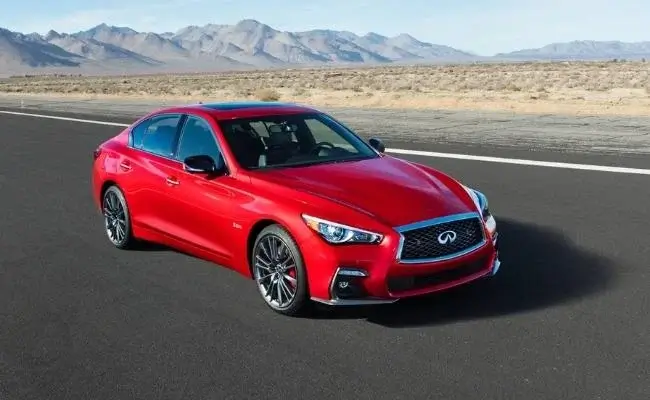 MSRP: $43,125
Horsepower: 300@6400
Engine: 3.0 L Turbocharged Gas V-6
Fuel Mileage: 19 mpg in the city/27 mpg on the highway
Transmission: 7-Speed Auto-Shift Transmission
When compared to more modern sports sedans, the 2022 Infiniti Q50 has a lot of expectations to meet up to. The inside of this entry-level luxury vehicle from Infiniti is old-fashioned. It has a unique dual-touchscreen entertainment system, which both take away from the car's overall flair. There is no reason to doubt that the breathtaking exterior of the Q50 will continue to elicit expressions of awe and admiration. In contrast to the Q50, purchasers of a BMW 3-series or Mercedes-Benz C-class will not have the option of purchasing an economic twin-turbo V-6 engine. However, despite the Infiniti's powerful engine, even the sportiest model cannot compete with the level of driving thrill provided by a BMW M340i or a Genesis G70 Sport, both of which provide the most outstanding value among vehicles in this class. The 2022 Q50 sedan is not likely to pique the general public's curiosity bust is the best car with air suspension 2022; the only people who are likely to be interested are those who are looking to upgrade from the Nissan Altima.
Starting at $5500 more, but with additional standard luxury options like a 16-speaker Bose radio system, leather upholstery, and an adjustable steering column, the new entry-level Luxe is an excellent value. Sensory also gets features from the now-defunct Signature trim, although its introductory price has remained the same.
Also Check: Top 10 Best 8-Passenger SUVs To Buy Right Now
#3. 2022 Volkswagen Golf GTI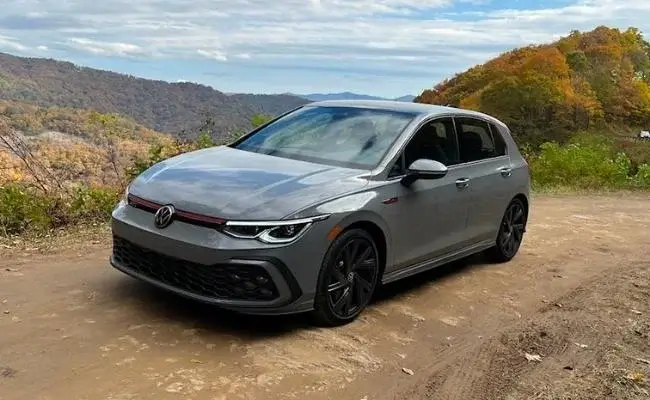 MSRP: $30,975
Horsepower: 241@5000
Engine: 2.0 L Intercooled Turbo Regular Unleaded I-4
Fuel Mileage: 24 mpg in the city/34 mpg on the highway
Transmission: 6-Speed Manual Transmission
There are no more worries about Volkswagen annihilating the whole Golf series since the 2022 Golf GTI will be the first of a new generation. While normal Golfs will no longer be sold in the U. S., the GTI and even more exhilarating R models will remain. An even more powerful GTI is now on the market. However, it still has many of the qualities that made its predecessor so famous. The revived Golf GTI appeals to both new and devoted drivers alike, thanks to the car's classic outstanding driving characteristics and more current style on the inside and out.
Golf GTI will enter its eighth generation with the all-new 2022 model. If you're looking for a hatchback that doesn't break new ground in design, go no further. The slimmer LED headlights and a wider lower grille with fog lights incorporated into the mesh give it a unique look. The inside is where VW has made the most significant changes, combining classic touches like plaid leather with cutting-edge technology. This has two digital displays as standard and a completely new dashboard design. The GTI's turbocharged four-cylinder engine now generates 241 horsepower and 273 pound-feet of torque, increasing by 15%. However, this model still has a manual gearbox as standard equipment. Until the end of the year, the Volkswagen Golf GTI will likely be on the market.
#4. 2023 Audi A4 Avant
MSRP: $40,995
Horsepower: 201@4100
Engine: 2.0 L Intercooled Turbo Gas/Electric I-4
Fuel Mileage: 26 mpg in the city/34 mpg on the highway
Transmission: 7-Speed Auto-Shift Manual Transmission
With a Brooks Brothers suit-like appearance, the Audi A4 from 2023 looks much like its A3, A6, and A8 sedan counterparts from the same year: conservative, well-tailored, and costly. Luxury and agility are balanced in equal measure in this vehicle, and that's how it performs on the road. Its fuel-efficient and powerful turbocharged four-cylinder engines let it go about with ease. Its primary all-wheel drive and stiff suspension tuning provide a well-balanced driving experience and helpful traction in adverse weather conditions.
The inside is made with fine materials and attention to detail, although the design could use a little more panache. The exterior design, which is somewhat conservative, fits this description. The Alfa Romeo Giulia, Genesis G70, and Mercedes-Benz C-class are just a few examples of vehicles competing with the Alfa Romeo in terms of flair and driver involvement. As a premium sedan, the A4 is similarly intriguing, thanks to its ability to softly communicate excellence.
Also Check: Top 10 New Cars With Big Screens
#5. 2022 Subaru WRX
MSRP: $30,600
Horsepower: 271@5600
Engine: 2.4 L Intercooled Turbo Premium Unleaded H-4
Fuel Mileage: 19 mpg in the city/25 mpg on the highway
Transmission: 8-Speed Continuous Variable Transmission
The new 2022 Subaru WRX attempts to resurrect interest in rally-inspired sport compact vehicles, which are on the edge of extinction. The 2017 WRX is expected to upgrade over the previous model due to the installation of a 271-hp turbo flat-four engine and a revised architecture aimed at improving driving characteristics. Newer competitors like the Hyundai Elantra N or the VW Golf GTI and Jetta GLI are better matched with their current interior design & 11.6-inch screen infotainment system. It is among the cheap cars with air suspension.
This category has only one all-wheel drive vehicle; that vehicle is, of course, the WRX. Since the 315-horsepower VW Golf R is Subaru's main competition, Subaru has decided not to produce a gasoline-powered STI version this time. However, the storied WRX STI might have a future as a high-performance electric vehicle. However, no word from the manufacturer on when the electric STI may go into production. Before then, fans may enjoy the 2022 WRX's edgy bodywork, which is quick and exciting.
Frequently Asked Questions
What happens when air suspension fails?
The most common signs are a decreased, drooping ride height, or a malfunctioning ride setting. There are also other indications, such as an erratic handling in curves and bumpy roads, as well as a harsher and more noisy ride. The failure of the air suspension will be apparent. Even if the compressor raises the automobile to the desired height, it will ultimately run out of pressure due to the vehicle's weight. The rest will sag, and the vehicle will sit lower to the ground if less pressure is applied to the air springs.
Is air suspension suitable for cars?
Yes, that's what I'm getting at. It has been proved that air suspension may be a useful feature for everyday driving if properly fitted and maintained.
Can you drive fast with air suspension?
Because NASCAR drivers raced in their everyday cars, the air suspension was able to survive in motorsports. When a mid-corner bump was encountered, the increased support under heavy loads and the capacity to smooth out rough roadways meant that the driver had better handling and a lesser risk of losing control.
Do all cars have air suspension?
No, all cars do not have air suspension. Automobiles such as Maybach and Rolls-Royce have employed air suspension. Best cars with air suspension also include Lexus and Jeep. Mercedes-Benz and Citroen. Porsche. Land Rover. SsangYong. Audi. Subaru. Volkswagen.
What can go wrong with air suspension?
Additionally, air suspensions are prone to mechanical failure. Internal corrosion or moisture damage and a breakdown of air tubing connecting the air system may cause suspension issues. Air spring leaks are very prevalent and may cause a compressor to overheat.