Top 10 Cheap Cars With Loud Exhaust in 2022
It's important to many people to have a peaceful and relaxing ride. However, for many who appreciate the feeling of driving, the sound of the engine is an essential part of the journey. While many popular automobiles are capable of excellent performance stats, many do not provide the all-important emotive soundtrack. They may be fast, but they lack the emotional soundtrack.
But one thing is for sure: Engine noise may cause permanent hearing loss regardless of how much you try to block it out. The CDC warns that prolonged exposure to noise levels more than 85 dB may endanger a person's sense of balance and hearing. The fact that powerful automobiles with loud engines may turn attention outside of racetracks has never deterred manufacturers from doing so. Even the most ardent automotive lovers will have to cover their ears when these beasts roll off the assembly line since they are among the loudest cars currently on the road.
A list of cars with loud exhaust that fits their performance on the road is here. You'll love the sound of these pulsating vehicles.
10 Best Luxury Cars With Loud Exhaust
Must Check: Top 10 New Cheapest Cars With V12 Engines
#1. McLaren 720S Spider-$3,01,500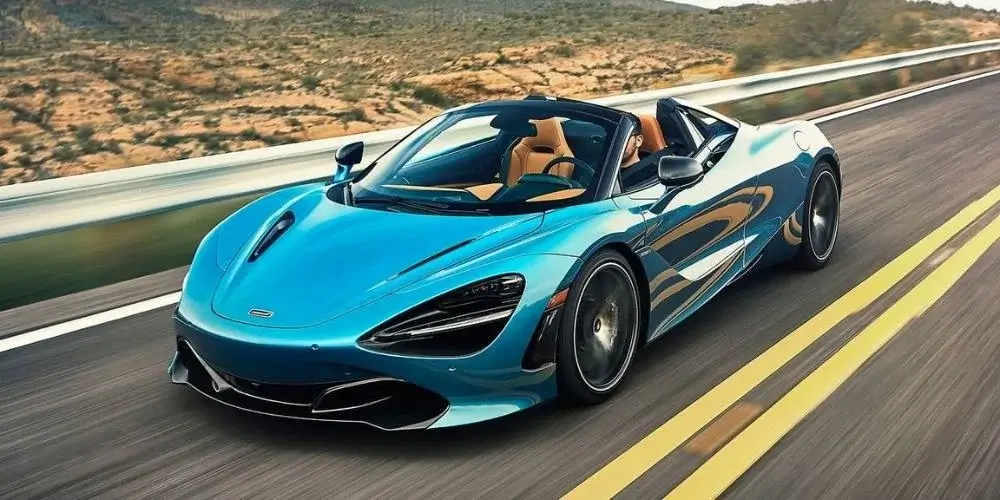 Engine: 4.0 L Twin Turbo Premium Unleaded V-8
Transmission: 7-Speed Auto-Shift Manual Transmission
Horsepower: 710@7500
Torque: 568@5500
If you've got the cash, the 720S Spider is among the best cars with loud exhaust McLaren has to offer. It is also the most obnoxious convertible on the market, emitting 99 decibels of noise. With its huge twin-turbocharged V8 engine, the 720S is responsible for all that noise.
Incredibly well-tuned engine. More than just a rumbling engine, McLaren's 710-horsepower and a 0-to-60 time of 2.7 seconds show that this car is fast and capable. We'd want to caution you about the effect a noisy automobile might have on your neighbors. If you're paying over $300,000 for a home, your neighbors are either very far away or have similarly noisy automobiles hidden away in their garage!
Pros
Spectacular design
tremendous performance, and
a tolerable ride makes this car a must-have for every driver
Cons
There's a lot of turbo lag, and
the brake pedal demands a lot of pressure
#2. E92 M3 BMW-$73,795
Engine: 3.0 L Twin Turbo Premium Unleaded I-6
Transmission: 8-Speed Automatic Transmission
Horsepower: 503@6250
Torque: 479@2750
The exhaust system of certain customized automobiles screams to the point of insanity. BMW Car Tuning claims that a BMW E92 M3 can reach a maximum of 120 dB with an improved exhaust system. This vehicle, though, is already a capable screamer right off the assembly line.
In the minds of many drivers, the sound of their vehicle is only a bonus. Many car enthusiasts and tuners, on the other hand, place a high priority on the sound of their vehicles. Some may find it difficult to believe that the BMW E92 M3 is road legal, yet few vehicles come with as much ear-piercing sound as the E92 M3. Because of the Fiat 500's switch from gasoline to electric propulsion, this may be your final opportunity to get your hands on a vehicle like this one before it's too late.
Pros
The basic model is a remarkable amount of comfort for a car with a straight-six engine and a six-speed manual transmission
Cons
An unnecessary amount of drive-mode options
no manual gearbox on the Competition model
kidney grille placement may be better
Also Check: Top 10 Best New Luxury Cars For Tall People
#3. Porsche 911 GT3 RS-$162450
Engine: 4.0 L Premium Unleaded H-6
Transmission: 7-Speed Auto-Shift Manual Transmission
Horsepower: 502@8400
Torque: 346@6100
Only from the back will you get a clear view of the 911 GT3 RS. To put it another way, it's because the Porsche 911 GT3 RS is really quick. In addition to its 500-horsepower flat-six, the GT3 RS's roar is audible! This performance-oriented 911 spits out a spine-tingling 108 decibels of sound. The 911 GT3 RS deserves all the acclaim, despite its raucous nature. The car's handling and acceleration have been hailed as excellent!
Just make sure your passenger has their own set of earplugs since they may not be fans of the car's loud engine sounds like you are. Since this automobile costs over $200,000, you'll have more difficulty finding an uncool car that is louder than this one.
Pros
Spectacular naturally aspirated flat-six
unequaled steering accuracy, and
an exhilarating driving experience on the track or the street
Cons
Faster acceleration with a stick shift,
too firm of a damper setting for street usage, and
a 2 pound weight savings with a carbon fiber roof
Also Check: Top 10 Best Cars With Ambient Lighting
#4. Chevrolet Corvette Z06-$106,395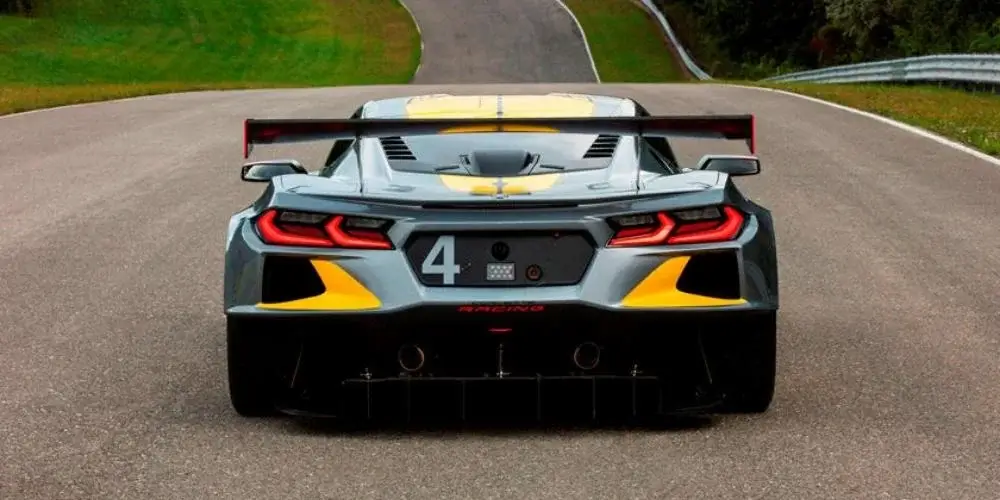 Engine: 5.5-liter V-8
Transmission: 8-Speed Automatic Transmission
Horsepower: 670hp
Torque: 470
Beauty, performance, and a luxury cars with loud exhaust are all on offer in the Corvette Z06. This automobile is street legal right out of the box, making a lot of noise. The Z06 hits a maximum of 72.1 dB at 70 mph, according to Edmunds. Taking a Z06 to the full throttle will achieve 94.8 dB if that isn't loud enough, creating merely a mild annoyance in one's ears.
As a result, it ranks as one of the most obnoxious vehicles on the list. Having a vehicle that makes such loud noises isn't always a good idea, but the excitement it provides is worth the risk.
Pros
It's fast
Corners quickly, and
Fun to drive
Cons
#5. Porsche Cayman GTS-$61,850
Engine: 4.0 L Premium Unleaded H-6
Transmission: 6-Speed Manual Transmission
Horsepower: 394@7000
Torque:309@5000
It's a good day for Porsche devotees. Luxurious and stylish, these vehicles also have a powerful engines. During a test drive of the Cayman GTS, Car and Driver discovered that the 340 horsepower was capable of sounding far more aggressive than it originally seemed.
The cheap cars with loud exhaust the racetrack will allow the Cayman GTS to go is 92 decibels, according to the same source, when equipped with the sport-exhaust button pushed all the way. It's highly regarded if a street-legal automobile can run an engine loud enough to violate racetrack noise regulations.
Pros
Joyful handling
two fantastic transmission choices
easily customizable
Cons
Limited interior storage cubbies
entry-level four-cylinder doesn't sound premium
premium pricing
Also Check: Top 5 Best Cars With Air Suspension
#6. Dodger Challenger Hellcat-$68,125
Engine: 6.2 L Intercooled Supercharger Premium Unleaded V-8
Transmission: 8-Speed Automatic Transmission
Horsepower: 797@6300
Torque: 707@4500
No one should underestimate the Dodge Challenger Hellcat. These automobiles may be eye-catching to bystanders, but they just care about one thing: getting the job done. According to Ars Technica, the Challenger Hellcat's 6.4-liter V8 engine is capable of producing 707 horsepower.
It's no surprise that the engine makes such a racket, given that it's capable of high speeds. According to the same source, when pushed to its absolute extent, it may reach 105 decibels. Additionally, this muscle car's engine has the power to back up its speed with an impressive growl.
Pros
Horsepower ratings that begin with 7 and 8
vintage bodywork and music, and
a rear seat that can be occupied
Cons
Camaro and Mustang have better handling and higher fuel economy
it's beginning to show its age with scores as low as 13 mpg
Also Check: Top 9 Luxury Cars With Third Row Seating
#7. Volkswagen Golf VR6-$30,975
Engine: 2.0 L Intercooled Turbo Regular Unleaded I-4
Transmission: 6-Speed Manual Transmission
Horsepower: 241@5000
Torque: 273@1750
The unique engine of the Volkswagen Golf R32 has earned it a cult following cheap cars with loud exhaust. Breaking with tradition, CarBuzz says that the VR6 engine has only one cylinder head. Additionally, it amplifies the sound of the VR6 engine. The design may not provide much, but the vehicle's presence is sure to draw admiring glances everywhere it travels.
A vehicle like the VR6 further demonstrates that manufacturers are prepared to go to considerable lengths to gratify even the most ardent automotive fanatics.
Pros
Driving it is still just as much fun as it was before
while also being noticeably lighter and
more agile than its predecessor
Cons
This vehicle's cabin quality is disappointing
the infotainment system is difficult to operate, and
the engine makes a loud noise while traveling at high speeds on the highway
Also Check: Top 10 New Cars That Get 50 MPG or Better
#8. Ford Mustang Shelby GT350R-$61,635
Engine: 5.2 L Premium Unleaded V-8
Transmission: 6-Speed Manual Transmission
Horsepower: 526@7500
Torque: 429@5750
The Mustang is a well-known brand. In the past, they've shown a willingness to cater to customers who want both performance and flair in their automobiles. The Mustang Shelby GT350R is redefining the classic muscle vehicle for cars with naturally loud exhaust.
To put it simply, Men's Health reports that they can reach up to 92 decibels, which is going to be uncomfortable to anyone's ear and may even cause hearing damage over time. It's not a good idea to take a GT350R on long highway travels. With a 5.2-liter V8 engine capable of up to and exceeding 500 horsepower, it's understandable why they make such a racket.
Pros
shrieking engine
razor-sharp handling, and
a long and illustrious history of racing
Cons
In terms of performance, the Mustang GT is almost as quick as the fastest competition
it's expensive for a Mustang
Also Check: 10 Good Cheap First Cars For 17-Year Olds
#9. Lexus LC 500-$94,125
Engine: 5.0 L Premium Unleaded V-8
Transmission: 10-Speed Automatic Transmission
Horsepower: 471@7100
Torque: 398@4800
With its V8 engine, the Lexus LC 500 is one of the most powerful cars on the market. According to Car & Driver, it not only has a strong engine and excellent handling, but it also creates a lot of noise when pushed to its limits. CDC's maximum for long-term exposure to such sound is 88 decibels (dB), and they say that the V8 engine of this vehicle can reach that level.
Moreover, the exterior design is noteworthy, as it more closely resembles a supercar than a family sedan in terms of appearance. The look of this automobile hides the fact that it's a loud vehicle under all that noise.
Pros
The outside is stunning
the V-8 engine sounds fantastic, and
the inside is fit for a halo luxury vehicle
Cons
Limited cornering skills
an optional hybrid system diminish the car's appeal
Also Check: Best Cars With the Steering Wheel on the Right Side
#10. Alfa Romeo Giulia Quadrifoglio-$80,755
Engine: 2.9 L Twin Turbo Premium Unleaded V-6
Transmission: 8-Speed Automatic Transmission
Horsepower: 505@6500
Torque: 443@2500
In addition to having a name that is difficult to pronounce, the Alfa Romeo Giulia Quadrifoglio is a beautiful automobile that excels in terms of both its outward appearance and its internal workings. There is no cause for anxiety about Giulia Quadrifoglio's ability to please drivers based on the cars with naturally loud exhaust.
It does manage to grow loud enough to cause concern, despite the fact that it does not quite surpass the warning level of 85 decibels established by the CDC. When the engine starts up, it makes a loud noise that, in addition to being annoying, may be damaging to one's hearing.
Because of their high levels of performance and elegance, Porsches have long been a favorite among car purchasers. The Carrera GT easily meets both of these requirements. There's even an attention-getting engine in there.
A few years ago, Jalopnik wondered whether it was the loudest vehicle on the road, placing it in direct competition with the likes of the Audi A8 and the Tesla Model S. Spies might use these automobiles because of how quiet they are. However, the Porsche 911 Carrera GT is a very other situation, with a factory exhaust system that many will doubt is truly legal. You can be sure of one thing: it's going to draw attention.
Pros
Stunning appearance
searing acceleration
razor-sharp handling
Cons
There is no manual gearbox
the cabin isn't as luxurious as some of its competitors
Frequently Asked Questions
Are cars with loud exhausts legal?
No. All vehicles operating on public highways must have an operational muffler that is free of obstructions and functioning properly at all times in order to avoid excessive or unusual noise and obnoxious smoke.
How can Harleys get away with loud exhaust and cars can't?
To reduce engine noise, a muffler is installed between the engine and the exhaust pipe. Mufflers on motorcycles are typically just a few inches long. This is the primary cause of motorcyclists' generally higher noise levels compared to other vehicles. Motorcycles just don't have the space for a larger exhaust system.
What makes a car have a loud exhaust?
It's possible to have a hole in your muffler or an aperture in your exhaust system that allows exhaust to seep out and not be totally muffled. In addition to making your exhaust sound much, much more obnoxious, this is the cheapest option.
What is the loudest a car can be?
The McLaren 720S Spider is the pinnacle of McLaren's offerings of luxury cars with loud exhaust for those with large pockets. It is also the most obnoxious convertible on the market, emitting 99 decibels of noise. Enormous, twin-turbocharged V8 engine powers the 720S roar.
What is the loudest cheap car?
Volkswagon Golf VR 6 is among the loudest cheap car.
What car has the loudest stock exhaust?
The Hellcat Dodge Challenger
Most significantly, it has one of the loudest exhaust notes available on the market today. Powered by a 707bhp V8 engine, the automobile emits a "growl" of roughly 100 decibels, which is only 20 dB lower than the usual rock concert noise level (120 decibels).