10 Best New Car Releases With Panoramic Sunroofs in 2024
Stepping into 2024, the allure of the open sky beckons stronger than ever, especially when seated in the plush comforts of modern automobiles. The latest 2024 cars with panoramic sunroofs elegantly bridge the old romance of a drive with contemporary luxury. These sunroofs stretch generously over your head, inviting the sun and stars into your cabin. A simple slide opens up a vista, making every journey less chore and more of a rendezvous with nature.
The year also brings joy for budget dreamers, with a range of affordable cars with panoramic sunroofs making a grand entry. They promise a slice of luxury without burning a hole in the pocket.
The new car releases with panoramic sunroof in 2024 are not just about the aesthetics. They're about feeling the breeze, basking in natural light, and reclaiming the joy of the open road. These cars beckon to those who crave a sense of freedom amidst the urban rush.
Now, every drive is less about reaching a destination and more about savoring the journey. The panoramic sunroof is not merely a feature; it's an invitation to explore with the sky as your companion.
Top 10 Cars with Panoramic Sunroof in 2024
In the bright tapestry of automotive innovation, the allure of nature has a unique place. The 2024 cars with panoramic sunroof promise a drive laced with modern-day luxuries and an immersive gateway to the skies. The chariots have expansive glass roofs. The roofs invite the sun and stars into the cabin. Every journey becomes a celestial celebration. We are exploring the list of the 10 best new car releases. Each car has a panoramic sunroof. It allows us to see horizons beyond the mundane.
Let the sunrays guide our journey. We will explore the union of nature and machines. These exquisite 2024 releases await us.
#1. 2024 Toyota Grand Highlander
The 2024 Toyota Grand Highlander is a charm for those who find the regular Highlander a tad snug, especially for larger families. It steps up the game with more roominess and a gentle, smooth ride that's a joy on any terrain. Let's not forget that exquisite Panoramic Sunroof on the Platinum trim, elevating the driving experience and making the cabin feel airy and expansive.
The 2024 cars with panoramic sunroof has a generous slice of the sky. It doesn't compromise on performance. It zooms from 0 to 60 mph in a mere 8.3 seconds. The modern tech features keep you connected as you glide down the road. They also keep you entertained. This ensures that every drive is a delightful adventure.
Price: $44,465
Engine: 2.5L 4-Cylinder Hybrid
Transmission: Continuously Variable (ECVT)
Must Check: New Cars With Manual Transmission
#2. 2024 Chevrolet Blazer EV
The 2024 Chevrolet Blazer EV is an electric marvel blending style, power, and modern features into one compelling package. Retaining the edgy look of its predecessor, this electric variant delivers greater performance, making it a delightful choice for the modern driver. The drive is not only about power; comfort finds its way into the Blazer EV with features like heated and ventilated seats. Also, if we talk about the panoramic sunroof, it offers a serene view of the sky, making every journey more enjoyable.
Choosing the higher trims offers luxurious features. These include a panoramic sunroof. It provides a clear sky view and adds elegance to the cabin. The new car releases with panoramic sunroof in 2024 has up to 557 horsepower. It also has a range of up to 320 miles. This ensures that your adventures are long and thrilling.
Price: $56,200
Engine: EV
Transmission: 1-Speed Transmission
Horsepower: 557
Torque: 648
#3. 2024 Audi SQ5
The 2024 Audi SQ5 is luxurious, powerful, and innovative. It encapsulates the quintessence of a modern SUV. As you step inside, the panoramic sunroof immediately catches your eye. It effortlessly draws the beauty of the sky into the spacious, elegant interior. It enhances the ambiance with natural light. This feature is more than a window. It bridges you and the boundless skies. You cruise in a vehicle designed for excellence.
Every drive is an invitation to explore the world while ensconced in luxury. The engine is a robust 3.0L 6-cylinder turbo. It promises a smooth and powerful ride. It effortlessly glides on the tarmac. It is ready to respond to your every command.
Price: $57,000
Engine: 3.0L V-6 Engine
Transmission: 8-speed transmission with Overdrive (OD)
Horsepower: 349
Torque: 369
Also Check:
#4. 2024 Mazda CX‑90
The 2024 Mazda CX-90 has luxurious features. It promises a serene driving experience. The starting price of $40,970 suggests that this vehicle is premium. It aligns well with its offerings. This SUV doesn't just replace the CX-9 in Mazda's lineup. It elevates the brand's identity. It introduces new solutions to old problems. It makes a statement in the automotive market.
As you slide into the driver's seat, you're greeted with an interior that spells nothing but luxury. The panoramic sunroof is a notable feature, creating a harmony between the car's plush interior and the world outside. It invites the sky into your space, making every drive a scenic journey.
This isn't just any sunroof; it's a dual-pane glass sunroof that bathes the cabin in natural light, enriching the ambiance while you cruise on the road.
Price: $43,445
Engine: 3.3L Turbo Inline 6 engine
Horsepower: 280-340
Torque: 369
#5. 2024 BMW 5 Series
The 2024 BMW 5 Series continues the legacy of BMW's excellence, offering a perfect blend of elegance, power, and innovation. It's a car that fits right between the compact 3 Series and the full-size luxury 7 Series, providing a just-right size for many buyers. This newest edition, known as the "G60" generation, brings more power, enhanced technology including a hands-free driving assistant, and the latest iteration of BMW's iDrive system.
A notable feature in the 2024 model is the optional Sky Lounge roof, a panoramic glass that replaces the standard sunroof, making the interior feel spacious and connected to the sky above. This expansive glass roof provides a broader view of the sky, creating an open and airy feel inside the car.
Depending on your preference, you can choose between a fixed panoramic roof or a standard sliding sunroof. This feature, alongside others, enhances the luxurious feel and modern aesthetic of the 5 Series, making every drive a pleasure.
Price: $57,900
Engine: 2.0L 4-cylinder turbo
Transmission: 8-speed automatic transmission
Horsepower: 593
Torque: 586
#6. 2024 Buick Encore GX
The 2024 Buick Encore GX is a charming compact SUV. It carries the responsibility of attracting younger buyers to the Buick brand. It has a compact yet robust design. The model this year has a fanciful Avenir trim. It pushes the model closer to the premium league. It shows off a refined side of Buick. The 2024 cars with panoramic sunroof has a new look. It looks different inside and out. But it still has the same driving experience. It combines the old and the new tastefully.
It is a competitive range. It is an attractive option for those seeking luxury and performance. It doesn't have a hefty price tag. The compact footprint doesn't compromise on sportiness. The affordable cars with panoramic sunroof has a responsive drivetrain. It also has a composed suspension. This allows it to handle more sportily than many in its class. As a result, it ensures a smooth ride every time.
Price: $25,000 to $32,000
Engine: 1.3L Turbocharged 3-cylinder.
Transmission: Continuously Variable Transmission (CVT)
Horsepower: 155
Torque: 174
Also Check:
#7. 2024 Lexus RX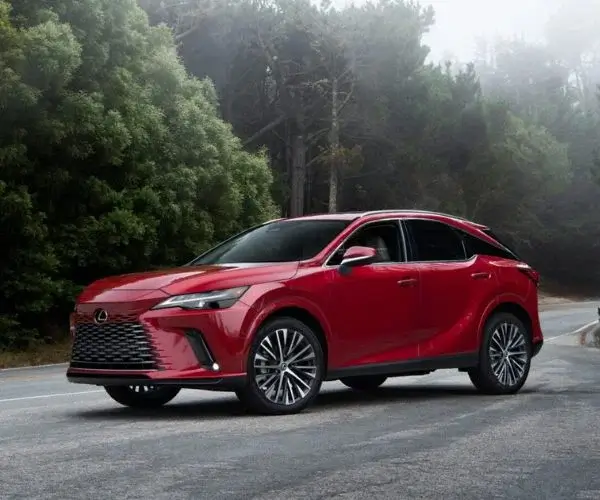 The 2024 Lexus RX stands as a testament to relaxed luxury amidst a market that often leans towards sportiness. It prides itself on a soft-riding, relaxed demeanor, even in the more spirited RX 500h F Sport Performance model which chooses comfort over sporty performance. This newest addition blends familiar Lexus luxury with innovative hybrid technology.
Price-wise, the RX remains competitive. For instance, the RX 350 starts at $49,950, and if you prefer an all-wheel-drive experience, an additional $1,600 will secure that for you.
Now, the charm isn't solely under the hood or in the price tag; it extends above your head too. The 2024 Lexus RX models, including RX 350, RX 350 F Sport, RX 450h, and RX 450h F Sport offer an optional panoramic sunroof. This feature enhances the driving experience by merging the barrier between the serene outdoors and the luxurious indoors.
Price: $45,000
Engine: 3.5L V6 for the RX 350
Transmission: 8-speed automatic transmission
Horsepower: 275
Torque: 317
#8. 2024 Kia Sportage
The 2024 Kia Sportage offers occupants an inviting blend of space and comfort. Its spacious interior is designed to captivate urban adventurers. It is a haven of tranquility amid the bustling city streets. Every curve and line is meticulously crafted. It reflects a harmonious blend of functionality and sophistication. The Sportage beckons. It offers a comfortable ride quality. This soothes the daily commute's usual strains.
These affordable cars with panoramic sunroof have a modest price range of $27,090 to $37,890. It ensures it remains attractive to a broad spectrum of buyers.
Now, let's drift to the skies – or at least feel the open air. The 2024 Sportage offers a Panoramic Sunroof with a power shade on select trims, bringing the outside in. It's not just a window to the skies but a gateway to embracing the world around you, letting you soak up the sun or gaze at the stars at your whim. This feature is available as a standard on some higher trims and as an option on others, providing luxury and openness to your drives.
Price: $19,990
Engine: 2.5L 4-cylinder gasoline direct injection (GDI) engine
Horsepower: 170-200
Torque: 170-200
#9. 2024 Honda Pilot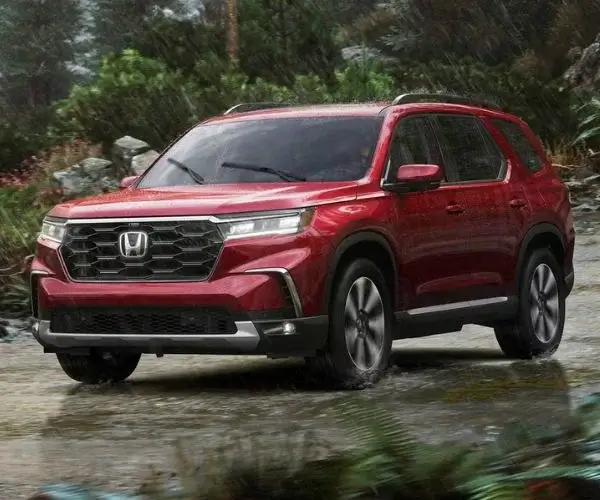 The 2024 Honda Pilot is a family favorite, blending practicality with comfort in a stylish three-row SUV package. Its roomy cabins are a major selling point, providing ample space for passengers and cargo, making family trips or daily commutes a breeze. The Pilot's appeal isn't just about space; it's also about a reassuring ride. It has a reputation for dependability and a relaxing drive, contributing to its strong resale values.
When venturing off the beaten path, the Pilot doesn't shy away. Its rugged exterior design hints at its off-road capabilities, especially in the TrailSport version, making it a competent companion for those weekend escapes into the wild.
Now, let's talk about gazing at the stars or enjoying a sunny day without leaving the comfort of your Pilot. The 2024 model offers a One-Touch Power Panoramic Moonroof, a feature that effortlessly bridges the gap between you and the sky with just a touch. This addition brings in natural light and adds a taste of luxury, making your journey more enjoyable and closer to nature.
Price: $37,090
Engine: 3.5-liter V6 engine​
Transmission: 10-Speed automatic
Horsepower: 285
Torque: 262
#10. 2024 Toyota Sequoia
The 2024 Toyota Sequoia emerges as a rugged yet refined behemoth, prepared to take on both urban landscapes and rugged trails with equal gusto. Starting at a price of $62,725, it's a value proposition for families and adventurers alike.
The new car releases with panoramic sunroof in 2024 is in its third generation. It is in its second model year. Toyota has made improvements to their full-size, three-row SUV. The hybrid powertrain stands out. It delivers more torque than V-8-powered rivals. It promises better fuel economy. This is a crucial feature in today's fuel-conscious world.
Stepping inside the Sequoia surprises. It has high-quality materials, plush upholstery, and state-of-the-art features. It creates a haven of comfort and modernity. The panoramic sunroof is a standout feature. It invites the outdoors in. It enhances the cabin experience by leaps and bounds. This feature allows you to relax under the sky. You can enjoy Sequoia's tech updates. These updates include a large 14.0-inch touchscreen. It also has smartphone connectivity. This makes every trip an event to look forward to.
Price: $62,725
Engine: 3.4L V6 Hybrid Engine or twin-turbo 3.5-liter V6 engine paired with an electric motor
Transmission: 10-speed automatic
Horsepower: 437
Torque: 583
FAQs
Which 2024 car models come with a Panoramic Sunroof feature?
Some 2024 models with a panoramic sunroof feature include the Toyota Sequoia, Kia Sportage, Honda Pilot, Audi SQ5, and Lexus RX.
Is a Panoramic Sunroof standard or optional in 2024 cars?
The availability of a panoramic sunroof as a standard or optional feature varies from model to model and brand to brand. It's commonly seen as an optional feature in many 2024 cars.
Can a Panoramic Sunroof impact the fuel efficiency of the 2024 cars?
Panoramic sunroofs can slightly affect fuel efficiency due to added weight and potential aerodynamic changes when opened. However, the impact is usually minimal.
Does a Panoramic Sunroof affect the resale value of 2024 cars?
A panoramic sunroof can potentially increase the resale value of a car as it's often seen as a luxury or desirable feature by many buyers.
Conclusion
The allure of a panoramic sunroof in cars is captivating. It offers a slice of the sky as you traverse through city streets or meandering country roads. The new car releases with panoramic sunroof in 2024 showcases a delightful blend of technology, luxury, and a human-centric design. It makes every journey an enriching experience. The sunroofs invite the world outside.
Nature accompanies your travels. Car enthusiasts and everyday drivers are eagerly awaiting the 2024 models. The panoramic sunroof is a symbol of modern elegance. It undeniably enriches the driving experience and creates a beautiful bond between the machine and the milieu.