Top 10 New Cheapest Cars With V6 Engines in 2022
Because of the performance disparity, several manufacturers are replacing their aging V8 engines with modern V-6 Biturbo engines.
Since Ford's successful launch of forced induction V-6s, it seems that every manufacturer is working on a twin-turbo V-6 to substitute their V8s.
Because of its lightweight and tiny size, this engine is more compatible and fuel-efficient in any vehicle. Consequently, mechanical efficiency improves, while a slew of new features and internal advancements assure outstanding vehicle performance.
In this post, we've produced a list of the top ten best V-6 twin-turbo cars, which will provide you with not only the quickest speed but also a pleasant ride.
#1. 2022 Genesis GV70
MSRP: $41,500
Engine: twin-turbo 3.5-liter V-6
The GV70, Genesis' first effort at a premium compact SUV, has earned our 2022 SUV of the Year Award. The 2022 Genesis GV70, with its unique style and outstanding value, is poised to compete with established category competitors such as the Volvo XC60 and Mercedes-Benz GLC-Class. The Genesis GV70 is the company's second SUV which is among the small cars with the V-6 engine, after the GV80, announced for the 2021 model year.
The GV70, like other cars in Genesis' 2022 range, is powered by a 2.5-liter turbo-four generating 300hp and 311 lb-ft of torque. A twin-turbo 3.5-liter V-6 with 375 horsepower and 383 lb-ft of torque is also available—the engine power is transmitted to standard AWD through an eight-speed automatic gearbox.
The 2022 GV70's fuel efficiency with the standard 2.5-liter turbo-four is rated at 22/28 mpg city/highway and 19/25 mpg with the optional 3.5-liter turbo V-6. The GV70 with the turbo-four has excellent fuel efficiency in the lineup. It has the same ratings as the 2021 Lexus NX300 AWD, which has a smaller 2.0-liter engine and produces less power. The larger engine in the GV70 compares well to the smaller and less powerful 3.0-liter V-6 in the 2022 Audi SQ5 AWD, which scores 19/24 mpg.
Pros
Finally, Genesis luxury in a tiny SUV
There are a plethora of vibrant, eye-catching hues and trimmings to choose from
Amazing fingerprint scanning technology
Cons
Brakes may be a little grabby
Some driving aids are only available in higher-end variants
The fuel efficiency is poor
#2. 2022 Nissan Pathfinder
MSRP: $33,410
Engine: 3.5-liter V-6
The Pathfinder, which is entirely new for 2022, ditches the frumpy design of the 2020 model in favor of a rugged and contemporary appearance. Also, it is among the best cars with V-6 engines in 2022. The redesigned Pathfinder will be available at Nissan dealerships in the summer of 2021.
Although Nissan equips the S and SV Pathfinders with desired driver-assistance systems, we suggest opting for the more expensive SL trim if your money allows. The more extensive 9.0-inch infotainment system, a 360-degree video system, and wireless Apple CarPlay compatibility are all available as upgrades from the SV. The Pathfinder becomes downright opulent with the SL Premium option for $2900. It includes 20-inch alloys, a panoramic sunroof, a Bose music system, heated rear seats, and wireless smartphone charging. This kit also contains everything required to activate the Pathfinder's 6000-pound towing capability.
Pros
The towing capacity of 6,000 pounds is towards the top of the class
Highway ride that is both comfortable and silent
The cabin is relatively large
Cons
The front seats are a bit firm
The engine's response time might be slow
It has less baggage space than some competitors
#3. 2022 Infiniti Q50
MSRP: $43,125
Engine: 3.0 L Twin-Turbocharged V6 engine
For 2022, Infiniti eliminates the former base-level Pure trim and mid-level Signature Edition, leaving just the Luxe, Sensory, and Red Sport 400 trims. The new entry-level Luxe has a $5500 higher base price but has additional standard niceties like a 16-speaker Bose radio system, leather upholstery, a power-adjustable steering column, and a complete suite of active safety technologies. Similarly, the Sensory trim borrows elements from the now-defunct Signature trim, although the minor price increase. New features include a Saddle Brown leather upholstery option, open-pore wood inside edge, and a more modern HVAC system with an air purifier. All Q50s come equipped with wireless CarPlay. It is the best car with V-6 engines.
Compared to more recent sports cars, the 2022 Infiniti Q50 falls short. With out-of-date interior style and an unusual dual-touchscreen infotainment setup, Infiniti's entry-luxury vehicle lacks the oomph of its competitors. At the very least, its stunning exterior will continue to garner attention, and, unlike the Q50. Customers won't be able to purchase a twin-turbo V-6 in a BMW 3-series or Mercedes-Benz C-class for less than $55,000. While Infiniti's powerful engine makes it a good value bet, even the sportiest variant can't compete with the driving pleasure of an M340i. Or even a Genesis G70 Sport, the segment's finest bang for the money. Instead, the 2022 Q50 sedan is meaningless to everyone, save Infiniti fans and those eager to upgrade from the more modest Nissan Altima.
Pros
Exterior design that flows
Improved driving dynamics
V-6 Torquey engine
Cons
Interior aging
A squeezing second row of seats
The absence of active safety elements as a standard
The fuel economy is poor
Must Check: Top 10 Best AWD Cars Under $30k You Can Buy in 2022
#4. 2022 Infiniti QX60
MSRP: $46,850
Engine: 3.5L direct-injected DOHC 24-valve 60-degree V-6
For the 2022 model year, Infiniti's mid-size three-row QX60 is all-new and aspires to go dramatically upmarket to capture the hearts of premium-SUV consumers. The 2022 QX60's revised style, previewed by the QX60 Monograph concept, offers a modest change from Infiniti's existing design language. The inside has undergone a more extensive metamorphosis than the previous generation QX60 remarks its position in the list of cars with V-6 engines, additional luxury, convenient amenities, and a more premium look.
Buyers will find the same powerplant as the 2022 Nissan Pathfinder—the QX60's rural cousin—under the hood. The powertrain comprises a 295-hp 3.5-liter V-6 engine and a nine-speed automated transmission. The mid-size SUV market is competitive. The QX60 will face stiff competition from competitor SUVs such as the BMW X5, Lincoln Aviator, and Mercedes-Benz GLE-class. Still, it seems like Infiniti has developed something new and fresh when revamping this vital member of the brand's SUV portfolio.
The QX60 2022 is a comprehensive redesign of the brand's three-row mid-size SUV, featuring a more dramatic exterior and a more luxurious interior. The Sensory trim is the one we'd recommend. Premium amenities include massaging front seats, heated second-row seats, a cleaner, wireless phone charging, a motion-activated power liftgate, and a 17-speaker Bose sound system are standard. Front-wheel drive is standard and should be enough for most purchasers, but all-wheel drive is a $2000 option.
Pros
A powerful engine combined with a quick gearbox
The cabin is furnished with comfy chairs and high-quality materials
On higher trim levels, advanced features are accessible
Cons
While Apple CarPlay is wireless, Android Auto necessitates using a cable
For some luxury SUV purchasers, the ride maybe a little too stiff
There is no hybrid version
#5. 2022 Nissan Maxima
MSRP: $37,240
Engine: 3.5-liter V-6
The 2022 Nissan Maxima proves that a full-size sedan does not have to be unappealing to look at and tedious to drive. Its finely sculpted exterior wraps around a large interior that push the concept of mainstream quite near to the realm of luxury. Drivers looking for some excitement behind the wheel will find it in the Maxima. Still, expectations should be placed far below the sports-car norm.
One modification has been made for 2022: heated rear seats are now standard on the high-end Platinum grade. Thus, making this car even the best affordable V-6 car.
Must Read: Top 10 New 2022 Cars With Panoramic Sunroof
The Platinum option includes a power-adjustable steering column, rain-sensing windshield wipers, a power-operated rear shade, total leather seats with diamond-quilted inserts, fiery rear seats, and wood interior trim, is well worth the price premium, in our opinion. If you're feeling flush, an additional $1140 gets you the Reserve option. The Maxima adds a charcoal-colored headliner, a two-tone leather-wrapped steering wheel, and unique 19-inch wheels.
Pros
Muscular V-6
The cabin is well-made and appealing
For a mid-size vehicle, the handling is excellent
Cons
The trunk and rear seat aren't very roomy
The ride quality on the SR trim is too stiff
Visibility issues
Out-of-date infotainment system
#6. 2022 Chrysler 300
MSRP: $33,545
Engine: 3.6 Liter V-6 Engine
Some things improve with age—whiskey, denim, cheese, leather—and vehicles are no exception. The 2022 Chrysler 300 is among the best affordable V-6 car. On the other hand, it is quickly fading into oblivion. Suppose you're one among the dwindling number of consumers looking for a vast four-door sedan. In that case, you'll have few options—and even among them, the 300 isn't very competitive. The primary powerplant is a V-6 with an eight-speed automatic and rear-wheel drive; an alternative V-8 with greater muscle-car appeal is available. The inside of the Chrysler is pleasant and extensive. Still, anyone looking for the luxury of a comparably sized luxury vehicle will be disappointed.
Chrysler's sedan is back for another model year with no significant revisions. All 2022 versions get a new N95 cabin air filter as standard, as does the Comfort Group option, which is available on Touring L and 300S models and now includes a security alarm.
Also Check: Top 10 Best New Luxury Cars For Tall People in 2022
We suggest the Touring L model, which offers a good mix of luxury and convenience amenities at a fair price. It usually comes with a 3.6-liter V-6 engine and may be ordered with rear- or all-wheel drive. We'd also go for the Comfort above Group package since we believe big vehicles should be comfortable. If you want the V-8, you'll have to switch to the more costly 300S, which comes with a firmer suspension and, as a result, a rougher ride. Customers should also keep the V-8's appetite for gasoline in mind.
Pros
The cabin is upscale, peaceful, and spacious
An all-wheel drive is an option that improves traction in winter conditions
The available V8 engine complements the car's characteristics perfectly
The touchscreen interface is simple to use
Cons
It's difficult to see out the rear of the car
Advanced driver safety measures are available as an option
#7. 2022 Ford Explorer
MSRP: $34,540
Engine: 2.3 L Ecoboost V-6 Engine
The Explorer selection has expanded to include a new ST-Line trim, which blends the aesthetics of the high-performance ST trim with the more economical turbocharged four-cylinder powerplant. The ST-Line version has 20-inch wheels and black exterior highlights and badging. The inside is also performance-oriented, featuring faux-suede upholstery with red stitching, a sport steering wheel, and door-jamb protection plates with the ST-Line badge. Speaking of ST, the Explorer's most sporty variant is now available with rear-wheel drive and is a small car with V-6 engines. High-end King Ranch and Platinum versions offer 400 horsepower. They may upgrade for free with either a second-row bench seat or a pair of captain's chairs. The Timberline model, which debuted last year, is now available with a second-row bench.
Pros
Strong engines
Nimble handling
Large freight capacity
Cons
Cabin with a low rent
The second and third rows are less comfortable than competitors
Confusion about the optional infotainment screen
#8. 2022 GMC Acadia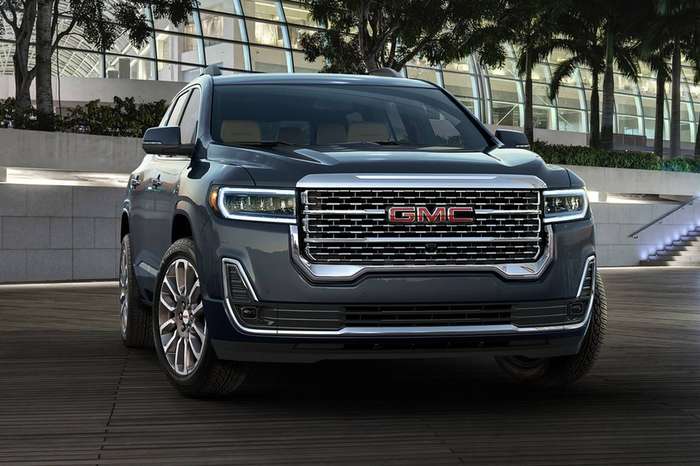 MSRP: $37,645
Engine: turbocharged 2.0-liter four-cylinder and 3.6-liter V-6
The 2022 GMC Acadia tries its best to escape minivan-alternative status by concealing its family-friendliness under a veneer of roughness. The base locomotive is a turbocharged four-cylinder, but a 310-hp V-6 is available, and it is the best 2022 car with V-6 engines. The Acadia's large first and second rows appeal to families, but individuals pushed to the third seat may feel cramped. A plethora of entertainment and driver-assistance systems are included, which will delight customers looking for contemporary conveniences. The Acadia is outranked by several other mid-size SUVs that provide better value, better driving dynamics, greater storage capacity, or enhanced capabilities despite its numerous advantages.
For 2022, the entry-level SL trim has been dropped from the range, with the better-equipped SLE serving as the new basic model. The standard 2.5-liter four-cylinder engine is also gone, leaving just a turbocharged 2.0-liter four-cylinder and a 3.6-liter V-6 as options. A slew of driver-support systems, including automatic emergency braking, lane-keeping assist, and blind-spot monitoring, are now standard across the board. Optional features include two new 18- and 20-inch wheel styles and a new color, Light Stone Metallic.
Pros
Improved riding quality
Acceleration is quick, thanks to the optional V-6 engine
The cabin layout is simple
You have always connected, thanks to modern onboard technologies
Cons
Even in the most expensive trim level, the cabin isn't incredibly opulent
Some competing SUVs have an additional luggage room and third-row seating
Also Check: Top 10 Fastest Japanese Cars (With Top Speed & Pictures)
#9. 2022 Dodge Durango
MSRP: $38,590
Engine: 3.6-liter NA Pentastar V-6
The basic Durango SXT now comes standard with blind-spot monitoring, rear cross-traffic warning, a power-adjustable driver's seat, rear parking sensors, roof rails, and the previously optional third row of seats. Remote start, bouncy front seats, a heated steering wheel, and a power-operated rear liftgate are all standard features on the GT variant. Memory settings for the drivers, rain-sensing windshield wipers, scuff protection for the rear luggage area, leather-and-suede upholstery, and heated rear seats are now standard on the GT Plus. The top-tier R/T Plus model includes Nappa leather with contrasting stitching, a sunroof, enhanced autonomous emergency braking systems, and a Harman/Kardon sound system, among other features. The vented hood from the Durango SRT 392 is now available on GT and R/T versions with the optional Blacktop package.
The mid-level GT model is the best buy of the lot, and we'd choose the regular V-6 engine over the thirstier V-8. After all, if you want a high-performance SUV, the Durango SRT or the limited-edition Durango SRT Hellcat is more likely to satisfy the best cars with V-6 engines in 2022. However, we'd like to upgrade from the base 8.4-inch infotainment system to the new 10.1-inch one, which costs $995 on the GT model and includes in-dash navigation and a 4G LTE Wi-Fi hotspot.
Pros
The large touchscreen tech interface is among the finest in its class
V-6 engines with a lot of power can haul a lot of weight
AWD and low-range gears provide true off-road capability
Cons
The fuel efficiency is below average, particularly with the V-6s
Many of the most recent sophisticated driver safety features are not standard
Larger and more cumbersome to drive than comparable crossover SUVs
#10. 2022 Toyota Tacoma
MSRP: $26,700
Engine: 3.5-liter V-6 DOHC 24-valve
The 2022 model is the most affordable V-6 car. Lifted Tacoma models are jacked up even further. The Trail Edition and TRD Pro are now a half-inch higher in the rear and 1.1 and 1.5 inches higher in the front, respectively. Because of the height advantage, each vehicle has more excellent approach, break-over, and departure angles, making crawling over uneven terrain simpler than before. The TRD Pro now has a unique and eye-catching Electric Lime paint color. At the same time, the Trail Edition may now be covered in Lunar Rock (previously limited to TRD Pro models). The Trail Edition's cosmetic improvements include bronze 16-inch rims and bronze lettering in the grille. The TRD Pro is now recognizable by a debossed "TRD Pro" badge on the rear bedsides, in addition to new hood decorations.
The 2022 Toyota Tacoma is excellent for work and off-roading. Still, its compact cabin and driving qualities are less sophisticated than most other mid-size trucks. While it is the only one with a manual gearbox, its underpowered four-cylinder and 270-hp V-6 engines are average. A six-speed automatic program is obtainable but isn't very tuned. At the very slightest, the Tacoma is backed by Toyota's fabled dependability, and its off-road-optimized variants are exceptionally competent. Thanks to a flexible suspension and rugged equipment, it thrives in the mud and on the trails. It helps it maintain its status alongside classics like the Jeep Wrangler and now its Gladiator's pickup equivalent. The Tacoma 2022 isn't as customizable as the Jeeps, which doesn't drive the Chevy Colorado and GMC Canyon. Still, it's rugged and loaded with standard driver-assistance technology.
Pros
There are several typical features
Simple to use infotainment system
Excellent off-road capabilities
Cons
The standard engine is underpowered
Suspension is stiff
Rear seat space is limited
FAQs About Cars With V6 Engines
What cars use a V-6 engine?
V-6 engines may be present in high-performance cars like the Kia Stinger GT and the Ford F-150 Raptor. Still, they're most typically visible in mid-size SUVs, minivans, and other practical family haulers.
What is the most reliable V-6 car?
Here are eight of the most refined V-6 engines ever, tearing up the highways for many years. They're also available as sedans, SUVs, full-size trucks, and sports vehicles.
PRV V-6
ALFA ROMEO BUSSO
FORD ECOBOOST
NISSAN VR38DETT
JAGUAR AJ126.
VOLKSWAGEN VR6
Ferrari Dino
Honda NSX DOHC
What is the best 6-cylinder car to buy?
Jaguar updates the F-Type sports vehicle for the 2022 model year with a new appearance and performance increase. It looks fantastic, but we're only interested in one thing: what's going on below the hood. It's also the most excellent six-cylinder automobile you can purchase.
The Jaguar F-Type is powered by two engines: a V-6 or a V8 package. For the sake of this article, we will concentrate on the number six, the 'AJ126.' To be honest, we wouldn't pay much attention to the V8 version in the first place since the V-6 sounds so much better!
Honda comes with a 2.4 L 129 kW (173 hp) four-cylinder engine or a 3.5 L 206 kW (276 hp) V-6 engine. In contrast to the Accord sold in North America, a CVT gearbox is unavailable. Instead, the four-cylinder is equipped with a five-speed automatic. At the same time, the V-6 is outfitted with a new six-speed automatic.
For many owners, the V-6 engine provides comparable fuel efficiency as a four-cylinder engine overall but much improved on-demand performance capabilities. The V-6 engine is very fuel-efficient, but it also provides the discriminating driver with access to far greater performance levels when needed.
Conclusion
Years ago, practically every car on the market had at least a V-6, if not a standard V-6 engine. V-6s, on the other hand, aren't as prevalent as they once were. As purchasers grow more concerned with realism and become more conscious of the climate issue, they shift to alternatives. They increasingly prefer automobiles that emphasize fuel economy, prompting several manufacturers to reduce the number of cylinders in their engines.
Even though turbocharged four-cylinder engines are the current automotive trend, many cars still offer more enormous alternatives, such as a V-6. And because of turbochargers and other advancements, these engines are becoming even more efficient. In reality, several bigger cars are phasing out V8 engines in favor of twin-turbo V-6s.
The point is that just because it isn't the standard engine for many automobiles today doesn't imply the V-6 is going extinct.