Top 11 Best Sports Cars With 4 Seats To Buy in 2022
Today, sports cars have to have a lot more power and skill than they did before. Customers today still want the thrills of a high-performance vehicle. Still, few are willing to give up on things like room and even efficiency, which means anything but a well-rounded package won't be on their shopping lists.
Even though there aren't as many four-seater sports cars as there used to be, there are still many that can do it all, or at least most of it. These cars have room for extra people, luggage, or both. Where two-seater sports cars can be found at a wide range of prices, the combination of performance, space for luggage, and four seats usually lead to a higher price point for a four-seater sports car. Most of our top ten four-seaters cost less than £27,000. The Toyota GT86 is cheap, at £27,000. Underneath is a list of the best sports cars with four seats.
#1. 2022 Mercedes-Benz E-Class Coupe
Price: $56,000
Engine: 2.0 liter Intercooled Turbo Premium Unleaded I-4
Transmission: 9-Speed Automatic Transmission
Fuel Economy (mpg): 21 mpg city and 29 mpg highway
Horsepower: 255 hp
Other cars are more sporty than the 2022 Mercedes-Benz E-class, but few are as high-class and high-tech as the E-class. The regular E isn't as exciting to drive as its AMG-tuned twin, the 429-hp E53, but it's still quiet and peaceful. It has a beautiful interior, is very quiet, and has many cool tech features, like the dual displays on its dashboard. The E350 sedan has a turbocharged four-cylinder engine standard for its class. The E450 has a turbocharged straight-six that is very good. You can get this solid and smooth mill for your car in the sedan, but it comes standard on the Coupe and cabriolet. Regardless of what kind of engine is in the car, it comes with a classy interior and a smooth and comfortable ride. Add the 2022 E-list class's of advanced driver aids to its luxurious appointments and high-quality construction, and you can get why it's one of the best mid-size luxury cars on our list.
Mercedes makes a few changes to the E-class lineup for 2022. Everyone who buys a new car now comes with automatic high-beam headlights. Also, there are a lot of new paint colors to choose from. Nautical Blue metallic, Starling Blue metallic, Manufacturer Moonlight White, and Manufacktur Starling Blue metallic are also on the list.
Also Check: 10 Best Sportiest Sedans To Buy in 2022
#2. 2022 Audi S5 Convertible
Price: $56,395
Engine: 3.0 liter Intercooled Turbo Premium Unleaded V-6
Transmission: 8-Speed Automatic Transmission
Fuel Economy (mpg): 21 mpg city and 30 mpg highway
Horsepower: 249 hp
Compared to their less powerful A5 counterparts, the 2022 Audi S5 coupe and cabriolet have more power and are faster. Instead of the S4's turbo-four, the S5 has a 349-hp turbo V6. When you buy a new Audi, you'll pay about $10,000 more than if you bought the same car with a different engine. While that extra charge gives the S5 Coupe and cabriolet the tools they need to go faster and handle better, it doesn't make them more refined or stylish than the standard A5. Plus, the sportier version doesn't have a perfect sound system, and there's no manual transmission. Still, there's something about the 2022 S5 that's easy to like, even if it's not as fun to drive as cars like the BMW M340i and Mercedes-AMG C43, which are more fun to drive.
There are no other changes to the S5 Coupe and convertible for 2022. The only new features are the carbon-fiber interior accents and the new 19-inch wheels, which replace the 18-inch ones previously standard.
#3. 2022 Hyundai Veloster N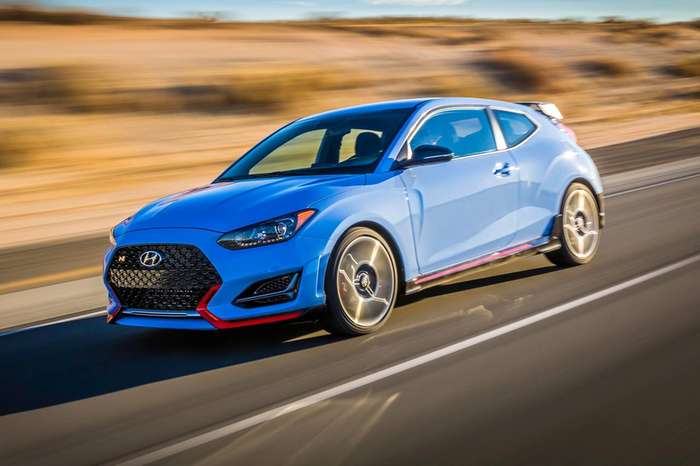 Price: $33,545
Engine: 2.0 liter Intercooled Turbo Premium Unleaded I-4
Transmission: 8-Speed Autoshift Manual
Fuel Economy (mpg): 20 mpg city and 27 mpg highway
Horsepower: 275 hp
Despite being just three years old, the 2022 Hyundai Veloster N has already made an impression on the hot-hatch industry. To be a lot of fun to drive, Hyundai's three-door hatchback sports a powerful turbo-four engine with 275 horsepower and a chassis that evokes strong emotions in the driver. Both a manual gearbox (unlike VW's new Golf R) and dual-clutch automatic transmission (unlike the new Golf R) are available (unlike the current Honda Civic Type R). Redesigned versions of the Subaru BRZ and Toyota 86, both rear-drive models, compete with the Veloster's incredible performance-to-cost ratio. However, the front-drive N has more luggage and backseat room. While we'd like a more refined cabin in the Hyundai, it does come equipped with a slew of useful standard amenities and technology. Because of this, we included the 2022 Veloster N on our Editors' Choice list despite its lower esteem than some other high-performance compacts.
Also Check: Top 10 Best Stick Shift Cars To Buy in 2022
Nothing has changed with the 2022 Veloster N. This is a problem, though, since Hyundai has decided to discontinue the remainder of its Veloster series. It means that just the N model remains. There will be two new Elantras and one new Kona under Hyundai's performance-oriented N brand for the model year of '22, each with up to 286 hp.
#4. 2022 Ford Mustang GT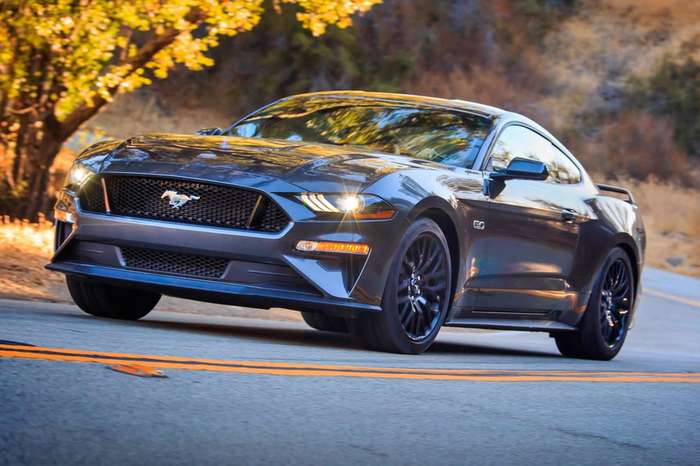 Price: $28,400
Engine: 2.3 liters Intercooled Turbo Premium Unleaded I-4
Transmission: 6-Speed Manual
Fuel Economy (mpg): 21 mpg city and 29 mpg highway
Horsepower: 310 hp
With various trims and options available, the 2022 Ford Mustang can fit any driver, whether they choose to cruise about town in luxury or spend their weekends at the track. It's easy to make it your own with a wide range of exterior and performance customizations, as well as a choice of Coupe or convertible body types. Turbocharged four-cylinder and V-8 engines are available, with either a manual gearbox or a 10-speed automatic transmission feeding the rear wheels. Additionally, to offering a wide range of vehicles that are all enjoyable to drive, Ford also provides a variety of add-ons, culminating in the track-focused Mach 1. Ford Mustangs can be forced every day, even the most aggressive models (save for the 760-hp Shelby GT500). They have more space in the rear and more excellent vision than the Chevy Camaro. Our Editors' Choice selection includes the 2022 Mustang because it's the best pony car there.
Ford will offer buyers of the Mustang a more excellent range of exterior package options in 2022 to distinguish the beloved horse further is the cheap sports cars with four seats. The Ice White Edition, also available on the Mustang Mach-E EV, includes white badges, interior accents, paint, and wheels in an all-white special-edition package. This year's California Special returns in a V-8-powered GT version, and it's also available in a Stealth Edition. A distinctive black grille, rear-end scoop, and other external and interior accents are all part of the latter's package. The Stealth Edition on the four-cylinder EcoBoost Premium variant includes 19-inch wheels, black interior and exterior, and transparent taillight lenses. As a result, all applications of the Mustang's optional V-8 lose ten horsepower and ten pound-feet of torque.
Also Check: Top 10 Best Luxury Sedans With High Ground Clearance in 2022
#5. 2022 BMW M240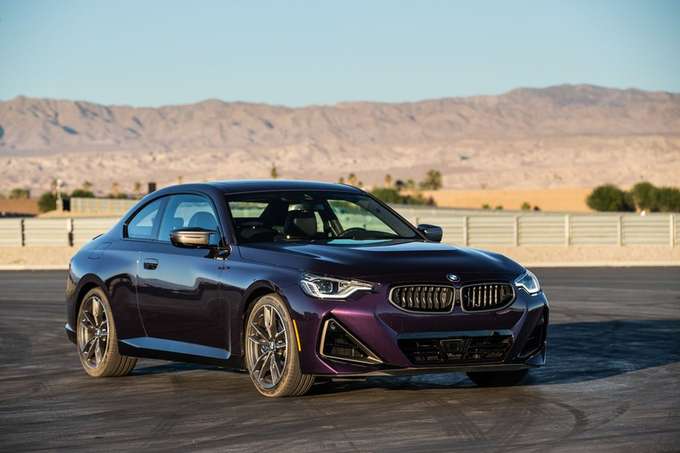 Price: $37,345
Engine: 2.0 liters Intercooled Turbo Premium Unleaded I-4
Transmission: 6-Speed Automatic Transmission
Fuel Economy (mpg): 26 mpg city and 35 mpg highway
Horsepower: 255 hp
The BMW 2-series has never been better than the 2022 model when it comes to a two-door sedan. Our Editors' Choice list even included it. Rear- or all-wheel drive is still an option, as are turbocharged engines with 255 horsepower (230i versions) or 382-hp straight-six output (M240i). Neither a convertible body design nor a manual gearbox option remains. ' Just like before, the new 2 coupe is just as fun to drive and even more confident on the road. Backseat capacity is lower than in the previous model, despite a more distinguishing exterior and a more contemporary interior. The 2022 BMW 2-series is a worthy successor to one of the company's most economical and enjoyable vehicles.
For one of BMW's most engaging cars, the '22 2-series ushers in a new era. Although we're delighted to inform you that rear-wheel drive is still standard, the drop-top option has been removed. Fortunately, the M2 Coupe will return with a manual transmission.
#6. 2022 Aston Martin DBS
Price: $319,125
Engine: 5.2 liters Twin Turbo Premium Unleaded V-12
Transmission: 8-Speed Automatic Transmission
Fuel Economy (mpg): 14 mpg city and 22 mpg highway
Horsepower: 715 hp
Forget about admiring the Aston Martin DBS' beautifully sculpted sheet metal as it flies by in its 715-horsepower V-12-powered blur. At 211 mph, Aston Martin says that the DBS can reach. However, it's more enjoyable to cruise along the Monte Carlo Coast or idle up Rodeo Drive, for example. Rivals like the Ferrari 812 Superfast or the McLaren 765LT provide sharper handling and track-ready capabilities. On the other hand, the DBS will best satisfy the supercar fancies of drivers who are more interested in a luxurious interior and Bond-esque appearance.
The DBS will no longer be known as the "Superleggera" model in 2022, even though nothing else has changed. The DBS may now be purchased with pre-configured interior themes created, Accelerate, and Inspire, each with a different appearance and feel. It also comes with new 21-inch wheels. Suppose you're looking for a more personalized interior. In that case, you'll still find a seemingly unlimited amount of choices and amenities to choose from in the DBS.
Also Check: Top 10 New Cars With CVT Transmission in 2022
#7. 2022 Lexus RC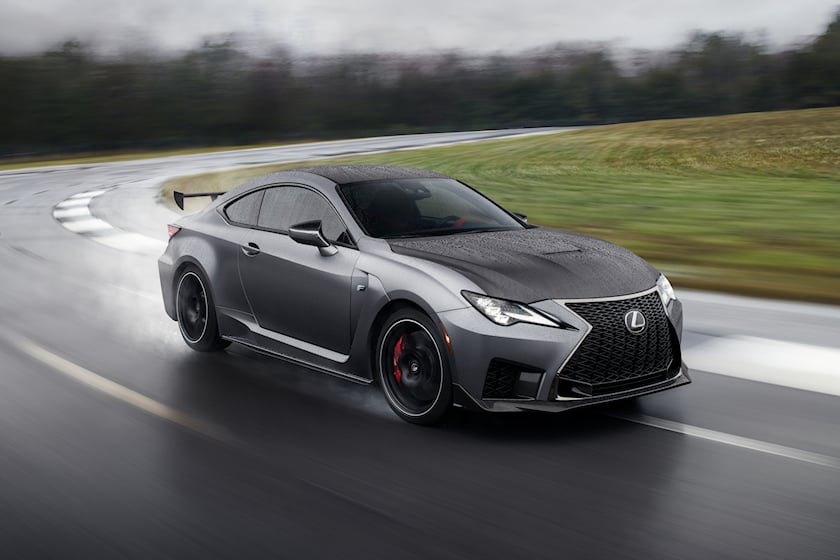 Price: $43,545
Engine: 2.0 liters Intercooled Turbo Premium Unleaded I-4
Transmission: 8-Speed Automatic
Fuel Economy (mpg): 21 mpg city and 31 mpg highway
Horsepower: 241 hp
Even if you don't realize it at first glance, the 2022 Lexus RC's athletic appearance will fool you into believing it's a speedy muscle coupe with canyon-carving ability. The RC's turbocharged or the ordinarily aspirated V-6 powering is ideal for daily commutes and long road trips. The interior of the RC is roomy and inviting, especially for the driver and front passenger. Thanks to the Lexus' quiet cabin surroundings, it has the most pleasing feel. Even while the RC has much essential and optional driver-assistance technology, nothing about it is cutting-edge.
For 2022, Lexus' sports coupe will remain mostly unaltered, ensuring that it enters the new year with nothing to brag about it. It is the prominent Lexus sports car with four seats.
#8. 2022 Toyota GT 86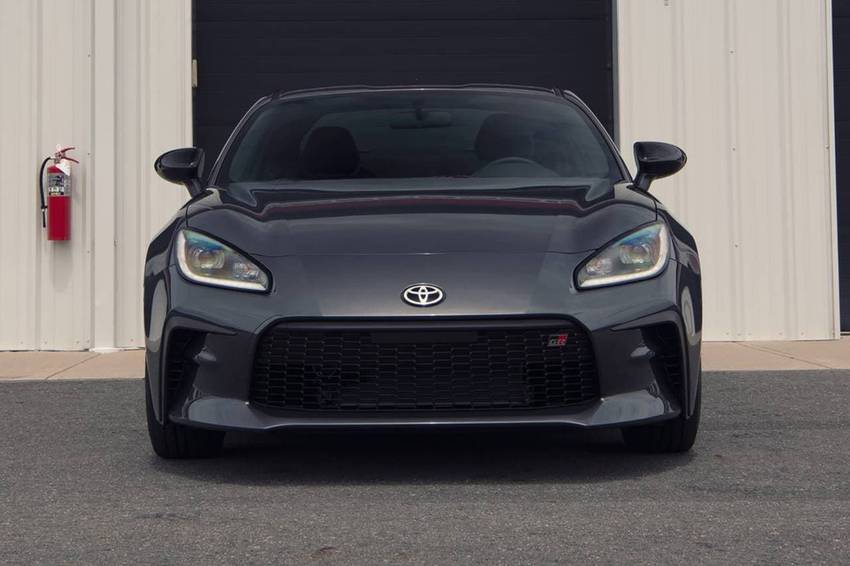 Price: $28,725
Engine: 2.4 liters Premium Unleaded H-4
Transmission: 6-Speed Automatic Transmission
Fuel Economy (mpg): 21 mpg city and 31 mpg highway
Horsepower: 228 hp
Rear-wheel drive is standard on the future Toyota GR86, which will go on sale in 2022 as a newly redesigned vehicle. The 2022 GR86 will be motorized by a horizontally opposed four-cylinder engine and a six-speed manual gearbox. It will be developed alongside the Subaru BRZ once again. To make up for the lack of power in the previous generation, Toyota has increased the output of the GR86 in time for the 2022 model year. The new model is driven by an engine with 23 horsepower, more powerful than the previous model's 2.0-liter four-cylinder engine. Our 10Best and Editors' Choice selections are a testament to the quality of the driving experience you get for your money.
The Toyota GR86 will be reintroduced in 2022 as a completely redesigned vehicle after missing the 2021 model year.
#9. 2022 BMW M4
Price: $72,995
Engine: 3.0 liters Twin Turbo Premium Unleaded I-6
Transmission: 8-Speed Automatic Transmission
Fuel Economy (mpg): 16 mpg city and 23 mpg highway
Horsepower: 503 hp
The BMW M4 coupe and soft-top convertible are equally as exhilarating as their sedan counterparts when it comes to performance. They both made the list of the best of the best. The standard hard-top model only has rear-wheel drive, an excellent manual gearbox, and a thrilling 473-horsepower twin-turbo straight-six engine to provide excitement and performance. In addition to an upgraded 503-hp engine, a rapid automatic transmission, and unique chassis tuning, the Competition model should achieve faster lap times at the local racetracks. Only the automatic M4 can be had with all-wheel drive, and even then, it only has a rear-drive model that's good enough for drifting. Any way you look at it, the M4 is a blast to drive and a pleasant experience even when you're not out chasing apexes every day. We want conventional gauges instead of indecipherable digital ones, but generally, the 2022 M4 is a joy to drive.
The 2022 M4 range will have a convertible variant for the first time, and all-wheel drive for the first time is the sports cars with four seats in 2022. The new drop-top variant is only available with the Competition tune and BMW's xDrive all-wheel-drive technology if you want the retractable fabric top. The M4 Competition convertible is more costly than the M4 Competition coupe because of this unusual mix.
#10. 2022 Ford Shelby GT500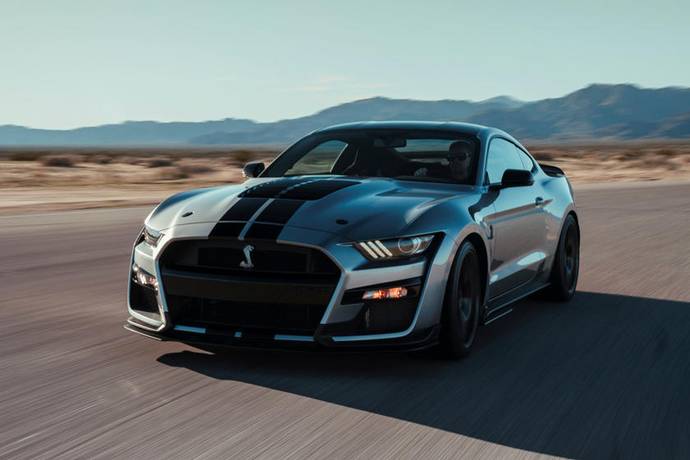 Price: $77,260
Engine: 5.2 liters Intercooled Supercharger Premium Unleaded V-8
Transmission: 7-Speed Auto-Shift Manual
Reason for the 2022 Ford Mustang Shelby GT500 as a roller coaster. Supercharged V-8 with 760 horsepower propels the car with a whopping amount of force, and the enormous grip either brings bliss or nausea, depending on your mood. Meanwhile, a lightning-quick automatic gearbox handles the rear-drive Coupe's gearshifts, providing an exciting soundscape. Even more impressive than the Shelby GT500 is that it's also the most potent road automobile ever constructed by an American manufacturer. In addition, we included it in our 2022 Editors' Choices. It's still a Mustang in heart, so it can still be used as a daily car. It is the best sports car with four seats in 2022. The GT500's performance may be further enhanced with the Carbon Fiber Track Pack, although at the cost of around one-fourth of the Shelby's. Depending on the owner's preference, that money may be better spent on gas or speeding charges.
In honor of Shelby GT500's 55th anniversary in 2022, Ford is releasing a limited-edition Heritage Edition of the current model. Stem-to-stern stripes are available in Wimbledon White or Absolute Black as an option for this Brittany Blue paint job. Vinyl stripes are $2140 for the commemorative effect; hand-painted ones are 10,000 dollars. Code Orange is also included in Shelby's color options. If you're eager to shell out even more money, you can get a GT500. In addition, only a few numbers of the GT500KR (for "King of the Road") versions will be made, each with a whopping 900 hp.
11. 2022 Porche 911
Price: $102,550
Engine: 3.1 liters Twin Turbo Premium Unleaded H-6
Transmission: 8-Speed Auto-Shift Manual
Horsepower: 473 hp
Because of its exceptional handling and powerful flat-six twin-turbo engines, the 2022 Porsche 911 is a clear Editors' Choice winner. Porsche's classic two-plus-two-seater is as immersive as it is adaptable, even if it is out of reach for most fans. All models come standard with the flat-six, which generates between 379 and 473 horsepower—we'll analyze the more powerful GT3 and Turbo models separately—as well as an automatic or manual gearbox and rear- or all-wheel drive options. The latter guarantees that it may be enjoyed throughout the year. Convertible, Coupe, and Targa versions of the 911 are all available. The 911's agility doesn't detract from the car's usability. It's surprisingly polite for a vehicle that can corner like a racing car and has a racecar-like feel to the driving. It has an extensive and luxurious cabin at the front. The driver has a low sitting position with superb peripheral vision.
The GTS version of the Porsche 911 will be available in 2022. All-wheel drive and either an eight-speed automatic or seven-speed manual gearbox are possible options, as well as a 473-horsepower version of the lineup's twin-turbo six. It is also available in all three GTS body types. The suspension has been fine-tuned, and the wheels are 20-inch front and 21-inch rear with black center locks, much like the Porsche 911 Turbo. The GTS, like the Turbo, has more oversized iron brake rotors. Carbon fiber front buckets, lighter glass, a rear-wheel steering system, and removal of the back seats are all part of a lightweight package. Porsche's newest infotainment software, including new technologies like Android Auto, will be included in the 2022 911. A limited number of 750 special-edition 911 Targas will be made available to commemorate Porsche Design's 50th anniversary.
Conclusion
Nothing beats the rush of being behind the wheel of an automobile that can outrun any other on the road. It is common for automotive fans to seek cars that are the most powerful, fastest, and most robust. While it may be difficult to attain these vehicles' peak speeds with these automobiles, the discussion will continue since practically everyone wants to possess a faster car than the rest of the pack.
Automobile manufacturers are fully aware of the popularity of sports vehicles and the demand for them. To satisfy and nurture consumer needs, they've made several changes to their most recent items. The aptitude to stand out from the competition with jaw-droppingly fast automobiles will bring in a lot of money and positively impact the market as a whole.
As a beneficial result of the competition, engineering businesses have developed new technologies. Speed and horsepower battles aren't fun for anybody. Thus, no firm wants to be a loser.