2022 Toyota Supra Review, Specs, Prices & Features
The famous Toyota Supra has been absent from the market in the United States for 21 years. Motoring fans throughout the nation may now rejoice as the long wait finally ends. The fifth-generation GR Supra, the first worldwide Toyota GAZOO Racing model, is the culmination of a more than 50-year tradition of one-of-a-kind Toyota sports and GT vehicles. The Supra retains its origins by being powered by an optional turbocharged six-cylinder engine and having a rear-wheel-drive configuration. The outward style, instantly recognized as a Supra, emphasizes the vehicle's short wheelbase and advanced chassis construction.
The Toyota Supra will get a carbon fiber makeover in 2022 by introducing the A91-Carbon Fiber Edition, which will be available only in North America and will be limited to 600 units. A91-CF is based on the A91 of 2021. Still, it incorporates woven materials into the rocker panels, front splitter and canards, lower rear fascia, and duckbill spoiler of the vehicle. In addition to its distinctive 19-inch matte wheels, it is available in three colors: Phantom dull grey, Absolute Zero White, and Nitro Yellow. The inside has sports pedals, a distinctive red and black Alcantara and leather color scheme, red stitching on the seats, and carbon fiber accents. The exterior is finished in black.
The Toyota Supra is a sports vehicle with two distinct personalities. Its two engines provide two entirely different driving sensations. In terms of steering response, the four-cylinder Supra has the fastest response. When paired with its grippy tyres, fast engine, and cheaper price point, it makes a convincing argument in its favor. However, as we've highlighted in previous assessments, its rear end bounces up and down regularly while driving on anything but perfectly smooth roads.
Read More: 2022 Toyota Land Cruiser Review, Pricing and Specs
What's New in the Year 2022
Drivers will discover several exciting tweaks and modifications to the Toyota Supra's already successful formula throughout the whole model lineup of the Toyota Supra. The A91-CF Edition model will make its premiere, which will be available for the first time this year and limited to just 600 units. In addition to a carbon fiber body package and rear spoiler, matte black 19-inch wheels and red/black inside upholstery are included with A91-CF Edition cars. Other changes to the Supra model lineup are standard heated seats in 3.0 trims, a new red interior design for the 3.0 Premium, and full-screen Apple CarPlay models fitted with the optional JBL radio system.
To mark the start of the 2022 model year, Toyota has launched a new limited-edition trim named A91-CF, which stands for Carbon Fiber. Only 600 units will be produced. Each will be equipped with a carbon-fiber body package, a rear spoiler, matte black 19-inch wheels, and red and black inside upholstery, among other features. In addition to Phantom (matt grey), Absolute Zero White, and Nitro Yellow, the A91-CF Edition is available in three exterior colors. The Supra gets standard heated seats in 3.0 variants, a new red interior design for the 3.0 Premium, and a full-screen Apple CarPlay for customers who select the JBL radio system, which is an optional extra.
2022 Toyota Supra Specs
Price: $44,315
Drivetrain: Rear Wheel Drive
Engine: 2.0 L Intercooled Turbo Premium Unleaded I-4
Horsepower: 255@5000
Torque: 295@1550
Transmission: 8-Speed Automatic Transmission
Fuel Mileage: 25 MPG in the city, 32 MPG on the highway, and 28 MPG combined
Length: 172.5 inches
Width: 73 inches
Height: 50.9 inches
Wheelbase: 97.2 inches
Powertrain components such as the engine, transmission, and chassis
Rear-wheel drive is standard on all Supra variants, as is an eight-speed automatic gearbox. Our long-term 2020 Supra 3.0 clocked some remarkable acceleration statistics on the test track, reaching 60 mph in 3.7 seconds and 100 mph in 9.5 ticks, among other data. As a result, it competes with the Chevrolet Camaro, the Porsche Cayman GTS, and the BMW M2 Competition in the major leagues. To be more precise, it is even faster than the venerable 4th-generation Supra, powered by a sequentially turbocharged inline-six producing 320 horsepower. A manual gearbox would have been excellent, but the situation is not hopeless. Later in the Supra's manufacturing life, it is expected to be equipped with a stick. Its suspension is gentle enough to be driven daily despite its high-performance capability.
Moreover, the steering is precise, finely weighted, and direct, which contributes to the vehicle's enjoyable driving characteristics. Using our test track, the lower-priced four-cylinder car managed a quick 4.7-second sprint from zero to sixty miles per hour. With a pace of 5.0 seconds to 60 miles per hour, the Supra outperformed its German cousin, the BMW Z4.
Read More: 2022 Toyota Tacoma Specs, Prices, MPG & Features
MPG in the Real World and Fuel Economy
The Environmental Protection Agency (EPA). According to the Environmental Protection Agency (EPA), the most fuel-efficient Supra is equipped with a turbocharged four-cylinder engine that achieves 25 mpg in the city and 32 mpg on the highway. At 22 mpg in the city and 30 mpg on the interstate, Supra 3.0's fuel economy is still somewhat respectable. Compared to the Camaro, the Cayman GTS, and the M2, this vehicle is more fuel-efficient. When tested at 75 mph on our highway fuel-economy route, the six-cylinder Supra outperformed its highway rating, achieving 34 miles per gallon. When equipped with the turbo-four, the Supra reached an incredible 38 miles per gallon. More information about the Supra's fuel economy may be found on the Environmental Protection Agency's (EPA) website.
Convenience and Cargo
Those acquainted with BMW's switchgear and infotainment controls will feel right at home in the Toyota's cabin, mainly similar to the Z4. Even with the double-bubble canopy providing more headroom, even the tallest drivers will feel claustrophobic in the driver-focused cockpit. The cargo compartment (which can be reached through a hatchback) is equally tiny. However, it is large enough to accommodate carry-on luggage or approximately a week's worth of food for two people. We put four carry-on baggage under the rear seats during our testing.
Connectivity and infotainment
The Supra's primary display is an 8.8-inch panel with a very lightly reskinned version of BMW's current iDrive interface, which brings us to the subject of infotainment systems. A digital gauge display is standard throughout the whole lineup. It has a different appearance compared to the Bimmer's. Android Auto isn't available. However, navigation and Apple CarPlay are both provided as optional extras. An optional 12-speaker JBL audio system is open. Still, given the size of the Supra's interior, we think the base 10-speaker audio system to be sufficient for most purchasers.
The exterior of the Toyota Supra for 2022
An aerodynamic double-bubble roof design, engineered for both the track and the street, decreases aerodynamic drag without sacrificing headroom. A massive center grille portion flanked by prominent air intakes, which is based on the fourth-generation Supra, makes the front fascia of the Supra even more expressive. However, it pays tribute to the fourth-generation Supra Turbo, a large, arching rear integrated spoiler aids in reducing aerodynamic lift at the back. Six-lens LED headlights combine daytime running lamps with turn signal functionality. To produce a unique lighting identity Phantom Matte Gray, which is offered on the Supra, mixes a matte finish with a splash of blue to create a metallic-like texture that adds excitement to the vehicle.
Read More: 2022 Toyota RAV4 Review, Prices, Specs & Features
The Interior of the Toyota Supra 2022 Driver-Focused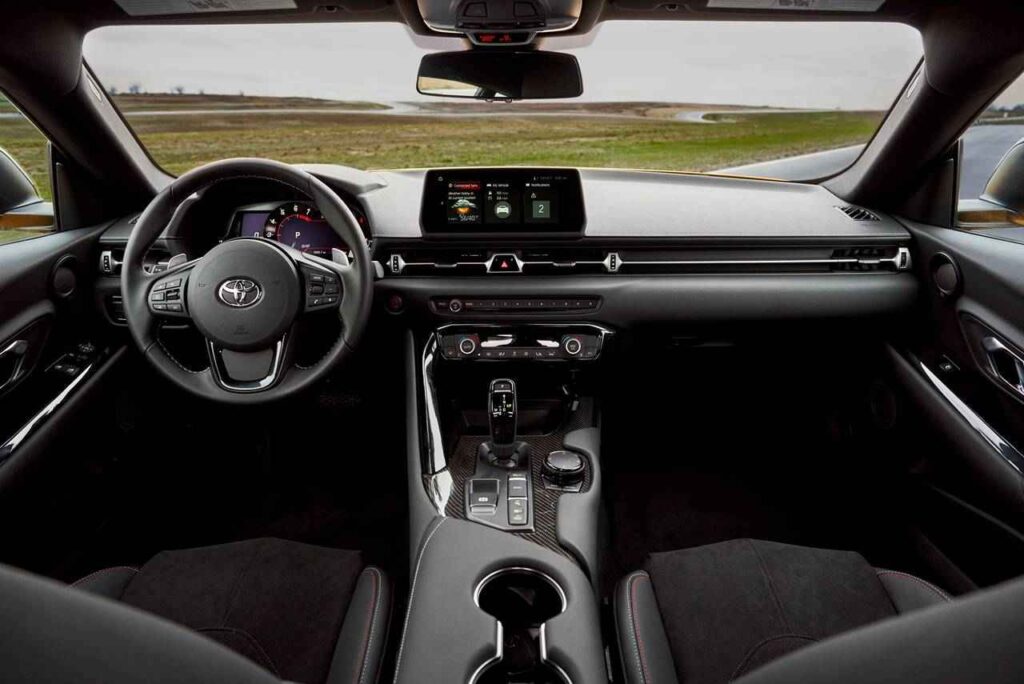 Inside the Toyota Supra, you'll find a great blend of performance and high-end comfort and convenience amenities. Examples of standard features keyless Smart Entry, dual automated temperature control, auto-dimming rearview mirrors, a rear camera, rain sensor windshield wipers, a garage door opener, power-folding mirrors, and a leather-wrapped steering wheel are offered. Thanks to a low, narrow-section dashboard arrangement, it is possible to see far ahead. The driver can readily concentrate on the critical control information essential for performance driving with the tachometer and shift-timing indication. Full-color Head-Up Display displays navigation and driving data straight onto the windshield, allowing you to maintain your concentration on the road ahead. Getting inside the Supra's well-organized baggage compartment is made simple by a lightweight composite hatch.
Read More: New 2022 Toyota Camry TRD V6 Review, Pricing & Specs
2022 Toyota Supra Has Race-Bred Performance
Those who want to drive the Toyota Supra will have their pick between two powerful engines found under the hood. Engine power comes from a basic 2.0-liter 4-cylinder turbocharged engine that generates 255 horsepower and 295 lb-ft of torque in a well-balanced combination. Its optional 3.0-liter twin-scroll turbo six-cylinder engine generates 382 horsepower and 368 pound-feet of torque. It's mated to a very quick-shifting 8-speed automatic gearbox with paddle shifters, making the Toyota Supra the fastest Toyota-branded production car. Its rear-wheel-drive architecture, low center of gravity, and perfectly balanced 50:50 weight distribution provide you with the agility and confidence to assault the apex of the turn. An electronically limited peak speed of 155 miles per hour and a zero-to-60 time of 3.9 seconds demonstrate that the Supra is imbued with race-bred exhilaration. In addition to Normal and Sport, drivers will be able to choose between three other driving modes. Sport mode provides a more responsive throttle, better gearbox shift sharpness, and an amplified exhaust note when the vehicle is in Sport mode.
Frequently Asked Questions
What will the price of the Supra be in 2022?
The base price of the 2022 Toyota Supra is $43,290, plus $1,025 for shipping and packing. That's just $200 more than the starting price of the 2021 model year.
Is there going to be a Toyota Supra in 2022?
The A91-Carbon Fiber (CF) Edition will be introduced to the lineup this year. This special edition Mark V Supra is the most exclusive Mark V Supra, with just 600 units available. A racing legend's attention to detail is evident in this vehicle, which combines all of the flair, performance, and technology that drivers expect.
What Is the Supra's Top Speed?
The Supra's four-cylinder engine accelerates the vehicle from 0 to 60 mph in 5 seconds. It is possible to accelerate from zero to sixty miles per hour in 3.9 seconds while driving the Toyota Supra with the six-cylinder engine. Both models have a peak speed of 155 miles per hour.
Is the 2022 Supra a manual transmission?
Stick-shift enthusiasts may rejoice, as the Toyota Supra will (finally) be available with a manual gearbox in 2022. Toyota will be equipping its famed rear-wheel-drive sports vehicle with a third pedal on the floorboard shortly.
Will the Supra's engine be a BMW unit in 2022?
There are two engines available for the Supra, both of which share characteristics with the engines found under the hood of the BMW Z4. According to Ford, the 2.0 trim level denotes that the vehicle is powered by a 2.0-liter turbocharged four-cylinder engine that generates 255 horsepower and 295 pound-feet of torque.
Conclusion
Since its return to the Toyota lineup after a lengthy absence, the Supra has grown popular. It is included on our Editors' Choice list for the year 2022. Still, the 2022 model remains one of our favorite sports cars despite increasing familiarity with the brand. Even though it was created and constructed alongside the BMW Z4 convertible, the Supra coupe has a distinct personality that distinguishes it from its German counterpart. The two vehicles share identical powertrains. In addition, the latter has two turbocharged engines, one that is standard and produces 255 horsepower, and another that is optional and makes a 382-horsepower 3.0-liter inline-six. Both powertrains are sent to the rear wheels via a responsive eight-speed automatic gearbox. The Toyota's interior is compact and surprisingly luxurious, thanks mainly to the inclusion of BMW components in its construction. The Supra 2022 is also equipped with information- and safety-related technologies.