4 Inexpensive Mazda MX5 Miata Interior Mods to Make Your Car Stand Out
Small, lightweight, and fun to drive – three things that best describe the Miata. Since its debut in 1989, the car has been produced in 4 different generations and tipped 1 million in sales, making it one of the most popular two-seater roadsters. It might not have the biggest engines or the fastest 0-60mph times, but the sheer number of accolades and awards it has scooped up is a testament to how good it is.
The rear-wheel and front-engine setup is a dream, held up by a rigid chassis and supple suspension that keeps its manners in bends and is propelled by hard-revving and gutsy four-pots. Well-maintained older NA and MB Miatas are the ones that get the most love, and they are also the ones that are the most modified.
A Beautiful Interior Fit for a Legend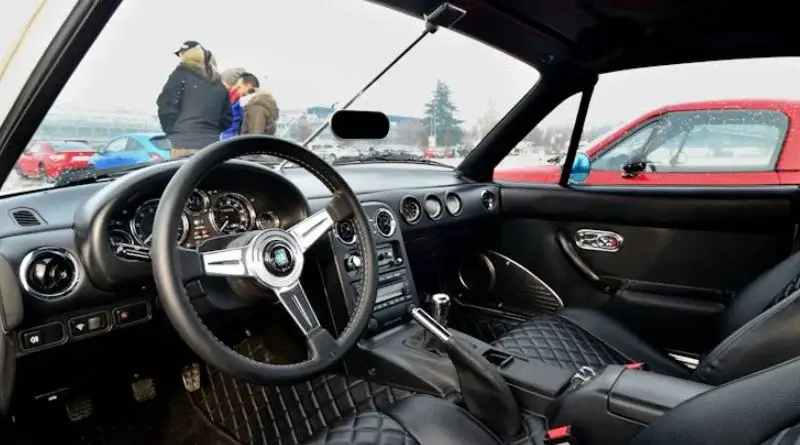 While most Miata enthusiasts will go with performance mods, a little attention to the interior details rounds out an almost perfect car. A few inexpensive touches here will bring back the good looks this living legend of a car deserves.
And the good news is that you won't have to spend much to get an interior that looks the part. Mazda has restarted making OEM parts for all 4 generations, but better still, there are hundreds of dirt-cheap aftermarket accessories worth a look at.
A good place to start is with a new MX-5 steering wheel that not only oozes style but is more comfortable, easier to grip, and delivers a better overall driving experience than the old one. There are varying designs, colours, and sizes from which to choose.
Pair this with matching handbrakes and gear knobs and an instrument cluster that brings out the best in interior modifications, and you'll get a car you love to drive.
The Basics of MX-5 Steering Wheels
The NA and NB cars had either non-airbag 3-spoke or airbag-fitted 4-spoke wheels. These were bulky, heavy, and cumbersome and took up quite a bit of space, with a diameter of 355mm or 14.25 inches from edge to edge. And with no adjustments for height and reach (this started with NC cars), this is not the ideal size for taller blokes.
You'll be scraping your thighs and knees in each turn and will find it hard to get in or out of the car. The added weight and size, needing to fit a first-gen airbag, isn't what spelt thrills in turns.
Then there are the materials. Only higher trims come with factory leather (the rest were polyurethane) and, while durable, time by now would have done its thing. There's more choice by going aftermarket, with more comfort, higher grip levels, and an overall better look.
What to Look for in a Replacement?
An MX-5 aftermarket steering wheel needs to tick a few boxes. You'll want it in the right size, shape and material, and one that fits the car. Meeting current regulations also means that you may be limited in choice regarding the use of airbags, and shapes if you intend to use the Miata as your daily car. There are virtually no limitations for track use.
Size
Overall diameters range from a smallish 300mm (12 inches) to a massive 420mm (17 inches), and a gripping circumference between 5 and 10 cm, or 2 to 4 inches. Within those numbers, you should find a design with the right balance of size, weight, and feel that isn't out of place for the interior or too unwieldy to work with.
Shapes
Perfectly round designs offer good grip and don't need getting used to. Flat-bottom steering shapes are good for the limited legroom in the Miata and are something to consider if you're tall. Open-top variants make reading gauges in the instrument cluster easier.
The last two combine to give an interesting shape for track use. Shapes will affect your driving style and the position and number of spokes in your hand position.
Materials
Most OEM replacement options are higher-quality leather than what came with the factory variant. Here you get to choose the grain of the leather, colours and the quality of the stitching. A common example is a black full-grain wheel with contrast stitching and a pigmented or Teflon coating to resist wear, scratches, sweat and UV rays. This makes it durable and easy to clean.
Suede and synthetic suede materials, like Alcantara, are other popular options. Alcantara is the most durable option here, and provides more grip, so a decent choice for track use.
Wood-rimmed designs give off a classic and elegant vibe. More popular types include maple, mahogany and walnut. While they look good, they lose out on grip and can add a little more weight.
Spokes and spoked sections are often in the same materials as the rims, but this can transition to PU in the centre spokes and cheaper steering wheels, or to more premium metals such as anodised aluminium or magnesium. These are lightweight, easy to form (for interesting shapes) and durable.
Offset and Hub Types
Offset or 'dish' is the distance between the outer rim and the mounting centre hub. Here steering wheels are either deep-dish and closer to the driver or flat and with a lower offset.
Some aftermarket Miata wheels will require a hub adapter to fit the car. This can be in different bolt patterns. The two common types are the Momo 6-bolt pattern, with a 70mm centre circle and bolts in the 6 and 12 clock orientation. Nardi wheels also have 6 bolts but have 74mm centres and bolts in the 3 and 9-clock orientations. Besides a hub adapter, track cars can use a quick-release clamp.
Get a model that is of the right size, comfortable to the touch, easy to grip, in the right offset for your seating position and in the materials and designs that suit the rest of the car. And make sure to get the right hub adapter for your MX5 Momo or Nardi-style wheel. Prices start as low as 50 pounds.
Handbrakes and Gear Knobs
If you've gone with a leather or wooden Mx-5 steering wheel, then handbrakes, gear sticks and knobs need to match for a cleaner look. Handbrake sleeves and gear stick gaiters will undergo a lot of abuse and are known to crack and show their age. These are minor issues but will draw unwanted attention.
Go for leather sleeves and gaiters in the same colour and grain as that in the steering wheel. Also pay attention to the stitching, as this determines how they hold up. Prices for both start at around 20 pounds.
Gear knobs offer more choice in terms of materials, and again need to fit the look you're going for. OEM knobs were of black rubber, but aftermarket options range from wood, chromed stainless steel, aluminium or even carbon fibre. All have their unique look, and different levels of durability.
OEM replacements are generally cheaper, while machined and coated metal knobs go for around 30 pounds and upwards. The latter goes well with metal air vent rings and instrument surrounds, among other trim elements.
Instrument Clusters
Warn and faulty gauges and dials in the instrument cluster are not only dangerous but illegal. You can find OEM replacements that offer better legibility and a cleaner look. Both the NA and NB cars have a 5-gauge cluster (tacho, speedo, fuel, water/coolant and oil/engine temp gauges) with the speedometer in metric units and top speeds of 240km/h in the Eunos imports, and imperial units in remaining MX-5 cars.
Choose between different background colour schemes. And ensure that the cluster fits your Miata variant. Prices start at a very reasonable 40 pounds and up.