Top 10 Best Stick Shift Cars To Buy in 2022
On the other hand, the stick shift provides a more engaging driving. For particular automobiles, the driving experience is still the most critical factor. Such automobiles' solid and devoted fan bases scorn "flappy paddles," preferring free three-pedal fun. For the time being, manufacturers cater to them. Here are some fantastic automobiles with manual transmissions that you can still purchase new in the 2022 model year.
We whittled it down to ten, but it wasn't as difficult as it used to narrow down our list of the most excellent stick shift cars.
The manual gearbox is on the list of endangered species. Every year, fewer and fewer vehicles are available with a clutch and a shifter. Why? Americans do not want to deal with the hassle of clutching their left foot and shifting with their right. Sports car producers are the worst crooks when it comes to sticking shifts. Engineers see manual transmissions as obsolete since the most recent computer-controlled automatics can shift faster than any person.
We disagree. Shifting a manual gearbox is more exciting and entertaining than flicking some tiny little paddles. Still, it also demands more expertise and improves the driver. Some automakers still believe in the value of manual transmissions. Here's a list of the top stick shift automobiles for 2022.
10 Cars With Stick Shift For 2022
#1. 2022 BMW M3
Engine: Automatic
Fuel type: Petrol
Seating Capacity: Five Seater
Horsepower: 473 hp
Price (base): $69,900
Whatever you think of 2022 M3's front kidney grills, there's no disputing that the standard 6-speed manual gearbox is for driving enthusiasts.
Because the M3 Competition now includes standard with an automatic transmission. The only choice to row your gears is the 473 horsepower sedan—the 3.0L twin-turbo line 6-cylinder engine powers the rear-wheel-drive car. In spite of being costly, it is one of the best stick shift cars in 2022.
The BMW M3 starts at $69,900 for the entry-level sedans with a manual shifter and rear-wheel drive. It goes up to $76,900 for the more powerful Competition grade with an automatic transmission and all-wheel-drive system.
Pros
Stick shifter with a 6-cylinder under the hood that shifts quickly
It is suitable for use as a daily driver
There are a lot of different AWD setups that you can choose
Cons
It has poor gas mileage
Competition trim has no manual
You can either love or loathe the look of the outside
Must Check: Top 10 New Cars With CVT Transmission in 2022
#2. 2022 BMW M4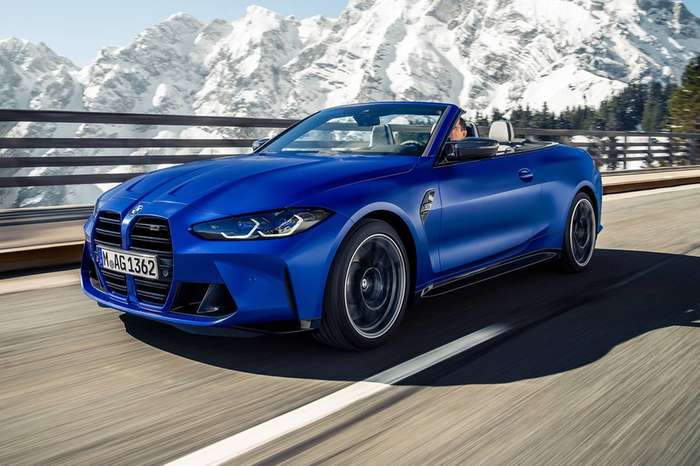 Engine: Automatic
Fuel type: Petrol
Seating Capacity: Five Seater Capacity
Horsepower: 473 hp
Price (base): $72,000
BMW formerly provided additional manual gearbox choices in their 4-Series lineup. Unfortunately, they have decreased options with a stick shift for 2022. Fortunately, the 2022 M4 pair, which can be with a 6-speed manual, is one model that retains the manual option. You'll like the 3-pedal experience driving this powerful twin-turbo inline-six, much like the M3. It is also very pricey, gives maximum speed, and is among the best sports manual transmission cars.
The 3.0-litre BMW M4 Twin-Power Turbo inline-6 engine in this high-performance coupe can produce up to 503 horsepower in M4 Competition variants, allowing you to accelerate from 0 to 60 mph in 3.4 seconds. The car with the highest HP is the fastest stick shift car.
Purists will appreciate the manual gearbox of the BMW M4 Coupe. In contrast, Competition versions will enjoy the accuracy of an 8-speed M Sport automatic transmission.
Pros
Muscle speed is increasing
It has Grippy handling, with many options for setting the driver's seat
More back passenger and baggage space than several rivals
Cons
The steering has no road feel
Some drive settings are too complicated
The design of the polarising grille
Must Check: Top 10 Best Gas Mileage Cars For 2022
#3. 2022 Cadillac-CT4-V Blackwing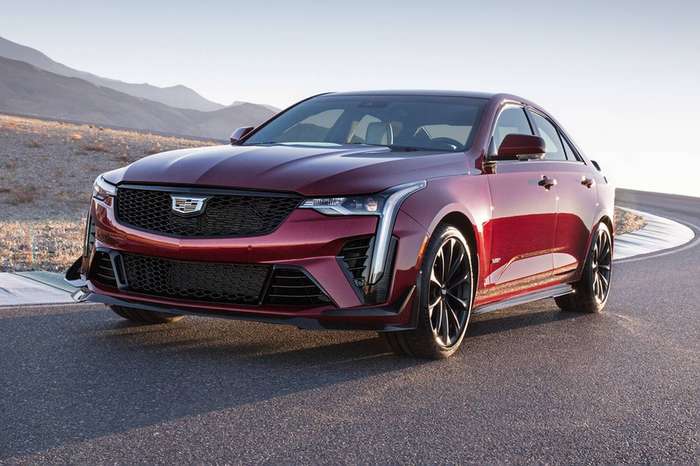 Engine: Gas
Fuel type: premium unleaded
Seating Capacity: Five Seater
Horsepower: 472 hp
Price (base): $59,940
The CT4-V, which goes on sale in 2022, is a stunning sports sedan with a 6-speed manual transmission. The rear-wheel-drive sedan has a 3.6L turbocharged V6 with 472 horsepower. Cadillac touts the CT4-V Blackwing as a sedan built to excel both on the track and as a daily driver—and look beautiful doing it. It's an impressive selection, but it could be one of the market's finest 2022 manual gearbox automobiles. The CT4-V has one of the best manual transmissions and ranks high in the best manual transmission cars.
The 2022 Cadillac CT4-V Blackwing is the hotter version of the brand's smallest sedan, with a beefed-up engine and track-ready gear, and it is also the fastest stick shift car. The Blackwing, based on the conventional Cadillac CT4, comes equipped with a manual gearbox and rear-wheel drive, which serve as two appetisers for driving fans.
Pros
The muscular look
A powerful engine
Unquestionably fast
Excellent driving dynamics
Manual transmission is standard
Cons
It's the last thing of its kind
Mediocre quality in the interior
The trunk is small
#4. 2022 Chevrolet Camaro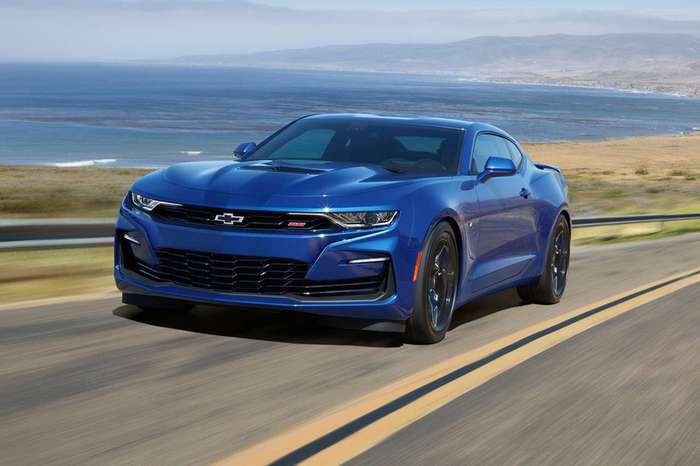 Engine: Gas
Fuel type: Premium Unleaded
Seating Capacity: Four Seater
Horsepower: 275 hp
Price (base): $25,000
One of America's most known muscle car platforms may still move manually in coupe or convertible models. The 275 horsepower 2. oL turbocharged 4-cylinder, 335 hp 3.6L 6-cylinder, brawny 455 hp 6.2L V8. Or fire-breathing supercharged 650 hp 6.2L V8 in the ZL1 variant are all available with a 6-speed stick shift. It is one of the stick shift cars in 2022 that is not very costly, and many people can afford this car as it is a cheap stick shift car.
There isn't a slacker in the group; even the four-banger can reach 60 mph in 5.4 seconds. And the ZL1's lightning-fast supercharged LT4 accelerates to 60 mph in under 3.5 seconds! The Camaro is one of the finest 2022 manual gearbox vehicles if you want a lot of power under the hood.
Pros
It has a lot of power in the engines
Adept driving skills and a pleasant ride
A system that is easy for people to use
Cons
Low-rent interior decor
Inadequate outward visibility
The back seats are tiny
Must Check: Top 10 New 2022 Cars With Panoramic Sunroof
#5. 2022 Chevrolet Spark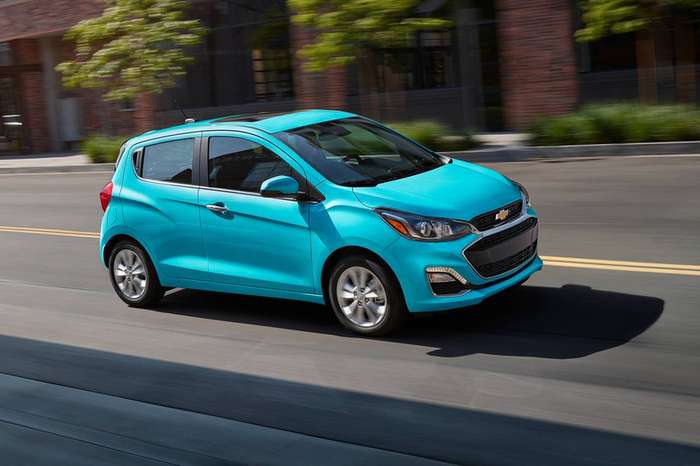 Engine: Gas
Fuel type: regular unleaded
Seating Capacity: four-seater
Horsepower: 98 hp
Price (base): $17,700
Whether you want cheap wheels, an affordable commuter, or anything in between, the tiny 2022 Chevy Spark comes with a manual gearbox. The Spark generates 98 horsepower from its ECOTEC 1.4-litre 4-cylinder engine and sends it to the front wheels through an optional 5-speed manual transmission. Chevrolet Spark 2022 is amongst the new stick shift cars and in the cheap stick shift cars list. The manual is available on the LS, 1LT, 2LT trim levels, and crossover-like ACTIV trim levels. While it is not the quickest option, consumers will like the adaptability, numerous vibrant colours, and up to 38 MPG.
The 2022 Spark has no substantial modifications for the next model year. Its defining feature is one of the least-cost new automobiles, beating the similarly priced Mitsubishi Mirage by roughly $1500. Unfortunately, Chevrolet has confirmed that the Spark will phase out after the 2022 model year, with manufacture continuing until August.
Pros
Low start price
Easy to get around in traffic
A system that is easy to use for information
Cons
Snug four-seat cabin
There are few active safety measures
Acceleration at a slow pace
#6. 2022 Dodge Challenger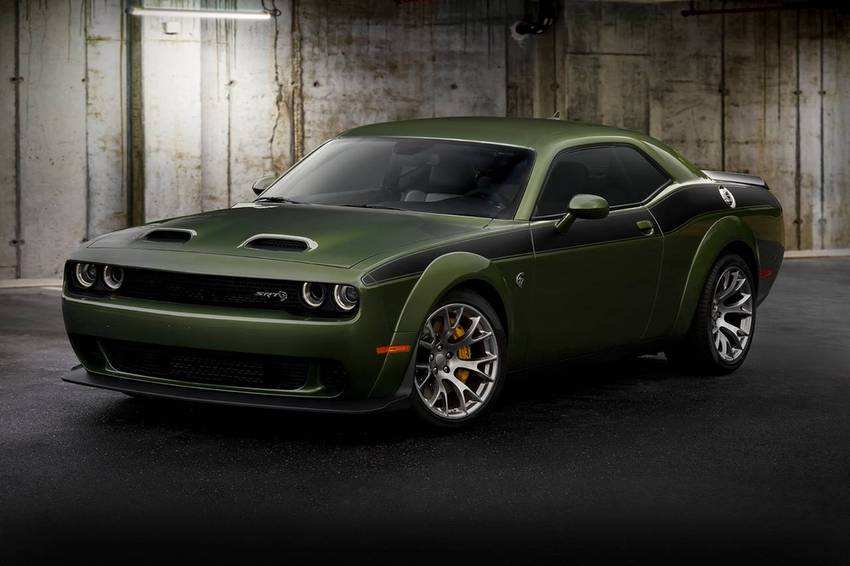 Engine: Gas
Fuel type: Petrol
Seating Capacity: Five Seater
Horsepower: 707 hp
Price: $30,430
Dodge's response to the Chevrolet Camaro and Ford Mustang is the Challenger. The 375 hp R/T, 485 hp R/T Scat Pack, and tire-melting 717 hp Hellcat versions are available with a manual gearbox. That Hellcat will propel you to 60 mph in under three seconds and 100 mph in a little over seven (but only on a racetrack). We've heard they can also perform some mean burnouts. None of the AWD variants is available with a stick shift gearbox. This car is one of the best manual transmission cars at an affordable price.
The 2022 Dodge Challenger is ranked #4 because of its performance in the Sports Cars category. The Dodge Challenger now gets a score of 8.4 out of 10 based on our examination of 73 pieces of research and data items from different sources.
Pros
Acceleration like a rocket
The rear seat and trunk are big
System that is simple to use for infotainment
Cons
The design and quality of a cabin
Few standard safety features and a mixed record in crash tests
So-so at dealing with things
Also Check: Top 10 Best Performance Cars Under $20k in 2022
#7. 2022 Ford Mustang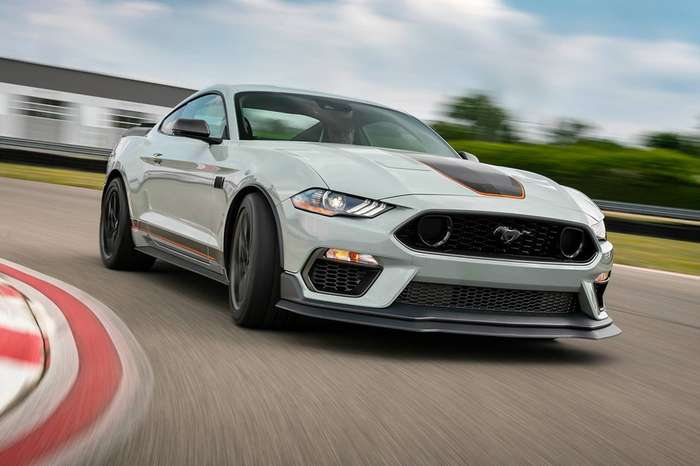 Engine: Gas
Fuel type: Petrol
Seating Capacity: Five Seater
Horsepower: 450-470 hp
Price (base): $42,895
The Mustang is Ford's iconic entry into the current muscle car battles. And, like any good muscle vehicle, it has a manual transmission. Though the Shelby GT500, which is only available with a seven-speed DCT, is no longer an option, you can still get a stick shift in every Mustang, coupe, and convertible. The six-speed manual is available on the GT and Mach 1 variants with either a turbocharged 2.3L EcoBoost I4 or a 5.0L Coyote V8. It is one of the best 2022 stick shift cars.
By 2022, Ford introduced three new packages: the Stealth package, the Ice White package, and the Coastal Limited package. Darkened trim and alloys, a rear wing, and transparent LED taillights are in the Stealth package. The Ice White option includes the wing and clear taillights, Oxford White exterior paint, white seats, and white door trim. The Coastal Limited kit consists of a branded LED sill plate, a body-colour grille, a rear spoiler, side scoops, and a vinyl body stripe.
Pros
The range and value of electric cars are good
On the road, it's like a sports car
An eye-catching piece of art
Cons
Odd behaviour on the road
Like a sports car, it goes off the road
You might also like: Best New Cars With Paddle Shifters Under ($5K – $30K)
#8. 2022 Honda Civic Si
Engine: Automatic
Fuel type: Petrol
Seating Capacity: Five Seater
Horsepower: 200hp
Price (base): $27,000
Honda's Civic has been present in the United States since 1973, and it has always been available with a manual transmission. That hasn't changed even after 48 years. And thankfully, for 2022, you may choose between a manual Civic Si and a Civic Hatchback. To acquire a stick shift on Honda's "hot hatch," you'll need to upgrade to the Sport or Sport Touring model level. The sedan comes with a 6-speed manual transmission in Si and Si HPT trim levels.
The 2022 Civic Si will be available at Honda dealerships later this year. The starting price is $28,315 plus a $1,015 destination tax. For an extra $200, buyers may upgrade to high-performance summer tyres. This car is on the list of stick shift cars is the best manual transmission car under $30000.
The 2022 Civic Si has a new high-output VTEC® 1.5-litre turbocharged 4-cylinder engine with wider power curves. The engine's top torque of 192 lb.-ft. 1800-5000 rpm (SAE net) comes 300 rpm earlier, allowing for a faster punch off the line and out of tight turns. The engine's performance also increases at the top of the tach. It maintains greater output between its 200-horsepower output peak at 6000 rpm (SAE net) and its redline at 6500 rpm.
Pros
It drives much better than it should
Upscale and well-equipped
There are more mature looks than there were before
Cons
The cabin gets a little noisy
CVT can be a little rash at times
Many of the best interior features hide behind the Touring trim level
#9. 2022 Hyundai Veloster N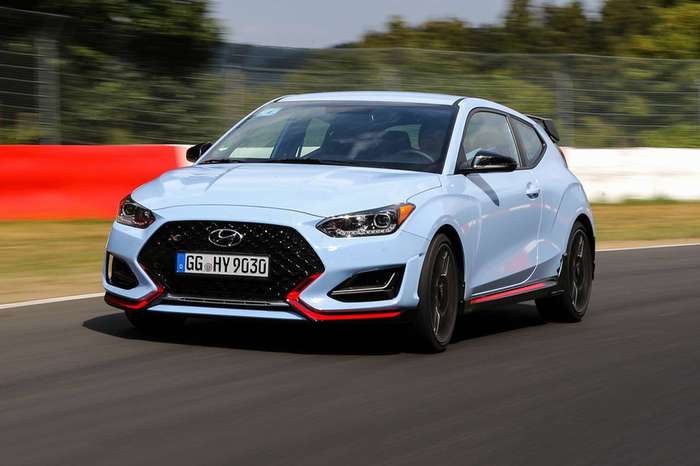 Engine: Manual
Fuel type: premium fuel
Seating Capacity: Four Seater
Horsepower: 275 hp
Price (base): $32,500
The 2022 model Hyundai Veloster N is still relatively new to the hot-hatch world, having been on the market for three years. Still, it has checked the attention of the old guard. Hyundai's three-door hatch is as unique as it is enjoyable to drive. A 275-hp turbo-four makes deliciously immature sounds and a chassis that evokes strong emotions. It's also available with a gratifying manual gearbox or a rifle-action dual-clutch automatic transmission. While redesigned versions of the rear-drive Subaru BRZ and Toyota 86 compete with the Veloster in terms of performance-per-dollar, the front-drive N rivals them in luggage and back-seat room.
We wish the Hyundai's cabin were prettier, but it comes equipped with many popular amenities and technology. Although the 2022 Veloster N isn't as well famous as other hi-po compacts, it should have been lauded for a thrill ride that virtually anybody can buy. It is why it made our Editors' Choice list of being cheap and best stick shift cars.
The Veloster N hatchback is one of Hyundai's few remaining manual alternatives. This one-of-a-kind 3-door vehicle has a 6-speed manual transmission and a 275 horsepower 2.0L 4-cylinder Turbo GDI engine. The Veloster N, billed as the performance enthusiast's hatchback has lately established itself as one of the most thrilling hot hatches in recent history.
Pros
A strong turbocharged engine
A variety of sleek manual and automatic transmissions are available
A system that is easy for people to use
In sports, you have to be able to handle
Cons
Some parts of the inside of the car are of hard plastic
Fuel efficiency is bad
#10. 2022 Mazda MX-5 Miata
Engine: Manual
Fuel type: Gas
Seating Capacity: Two Seater
Horsepower: 181hp
Price (base): $27,300
Most MX-5 Miata models will no longer come with a six-speed automatic transmission in 2022. The top-of-the-line Grand Touring trim is the only place it will be offered. The convertible version costs $500, while the RF model costs $550 more. Automatic Miatas are a sin, but that's alright with us, and we won't be ordering one. To enhance handling, a tiny amount of braking pressure is applied to the inner rear tire as the vehicle is turning.
When you get the Miata RF Club grade, you'll receive a Brembo BBS Recaro package that includes a set of Brembo brakes, BBS wheels, and Recaro seats. Mazda claims that this improves handling stability by reducing body roll. As well as the deep Terracotta Nappa leather inside, which is unique to the Grand Touring trim, Platinum Quartz Metallic is a new color choice this year.The fourth-generation MX-5 Miata is legendary and a modern classic among sports cars. Even though it isn't the fastest, this convertible is surprisingly pleasurable to drive, especially given the low price tag. Every vintage sports car has a standard manual gearbox. It's possible to use an automated system for this. The rear wheels are powered by a sewing-machine-smooth 2.0L engine that produces 181 horsepower. Either a soft-top that folds down manually or a hardtop that retracts electrically is available for the Mazda MX-5. The most significant manual transmission automobiles on the market cost less than $30,000.
Pros
A quick hand with kinds of stuff
Exciting engine
It gets excellent gas mileage
There are a lot of standard features in this car
Cons
The trunk space is small
Snuggy cabin
Fussy controls for the infotainment
FAQs About 2022 Stick Shift Cars
What cars still have stick shifts?
There are only about 40 models left in the USA that still come with a manual. A stick shift is a standard feature on many cars, trucks, and SUVs, and some only have manual gearboxes on their more powerful models. Here are a few instances of such vehicles:
Vantage by Aston Martin
M2, BMW 2 Series
The BMW M3.
M4 BMW
Chevrolet Spark.
Dodge Challenger.
Chevrolet Camaro (all body styles)
What is stick shift cars?
A stick shift is a lever used to change gears in a vehicle. The user may choose between manual and automatic transmissions and mechanical or power steering.
Transmission is by hand. Vehicles with a manual or standard gearbox are sometimes known as stick shifts. The driver can change gear manually as they accelerate and decelerate their car using a stick shift. The shift pedal is on the centre console and links to the transmission through a connection.
How many cars brands still have stick shifts?
Although they are not yet extinct, cars with gearboxes have become an endangered species. The three-pedal arrangement is still in today's new or remodelled automobiles, but seldom.
What is the newest stick shift car?
The reborn Ford Bronco SUV, for example, comes with an optional seven-speed manual transmission. At the same time, Toyota provides a manual in its freshly revamped Corolla with some clever features to make operation easier. Toyota not only kept Corolla's stick shift alive but also the Tacoma pickup truck and the GR 86 sports car, the latter missing the 2021 model year but returning in 2022 with a six-speed manual, are few of the latest shift cars.
Is stick shift going away?
In summary, yes. There is no outright ban on manual transmissions, but a ban on all petrol and diesel vehicles will take effect in 2030. Manual cars are out, as all-electric vehicles are automatic. However, the ban will only apply to the sale of gasoline and diesel vehicles. Those who are already on the road can keep driving. So, manual cars aren't going away overnight, but they're on their way to becoming a relic of the past.
The value of manual transmission cars has long been debated. Years ago, that debate might have centred on the convenience of automatic vehicles and how countries such as Japan, Australia, and the United States have primarily abandoned manual transmissions. An even more pressing issue is now driving the debate. By 2030, we won't be able to buy manual vehicles at all.
Conclusion
Stick shifts: People call cars with manual or standard transmissions "stick shifts." The car drives use a stick shift to manual process the gears as they speed up and slow down their car. The shift lever is on the centre console and is linked to the transmission by a linkage.
Also, a manual transmission needs a clutch pedal on the left side of the brake pedal. This pedal is to shift the transmission. Appealing the clutch pedal undoes the clutch mechanism that connects the engine to the transmission between the two parts of the car. You push the clutch pedal down to change gears, so you don't have to keep going.
Until now, manual transmission cars haven't died out, but stick-shift cars will die out soon as well. According to the EPA, for the 1980 model year, 35 percent of cars made in the United States had manual gearboxes. Today, the proportion is about 1%.