Rota Wheels: Where Design Meets Function
Changing out the tired-looking wheels on your car brings in a host of new possibilities. Not only do wheels give vehicles a dose of fresh air with new designs and colour schemes, but they can significantly improve performance, handling and comfort levels. Add bigger tyres in lower profiles, and you get a better grip and something you'll want when setting new lap times at your nearest track.
All these improvements come in different packages. There are dozens of aftermarket wheel makers, but not all can deliver on their promises. Not until you start spending above four figures per wheel, but even here there have been notable hiccups. Wheels that are meant to be pushed to their limits can deform or snap no matter how much you spend. Buyers want something that meets budgets, considering that you'll be replacing more than a few sets in more spirited driving.
In short, most of us are looking for value without sacrificing the performance side of things. And here, the scope of available wheels quickly narrows down to a few distinguished brands, most notably – Rota Wheels.
Why Consider Rota Wheels?
It is one of the few brands that have taken on established names in the business. It offers affordable wheelsets without forgoing style, durability, or performance. And you won't be renegotiating your mortgage to get decent quality and something that lasts.
The brand has been around since 1976 and was born out of a collaboration between the Italian company FPS and Filipino businessman Romero Rojas, who was importing aftermarket wheels and vehicle accessories for the local market. FPS soon pulled out of the joint venture, leaving Romero to establish Philippine Alloy Wheels, Inc. (PAWI), the company that today produces, sells and exports the extensive range of Rota Wheels.
Quality vs. Price
This has been an ongoing debate with every aftermarket product released. The brand has worked extensively to certify all its wheels against regional and international standards, such as the JWL (Japanese Light Alloy Wheel Standard) and the testing body that is the Japan Vehicle Inspection Association (VIA). Wheels are tested for fatigue levels during cornering and radial forces acting on the wheel to ensure they last at higher loads and speeds. They are also tested for durability in impact tests, such as when hitting potholes and kerbs. All testing is done with tyres attached to simulate real-world scenarios.
The brand enjoys an almost cult following, and the Rota community is growing by the day. It includes anyone into drifting, track racing, tuning, or burning some rubber in the grocery run.
PAWI have also engaged in collaboration with upmarket Japanese brands Enkei, BBS and Rays, as well as supplying OEM wheels for the growing local automotive manufacturing sector. And the company is honest in its approach. They don't pretend to match the quality or production methods used by high-end wheel makers but employ flow-forging to produce wheels of exceptional strength and lower weight that are still attainable for anyone starved of performance and speed with stock wheels.
Does Rota Have Racing Affiliations?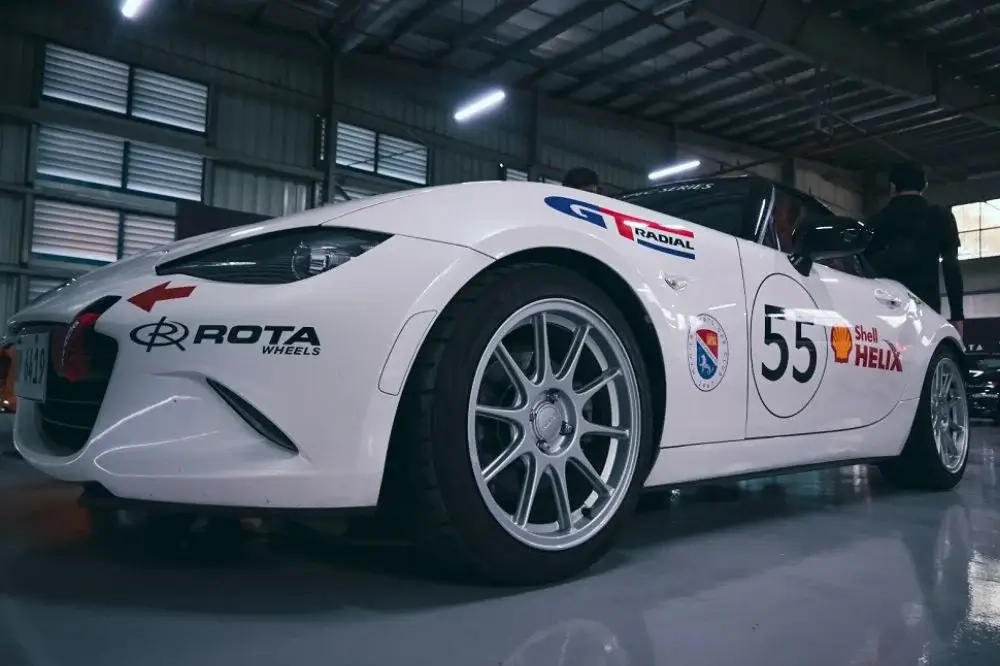 PAWi supplies original wheels for the UK-based Mazda MX5 Championship and the Lotus Elise Trophy Championship in different car categories. Rally cars, drifters and dragsters have also used these wheels in official pro and amateur racing bouts. This establishes a solid footing for growing the brand's fan base.
What Do These Wheels Have to Offer
Taking into account the different wheel diameters and widths, as well as offset and PCD, the brand has more than 1000 wheels in its lineup. PCD allows fitting a range of wheels to the hubs, so if you find a design you like, chances are it fits. That alone is an advantage compared to the limited range of other wheel makers.
Offset lets you play with how the wheel looks against the rest of the car and changes driving dynamics. Go for the negative offset wheels and ones that protrude further out if you're looking for a wider track (and ultimately more stability and grip in turns, so better handling). Wheels with positive offset tuck them inwards and inside the fenders, eliminating guard rubbing with wider tyres. It all depends on what you want to do with the car.
Considering designs, the brand has catered to a wide customer base, from traditional JDM styling that goes well with models like Subaru WRX, Nissan Skyline and 370Z, Mazda MX-5 and RX-8 or Mitsubishi Lancer Evo, to European tuning, performance and street favourites. Here you'll see wheels fitted with some nice rubber and bigger callipers to add to the aggressive appearance.
In addition, there are classic lines like the TBT wheels that complement any old-timer and will also look good on a resto-mod. The range of different wheels means anyone can find what they like, what fits, and have the needed leeway in enhancing performance or comfort levels.
Notable Favourites
Rota Grid
These are the company's bestsellers and have spawned a few related lines like the Grid 2 and Grid Racing for passenger cars and the Grid Ultra and self-explanatory Grid Off-road wheels. The wheels feature a classic JDM-inspired 6-spoke concave design that will look good on a range of cars. Think along the lines of the aforementioned WRXs, Evos and Skylines, as well as the new or older Toyota Supras, 86s or Subaru BRZs.
They'll also sit nicely with high-performance Euro cars, like the Golf GTi and R, the Ford Focus ST and RS and a range of classic BMWs.
These wheels come in 15,16,17 and 18-inch diameters, 7,8,8.5, 9,10 and 10.5 inches in width, a range of PCD fitments and in positive, zero or negative offsets. There's also an interesting colour palette ranging from understated gunmetal to bronze, silver and gold offerings, and even candy purple.
Rota Torque
This five double-spoke design also figures high in sales numbers. The range is more in line with performance vehicles, and the subtype Torque Drift wheels are every drifter's dream. Wheels come in larger sizes (17 and 20 inches) and can fit more rubber with widths going on to 9.5 inches. Fitment won't be an issue, but offset is on the positive side, either slight or more pronounced (ET48mm). Colour schemes tend to go for a more conservative precious metals approach.
Rota Kensei
It is a classic multi-spoke design and one that will get heads turning. Pair it with a sports classic of yesteryear or any new souped-up hatch, roadster or coupe. While there are quite a few conservative colours to choose from, Kensei wheels also come in alluring green, orange and blue. Smaller 15-inch variants come with a 4*100mm PCD and zero offset to fit older cars, while larger 18-inch wheels are also wider and have a slight to pronounced positive offset.
Buyers are also well served with the Slip, the same wheels used in the Mazda MX-5 Championship, a lightweight 5-spoke design; the GTR mimicking the original look of the stock Skyline wheels or the GTR-D with more offset pushing the wheels wider for a more assuming stance. There's also no shortage of mesh designs (the OSMesh wheels being a prime example), contemporary double-spoked wheels (TFS, Strasse and the 360FF flow-formed wheels) or throwback classics like the RM-200. SUV drivers will also be happy with vast choices of off-road specific wheels, notably the D-Tracker, Recce and Slipstream wheels.