2022 Honda CR-V Hybrid Specs, Price, MPG & Key Features
The Honda CR-V is already a tiny crossover with high efficiency. Adding an economical hybrid engine and standard all-wheel drive increases its utility. This is what you get if you choose the alluring Honda CR-V Hybrid. It offers many of the same qualities as the non-hybrid CR-V, such as a spacious cabin and advanced safety technology, while achieving a remarkable 38 mpg combined fuel efficiency rating.
The 2022 Honda CR-V Hybrid debuted in the United States for the 2020 model year, and the 2022 model will not undergo any substantial alterations.
2022 Honda CR-V Hybrid Specs
MSRP: $31,610.
Seating Capacity: 5-passenger
Engine: Hybrid
Horsepower: 212 hp @ 6,200 rpm
Torque: 232 lb-ft @ 0 rpm
Transmission: Continuously variable-speed automatic
Fuel Mileage: 40/35 MPG
Length: 182.1 in.
Width: 73.0 in.
Height: 66.5 in.
Wheelbase: 104.7 in.
Also Check: 2023 Honda HR-V Debut with Its New Look
Engine and Performance
The only available powertrain for the Honda CR-V Hybrid is a 2.0-liter inline-four engine paired with two electric motors. These dual electric motors give standard all-wheel drive on every CR-V Hybrid, which is ideal for snowy conditions, but the vehicle is not particularly off-road capable. The brakes are similarly smooth and provide confidence stops up to a traffic signal or in emergency situations. But the CR-V Hybrid's weak acceleration is a letdown. Despite claims that it is more powerful than a normal CR-V, our tests revealed otherwise. The sprint from 0-60 mph took 8.5 seconds, a full second longer than the non-hybrid variant. Longer inclines need a heavier foot, and the weak gasoline engine struggles to maintain a constant pace.
Interior & Comfort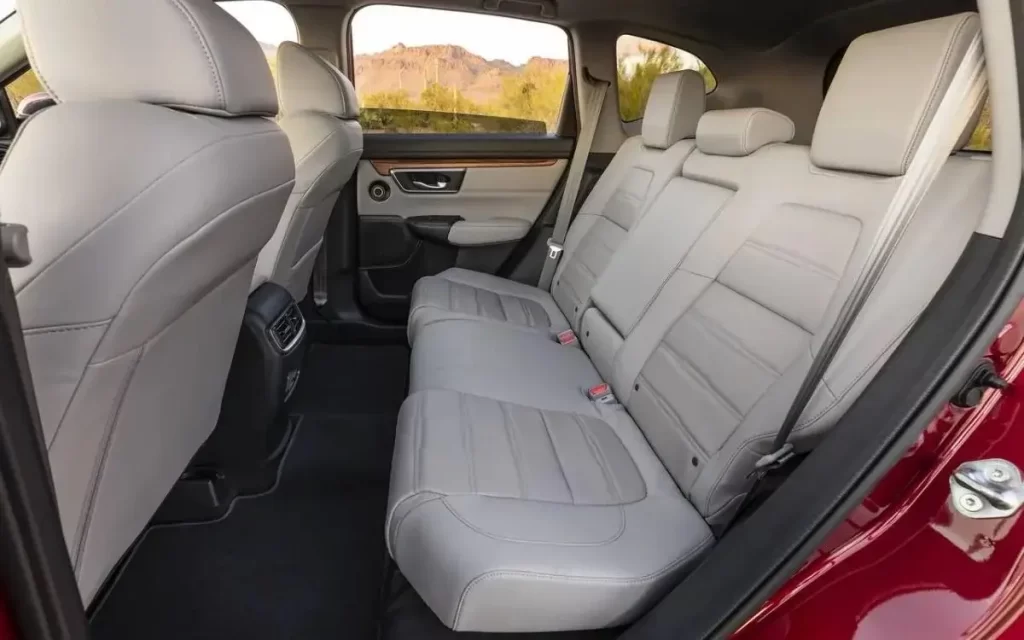 The Honda CR-V Hybrid has ample passenger space. The first and second seats offer sufficient headroom and legroom to comfortably accommodate four persons. As is the case with other 5-passenger SUVs in this class, when all three rear seats are used, rear-seat space is quite limited. The spacious interior of the Honda CR-V Hybrid makes it appropriate for use as a compact family car.
The cargo compartment is also rather spacious, although the hybrid battery results in somewhat less space than the non-hybrid CR-V. The standard CR-V has an additional 6 cubic feet of room. By folding down the 60/40 split rear seats, you can produce a maximum of 68.7 cubic feet of cargo capacity (vs. 75.8 in the standard CR-V).
Also Check: 2023 Honda HR-V Specs, Prices, MPG & Features
2022 Honda CR-V Hybrid Technology
Each CR-V Hybrid is equipped with the same infotainment system. The CR-V Hybrid's centre stack has a 7-inch touchscreen infotainment system with Apple CarPlay and Android Auto connectivity; the Touring trim level offers satellite navigation. Similarly, the EX and EX-L versions include an eight-speaker, 180-watt audio system, whilst the Touring model has a nine-speaker, 330-watt system with a subwoofer. Additionally, the Touring adds a wireless charging pad.
Safety Features
In addition, the Honda comes equipped with a package of driver-assistance technologies that help avoid crashes. Key features are:
Standard forward-collision warning and automated emergency braking
Standard lane-keeping assist and lane-departure warning
Standard adaptive cruise control