2022 Subaru Forester Wilderness Edition Review, Pricing & Specs
Although the Forester SUV's combination of Subaru's outdoorsy image with the practicality of a small crossover has proven to be successful, its mediocre flat-four engine offers lacklustre acceleration, which reduces the SUV's appeal. However, the interior of the 2022 Forester is as pleasant and helpful as ever, including an abundance of storage cubbies and an impressively open layout. All-wheel drive comes standard on the Forester, as is the case with most Subaru vehicles. Even though critical competitors such as the Honda CR-V and the Toyota RAV4 have many of the same characteristics, both cars are available with more powerful gasoline and hybrid powertrains, making the Forester seem weak in contrast. On the other hand, the Forester will be a suitable alternative for purchasers who are drawn to Subaru's adventurous image.
What's New in the Year 2022?
In addition to blockier-looking front headlights, a revised grille, and new wheel designs, Subaru has updated the Forester SUV for 2022. A Wilderness trim level has been added to the range, and like the 2022 Outback Wilderness, it provides more ground clearance and a more rugged look package. A panoramic sunroof is standard on all but the cheapest trim levels of the Forester, and new optional gesture controls for the temperature control system are available as an option. Updated video sensors have been added to Subaru's EyeSight suite of driver-assistance technologies, which Subaru claims broaden the system's field of vision and increase its operational range. A new Automatic Emergency Steering system has also been included in the system. A torque-vectoring system, Subaru's SI-Drive driving mode option, an electronic parking brake with auto-hold, and an auto start/stop function for the four-cylinder engine are now standard on all models.
Also Check: New 2022 Toyota Camry TRD V6 Review, Pricing & Specs
2022 Subaru Forester Wilderness Specifications
Price: $26,570
Engine: 2.5 L Regular Unleaded H-4
Transmission: CVT Transmission
Drivetrain: All Wheel Drive
Horsepower: 182 hp
Torque: 176
Seating Capacity: Five-seater
Fuel Efficiency (MPG): 25 mpg in the city, 28 mpg on the highway, and 26 mpg combined
Length (inches): 182.7
Width (inches): 72.2
Height (inches): 68.9
Pricing and Choosing Which One to Purchase
Even though the Limited and Touring trims are much more luxurious, we believe that the Premium model delivers the most outstanding balance of value and amenities. With 17-inch wheels, a rear spoiler, and body-colour side view mirrors, it seems less like a rental vehicle, and the inside is stocked with amenities such as a panoramic sunroof, a 10-way power-adjusting driver's seat, reclining rear seatbacks, an onboard Wi-Fi hotspot, and a six-disc CD player.
Engine, Transmission, and Performance are all critical considerations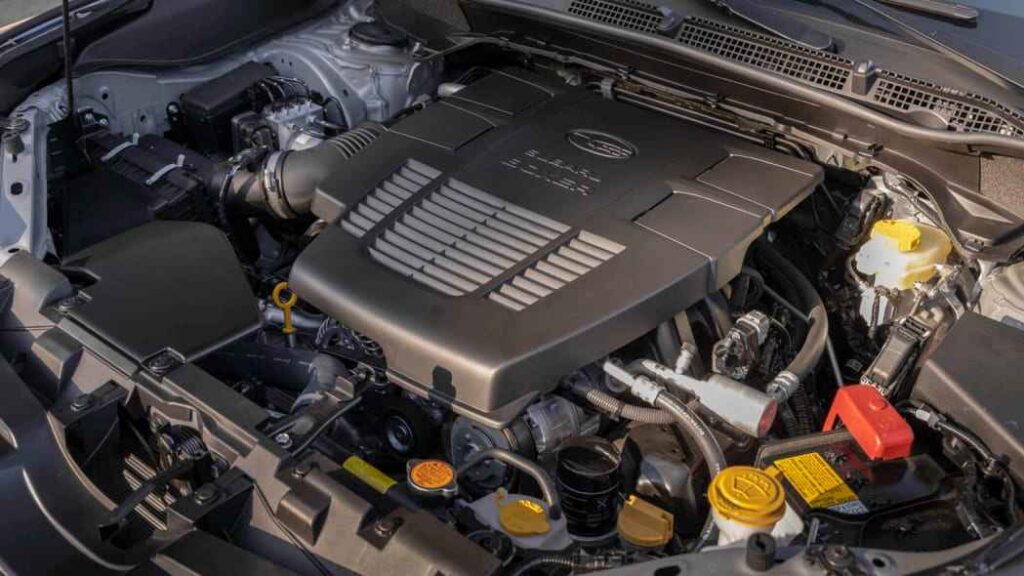 In all Forester versions, the same 2.5-litre flat-four-cylinder engine is used, which produces 182 horsepower and has a towing capacity of 1,500 pounds. A continuously variable automatic gearbox (CVT) transfers the engine's power to Subaru's all-wheel-drive system, which is the company's hallmark. Our 2022 Forester Wilderness test car needed 8.0 seconds to reach 60 mph on our test track, which isn't precisely exhilarating performance. Still, it will satisfy the demands of the vast majority of consumers. Those wanting additional power may consider the Honda CR-V or the turbocharged variants of the Mazda CX-5 and the Kia Sportage, among other options. The Forester's handling is adequate for an SUV not intended to be driven in a sports manner. The ride is soft and smooth, the steering is precise, and the brakes are powerful enough to stop the car in an emergency.
Fuel economy and real-world miles per gallon (MPG)
Fuel economy figures from the EPA (26 mpg city, 33 mpg highway) are comparable to the majority of the compact-crossover market, ensuring that purchasers looking for efficiency will be pleased with the Forester. Our Forester Touring test car returned 32 miles per gallon in our highway fuel-economy test at 75 miles per hour, one mile per gallon less than the highway fuel-economy figure. On the other hand, that statistic is consistent with the results obtained by the Honda CR-V Touring and the Toyota RAV4 Adventure. Visit the Environmental Protection Agency's website for additional information on Forester's fuel efficiency.
Also Check: 2022 Acura TLX Type S Review, Prices, Specs and Features
2022 Subaru Forester Wilderness Trim Levels
-Forester
Starting at $25,395* MPG 33 /26
Symmetrical All-Wheel Drive
Standard EyeSight® Driver Assist Technology
SUBARU STARLINK® Multimedia with Apple CarPlay® and Android™ Auto Integration
LED Steering Responsive Headlights
8.7 inches of ground clearance
76.1 cu. ft. of cargo volume
Rear-seat Reminder System
-Forester Premium
Starting at $28,395* MPG 33 /26
SUBARU STARLINK® Safety and Security
10-way power driver's seat
Keyless Access with Push-Button Start
Sliding panoramic moonroof
17-inch alloy wheels
Available Power Rear Gate
All-Weather Package with heated front seats
-Forester Sport
Starting at $29,965* MPG 33 /26
18-inch black finish alloy wheels
Unique orange exterior accents and badging
Dual-function X-MODE® with Hill Descent Control
Blind-Spot Detection / Rear Cross-Traffic Alert
SI-DRIVE® engine management system
Two-tone cloth upholstery with orange contrast stitching
-Forester Wilderness
Starting at $33,020* MPG 28/25
Raised suspension with 9.2 inches of ground clearance
17-inch matte-black finish alloy wheels and Yokohama GEOLANDAR® all-terrain tires
Dual-function X-MODE® with Hill Descent Control
StarTex® water-repellent upholstery
180-Degree Front-View Monitor
Anodized Copper-finish interior and exterior accents
-Forester Limited
Starting at $32,075* MPG 33 /26
Leather-trimmed upholstery
18-inch machine-finish alloy wheels
Blind-Spot Detection / Rear Cross-Traffic Alert
Dual-zone automatic climate control
Power Rear Gate
-Forester Touring
Starting at $35,495* MPG 33 /26
Exclusive Saddle Brown Leather-trimmed upholstery available
SUBARU STARLINK® Multimedia Navigation
DriverFocus® Distraction Mitigation System
10- way power driver's seat and 8-way power front passenger seat
All-Weather Package with heated front and rear seats
Satin chrome finish exterior mirrors
Interior, comfort, and cargo space are critical considerations of Subaru Forester Wilderness 2022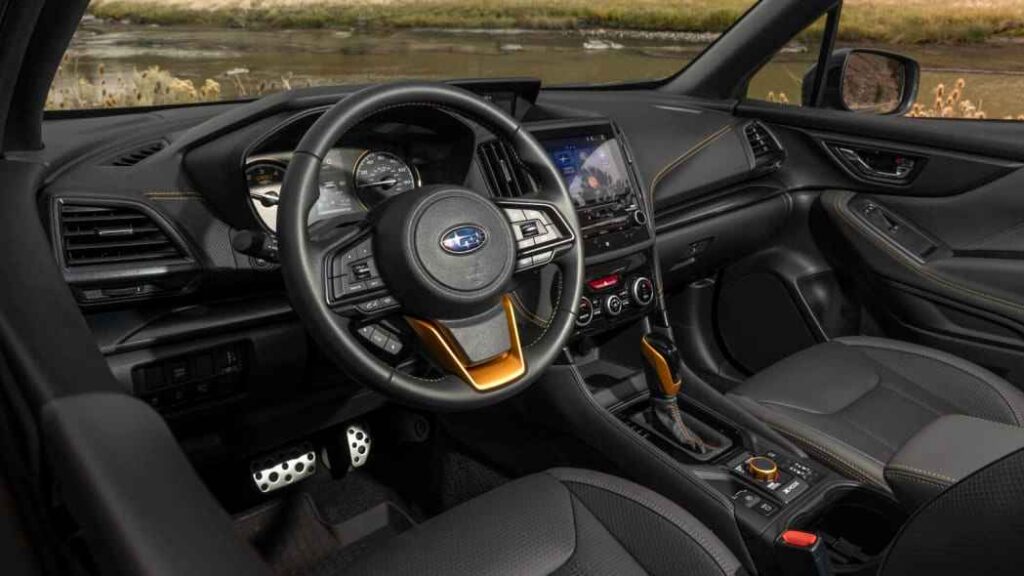 A straightforward, unfussy interior with a comfortable driving posture and excellent outside view characterises Forester's cabin. The interior of our Touring model was beautifully finished, with caramel-coloured leather on the seats, door panels, and dash; textured plastic trim layered throughout the rest of the cabin looked and felt high-quality, as well; glossy-black plastic on the centre stack, as well as chromed and matte-metallic plastic trims, added a nice touch of glitz to the otherwise plain interior. Because there is no third-row seating option, the rear seat is relatively large, and even adults should find the bench seat to be a pleasant place to sit on lengthy road journeys. Eleven of our carry-on luggage fit behind the rear seats, and a staggering 23 when the back seats were folded. Even with the rear seats folded, the CR-V had a maximum capacity of 25 carry-on bags, which was more than the CX-5 or the RAV4 could manage.
What is the interior of the Subaru Forester Wilderness?
If you've gone to any Subways recently, you'll recognise this place. Upfront, there's plenty of space and a generally intuitive layout, with a decent mix between physical buttons for the HVAC and drive modes and touchscreen inputs for other, less vital functions. The Starlink infotainment system, while still a significant improvement over Subaru's previous setups, is adequate, if not quite class-leading; it doesn't respond quite as quickly or look quite as nice as some other such setups, and certain tasks necessitate more digging around in menus than appears necessary; however, the system is still a significant improvement over Subaru's prior setups. The minor second display located above the main one, on the other hand, is a valuable feature since it puts supplementary vehicle data close to the driver's line of sight.
Also Check: 2022 Honda Accord Review, Price, Specs, Configurations & MPG
Just like with the Outback Wilderness, the seats have water-resistant upholstery that should not be afraid of dirt or liquid; similarly, standard thick rubber floormats capture any mud or liquid that gets on your shoes rather than allowing it to grind into the carpet. The rear seatbacks are also machine washable, so dogs and children's toys thrown into the cargo compartment shouldn't leave unsightly stains on the inside.
When it comes to inside space, you won't be disappointed if you're not planning on transporting more than three tall persons. And the cargo bay's height helps to make up for some of the lack of depth compared to other crossovers; as long as you don't mind stacking things high, you should be able to store a lot of stuff in the rear of this vehicle.
Information and communication technology (ICT)
All Forester models are equipped with a touchscreen infotainment system that utilises Subaru's newest Starlink interface as standard equipment. The base, premium, and sport versions all come with a 6.5-inch monitor as standard. At the same time, a more prominent 8.0-inch display is available as an option on the Sport and bar on the Limited and Touring variants, respectively. Two USB ports are given for front-seat passengers; two more USB ports are available and are located on the back of the centre console, providing rear-seat passengers with a method to recharge their mobile devices. Navigation is known as an option. However, for those who want to remain with a lower-priced model, Apple CarPlay and Android Auto are both standards, and they can deliver turn-by-turn instructions broadcast from the user's mobile device. Onboard Wi-Fi is provided through a 4G LTE data connection as standard equipment on all Foresters saves the basic model.
Driver-Assistance and Safety-related Features
All Subaru vehicles are equipped with Subaru's EyeSight suite of camera-based driver-assistance systems as standard equipment. Please see the National Highway Traffic Safety Administration (NHTSA) and Insurance Institute for Highway Safety (IIHS) websites for additional information on Forester's crash-test results. The following are important safety features:
Emergency brake systems that are standard practise.
The standard lane-departure warning system is combined with lane-keeping assistance.
Adaptive cruise control is a standard feature.
Warranty and maintenance services are there in 2022 Subaru Forester Wilderness
The Forester comes with a minimal warranty, and customers will be responsible for any maintenance visits required. Compared to the Subaru, competitors such as the Kia Sportage and the Hyundai Tucson provide a 10-year/100,000-mile powertrain warranty, and the Toyota RAV4, which includes two years of free regular maintenance, give better value.
The limited warranty is valid for three years or 36,000 miles.
The powertrain warranty is valid for five years or 60,000 miles.
There will be no free planned maintenance.
Frequently Asked Questions
What will the price of a Subaru Forester Wilderness in 2022 be?
At $33,945, the Wilderness is $4625 more expensive than the Premium, and its off-road attitude comes with a slew of additional charges in addition to the higher cash outlay. It had 0.83 g of grip on the skidpad and came to a halt in 168 feet from 70 mph when we tested the Forester Touring, which is better suited to city driving.
What distinguishes the Subaru Forester Wilderness from other Wildernesses?
When it comes to all-terrain capabilities, the all-new 2022 Subaru Forester Wilderness takes the Forester farther than it has ever gone. It comes with off-road enhancements like greater ground clearance, a redesigned powertrain that is more suited for climbing, and the trail-tested confidence that comes with standard Symmetrical All-Wheel Drive, among other things.
What is the difference between the Subaru Forester 2021 and the Subaru Forester 2022?
There are also modest trim modifications throughout the vehicle. The basic model of the 2022 Subaru Forester will cost $26,320, representing a $475 rise over the model year 2021. The Premium model will cost $29,320, an increase of $475 over the previous model, while the Sport variant will cost $30,890, an increase of $445 over the previous model.
Conclusion
We had little doubt that the Wilderness treatment would be applied to vehicles other than the Subaru Outback when we first saw it. The hardcore-crossover idea has been gaining traction in the background, which is understandable considering the astronomical growth in sales of small SUVs. Crossover lift kits and knobby-tire improvements are now commonplace, and almost everyone refers to "Overlanding" as a synonym for "car camping" when they mean "car camping." Subaru owners who have customised their vehicles have been at the forefront of this movement, so it was only logical that the parent corporation would cash in on the opportunity. The Subaru Forester Wilderness, the second example of the new outdoor-oriented trim level, will debut in 2022. We've now driven both of them, so the only issue is: who looked better in it?
When applied to the Forester, the Wilderness formula is a formula that many people are acquainted with. Longer dampers and higher springs raise it half an inch taller than its brothers, resulting in a respectable 9.2 inches of minimum ground clearance and a 21-degree break-over angle, which is an improvement over its predecessors. As a result of Forester's shorter length than the Outback, the vehicle's lifted posture, along with stubbier front and rear overhangs, results in a more practical approach and departure angles of 23.5 degrees and 25.4 degrees, respectively. Subaru also increased the vehicle's width by 2.4 inches, making it more suitable with brush-lined paths even before applying the Wilderness-spec layer of protective body covering on the vehicle. As a result of its higher driving position and better visibility over the hood, the Forester Wilderness is 2.0 inches taller than its Outback cousin. However, we'll take it since it offers a more upright driving stance that makes it simpler to choose your way along a path. Blind crests are not an issue due to a front camera's presence; however, the button to activate it is located far away from the display itself.