2023 Lexus RX: Check Specs, Prices, Features and More
Despite the fact that Lexus' RX SUV has been in need of a facelift for some time, the wait will soon be over. To replace the previous seven-year-old model, a completely new generation will be introduced in 2023. There will be four engine options available, including a new plug-in hybrid model. The new RX looks significantly better than the previous model. There's a new version of the brand's wide-mouthed grille and Lexus's famous L-shaped running lights up front, and a full-width taillight bar out back. This time around, the inside amenities are more luxury, with a big 14.0-inch infotainment display and cutting-edge technology. The previous model was available in two- or three-row configurations, however the 2023 RX has only been seen in a two-row form. A three-row variation might be added later, or Lexus could introduce a new, bigger SUV above the RX with a regular seven-seat arrangement.
2023 Lexus RX Variants and Price
RX350 F Sport: $52,000 (est)
RX350h F Sport: $60,000 (est)
RX500h F Sport Performance: $70,000 (est)
Also Check: 2022 Lexus NX Specs, Prices MPG & Features
2023 Lexus RX Engine and Transmission
There will be no less than four alternative powertrains available for purchase for the 2023 RX, beginning with the RX350 model, which is powered by a turbocharged 2.5-liter four-cylinder engine that produces 275 horsepower. This model comes standard with a front-wheel-drive layout and an eight-speed automatic transmission; all-wheel drive may be purchased as an upgrade. The hybrid RX350h is equipped with a continuously variable automatic gearbox (CVT) and all-wheel drive, and it generates 246 horsepower thanks to the combination of electric motors and a 2.5-litre, four-cylinder engine. When upgrading to the RX500h F Sport Performance, the engine is a turbocharged 2.5-litre that works in conjunction with electric power to produce 367 horsepower. This model uses the Direct4 technology from Lexus to distribute the power to all four wheels.
Interior and Comfort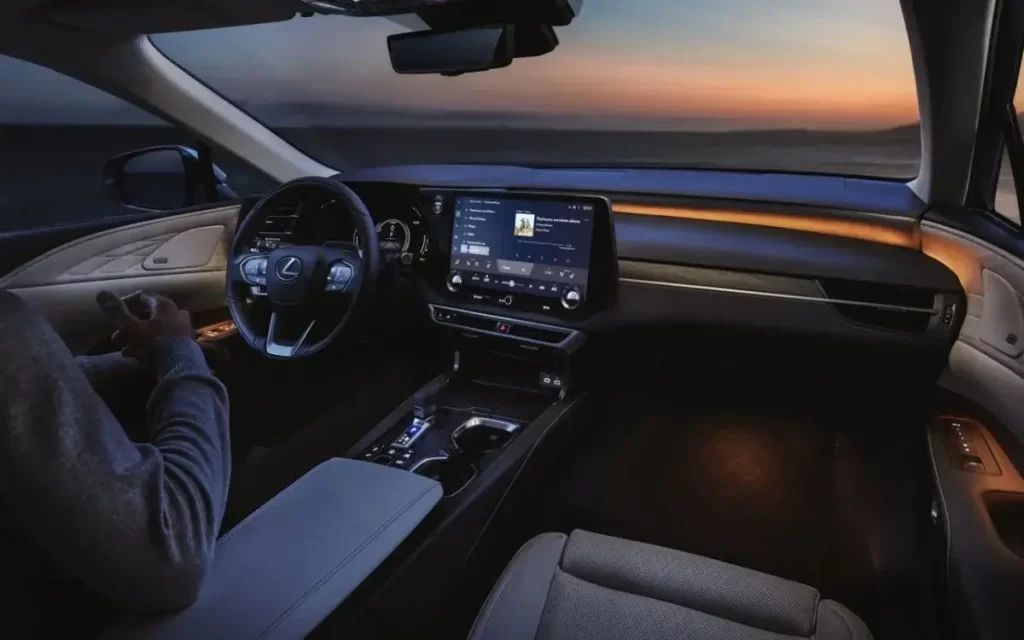 However, despite the fact that the preceding model was available in both a two-row and a three-row configuration, the 2023 RX has only been shown as a two-row, five-seat SUV so far. Either a three-row variant will be introduced at a later date, or the RX L will be discontinued and replaced with an altogether new, bigger SUV that comes equipped with a third row of seats as standard. The interior design of the 2023 RX is more contemporary than that of the 2022 model. It has textured fabric parts on the top door panels, ambient lighting that seems to be rich in appearance, and open-pore wood trim on RX350 versions. In the RX500h F Sport Performance, the front seats have more bolstering, the inside trim is black, paddle shifters are located on the steering wheel, and the pedals are aluminium.
Infotainment and Connectivity
A bigger infotainment touchscreen measuring 14.0-inches in size has been installed in the exact centre of the RX's newly remodelled dashboard. It utilises the most recent software interface available from Lexus and is tilted slightly toward the driver, just like the smaller NX SUV does. Apple CarPlay and Android Auto will be available as standard features, while other technologies, like navigation, a head-up display, and a Mark Levinson audio system, will be available as options.
Also Check: Top 10 Crossovers With Best Gas Mileage in 2022
Safety and Driver Assistance Features
Lexus equips all of its new cars and SUVs with a variety of driver-assistance systems as standard equipment, and the RX 2023 is no exception. The RX's autonomous emergency braking system can detect pedestrians in addition to motorcyclists, and all versions come standard with adaptive cruise control that also centres the vehicle inside the lane it is travelling in. Key safety features are:
Standard automated emergency braking with pedestrian and cyclist detection
Standard lane-departure warning with lane-keeping assist
Standard adaptive cruise control with a lane-centering feature