2022 Toyota Tundra Crewmax: Powerful in Every Task
The 2022 Toyota Tundra caters to a somewhat different demographic, namely Toyota fans. The rear suspension of most half-ton trucks is a reliable if ancient, leaf spring system. Coil springs in the back provide the Tundra a considerably better ride and handling than others.
It can also tow up to 12,000 pounds and comes with a suite of driver assistance features as standard. The Tundra does not come with a V-8 engine, unlike its domestic competitors. Gasp! The twin-turbo V-6 is the only engine choice, but it comes with a hybrid system that produces 437 horsepower and 583 pound-feet of torque.
TUNDRA CREWMAX DESIGN
The 2022 Toyota Tundra looks significantly more appealing than the truck it replaces, with a low beltline and upright greenhouse that seem far more muscular than the previous-generation truck's a nearly van-like short hood and slanted windscreen. Blacked-out A- and B-pillars, which give the new Tundra a wraparound-canopy aspect, almost like the visor of a full-faced helmet, add to the attractiveness.
Read More: 2022 Toyota Tacoma Specs, Prices, MPG & Features
The composite-molded bed is corrosion- and dent-resistant, eliminating the need for bed liners. There are also hefty, sculpted fenders that work in tandem with the sparkling Supersonic Red paint to capture light in unique forms and patterns.
TUNDRA CREWMAX PERFORMANCE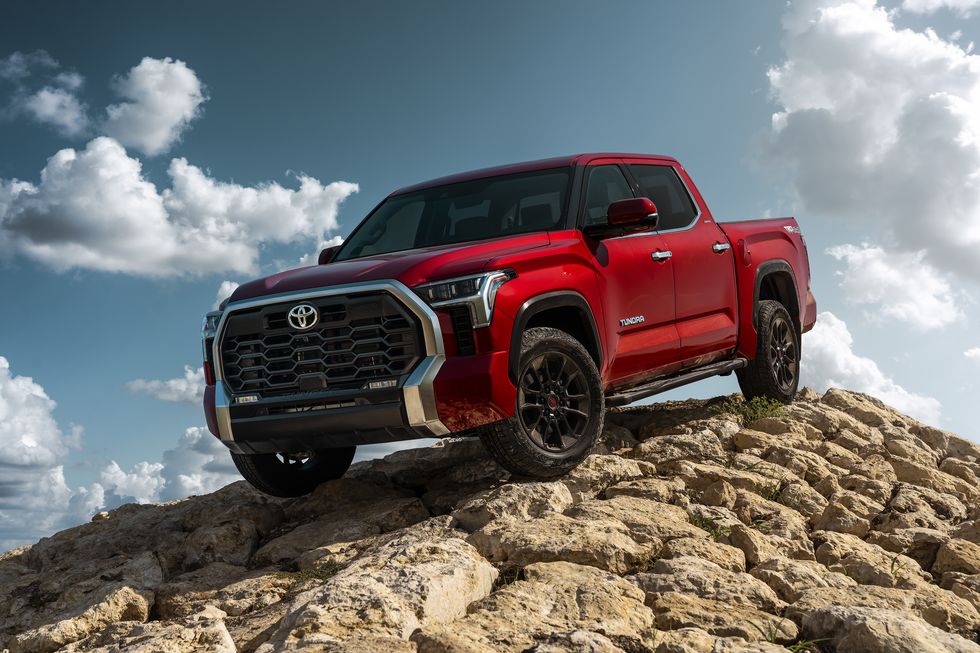 The 2022 Toyota Tundra Crewmax is the only full-size pickup vehicle without a V-8 engine. Instead, a twin-turbo V-6 and a 10-speed automatic transmission are the sole options. This engine is available in three distinct power levels. This Tundra produces a powerful 437 horsepower and 583 pound-feet of torque.
The Tundra now has a more refined coil-spring rear suspension, which enhances the vehicle's ride and handling.
TUNDRA CREWMAX CAPACITY
The Tundra's towing capacity is 12,000 pounds, which is slightly less than that of rival full-size trucks. The Tundra can also carry a payload of up to 1940 pounds. Several other half-ton trucks, on the other hand, can carry greater weight in their cargo bed.
Read More: 2022 Toyota Supra Review, Specs, Prices & Features
TUNDRA CREWMAX COMFORT
The Toyota Tundra 2022 is a roomy truck, especially for the two front-seat occupants. After a long day of riding down the highway, there are no complaints, and the seats, despite their breadth, do an excellent job of keeping their passengers in place during off-road maneuvers. The space in front is also more than ample for a person of normal height, and the eight-way power adjustments on both seats make it easy to reach a comfortable position.
TUNDRA CREWMAX INFOTAINMENT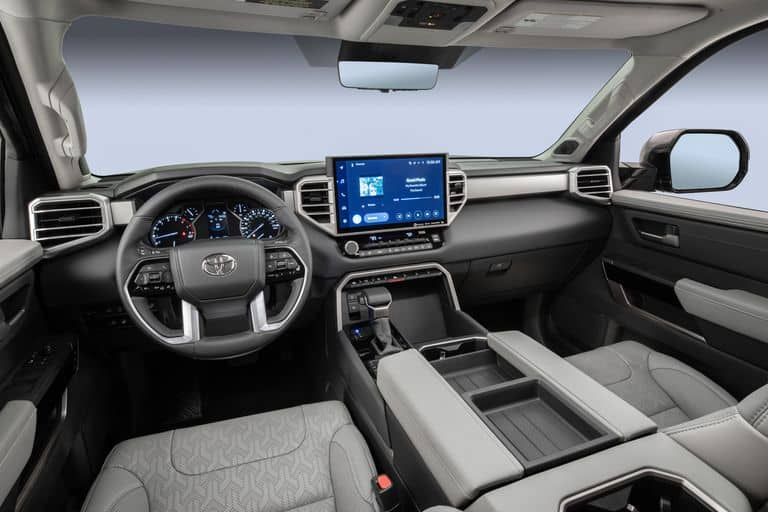 The Tundra 2022 will be the first vehicle to receive the new interface.
On the SR and SR5 trims, the new software is housed on a standard 8.0-inch touchscreen.
Touch controls and pinch zooming are highly snappy on the screen, and the menu arrangement is intuitive and basic.
On the Tundra's large display, CarPlay looks fantastic, and the split home screen layout allows enough room for Google or Apple Maps while simultaneously including phone and music settings.
The Tundra's infotainment system may be best-in-class, but it falls short in other areas of technology.
Read More: 2022 Toyota Prius: Specs, Pricing, MPG & Features
TUNDRA CREWMAX ECONOMY
Getting away from the old Tundra's thirsty V8 is a smart decision for Toyota, which is famed for its fuel-efficient hybrids and zero-emission fuel cell cars. The 2022 Tundra CrewMax 4×4 is rated at 19 miles per gallon combined, which is a significant gain over the 14 mpg of its predecessor.
TUNDRA CREWMAX SAFETY FEATURES
Every Tundra comes standard with a suite of driver-assistance features including automatic high lights, blind-spot monitoring, rear cross-traffic warning, and more.
Standard forward-collision warning and the automatic emergency braking are also included.
Lane-departure warning and lane-keeping assist are standard.
Adaptive cruise control is a standard feature.