Top 6 Best Tires For Rock Crawling You Must Check Out In 2023
Off-roading was becoming popular in the past thanks to the fact that trucks and SUVs are everywhere today. The good thing about off-roading is that you have various surfaces to cover, all of which bring their own challenges.
The most difficult and tricky thing is when you are going to travel on rocks. For this situation, people only use the best off-road SUVs and trucks for these purposes. For good rock crawling, you should have a low-range gearbox and a 4×4 system with a 50:50 distribution. Along with this, your vehicle must be equipped with a suspension that has a lot of travel.
This is said that even if you have the best off-road SUV in the world you can not be successful at rock crawling without the right tire.
6 Best Tires For Rock Crawling On The Market Today
What To Keep In Mind Before Buying The Best Rock Crawling Tires?
When you are going to buy the tire then you should ensure the toughness of the tire. Sharp rocks can be cut through the rubber.
You need to look at the load rating and the spec sheet of the tire. Many of the sellers will tell you that the tire is cut-and-chip-resistant, puncture-resistant, and the qualities that you are looking for in your rock-crawling tire.
If the tire has higher load ratings then it can easily take much more beating before it gets punctured. Tires that have higher load ratings will have tougher construction and stiffer sidewalls.
You should look for the stiff and large blocks on the tread patterns of the tired for good traction. Tires with smaller tread blocks do not work for rock crawling and can slip easily. Below are the types of tires that will help you in selecting the best tire for your vehicle.
Radial vs bias-ply tires
For giving maximum reliability when you are driving over large rocks, some of the manufacturers offer bias-ply tires. Basic tire design is not that good for on-road use so in that case radials. Whether bias-ply tires are much tougher they will help you in driving over sharp, and large rocks.
These tires might be useless when driving on the road, especially when you are driving at a higher speed. They tend to be very uncomfortable and loud over bumps. They are very useful for rock crawling so you can get them for rock crawling.
You might also like: Top 6 Best Batteries for Diesel Trucks
Skinny vs wide tires
Both skinny and wide tires are perfect at their places for rock crawling. When you are using skinny tires then your vehicle will be much nimbler and you can also position it where you want to track.
You can try any of them to check which one fits your vehicle. With wide tires, you will lose agility but there will be good traction.
Best Rock Crawling Tires For 4×4 Off-Roading (2023 Reviews)
The best tire for rock crawling may be expensive but this means that you need to replace the tire or you are going to use that tire for rock crawling only.
So you can have the best tire for a good rock crawling experience with a set of mud-terrain, maximum traction off-road tires, and widely-available all-terrain. You only need to look for what you are looking for or what you need.
People say that the best tires for rock crawling are easily identified by just looking at them. You can also learn how to recognize the best tire for rock crawling just by looking at the spec sheet and tread pattern. For helping you the detailed buying guide is prepared on off-road tires, where it is explained the difference between different types of tires that are viable for rock crawling.
#1. Mickey Thompson Baja Claw Bias Ply Tire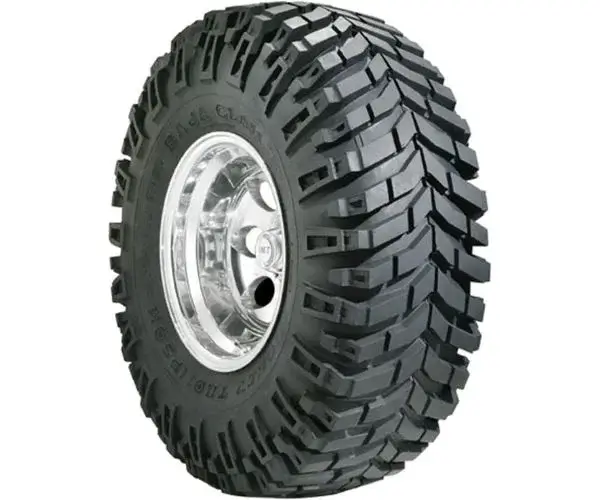 Mickey Thomson Baja claw is one of the best rock crawling tires. This uses a bias-belted construction that makes it strong and super-tough.
It delivers the driver with excellent traction for rock crawling, almost on par with the BF Goodrich Krawler. It also works well on other surfaces such as dirt, mud, and gravel. It includes a directional tread that helps in driving over snow, which is surely welcome.
It's been said that this Mickey Thompson Baja Claw All-Terrain Bias Tire – 19.5/46-20LT is even worse on the road as compared to BF Goodrich Krawler, and it's very true on the highway.
Features:
Perfect for sharp and rocky areas
The tire has a deep lug depth that provides excellent traction in mud, sand, and other off-road conditions.
It has a reinforced sidewall that provides excellent puncture resistance.
Tread pattern with extra large side biters and 23-degree lugs for extra protection and traction.
Sidewalls are reinforced for added strength
It is designed for extreme off-road driving conditions
Exceptional traction for off-road surfaces and rock crawling
#2. Cooper Discoverer STT Pro All-Season Tire
Cooper Discoverer STT Pro All-Season 37X12.50R17LT 124Q Tire is a super-tough off-road tire that has a spiral construction with the third party that runs at an 8-degree angle.
It has large tread blocks that provide perfect traction over rocks, and also other off-road surfaces. This one is unique from others that handle street duties in a better way. It has a feature of good braking and handling on the street. It provides excellent traction on hard packed surfaces.
Every product has its own features, pros, and cons it also has and the only thing which needs to be improved in this tire is snow traction.
Features:
Limited warranty
All-season tire that can be used in a variety of weather conditions.
The tire features a unique tread design that provides excellent traction in all weather and terrain.
The tire is also very durable and has a long lifespan.
Good looking
Great control and stability
Good for off-road surfaces
Exceptional traction
Also Check:
#3. Firestone Destination MT2 Max Traction Truck & SUV Tire
Firestone Destination M/T2 is a mud-terrain tire that is also an amazing rock crawler. This one is the best choice for rainy and slow conditions.
The rugged tread pattern and biting edges in the tire deliver great traction on rocky surfaces. It can withstand sharp rocks as its sidewall is chip-resistant. It has excellent traction in all off-road terrain. It is puncture-resistant and durable and also great for both dry and wet conditions.
Like others, it also has some issues: it makes noise on highways and it is also expensive. Below are the features, pros, and cons you can see for better details.
Features:
It is made for other off-road roading.
Impressive performance in snowy and wet conditions.
Much more challenging to go wherever the trail takes you.
3-ply sidewall construction, new tread compound, and more aggressive upper sidewall lugs provide more traction in the stronger resistance and mud to tears and chips.
Puncture-resistance and durable
Excellent traction in another off-road terrain
Suitable for both dry and wet conditions
Expensive
Noisy on highway
#4. Goodyear Wrangler MT/R with Kevlar All-Season Radial Tire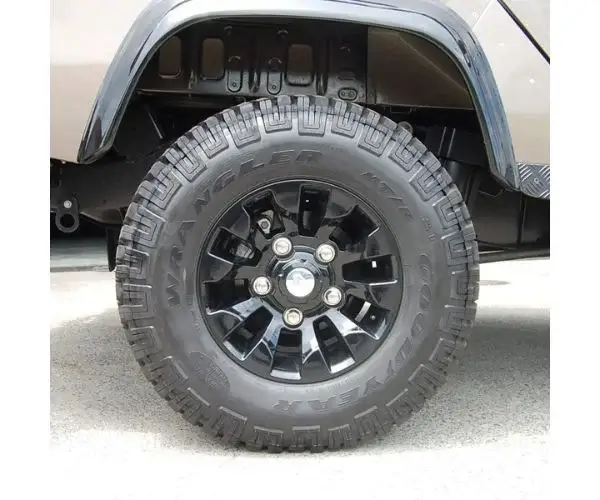 Goodyear wrangler MT/R with Kevlar All-Season Radial Tire – 33×12.50R20/10 114Q is by far the best off-road tire for rock crawling and the larger thanks to the super tough construction with Kevlar.
And from this, your tire will not easily get punctured even if you are driving over very large rocks.
It includes very large tread blocks which deliver excellent traction, along with this it works well over any off-road surfaces, and it is even usable on the road. But this tire suffers a little bit in rainy and snowy conditions.
Features:
Easy to use and install
Perfect for sharp, and rocky terrain
High-speed stability
Highly resistant
Great traction
Good high-speed stability
Puncture resistance and super tough
Also Check: 10 Best Quick Release Steering Wheel Hub
#5. BFGOODRICH Mud Terrain T/A KM3 All-Season Radial Tire
BFGOODRICH Mud Terrain T/A KM3 All-Season Radial Tire-32×10.00R15NHS/8PR Q 124Q 8-ply is one the most amazing products that is present in the market for rock crawling.
The large tread blocks and tough construction make this product very useful for driving over small and large rocks. This tire will deliver amazing traction on other off-road surfaces.
On the highway or street, the KM3 performs amazingly when it comes to braking and handling, but it may be noisy on the highway which is not the big deal as every good quality tire makes the noise.
Features:
6-year standard limited
Made to mud-power through loose soil and mud with our terrain-attack tread design to provide  unbelievable grip from any approach angle.
Built to climb
Good quality
Perfect good on-road traction
Extremely strong and durable
Very good off-road abilities
#6. Dick Cepek Extreme Country All-Terrain Radial Tire
Dick Cepek Extreme Country All-Terrain Radial Tire – LT265/75R16 123Q is well-known inside the rock crawling community, and the thanks go to the excellent extreme country tire.
It delivers youtube decent traction over smaller and larger rocks. It includes tough carcasses that resist cuts, punctures and chipping extremely well. Largely thanks to the aggressive tread compound, the dick Cepek extreme country works perfectly on other off-road surfaces.
You can easily get impressed with the on-road braking and handling. But. the extreme country is uncomfortable and noisy on the highway.
Features:
Good handling on the street
Excellent traction over larger and smaller rocks
Made with Dick Cepek's exclusive rubber compound for increased tread life and off-road traction.
Affordable
Very durable and tough construction
Perfect traction over rocks
Good mud-terrain traction
It makes noise on the highway
FAQs About Best Tires For Rock Crawling
Q. Are wider tires better for rock crawling?
Yes, wider tires are much better for rock crawling because the narrow tires can cut easier as compared to wider tires.
Q. What type of tire tread is best for muddy off-road surfaces?
Deep tread tires are best for muddy off-road surfaces as they deliver more traction on unpaved surfaces such as loose dirt, gravel, and sand.
Q. What tires should I get for off-roading?
There are two types of tires that are all-terrain(A/T) and mud-terrain(M/T). Aluminium alloy wheels with more aggressive patterns.
Q. Are all-terrain tires harder to puncture?
Yes, all-terrain tires are harder to puncture and they deliver more durability and superior puncture resistance.
Conclusion
Tire manufacturers make a lot of products to fulfil the needs of customers. Experts suggest purchasing the best rock-crawling tires for a better experience. Sometimes cheap off-road tires may seem a good option but actually, they are not good.
These types of cheap tires may not last long and are more expensive as compared to best quality tires. Cheap tires may also easily get punctured so you should purchase good tires for rock crawling.
You have seen the best products that are picked after a lot of research so you can choose any of the products from them which is your favourite.