6 must-have Tesla model 3 accessories for 2022
The Tesla Model 3 is Tesla's first mass-market electric car. While Tesla cars are known for their high-tech features and great performance. But, as we all know, nothing is perfect. The Tesla Model 3 has some drawbacks that can be improved with a few accessories. These Tesla aftermarket accessories can help you maximize your Tesla experience.
In this article, we'll explore the best Tesla Model 3 accessories that you should consider investing in to make your Model 3 more useful and convenient. I describe these accessories as "must-haves" because I think they are important to the ownership experience, help with safety, or help maintain value over time.
Heavy Duty Floor Mats
Heavy duty floor mats are a must-have accessory for the Tesla Model 3. It is an important investment that not only makes cleaning your Tesla's floors easier but also helps you keep your Tesla in pristine condition. Made from high-quality materials, these mats provide floor protection from spills, dirt, and debris. They also keep your car clean and tidy. Tesla sells its own floor mats and I honestly prefer third-party aftermarket products because they are cheaper.
Center Console Organizer
This is also a product Tesla sells that many Tesla owners consider a "must have" and should have been standard on their cars from the beginning, but I don't understand why Tesla doesn't have one for owners. the original front console of the Model 3 is so deep that it's hard to reach small items. This center console organizer provides a nicely coordinated slide-out tray for the console that keeps smaller items organized while leaving extra storage space for larger items and is very easy to use.
Center Console Cupholders
The center console of the Tesla Model 3 doesn't hold all sizes of water cups, or it's always a nightmare to clean inside them after spilling some coffee or something else. And this Cup Holder Insert makes it much easier. It is made of TPE and can hold water bottles, cans, and regular cups steadily while you are driving. It also effectively eliminates the unusual sound of water cups shaking.
 Jack Pad
Continue to protect your Tesla. The Jack Pad is very popular among Tesla owners because it is a necessary accessory for any Tesla owner to purchase. It protects you from damage when jacking up your vehicle. Without the adapter, you could damage your car's battery while lifting the vehicle. This is a unique feature of Tesla.
Screen Protector
Tesla's creative use of a 15″ touch screen replaces the dashboard. You will interact with it every time you drive the car. The touch screen becomes one of the most important and used components in the Tesla Model 3. If you want to protect the screen from smudges, contaminants, and scratches, then purchasing a screen protector is the best option that will help your car maintain its value.
Center Console Wrap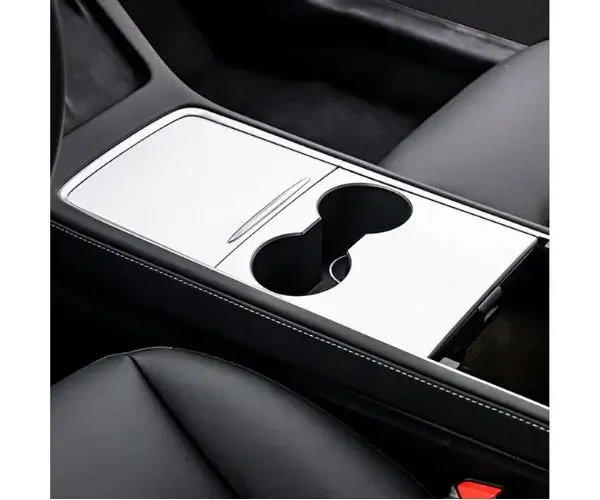 Tesla offers Piano Black for the Model 3's center console, which looks gorgeous, but can show fingerprints and smudges like crazy and is very susceptible to scratches. The center console wrap is one of the most popular accessories for the model 3 community because of the combination of practicality and definable colors making it one of the most popular accessories for the model 3 community. Console wraps come in a variety of colors and finishes and in addition to being able to give you a personalized enough look, they also offer better resale value because the vinyl wrap doesn't leave any residue behind, allowing you to take it off whenever you want.