2022 BMW i4 Electric Specs, Price, MPG & Key Features
Electrified vehicles are nothing new for BMW and the 2022 BMW i4 sedan will further strengthen the brand's lineup of electric vehicles (EVs). The BMW i4 is a low-slung four-door that takes inspiration from the BMW 4-series Gran Coupe and is based on the Bavarian automaker's most recognised model, the 3-series. It competes with vehicles such as the Tesla Model 3 and the Polestar 2, amongst other vehicles. The eDrive40 model is equipped with a single electric motor that is located in the back and is capable of producing 335 horsepower, while the M50 model adds a motor to the front and is capable of producing 536 total horses. The all-wheel-drive version of the i4 has a range of 245 miles, while the variant with rear-wheel drive has an estimated range of roughly 300 miles. Both versions contain a battery pack with an energy capacity of 80.7 kWh.
2022 BMW i4 Specs
MSRP: $56395
Seating Capacity: 5-passenger
Engine: synchronous AC, 308, 295 lb-ft hp
Horsepower: 536 hp
Torque: 586 lb-ft
Length: 188.5 in
Width: 72.9 in
Height: 57.0 in
Wheelbase: 112.4 in
Engine & Performance
Depending on the configuration, the 2022 i4 supplies electrons to either one or two electric motors at the same time. The eDrive40 has a single motor mounted on the back axle, and this motor is capable of producing 335 horsepower. The M50 is equipped with an electric motor on each axle, which, when combined, offer all-wheel drive and generate a total of 536 horsepower and 586 pound-feet of torque. The rear-drive M3 Competition took 3.4 seconds to reach 60 miles per hour, while the M50 reached that speed in 3.3 seconds. Wheels measuring 18 inches come standard on the rear-wheel drive i4, while wheels measuring 19 inches may be ordered as an option. On the other hand, the all-wheel-drive M50 comes standard with either 19s or 20s, as well as adjustable dampers and a steering system with changeable ratios. Even though it weighs quite a little more than an M3, the i4 M50's lower centre of gravity helps it move with assurance and elegance, which is made possible by the fact that it delivers rapid and powerful propulsion.
Charging & Range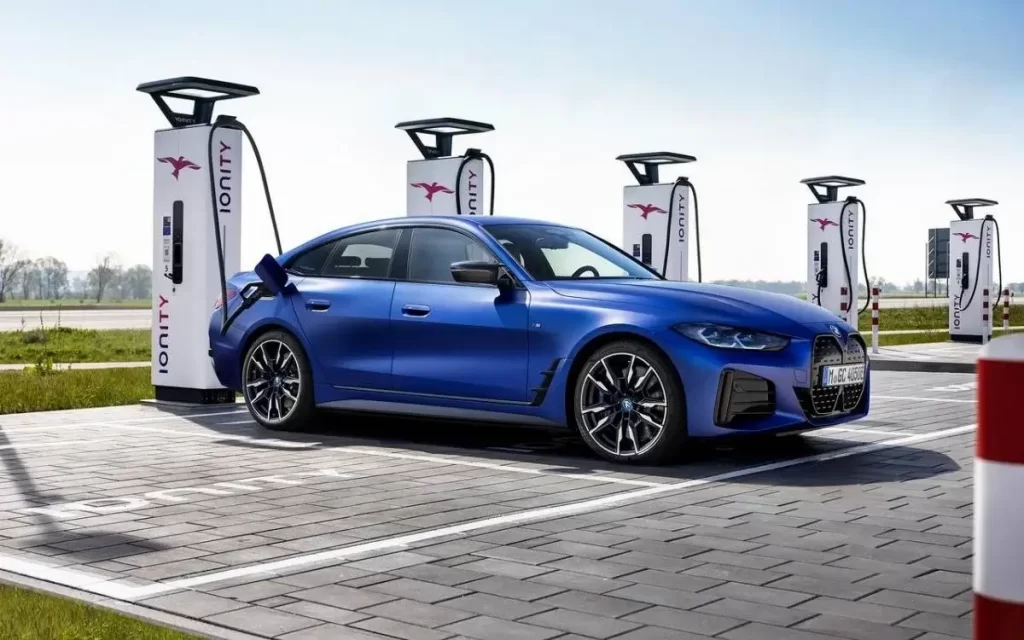 BMW says that the single-motor, rear-wheel-drive i4 eDrive40 can go about 300 miles on a full battery. The all-wheel-drive, dual-motor M50 has the same 80.7-kWh battery, but its maximum range is said to be 245 miles. The i4 is also said to have a 200-kilowatt charging capacity that can add between 88 and 108 miles of range in just 10 minutes. With the i4's onboard Level 2 (up to 11 kW) charger, the battery can be charged from 0% to 100% in less than 8 hours.
Interior & Comfort
Inside, the i4 has a luxurious cabin with rose gold accents, white leather upholstery, and light wood accents. The layout is similar to that of other BMWs, but the i4 and the all-electric iX SUV are the first to have a huge, seamless display that takes up almost two-thirds of the dashboard. The four-door i4 has a dramatic rear roofline that makes it look like a coupe, but in the back, it has a traditional trunk.
Infotainment and Connectivity
The i4 is one of the first BMWs to have the company's latest infotainment system and connectivity features. It is called iDrive 8 and is controlled by a 14.9-inch touchscreen that is combined with a 12.3-inch digital instrument panel on a huge, curved display on the dashboard. The system has a rotary controller on the centre console as well as many popular features and advanced voice commands. Apple CarPlay, Android Auto, and a Wi-Fi hotspot are some of these.
2022 BMW i4 Safety and Driver Assistance Features
The 2022 i4 has a variety of driver-assistance features that come standard and can be added on as well. Key features are:
Standard forward-collision warning and automated emergency braking
Standard lane-departure warning and lane-keeping assist
Available adaptive cruise control with stop-and-go technology