2022 Jeep Grand Cherokee L Review, Specs, Price & Features
As an actual adventure vehicle, the 2022 Jeep Grand Cherokee L has proven off-road capabilities, remarkable on-road comfort, and a three-row interior that can fit the whole family inside. When it comes to on-road comfort and convenience, the midsize SUV is hard to beat. Still, higher-end models also come with more advanced 4×4 systems, including three different Jeep 4WD setups.
The third row of the Grand Cherokee L allows it to accommodate up to seven people, making it a more luxury option than the standard model. While it's a good deal, there are a lot of equally good midsize three-row SUVs on the market in the US, including the Kia Sorento, GMC Acadia, and Mazda CX-9.
While Jeep has added several exciting new features for the 2019 model year, do these changes enhance the Grand Cherokee L's attractiveness as a family cruiser, or do they prove to be somewhat gimmicky?
2022 Grand Cherokee L Specs
MSRP: $ 43,520
Drive Train: Four-Wheel Drive
Engine: 3.6 L Regular Unleaded V-6
Horsepower: 290@6400
Torque: 257@4000
Transmission: 8-Speed Automatic Transmission
Fuel Mileage: 18 mpg in the city, 25 mpg on the highway, and 21 mpg combined
Length: 204.9 inches
Width: 77.9 inches
Height: 71.5 inches
Wheelbase: 121.7 inches
Must Check: 2022 Jeep Grand Cherokee Full Review: Pricing & Specs
In 2022, what's new for Grand Cherokee L?
A new rear-seat entertainment system with Amazon FireTV is now available on Limited and higher trims of the Grand Cherokee L for the 2022 model year. The 10.3-inch screen built into the dashboard in front of the front passenger is also available on those same models.
With the new Black look option, external chrome highlights have been replaced with gloss black paint, and black 20-inch wheels have been added to Limited vehicles. The Summit variant has a High Altitude option that includes 21-inch wheels. Ember, Hydro Blue, and Midnight Sky are among the new hues that have been added to the product line.
A 10.25-inch interactive display for the front passenger is offered as an option.
The Limited and Summit trims provide optional 10.1-inch rear-seat entertainment screens with Amazon Fire TV Black and High Altitude packages.
Several new trim-dependent paint hues, including Ember, Hydro Blue, and Midnight Sky, have been introduced.
The first version of the Grand Cherokee L was released in 2021.
Read Also:
The exterior of the 2022 Grand Cherokee L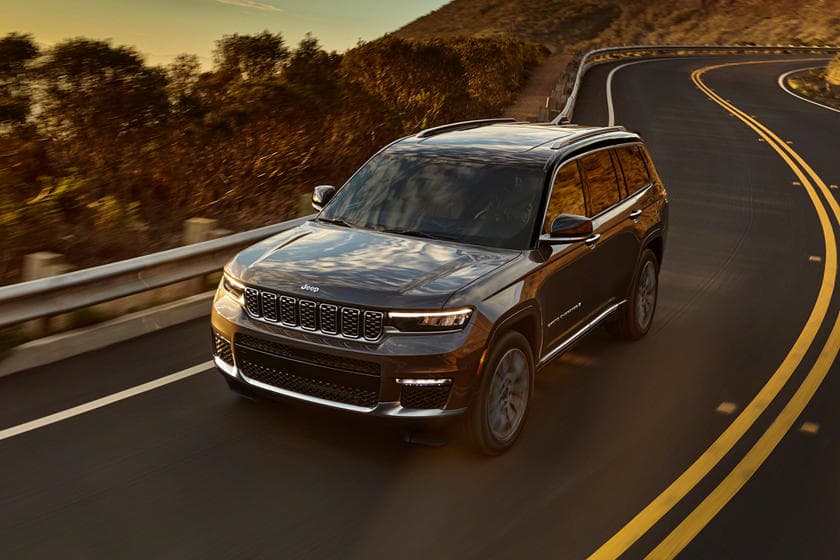 The new Jeep Grand Cherokee L is imposing, stylish, and up-to-date. Yet, it still manages to project an air of capability and adventurousness. The front lower fascia is molded into the body color in the entry-level trim, and the lower edge is trimmed in brilliant chrome. Slim LED headlamps accent the seven-slot grille of the Jeep Wrangler as standard equipment.
Overland and Summit models have distinct grille designs that include chrome surfaces for a more luxurious look. On all models, roof rails come in various finishes, including black, gloss black, and fine silver. The Overland and Summit come standard with a dual-pane panoramic sunroof. Upper-trim Laredos and Limiteds have 20-inch alloy wheels instead of the 18-inch wheels that come standard on the Laredo and Limited.
The aerodynamic efficiency of a new contoured exterior with a tapering roof may be maximized without losing the interior room.
The front end has been updated, but it still has a Grand Cherokee feel about it.
With a full range of quality LED lighting options available, the image is complete.
Roofs with black paint are available.
Numerous choices are available for wheels.
Also Check: 2022 Toyota Tundra Crewmax: Powerful in Every Task
Engine and Transmission for the 2022 Grand Cherokee L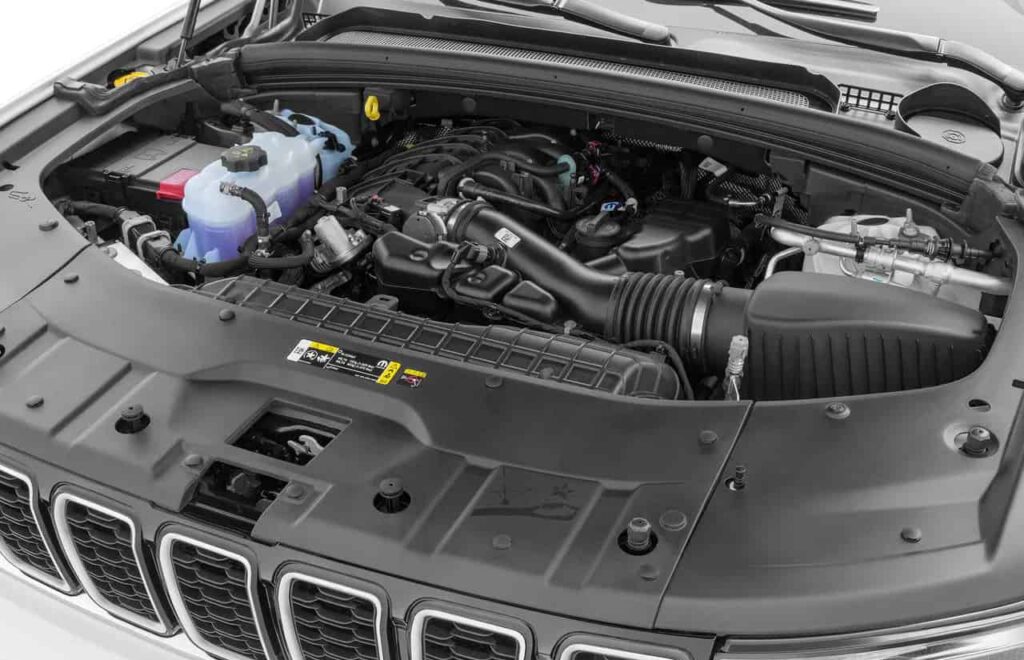 Jeep's basic Grand Cherokee SUV's engines are offered in the Grand Cherokee L for 2022. The base engine is a 3.6-liter naturally aspirated 6-cylinder producing 290 horsepower and 260 pound-feet of torque through the automatic transmission. A 357-horsepower, 390-pound-foot torque 5.7-liter V8 engine is available as an option. Both have an 8-speed automatic gearbox as standard. However, the V8 engine requires an all-wheel drivetrain as a condition of purchase.
The Grand Cherokee L SUV's two engines provide excellent performance, with enough power for city driving and off-road excursions. There are still a few V8-powered midsize SUVs out there; most manufacturers have switched to turbocharged four- and six-cylinder engines, which may be slow compared to the V8's mighty grunt throaty noise. On the other hand, the eight-speed automatic gearbox is the star here, providing lightning-fast shifts with both engines.
Which Jeep Grand Cherokee L will cost in 2022?
The 2019 Jeep Grand Cherokee L's Laredo pricing is $38,890. The Altitude is the next level up, which costs $43,445, and the Limited, which costs $45,210. Prices for the Overland start at $54,805, while the Summit and Summit Reserve begin at $58,865 and $64,865, respectively. For an additional $2,000, cars without 4×4 may be equipped with this powertrain. The V8 engine, of course, will raise the price of specific 4×4 variants. On the Overland 4×4, for example, this engine upgrade will cost $3,295
In addition to the $1,795 Jeep destination charge, these prices do not include taxes, fees, or registration costs.
Also Check: 2022 Honda Civic Hatchback, Features, Performance, and Interior
2022 Grand Cherokee L Review
Last year, Jeep debuted an offshoot version of their Grand Cherokee SUV, the Grand Cherokee L. The L Grand Cherokee is longer than the standard model to accommodate the third row of seats. It's in the same league as the Kia Telluride, Honda Pilot, and Volkswagen Atlas for midsize SUVs. Rows in a Grand Cherokee are limited to three.
The third row of the 2022 Jeep Grand Cherokee L may move 7 inches forward to accommodate passengers in the third row, making it a six- or seven-seater. You should have no problem convincing people up to 6 feet tall to make their way to the vehicle's rear, which is relatively spacious by midsize SUV standards.
Additionally, a V8 engine provides towing solid capacity and above-average off-road performance. However, a few drawbacks keep it from being the best in its class.
Gas mileage for a 2022 Jeep Grand Cherokee L
These engines are most renowned for their power and dependability, but not their fuel efficiency. The most cost-effective options are the V6 engine and 2WD combination with 19/26/21 mpg city/highway/combined mpg. The V8 engine and 4WD system combine to provide 14/22/17 mpg on the road. With the 4WD system and the V6, the mpg statistics rise to 18/25/21.
The V6-equipped Grand Cherokee L has a 23-gallon petrol tank, which means it can drive 483 miles on a single gas tank. The V8 can only go 391 miles with the same quantity of gasoline.
Interior of a 2022 Jeep Grand Cherokee L
Thanks to its more significant dimensions and expanded wheelbase, the Grand Cherokee L has plenty of space for all seven passengers. There is a manual fold feature for the third row of seats in the base versions, but the second-row bucket seats tilt and slide in the entry-level vehicles. Among the higher-end versions, the second-row seats may be folded electronically through remote control, and the third-row bench seat can be power-folded in half. Ingress and egress are OK. However, the Cherokee L is a tall car, so smaller individuals may have difficulty getting in and out.
Also Check: 2022 Toyota Corolla Cross: An affordable mid-size SUV
The trunk and cargo area of the 2022 Grand Cherokee L
Family road excursions will be a breeze thanks to 17.2 cubic feet of storage space in the back of the vehicle. When all three rows of the Grand Cherokee L's seats are occupied, there isn't much space left over for goods. However, when the third row is pulled down, the area expands to 46.9 cubic feet. That's a lot more space than the standard Grand Cherokee provides behind the second row of seats (36.3 cu.-ft.). It's possible to get an additional 84.6 cubic feet of cargo space by folding down the second-row chairs.
With a full-length front-row floor console and two huge lighted cup holders, in-cabin storage options are numerous. A front storage bin that can hold two wireless devices is available—a floor console with two huge lighted cup holders on higher-level customizations for the second-row seats. There are two small-item storage layers in the middle armrest.
Features of the 2022 Grand Cherokee L's entertainment and information system
The Grand Cherokee's dashboard is topped with a 10.1-inch touchscreen that includes Apple CarPlay, Android Auto, and SiriusXM satellite radio as standard features. Apple CarPlay and Android Auto wireless connections are available on higher-end versions, with in-dash navigation with real-time traffic and weather updates.
Suppose you want a more powerful sound system. You may go for a nine-speaker Alpine audio system or a 19-speaker McIntosh configuration. It's an option to add a 10.3-inch display for the front passenger, identical to what you get on the bigger Wagoneers. Additionally, a pair of 10.1-inch screens are available as optional rear-seat entertainment displays with Amazon FireTV and Wi-Fi access located on the backs of the front seats.
Also Check: 2022 Toyota Tundra Hybrid: All Details That You Must Know
Changes to the Jeep Grand Cherokee L for 2022: How does it change from the 2021 model?
In 2022, Jeep's Grand Cherokee L SUV will have only a few additional choices for buyers to pick from. It's now possible to have a 10.25-inch touchscreen integrated into the dashboard on the front passenger's side of the vehicle. Dual 10.1-inch touchscreens for the backseat passengers are also available with the same models as an entertainment system. It has Amazon Fire TV pre-installed as standard.
The Limited Black and Summit High Altitude aesthetic options are now available to appropriately personalize your Cherokee L. Finally; Jeep has added Ember, Hydro Blue, and Midnight Sky to available exterior colors.
Frequently Asked Questions
Is the Grand Cherokee L a pleasant vehicle to drive?
The Grand Cherokee L excels when it comes to comfort. Its broad wheelbase and available air suspension provide a comfortable ride that cushions occupants from road imperfections. It doesn't feel floating or lose its composure when doing this. Additionally, the leather seats of our Summit test car were outstanding, with an optional massaging feature in the front row and pleasant comfort in the second and third rows.
Despite its size, this vehicle is unable to block road noise from entering the interior as well as it does with bumps on the road. We noted more wind noise than expected during highway driving, and the V6 engine was noisy and sounded unpleasant.
What is the driving experience like in the Grand Cherokee L?
Grand Cherokee L was tested using the 3.6-liter V6 engine standard on the L model (Jeep offers its muscular 5.7-liter V8 engine in top trims). The V6 is a good engine in its own right, but it frequently seems overworked in a car this large. It took 8.6 seconds for our test car to reach 60mph from a standstill at Edmunds' test track, which is below average for its class. Further concerns are the brake pedal's light, sloppy steering, and lack of sensation. The automatic transmission's seamless changes through all eight ratios add to a relaxing driving experience.
It's a Jeep, so of course. The Grand Cherokee is a three-row SUV only 17 feet long, but it makes the most of its offer. Slushy conditions may be improved with a four-wheel-drive system. Suppose you want to go farther into the woods than most other seven-passenger SUVs. In that case, this is the vehicle for you.
Which Grand Cherokee L 2022 models have the most advanced technology?
When we tested the McIntosh surround sound system in our test car, we were disappointed, particularly given the system's high price. Uconnect 5, the newest in Stellantis's line of infotainment systems, is offered on the Grand Cherokee L. It includes sharp visuals and a built-in navigation system that delivers clear step-by-step directions. Due to its upward tilt, the screen is vulnerable to reflecting glare from the sun's rays.
However, our test car lost a call while using CarPlay, and the system terminated two times without notice. Only in automobiles with the same technology does it happen so often. Advances in driver assistance technology are a plus for the Grand Cherokee L. For example, this massive SUV's adaptive cruise control and lane-keeping system are both excellent, and they maintain it in the right lane.
Conclusion
A three-row cabin and genuine off-road capabilities won the 2022 Jeep Grand Cherokee L Editors' Choice award, making it an adventure vehicle with accommodation for the entire family. Jeep's available capability-enhancing technologies include a limited-slip rear differential, an adjustable air suspension, and three different Quadra-Drive all-wheel-drive systems.
Many displays and driver aid systems are standard in the Grand Cherokee L, emphasizing technology as an essential factor in the vehicle's design. Even the most basic models have a well-fitted and comfy interior. Still, the more expensive ones give a complete luxury experience and a hefty price tag. There is a two-row version of the ordinary Grand Cherokee available if you don't require the third row; we have a separate assessment of this vehicle for those who do.