2022 Volkswagen ID.4 Specs, MSRP, Charging Time & Features
The standard version of Volkswagen's first electric vehicle even has its single electric motor situated in the back; however, all-wheel drive is available, and choosing it places a second motor in the front. Driving range is adequate at up to 280 miles per charge, and thanks to DC fast-charging, the battery can be swiftly recharged at public charging stations. When cruising, the cabin of the ID.4 is peaceful and calm. The nearly totally digital dashboard of the ID.4 provides the inside a high-tech look, but it takes some getting used to, especially the infotainment system, which has peculiarities that may annoy some users.
2022 Volkswagen ID.4 Specs
MSRP: $42525
Seating Capacity: 5-passenger
Horsepower: 201 hp
Torque: 229 lb-ft
Transmission: 1-speed direct-drive
Fuel Mileage: 190 miles
Length: 180.5 in
Width: 72.9 in
Height: 65.1 in
Wheelbase: 108.7 in
Also Check: 10 New Electric Cars With The Best Range
Motor & Performance
The ID.4 produces 201 horsepower with a single rear-mounted motor, while the dual-motor, all-wheel-drive variant produces 295. The towing capability is 2700 pounds. Even in the ID.4's most aggressive regeneration mode, regenerative braking helps recuperate energy while slowing the car, but the comfortable one-pedal driving that EV owners have grown to cherish is mostly absent here. It also lacks the usual gut-punch acceleration that electric cars are known for. The rear-wheel-drive ID.4 isn't sluggish by compact-crossover standards, but its 7.6-second sprint to 60 mph in testing shows it's significantly more relaxed than faster EV rivals. Choosing the more powerful all-wheel-drive variant improves the ID.4's acceleration, as proven by its 5.4-second sprint to 60 mph on the test course.
Range & Battery Life
For the time being, the EPA estimates that the ID.4's 77.0-kWh battery pack can power the SUV for up to 280 miles between charges, putting it in competition with other electric SUVs such as the Hyundai Kona Electric and the Kia Niro EV. Unfortunately for VW, this is less than the EPA-estimated range of 330 miles for the Tesla Model Y. Of course, the battery can be charged at home using 110- or 240-volt connectors, but it is also capable of DC fast-charging.
Interior & Comfort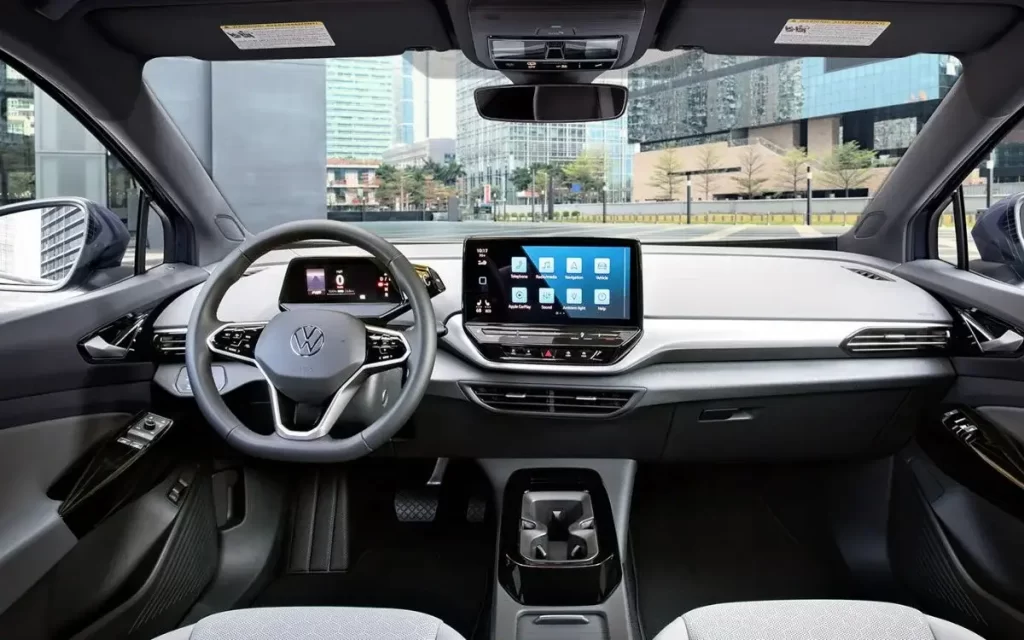 While the inside of the ID.4 is less spectacular than that of the ID. Crozz Concept, which had a retractable steering wheel and sliding rear doors, it nevertheless delivers a modern design with high-tech amenities, ambient lighting, and ample luggage capacity. The inside is simple and lively; fabric seats with heat for front passengers are standard, but the Pro S variant adds faux-leather upholstery as well as 12-way electrically adjustable front seats with memory capabilities. The cargo area of the ID.4 is fairly large.
Also Check: Best Electric Cars in and Around $30k
Infotainment and Connectivity
The ID.4 comes equipped with a 10.0-inch touchscreen infotainment display, which can be upgraded to a bigger 12.0-inch display. The software is specific to the ID.4, and the interface is more complicated than in other gasoline-powered Volkswagens. Both screens provide navigation, as well as wireless versions of Apple CarPlay and Android Auto. All ID.4 versions have a 5.3-inch reconfigurable digital gauge display and speech recognition.
Safety Features
The electric Volkswagen comes with a variety of driver aid features, both as standard equipment and as optional extras. Key features are:
Standard automated emergency braking with pedestrian detection
Standard lane-departure warning with lane-keeping assist
Standard adaptive cruise control