Is it worth buying a 2023 Jeep Grand Cherokee; have a look here
About the Engine and Performance
The Jeep Grand Cherokee 2023 has two rows of seating and is a midsize SUV. It's more luxurious Grand Wagoneer sibling inspired the styling of the Grand Cherokee for the 2022 model year. Jeep's latest Uconnect 5 infotainment system has been incorporated into the interior, as have an optional supplemental display for the front passenger and a new digital gauge cluster display.
It was with the optional V8 engine that we tested the Grand Cherokee, which comes with an obvious advantage of more horsepower. As part of our testing, the V8 Grand Cherokee covered 0-60mph in under 6.5 seconds.
The two extra cylinders in the engine and the smooth and quick transmission make this car the fastest in its class. You can stop from 60mph in as little as 115 feet if the brakes do their job, and our test jeep stopped in record time. Our test jeep's steering is also light and accurate. However, the Grand Cherokee's handling of curves is less impressive.
The highlighted part of the car is the comfort
Even on lengthy excursions, the front seats are extremely comfortable, and both the front and rear outboard seats may be heated and ventilated. The optional air suspension provides a plush ride that smooths out imperfections in the road without seeming floaty.
The available four-zone climate control was installed in our Grand Cherokee. It does a nice job of keeping a predetermined temperature, but even with the fans set to maximum speed, it didn't blow as much air as we expected. The Grand Cherokee fell short in one area: highway road-noise, which was a little too much for an upscale SUV.
Also Check: 2023 Toyota Sequoia: All You Need To Know
Even though it doesn't have the largest cabin in the class, the Grand Cherokee has plenty of room. The reclining second-row has enough room for people up to 6 feet tall. Unfortunately, the Grand Cherokee rides somewhat high, so you'll need to take a significant step up to get in. Because of the Grand Cherokee's massive front pillars and side-view mirrors, we noticed poor forward sight in several situations. Get the available surround-view camera system to help you park with less guesswork.
Design and Interior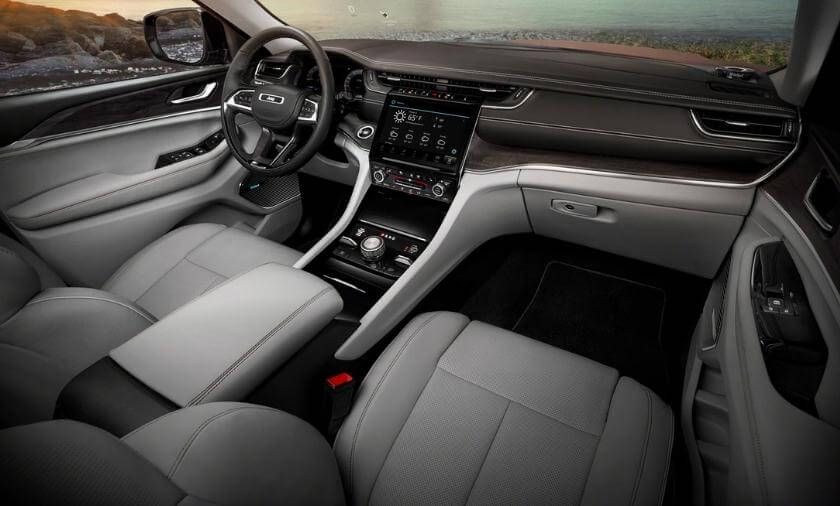 The majority of the controls are simple to operate, however, some of the dials are small and other buttons are at odd angles. In addition, the labels for some of the touch-sensitive controls can be entirely obscured by certain angles of sunlight.
Jeep's Uconnect 5 infotainment system is standard on the Grand Cherokee. It includes sharp graphics and an integrated navigation system that gives you step-by-step directions. However, we did observe that the screen's upward orientation can catch glare from direct sunlight on occasion. The 19-speaker McIntosh surround-sound system in our test vehicle provided rich, distortion-free sound.
Smartphone integration is included, as well as an absurd number of USB connections (we counted 12 total in our loaded test car). The Grand Cherokee's package of modern driver aids is particularly impressive in terms of its scope and functionality. For example, adaptive cruise control brakes and accelerates gently, and the lane-keeping system performs admirably without making too many abrupt modifications.
Also Check: 2023 Toyota 4Runner: What You Must Know
The Grand Cherokee achieves an EPA-estimated 22 mpg combined with 4WD and the V6 engine, which is above average for a midsize SUV. The Grand Cherokee is also available with a plug-in hybrid drivetrain. However, our test vehicle arrived with a V8 engine, which is what we'll be scoring this section on. The Grand Cherokee achieves 17 mpg combined with the V8 and 4WD, according to the EPA. Our test vehicle got 17 mpg on our highway-biased standardised evaluation route, which means we won't get much more than that in real-world driving. So put some money aside for fuel.
The Grand Cherokee carries Jeep's brand cachet that many have come to covet, whether it's the imposing exterior design, the available V8 engine, or its excellent towing and off-road capabilities. It may not be the ideal midsize SUV, but it does have a few flaws in terms of design.