Top 8 Cars with The Best Suspension in 2022
It's possible that the suspension of a car isn't the first item that comes to mind when you're shopping for your new vehicle. Still, it plays a significant role in how a vehicle drives on the road. Automobiles with a suspension setup that is more firm will have a sportier feel because they will have a faster steering reaction and tighter control of the vehicle's body movement when it is being maneuvered through curves.
Cars with softer springs, on the other hand, have a tendency to be more comfortable on rough roads or uneven surfaces. Still, they may not be as pleasant to drive on winding roads due to their lack of responsiveness. Cars may be modified to have a greater-than-normal amount of suspension travel, which refers to the vertical distance that the wheel is permitted to move. This makes automobiles ideal for use in off-road environments.
Although the specifics of cars with the best suspension may grow highly detailed and involved, in its most basic form, automobiles can either have mechanical or air suspension springs. They also have adaptive suspension, which allows electronics to regulate how firm the setup is and how high the automobile rides above the ground.
Below, we have compiled a list of eight examples of cars with the best suspension 2022 setup at various price points and fit all sorts of driving tastes. These cars range from comfortable city cars to upscale highway cruisers and high-riding SUVs.
8 Luxury Cars with the Best Suspension System
Must Check: Top 10 New Cars With CVT Transmission
#1. Lincoln Aviator
Price: $52,975
Engine: 3.0 L Twin Turbo Premium Unleaded V-6
Transmission: 10-Speed Automatic Transmission
Fuel Mileage: 18 MPG in the city & 26 MPG on the highway
The pothole detecting technology that comes standard on the aviator is one of a kind. It consists of a front-facing camera that is able to scan the road profile up to 50 meters in front of the vehicle and identify the existence of potholes. The detecting system is equipped with a group of twelve sensors that gather data at a pace of nearly one reading for every two milliseconds. This data includes things like the speed of the vehicle, body movement, steering angle, and immediate acceleration and braking inputs.
The cars with the best suspension system detect when a wheel is going to fall into an approaching pothole with the assistance of the information that has been gathered. It then modifies the damping rate in such a manner that the wheel is prevented from falling too deeply into the pothole.
Because the tires are prevented from falling, they are able to avoid colliding with the edge of the pothole where they would have otherwise emerged. The front suspension has the benefit of more info coming from the back suspension's response to a pothole, and as a result, the rear suspension is able to respond more quickly than the front suspension.
In normal situations, the continuously regulated damping system (CCD) delivers real-time data to its ECU. The ECU then calculates and sends signals that alter the suspension damping in milliseconds, which helps to decrease the impact that is caused by potholes.
Pros
A refined twin-turbo V-6 gas powerplant
a luxurious interior
a sleek external design are all a features of this vehicle
Cons
Efficiencies of hybrid powertrains might be improved
premium models come at a considerable cost
Also Check: Top 10 New Cars With V8 Engines
#2. Cadillac XTS
Price: $47,890
Engine: 3.6 L Turbocharged Gas V-6
Transmission: 6 Speed Automatic /Manual-Shift Transmission
Fuel Mileage: 16 MPG in the city & 23 MPG on the highway
The Cadillac XTS was the company's most prestigious full-size luxury car offering. GM claims that its MagneRide Active suspension is the world's quickest responsive suspension since it gathers sensor data every millisecond and makes adjustments to the damping system every five milliseconds.
The front suspension was an upgraded version of the MacPherson design known as the HiPer Strut. This design offers improved cars with the best suspension system, impact isolation, more intuitive steering, and decreased torque steer in comparison to the standard MacPherson design.
The rear suspension was equipped with GM's AirRide air suspension airbags, which resulted in a smooth and comfortable ride for the passenger. The combination of the MagneRide shock absorbers and the AirRide suspension created a combination that was genuinely unparalleled in terms of its suppleness and its speed of responsiveness.
Pros
A more reasonable price point than its rivals
a powerful V-Sport variant
a luxurious interior
Cons
Uninspiring to drive
rivals provide better rear-seat room
no basic driver-assistance equipment is included in this automobile
#3. Mercedes Benz S-Class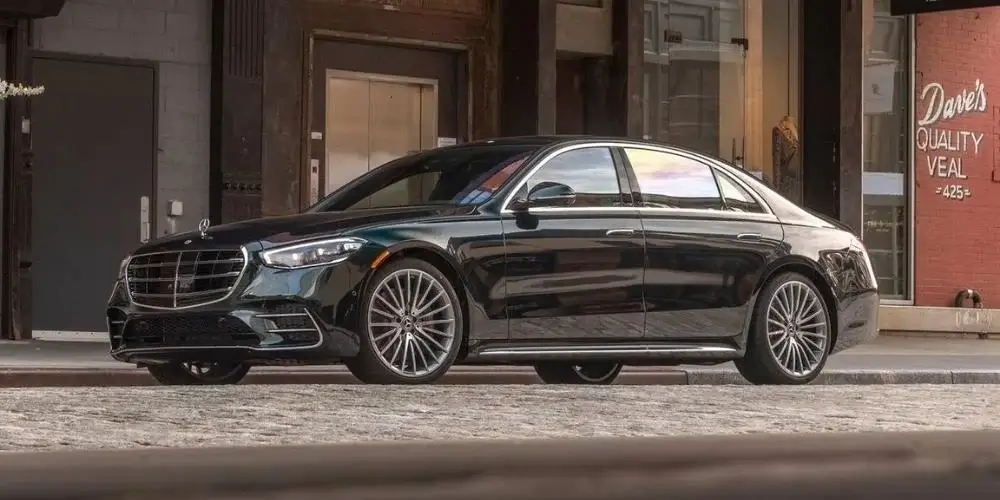 Price: $112,150
Engine: 3.0 L Intercooled Turbo Gas/Electric I-6
Transmission: 9-Speed Automatic Transmission
Fuel Mileage: 21 MPG in the city & 30 MPG on the highway
The ride quality of an S-Class vehicle is already famous for its smoothness. The "Magic Body Control (MBC)" is one of the most cutting-edge active ride control technologies that Mercedes has developed in recent years. The 'Stereo' Multipurpose Camera is the most cutting-edge component of the MBC system. This camera continuously analyzes the road in front of the vehicle for its profile and any flaws. Before the vehicle ever comes into contact with the undulations on the road, the Mercedes-Benz MBC technology guarantees that the suspension has been "Pre-Adjusted" in the most effective manner possible for the maximum comfort setting.
Over the course of its existence, the MBC has undergone a number of iterations, each of which has resulted in an upgrade of the system's scanning capabilities. The 'CURVE' function, which "Tilts" the body when cornering in order to resist the Centrifugal forces and separate the passengers more effectively, was a recent addition to the vehicle's repertoire of safety features.
Pros
It is as technologically advanced as a start-up in Silicon Valley
as opulent as a suite in a royal castle
as maneuverable as much more compact vehicles
Cons
Digital gauges compromise workmanship
adaptive cruise doesn't perform as effectively as it should
it doesn't seem as majestic
Also Check: Top 10 Best Luxury Sport Sedans Under $30k
#4. Land Rover Defender
Price: $50,050
Engine: 3.0 L Intercooled Turbo Gas/Electric I-6
Transmission: 8-Speed Automatic Transmission
Fuel Mileage: 17 MPG in the city & 22 MPG on the highway
Although the most recent iteration of the Land Rover Defender is available with a choice of either ordinary or air suspension for the shorter wheelbase 90 models, air suspension is the default for the longer 110 variants. And this is a startling discovery. It contributes to making this enormous and heavy off-roader seems nimble and composed on the road while retaining a degree of ride comfort that is among cars with the best suspension that its immediate competitors, like the Jeep Wrangler or the Toyota Land Cruiser, can provide.
Because the height of the air suspension may be adjusted, vehicles that are already equipped with air suspension come with an additional party trick that can be used while driving off-road. In an emergency, it can even lift itself by an additional 70 millimeters on its own. Because of this, it has a significant level of ground clearance, which enables it to traverse difficult terrain.
Pros
Extremely competent off-road
surprisingly refined on-road
a spacious and well-appointed cabin
Cons
The six-cylinder engine isn't as speedy as we'd anticipated
it comes at a steep cost in terms of features and fuel efficiency
#5. Volkswagen Golf
Price: $45,185
Engine: 2.0 L Intercooled Turbo Premium Unleaded I-4
Transmission: 7-Speed Auto-Shift Manual Transmission
Fuel Mileage: 23 MPG in the city & 30 MPG on the highway
A component of this is the availability of a feature called "Dynamic Chassis Control" (DCC). This provides the driver with the ability to choose their preferred driving mode from among Eco, Comfort, Sport, and Individual. Each of these modes has adaptive suspension, which is a suspension that can be adjusted to fit a certain driving style better.
As a result, DCC-equipped Golfs' adaptable shock absorbers may be used by owners of the vehicle to either make it more sporty-oriented or more supple for a more pleasant ride.
Pros
engine with a refined turbocharger
handling that is pleasant
a body style that is a hatchback
Cons
It's expensive to get started
It has clumsy capacitive touch controls
Also Check: Top 10 Best New Cars With Boss Speakers
#6. Chevrolet Impala
Price: $28,895
Engine: 3.6 L Gas/Ethanol V-6
Transmission: 6-Speed Automatic Transmission
Fuel Mileage: 19 MPG in the city & 28 MPG on the highway
The Chevrolet Impala is the biggest sedan produced by Chevrolet and is sometimes thought to be a rental fleet car. This may be true, but even if it is, the Chevrolet Impala still offers a ton of awesome features that makes it among cars with the best suspension 2022. A few of the many noteworthy characteristics include up to 305 horsepower, amazing MyLink capabilities, respectable fuel efficiency, and the availability of modern driver assistance systems.
It seems like you're driving a sofa when you're behind the wheel of an Impala, particularly in the Premier trim level. Once again, the Impala is not exhibiting any particularly strange behavior. You guessed it: it has multi-link rear suspension and MacPherson front struts. The chassis is constructed using MacPherson front struts. We assume the fact that they have been making this type for more than 50 years gives them a bit of a head start when it comes to getting it correctly.
Pros
Huge cabin and trunk space
silky-smooth ride
user-friendly entertainment system
Cons
The interior design is dated
the safety features are tepid at best
#7. Acura MDX
Price: $49,195
Engine: 3.5 L Premium Unleaded V-6
Transmission: 10-Speed Automatic Transmission
Fuel Mileage: 19 MPG in the city & 25 MPG on the highway
This three-row SUV has the performance, comfort, and handling of a high-end sedan. It also has more space inside. In my opinion, the Acura MDX is a top pick, and you need to feel the same way about it. The inside is upholstered in leather, it boasts one of the most impressive all-wheel drive (AWD) systems now available, and it includes other features that are typical of luxury automobiles.
In addition, its suspension is superior to any other vehicle in its class. You have the option of choosing between two different suspension systems: the base Acura MDX models come equipped with amplitude-reactive dampers, while the Acura MDX models that come with the Advance Package or the Sport Hybrid SH-AWD model have an Active Damper System that completely dominates the road. It has earned a position on our list of the most comfortable automobile suspensions, and we are certain that you are going to like driving with it.
Pros
Stunning good looks
a chassis that's surprisingly agile
an interior that's packed with technology
Cons
The third-row seats are small
the fuel efficiency isn't great
the touchpad for the infotainment system is a pain
Also Check: Top New Cars With Built-in Car Seats
#8. Lexus UX
Price: $34,525
Engine: 2.0 L Premium Unleaded I-4
Transmission: 10-Speed Automatic Transmission
Fuel Mileage: 29 MPG in the city & 37 MPG on the highway
Because Lexus is Toyota's premium brand, the crossover vehicle Toyota C-HR and the Lexus UX really share quite a few of its mechanical components. Lexus is Toyota's luxury brand. However, in contrast to the C-HR, the UX is not designed to have a sporting character, which contributes to an increased degree of comfort.
The inside is plush and sophisticated, and the hybrid gas-electric powertrain is whisper-quiet and silky smooth. Therefore, the fact that it boasts a plush and smooth ride is completely consistent with the laid-back demeanor & cars with the best suspension 2022 that the vehicle exudes. When compared to a trip in a Volkswagen T-Roc or an Audi Q2, this one is unquestionably a lot more laid-back and relaxing. You have the ability to customize how it drives, thanks to the available adjustable suspension, which also makes it a versatile companion.
Pros
nimble driving
interior environments worthy of the Lexus brand
considerable amounts of standard equipment
Cons
Sluggish acceleration
absurdly little baggage space
sluggish hybrid engine
Frequently Asked Questions
What car brand has the best suspension?
Volkswagen Golf, Acura MDX, Chrysler 300, and others on the list are some of the cars with the best suspensions.
What suspension gives the smoothest ride?
When compared to traditional springs or struts, air suspension provides a variety of benefits that traditional suspensions do not. The first option is a more relaxing ride. In a shock absorber, only the air is compressible, whereas the hydraulic fluid cannot be compressed.
Which car has the best suspension comfort?
Mercedes S-Class, BMW 7-Series, and Rolls-Royce Phantom are luxury cars with the best suspension comfort.
What is the best car for bumpy roads?
Fiat Panda City Cross, Suzuki Ignis and Volvo S90 are the top three cars on bumpy roads.
Which front suspension is best?
Bilstein B8 5100 Series Shock Absorbers is the best front suspension.