2022 Kia Niro Hybrid Specs, Price, MPG & Features
The Kia Niro Plug-In Hybrid is a significant step forward for electric vehicles since it boasts a hybrid powertrain that can operate entirely on electricity (EV mode) when needed for short excursions around town. 105 combined MPGe** and its hybrid gas-electric HEV mode ensure you'll never be stranded with this vehicle's seamless power delivery. The Niro Plug-In Hybrid's dual charging choices of Level 1 (120V) and Level 2 (240V) make it simple to find a power source wherever you are. With the Niro Plug-In Hybrid, you'll not only save time at the petrol station, but you'll also be able to enjoy every mile. The 8-inch touch screen of the standard UVO link provides access to your favourite applications and media through the use of Apple CarPlayTM and Android AutoTM smartphone connections. The Kia Niro Plug-In Hybrid's aerodynamically designed shape cuts through the air to reduce drag and increase performance.
2022 KIA Niro Hybrid Specs
Starting at $29,590 MSRP
1.6L Gasoline Direct Injection (GDI) engine + electric motor (44.5 kW) Full Parallel Hybrid System with 139 combined horsepower
UVO link with Apple CarPlay™ & Android Auto™ and 8-inch touch display
Drive Mode Select System: Active Eco/Sport
Rear-Camera Display w/Dynamic Guidelines
Push-button start w/Smart Key
Also Check: 2022 Kia Sorento Hybrid Specs, Price, MPG & Features
Performance
The Kia Niro Plug-In Hybrid's advanced Full Parallel Hybrid System is a big reason why it is so efficient and has such a strong performance. The Niro Plug-In Hybrid has a hybrid-optimized Atkinson cycle engine and a very efficient electric motor. This gives it a 26-mile range on electricity alone and up to 46 combined MPG. Through a system called "regenerative braking," the vehicle uses the energy it gets from moving to charge the battery. The Niro Plug-In Hybrid is different from most hybrids because it has a dual-clutch automatic transmission (DCT) instead of a continuously variable transmission (CVT). This gives it a sporty feel that the competition doesn't have. Better yet, it can get a High-Occupancy Vehicle (HOV) decal and Federal and state tax rebates in some states.
Technology
Positioned between recessed gauges right in front of the driver is a Supervision Instrument Cluster with a 4.2-inch TFT LCD screen that makes it easy to view critical vehicle information such as speed, fuel level, and distance in a flash. Thanks to Kia's UVO connection system, you can control your Niro Plug-In Hybrid from your smartphone. Utilize tools such as Off-Peak Charge Scheduling and Find Charging Stations to optimise your savings by charging during off-peak power hours and to discover charging stations while on the move, respectively. You will be able to lock and unlock doors, start the engine, and set the cabin temperature with heated accessories or air conditioning before you ever reach your vehicle.
KIA Niro Hybrid Charging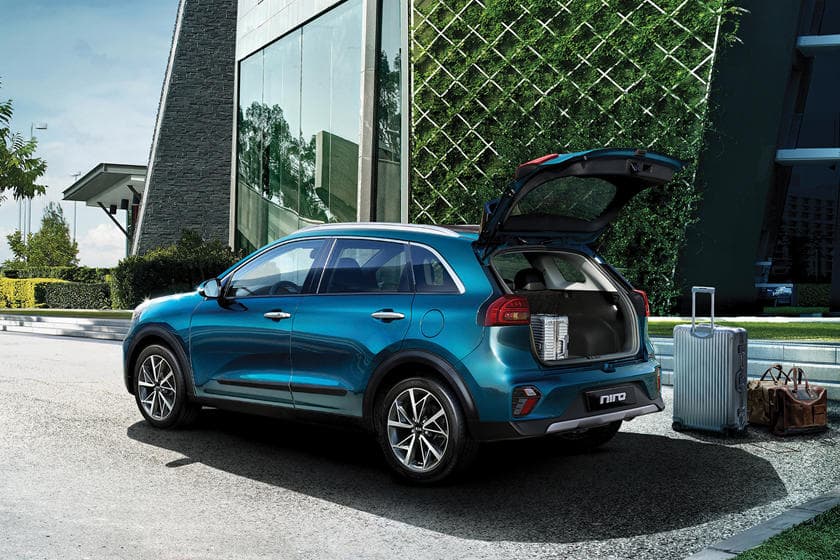 The Niro Plug-In Hybrid provides drivers with a wide variety of choices on how to charge their vehicles. When connected to a 240V power outlet, its high-capacity battery system can be recharged in less than two and a half hours, and when connected to a typical domestic electrical outlet, it can be recharged in less than nine hours, making overnight charging more practical. To find the charging station that is located closest to you, you may even utilise the optional Voice-Command Navigation System, which gives directions that are step-by-step in nature.
Also Check: 2022 Kia Soul Specs, Price, MPG & Features
Interior
The inside of the Kia Niro Plug-In Hybrid is jam-packed with meticulously developed comfort and convenience facilities, making it the ideal companion to the outstanding outward appearance of the vehicle. A rear seat that folds down in a 60/40 split gives you total control over how your belongings are stored, and it was designed to help you make the most of the available space in your vehicle.
You'll be able to discover the ideal seating position with the help of an optional 10-Way Power Driver's Seat, and the Integrated Memory Seat (IMS) technology will allow you to maintain it that way. The Niro Plug-In Hybrid comes equipped with user-friendly standard features such as an automatic dimming rear-view mirror and dual-zone climate control. The inside is given a more unique feel thanks to the bright contrast stitching that can be seen on the optional leather seats.