2022 Volvo XC40 Specs, Price, MPG & Features
The XC40 is unlike any other compact luxury SUV on the market. It's a little crossover, but it packs a lot of utility for a vehicle of this size and price point. Safety and economy are hallmarks of Volvos, and this model is no exception. The XC40 now comes in an all-electric version.
The Volvo XC40 stands out from the crowd of similar-looking SUVs. Only the XC60, its larger sister, could be mistaken for a similar vehicle on the road. It has a stoic but refined appearance. Although it is the smallest and most cheap SUV from Volvo, the automaker provided it with a high-quality cabin and many cutting-edge driver assistance features.
For subcompact luxury SUVs, Volvo XC40 is the best. It's a standout because of its unusual design and functionality for a tiny SUV. As expected from a Volvo, the car has excellent safety ratings, including the IIHS Top Safety Pick+ designation and a large amount of legroom.
New for the year 2022?
There aren't many updates for Volvo's smallest SUV in 2022. The XC40 no longer comes standard with a strength liftgate, front fog lights, or rear child locks. Wireless smartphone charging is available on the mid-range R-Design and expensive Inscription versions. However, purchasers may also choose a power liftgate as a separate option on all variants.
The all-electric Volvo XC40 Recharge gets a significant overhaul for the 2022 Volvo XC40, with minimal tweaks to the combustion engine lineup. The XC40 Recharge now has a leg up on the competition in this rapidly expanding segment because of its additional 15 miles of driving range. The XC40 can go 223 miles on a single charge instead of 208 miles. No changes have been made to the 2022 XC40 model line to keep it as the category leader in the compact luxury SUV market.
Also Check: 2022 Mazda MX-30 EV Sparks Interest, Comes Up Short
2022 Volvo XC40 Specs
MSRP: $36,195
Seating Capacity: five Seater
Drive Train: Front-Wheel Drive
Engine: 2.0 L Intercooled Turbo Regular Unleaded I-4
Horsepower: 187@4700
Torque: 221@1400
Transmission: 8-Speed Automatic Transmission
Fuel Mileage: 23 mpg in the city, 32 mpg on the highway, and 26 mpg combined
Length: 174.2 inches
Width: 73.7 inches
Height: 65.3 inches
Wheelbase: 106.4 inches
Mechanics, Engine, and Transmission
184 or 248 hp are available from a turbo 2.0-liter four-cylinder found under the hoods of each XC40. Our Momentum test car accelerated to 60 mph in a respectable 6.2 seconds thanks to the more potent T5, which is only available with all-wheel drive. The eight-speed automatic gearbox makes quick work of shifting gears and does it with minimal disruption to the rider's comfort. When pushed hard, the engine's gruff sound is the one thing that bothers us. In normal driving conditions, the powertrain is relatively quiet and well-integrated. The XC40 has a towing capability of 3500 pounds, which is unusual among subcompact luxury crossovers.
The XC40 Recharge has two electric motors instead of a turbocharged four-cylinder engine. The XC40's three powertrains are offered. In addition to the base T4 engine, the XC40 may be outfitted with a T5 engine for an extra $2,000.
The T4 powerplant comes standard with front-wheel drive, while the T5 powertrain offers an all-wheel-drive for an additional $2,000. Standard on the XC40 is all-wheel drive. The 78-kWh lithium-ion rechargeable battery in the XC40 Recharge allows it to drive 223 miles on a single charge.
According to the EPA, the T4 front-wheel-drive variant is rated at 23 mpg in the city and 32 mpg on the highway. Though it has class-competitive fuel economy figures from the EPA, the XC40 T5's performance in our 75-mph on the highway fuel-economy test was average for the category, at 29 mpg. The Mercedes-Benz GLB250 outperformed the Volvo XC40 in our fuel-economy tests, with 32 mpg.
Also Check: 2022 Acura Integra Specs, Prices, MPG & Features
Interior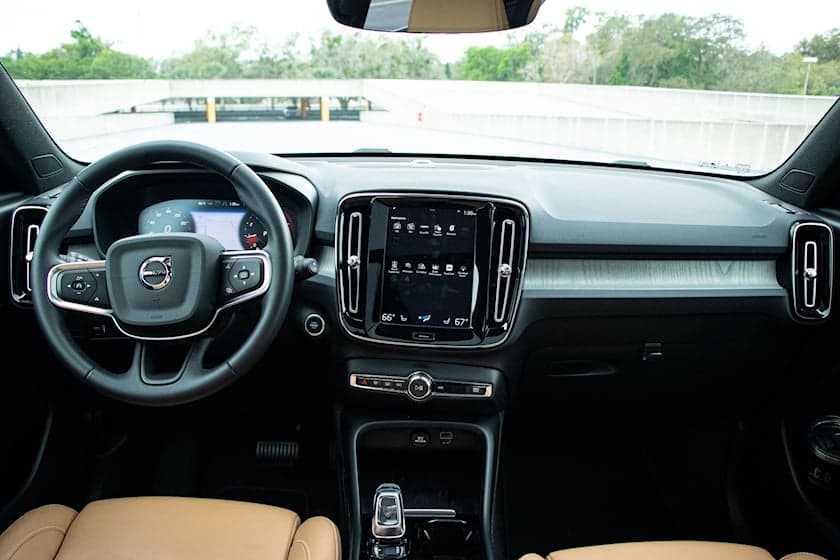 One of the best interiors in its class can be found in the Volvo XC40. The materials used are of the highest quality, and the design is premium. High-quality leather seats with driftwood inlays and an Orrefors glass gear shift knob are included in the Inscription trim. If you want a more abundant inside, the Audi Q3 has it, but it's up to you to decide.
A small premium SUV like the Volvo XC40 has a surprisingly substantial seating capacity. It's big enough to fit four people comfortably. Compared to its competitors, the compartment is a bit smaller. Consider the Volvo XC60 if you're looking for a little more room.
Exterior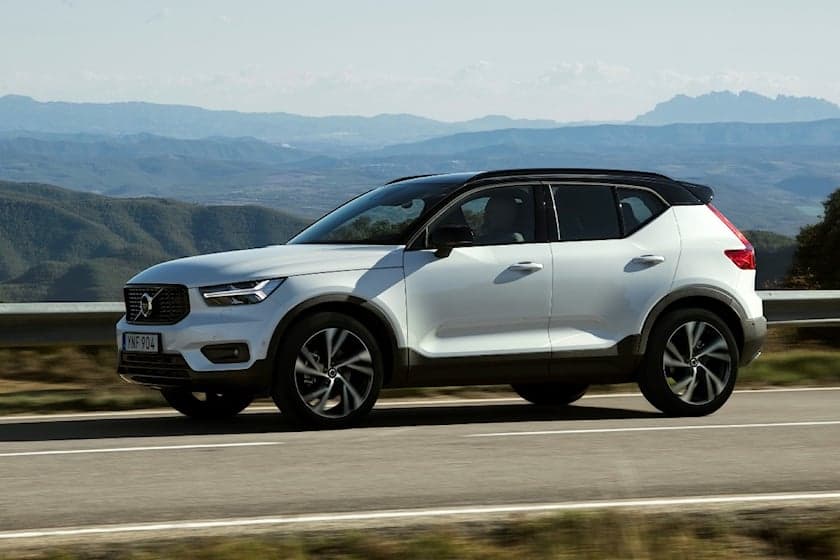 The Volvo XC40's design has us swooning. It debuted in 2019 with a clean and futuristic style that has held up nicely over time. Choosing a different trim alters the appearance somewhat. Compared to the Inscription trim, the R-Design trim offers a sportier appearance.
The Volvo XC40 of 2022 is surprisingly tiny, even for a compact luxury SUV. Mercedes-Benz GLA-Class is comparable in size to the BMW X1 and Audi Q3, whereas the Lexus UX is shorter than the BMW X1 and Audi Q3.
Also Check: 2022 Nissan Leaf Specs, Price, MPG & Features
Convenience and Transport
Inside the XC40, you'll find a blend of modern Swedish style and a practical sense of humor. Even in the entry-level Momentum trim, the spacious inside has an aura of refinement. There is plenty of room for passengers in both the front & the backseats. In the same vein as its more costly siblings, the XC40 is functional, well-built, and elegantly designed—if not quite as comfortable and opulent as its more expensive siblings.
Volvo designers added a textured metallic trim instead of wood inlays plus rectilinear vents featuring floating chrome adjusters to the cabins of the R-Design and Momentum models. The driftwood finish and the Orrefors crystal shift knob on the top-of-the-line Inscription variants give these vehicles a more upscale appeal.
The XC40, despite its tiny stature, is capable of comfortably seating up to 5 passengers. The XC40 has a maximum load capacity of 20.7 cubic feet behind the second-row seats. The Volvo XC40 can accommodate up to 47.2 cubic feet of material carried when the rear seats are folded down. The XC40 Recharge conserves valuable cargo space with clever packing.
Including its rear seats folded, the XC40 fit 23 carry-on baggage in our luggage test. Additionally, the XC40's interior has a slew of innovative cargo-storage options from Volvo, including a glovebox hook for securing takeaway bags, a cargo-area divider, and a center console waste bin removed through a hinged door.
Connectivity and Information Technology (IT)
Volvo's Sensus Connect entertainment system is displayed brilliantly on a 9.0-inch screen in the middle of the XC40's dashboard.
Even though this screen controls almost everything in the cabin, there are still just a few extraneous buttons to press. The main menus are easy to navigate. However, submenus include little touchscreen icons that make them difficult to utilize when on the move. Upon first boot, the machine was noticeably sluggish.
It comes equipped with a nine-inch screen, Apple CarPlay & Android Auto, a 12.3-inch electronic gauge cluster, an eight-speaker sound system, HD Radio, satellite radio, and three USB ports in the XC40s interior.
The GPS and a wireless phone charger are included in the Momentum trim's $2,400 Premium trim level. R-Design, Inscription, and XC40 Recharge all have these features as standard. Add-on Harman Kardon sound system is $800 more
Also Check: 2022 Polestar 2 Gets New Colors and Wheels, Modified Interior
Features that ensure the user's safety
A comprehensive set of basic safety measures is included as standard equipment on the Volvo XC40. Back cross-traffic alert and automatic high beam assist are all featured. Also included are front collision warning and automated emergency braking, lane departure warning, and lane-keeping assistance.
With the $1,450 Advanced Package, Volvo's Pilot Assist technology and adaptive cruise control may be added to R-Design and Inscription models. The XC40 Recharge comes equipped with these characteristics.
The National Highway Traffic Safety Administration (NHTSA) has given the Volvo XC40 a five-star overall safety certification for 2022. Top Safety Pick+ SUVs were awarded to both the XC40 and the XC40 Recharge models.
2022 Volvo XC40 Trim Levels
-XC40 Momentum Variant MSRP From $35,195
Standard features on the Volvo XC40 include a slew of high-tech gadgets. The SUV's interior features are heated front seats, an eight-way power-adjustable driver's seat, and leather upholstery. Aluminum roof rails, 18-inch alloy wheels, and power-folding external mirrors are just the outer amenities you'll find on this vehicle.
The back seats and steering wheel are heated as part of the Climate package, which costs an additional $750. The $2,400 Premium option adds features like dual-zone automatic temperature control, LED fog lights, energy rear head restraints, and a power-adjustable front passenger seat.
-XC40 R-Design Variant MSRP From $40,445
Trim-level R-Design has a more sporty appearance. This vehicle stands out from the crowd with 19-inch rims, gloss black external trim, an R-Design grill, sports suspension, and a black roof. Dual-zone temperature control, Nubuck leather, a panoramic roof, and a power-adjustable back seat are all included as standard equipment. In addition to the $750 Climate package, the R-Design may be had with the same options as the lesser trims.
-XC40 Inscription Variant MSRP From $40,445
The sporty R-Design trim has a distinct appearance from the high-end Inscription trim. There are unique 18-inch aluminum wheels, a crystal speed selector, and leather upholstery inside this vehicle. With Inscription, Volvo provides a $750 Climate Package.
-XC40 Recharge Plus Variant MSRP From $56,395
The Recharge Plus trim includes all of the Script trim's list of amenities as standard but adds 19-inch wheels, a laminated panoramic sunroof, a sport steering wheel, a sport pedal, and a wireless charging pad.
There are four different headlamp cleaning systems included in the Climate package: one for the front and back, one for the steering wheel, and one for the heat pump itself.
-XC40 Recharge Ultimate Variant MSRP From $59,245
The ultimate XC40 rechargeable, a heated steering wheel, the Recharge Ultimate, is included in a heat pump and headlamp cleaning system. It also comes with 20-inch alloys and a Harman Kardon sound system.
Frequently Asked Questions
In what ways does the Volvo XC40 drive?
Overall, the XC40 has an elegant feel about it. While the 0-60 mph pace of 6.8 seconds isn't exhilarating, the turbocharged four-cylinder engine sounds and feels lively (we tested the XC40 T5). When you need to downshift, the gearbox responds quickly. Even the engine stop-start function is very inconspicuous in comparison to other vehicles. Off-roading isn't something we anticipate many owners to do.
Even with the sportier R-Design trim, the ride is surprisingly pleasant. Small humps may be readily absorbed. Larger bumps and undulations, on the other hand, might cause discomfort. Although the chairs are solid and supportive, not everyone can fit comfortably. You may find the headrests to be too far forwardly inclined.
For the Volvo XC40's 2022 model, what's the inside like?
Touchscreen controls are used for most functions. The system's labyrinth of menus and sluggish reactions never fail to annoy users with this design style. Another issue is that tall drivers may not be able to find a comfortable sitting posture owing to the lack of steering wheel flexibility and the headrest design in this vehicle.
Is the Volvo XC40 a good fuel-saver?
Though it has class-competitive fuel economy figures from the EPA, the XC40 T5's performance in our 75-mph highway fuel-economy test was average for the category, at 29 mpg.
Conclusion
Luxury subcompact SUVs like the Volvo XC40 are hard to come by. It boasts a luxurious interior and is well-equipped with technology and security. By class standards, the interior is spacious, and the powertrains are powerful. On the other hand, the infotainment system may be clumsy and frustrating to operate.
As a well-rounded and well-equipped compact luxury crossover, the Volvo XC40 is worth a test drive. Several competitors, on the other hand, may say the same thing. There is greater capacity for baggage and a more user-friendly infotainment system in the BMW X1. However, the Jaguar E-Pace is a more enjoyable vehicle to drive than the Volvo XC40. Volvo's XC60 may be a good fit if you're willing to fork out a little extra money.