2022 Lucid Air Specs, Price, MPG & Key Features
With an EPA-estimated all-electric range of up to 520 miles and up to 1111 horsepower, the 2022 Lucid Air wants to be more than just a copy of the Tesla. The first model from Lucid Motors, a new company, has a shape that is both aerodynamic and stylish. It has a glass canopy over its large, high-end cabin, which should help it live up to its atmospheric name. The Air is also a good mix of practicality and technology, with a lot of storage space and plenty of driver aids. Even though Lucid Air sounds more like a '80s cover band than a luxury sedan, the Tesla Model S sounded like an obscure electrical invention from the 1800s when it came out, so only time will tell how high the 2022 Air goes.
2022 Lucid Air Specs
MSRP: $77,400
Seating Capacity: 5-passenger
Range: 406 to 516 mi battery-only
Horsepower: 480 to 804 hp
Fuel Mileage: 126 mpg in the city, 125 mpg on the highway
Torque: 738 lb-ft
Length: 195.9 inches
Width: 76.34 inches
Height: 55.51 inches
Wheelbase: 116.5 inches
Also Check: 2022 Aston Martin DBS Specs, Price, Top Speed & Features
Power and Performance
The basic Air has one electric motor that drives the back wheels and makes 480 horsepower. The rest of the lineup has two electric motors that work together to give all-wheel drive and a variety of horsepower ratings. The Touring model has 620 horsepower, while the Grand Touring model has 1050 horsepower. The first limited-edition cars, called the Dream Edition and the Dream Edition Performance, had 933 horsepower and 1111 horsepower, respectively. Lucid says that the fastest Air can finish a quarter-mile at 144 mph in 9.9 seconds, which is crazy fast even for high-performance cars. At the test track, the Dream Edition Performance model sped up to 60 mph in just 2.6 seconds and flew through the quarter-mile at 142 mph in 10.1 seconds.
Charging and Battery Life
The EPA says that the Air has the longest range of any electric car on the market right now. The Dream Edition Range model should go about 520 miles on a single charge, while the Dream Edition Performance model should go about 471 miles. The base Pure model and the mid-level Touring model both have a range of about 406 miles. The Grand Touring model has a range of up to 516 miles. The Air has a 112 kWh battery pack and the ability to charge quickly with DC. It is said that the sedan can get 300 miles of range back in 20 minutes if it is plugged into a fast charger. Also, for three years, fast charging at Electrify America charging stations will be free for new owners. There is no limit to how many times owners can charge their cars, as long as they are not used for business.
Interior & Comfort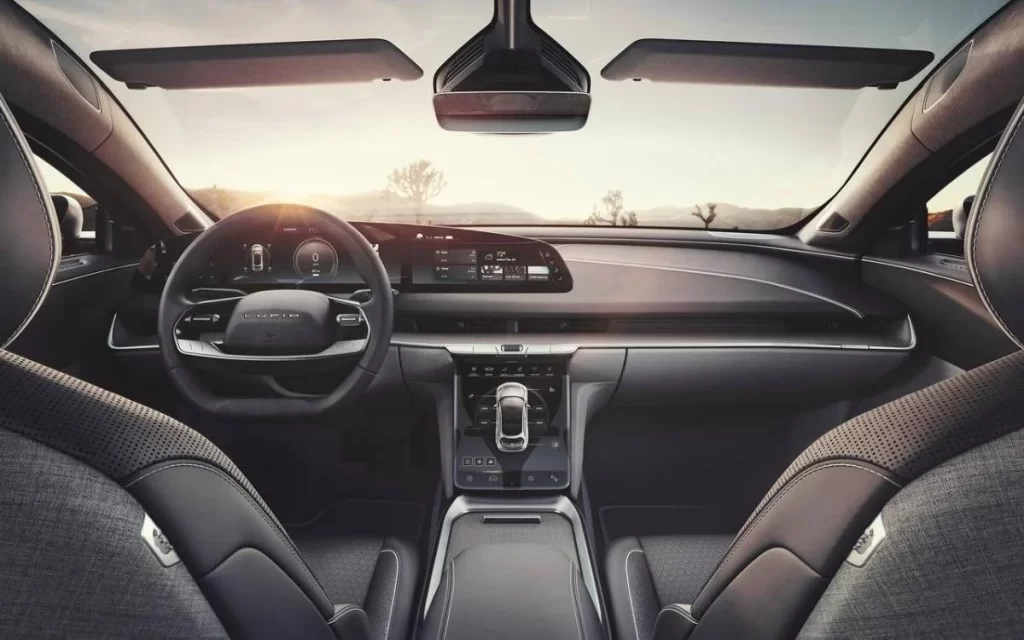 Make no mistake: the Air is a luxury vehicle, and its elegant cabin is outfitted with opulent materials and cutting-edge technology. The sedan's spacious passenger capacity, accentuated by a big rear seat, is very important to Lucid. While the basic rear seats is considered to be suitable for up to three people, an optional Executive Rear Seating option adds a reclining feature for further comfort. The glass canopy of the Air makes it seem even more spacious and improves visibility. The front centre console of the car seems to provide plenty of storage space beneath the retractable lower touchscreen and within the huge centre-console bin, which holds a pair of cupholders as well as smartphone slots. 
Also Check: 2022 Volkswagen ID.4 Specs, MSRP, Charging Time & Features
Infotainment and Connectivity
The Air is supplied with a sophisticated entertainment system that includes a huge higher touchscreen that flows out of the completely digital gauge cluster and a tablet-like lower touchscreen that handles other tasks and can be retracted into the dashboard. According to Lucid, the system's voice-recognition algorithms would react to normal speech patterns. The interface also has an assistant that learns the user's favourite music and temperature settings. In addition to basic physical controls on the steering wheel, there are toggles for temperature and fan speed, as well as a roller to alter the volume of the audio system.
2022 Lucid Air Safety Features
The Air is available with a variety of driver-assistance technologies, and the business is focusing on Level 3 self-driving capabilities. The latter will not be accessible at first, but it is projected to be available within three years thanks to the magic of over-the-air upgrades. Key safety features are:
Available forward-collision warning and automated emergency braking
Available blind-spot monitoring and rear cross-traffic alert
Available adaptive cruise control with lane-keeping assist