2022 Toyota Avalon Specs, Prices, MPG & Features
The 2022 Toyota Avalon has a sturdy exterior, but it is very comfortable on the inside. The full-size Avalon, which is based on the mid-size Camry, comes with a V-6 or hybrid powertrain, front-wheel drive, and a large cabin that is comfortable all day.
It includes a full suite of driver-assistance functions as standard, as well as the majority of the infotainment capabilities that modern drivers want without being unduly confusing.
Toyota Avalon Performance
The Toyota Avalon has two engine options: one that runs only on gas and another that runs on a fuel-efficient hybrid system. The basic engine is a 3.5-liter V-6 with 301 horsepower and 267 lb-ft of torque. The front wheels are driven by an eight-speed automatic gearbox., the V-6 propels the Avalon from 0 to 60 mph in 6.0 seconds.
A 2.5-liter four-cylinder engine and two electric motors are standard in trim levels labeled hybrid. The engine produces 215 horsepower and is mated to a continuously variable automatic gearbox (CVT) that drives the front wheels. Many buyers of large automobiles, such as the Toyota Avalon, emphasize comfort, and the Avalon does not fail in this regard.
Read More: 2022 Toyota RAV4 Hybrid vs. 2022 Hyundai Tucson Hybrid
Fuel Economy
The EPA forecasts that the gas-only Avalon will get up to 22/32 mpg city/highway. It achieved 34 mpg in real-world fuel efficiency tests with both the V-6 and the four-cylinder with all-wheel drive. The Avalon hybrid gets up to 43/44 mpg according to the EPA.
2022 Toyota Avalon Interior & Comfort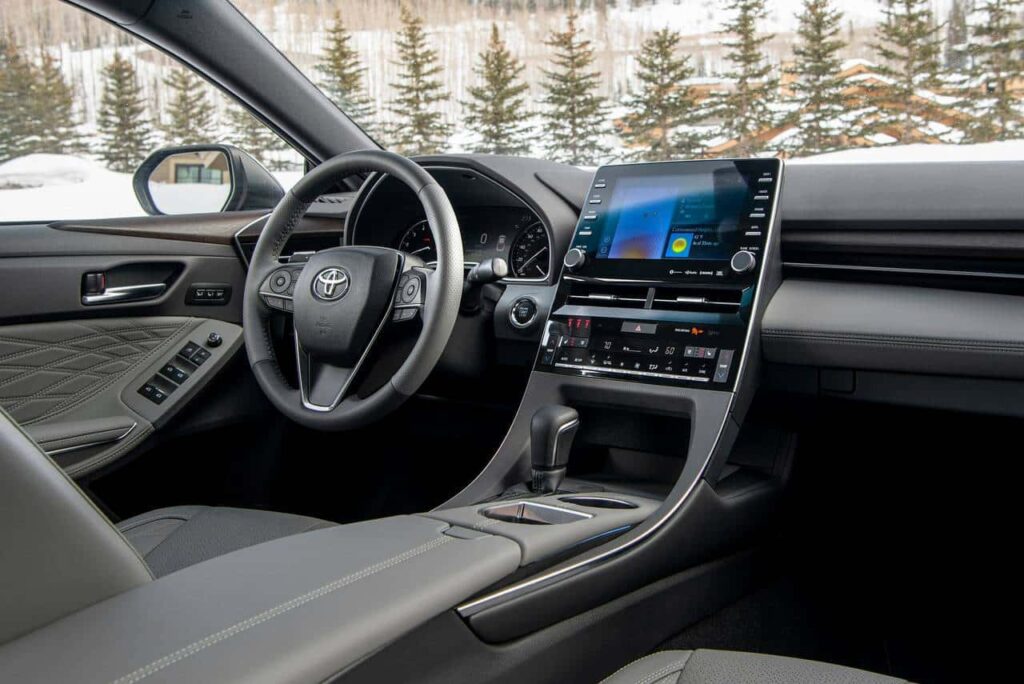 When it comes to the general appearance of the cabin, the new Avalon is a significant improvement over the prior iterations. The driver and front passenger are separated by a big waterfall-style center stack, which has attractive switchgear and an easy-to-reach touchscreen. The plastics are well grained throughout the cabin, and the back seat has plenty of room for tall people to extend their legs.
There's also a massive trunk with 16 cubic feet of load capacity. When towing bulky things, the standard folding rear seats with a 60/40 split may simply be expanded. The new lithium-ion battery, according to Toyota, is smaller and allows the Avalon to keep its whole trunk area.
Read More: 2022 Toyota Tacoma Specs, Prices, MPG & Features
2022 Toyota Avalon Infotainment
The XLE trim level of the Avalon has features including an eight-speaker sound system, Bluetooth connection, and Apple CarPlay and Android Auto integration.
Scout GPS Link navigation, a Wi-Fi hotspot, and Amazon Alexa compatibility are all included as standard.
A 14-speaker JBL sound system, an integrated navigation system, and wireless device charging are among the available options.
2022 Toyota Avalon Safety Features
The Avalon includes a comprehensive package of driver-assistance technology as standard, including adaptive cruise control and lane-keeping assist. Main features include: –
Automatic emergency braking with pedestrian recognition is standard.
Lane-departure warning system with a lane-keeping assist as standard.
Adaptive cruise control is standard.
Read More: 2022 Toyota Supra Review, Specs, Prices & Features
2022 Toyota Avalon Pricing
The 2022 Toyota Avalon comes in a total of six trims. The base variant XLE starts at a price of $37,400 and the top variant HYBRID LIMITED is priced at $44,675.
Pros
There are several modern safety measures that are standard.
Excellent riding quality.
Cabin is quiet and spacious.
Cons
Headroom is not that big.
Base variant price is quite high.