Top 10 Best New Electric Cars For 2023
As more and more people realize that electric vehicles are the way of the future, automobile manufacturers have been steadily increasing the number of EVs in their product lines. Everybody is working on electric cars, from well-established incumbent manufacturers to emerging brands such as Canoo, Byton, and Rivian. We have collected a list of every electric car, including concept and production models, that will be available in the near future.
Must Check: Top 8 Best New Cars With 0 Financing Right Now!
#1. 2023 Ford Mustang Mach-E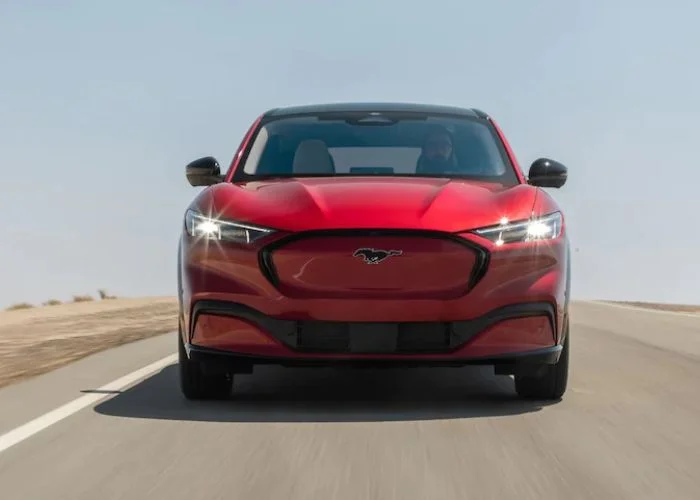 Price: $ 48,195
Engine: Electric
Transmission: 1-Speed Automatic Transmission
MPG: 110 MPG in the city & 96 MPG on the highway
Horsepower: 266
Torque: 317
Compact and electric, the 2023 Ford Mustang Mach-E SUV has impressive capabilities and a respectable driving range. In the absence of any rebates, incentives, free charging, destination fees, or other options, the base price is $46,895.
Per KBB, It has an elevated driving position compared to a standard automobile, and some models even have all-wheel drive. Although it looks like an SUV, its slanted roof makes it less practical. The 2023 Mustang Mach-E, or whatever it ends up being called, is a fantastic electric car.
The California Route 1 version's maximum range is 312 miles, which is comparable to that of the Tesla Model Y. That's how far you can go on a fully charged battery before giving up.
Ford also produces a few really sporty variations that use the readily available power, another advantage of electric vehicles. However, every configuration has positive aspects to the 2023 Mustang Mach-E.
#2. 2023 Chevrolet Bolt EV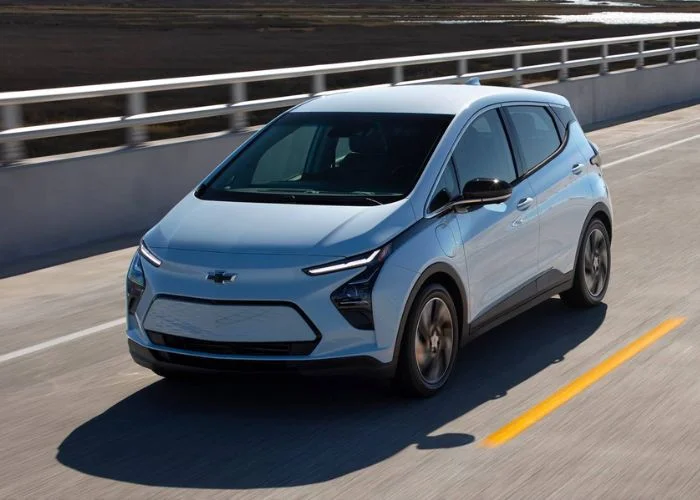 Price: $ 26,595
Engine: Electric
Transmission: 1-Speed Automatic Transmission
MPG: 131 MPG in the city & 109 MPG on the highway
Horsepower: 200
Torque: 266
The 2023 Chevrolet Bolt EV is a subcompact electric vehicle with a range of 259 miles. The base price has been reduced to $25,600 from $28,100.
The 2023 Bolt EV is competitively priced with used gas-powered vehicles, making it the nation's most affordable new electric vehicle. Chevrolet reduced the MSRP to make it the lowest of any major automaker. The lowest price for a new Nissan Leaf is $27,400.
However, there is a catch: the Leaf may still earn you a $7,500 federal tax credit. But if you can go 259 miles instead of 149 miles between charges, that could be money well spent.
Also Check:
#3. 2023 Tesla Model 3 Performance
Price: $ 48,440
Engine: Electric
Transmission: 1-Speed Automatic Transmission
MPG: 134 MPG in the city & 126 MPG on the highway
Horsepower: N/A
Torque: N/A
According to Edmunds, Tesla accomplished more than merely popularize electric automobiles; it made them appealing. Some, like the Model 3 Performance, even serve as emblems of social distinction.
The Model 3 Performance doesn't vary visually from the standard Model 3. Interiors are so similar that they are essentially indistinguishable, and exteriors are as nearly same, so they are difficult to tell apart. The sleek, high-tech appearance may be a little too pared down for the high price tag. However, any skeptics will be silenced with merely a single push of the pedal, since this vehicle is very quick.
#4. 2023 Genesis GV60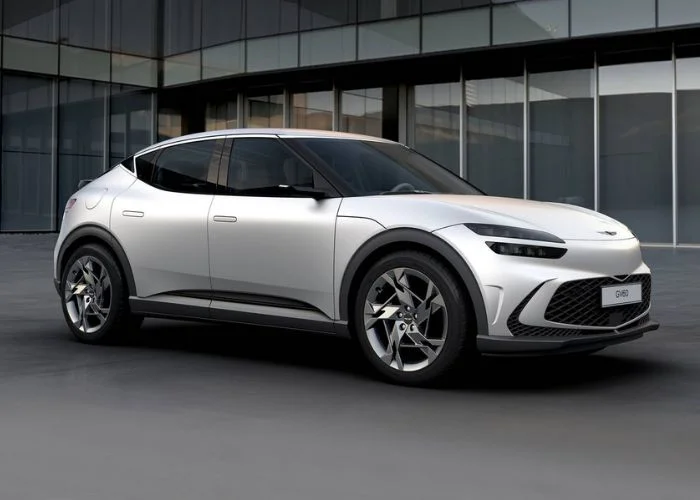 Price: $ 60,385
Engine: Electric
Transmission: 1-Speed Automatic Transmission
MPG: 103 MPG in the city & 86 MPG on the highway
Horsepower: 314
Torque: 446
Genesis, Hyundai's upscale division, will release the 2023 GV60. Numerous critics have noted that the brand's sedans and SUVs are on par with those produced by more well-known German luxury automakers. The moment has come to enter the market for electric vehicles, and the 2023 Genesis GV60 is a great example of what may be accomplished as a first attempt.
The GV60 is loaded with advanced features, strong performance, and plush interior. Genesis has released the first of what will be many electric cars that will force Tesla and co. to take attention. Easily one of the greatest EVs on the market, it has a sleek appearance, lightning-fast charging, and an unrivaled guarantee.
#5. 2023 Kia Niro EV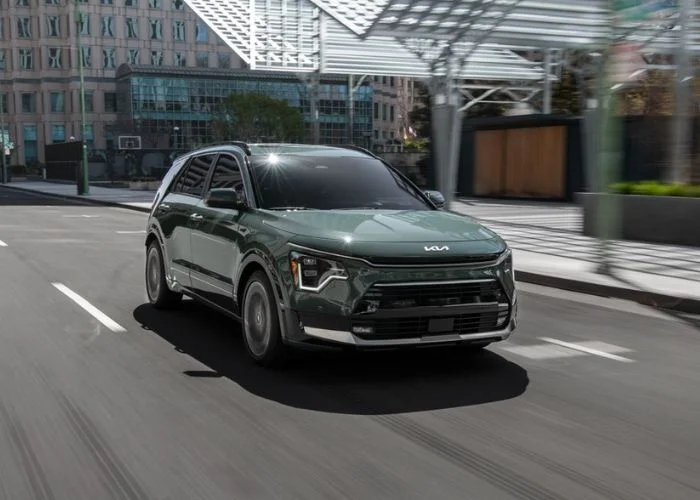 Price: $ 42,000
Engine: Electric
Transmission: 1-Speed Automatic Transmission
MPG: 123 MPG in the city & 102 MPG on the highway
Horsepower: 201
Torque: 291
The Niro EV is the most environmentally friendly of Kia's three Niro hatchback offerings. Similar to the Hyundai Kona Electric, this model benefits from a long range on a single charge thanks to its electric motor. It goes up against other popular electric vehicles like the Bolt from Chevrolet and the Leaf Plus from Nissan. A plethora of advanced safety features is standard on the Niro EV, as reported by Motor Trends.
You might also like: Top 10 Cheap Cars With Blind Spot Detection
#6. 2023 Audi A6 e-Tron
Price: $ 80,000
Engine: Electric
Transmission: 1-Speed Automatic Transmission
MPG: N/A
Horsepower: 402
Torque: N/A
While the Audi A6 e-tron is now just a concept, Audi claims that it closely resembles the final production version. It is based on the Premium Platform Electric (PPE), which can be stretched, raised, and broadened to accommodate various electric vehicle (EV) models. It will go on sale alongside the gas-powered A6, and it is expected to be the first Audi EV to use the PPE platform, which will form the basis for future Audi EVs. Two electric motors contribute to the A6 e-tron concept's total of 469 horsepower. This large automobile has the potential to go up to 400 miles on a single charge, and it, like other PPE vehicles, can be charged at voltages of up to 800 volts.
#7. 2023 Ford F150 Lightning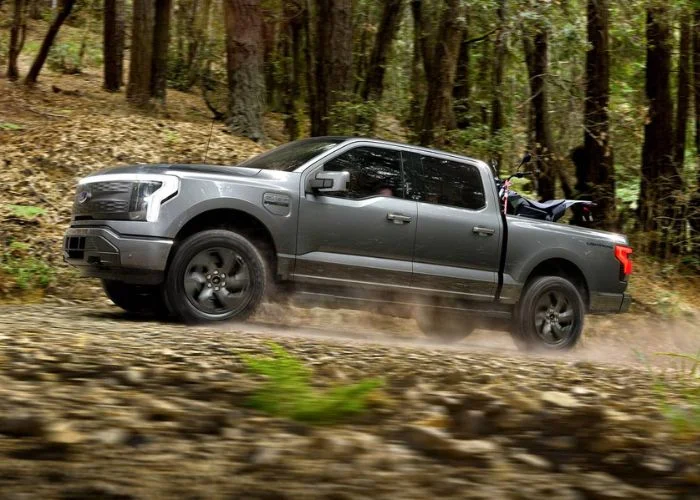 Price: $ 41,769
Engine: Electric
Transmission: 1-Speed Automatic Transmission
MPG: N/A
Horsepower: 426
Torque: 775
Ford's iconic full-size pickup truck, the F-150, is getting an electric makeover for 2023 with the introduction of the Lightning. Even though it has the amenities of a luxury cruiser, it has the strength to function as a work truck. Beginning at $46,974.
Since its introduction, the Ford F-150 has dominated the U.S. auto market. It's a full-size pickup truck that accomplishes all such vehicles are expected to do, and then more. The 2023 F-150 Lightning is similar to previous generations of the truck in many significant respects.
#8. 2023 Mercedes-Benz EQ EQS
Price: $ 105,450
Engine: Electric
Transmission: 1-Speed Automatic Transmission
MPG: 97 MPG in the city & 97 MPG on the highway
Horsepower: 329
Torque: 417
KBB claims that Mercedes-new Benz's electric sub-brand, EQ, includes the EQS luxury sedan as its flagship model. Comparable in size to the S-Class sedan produced by the German carmaker, the EQS is a technology showcase that can be equipped with more power, all-wheel drive (AWD), and remarkable technologies, such as what Mercedes calls an optional Hyperscreen. There's plenty of space for people in both rows, and the interior is lined with plush leather as you'd expect. Mercedes clearly intends for its EV buyers to feel like they have purchased the finest, as seen by the inclusion of luxuries like as cushions fixed on the headrests and a reclining second row with integrated massaging capabilities.
Also Check: 10 Good Cheap First Cars For 17-Year Olds
#9. 2023 Hyundai IONIQ 5
Price: $ 42,745
Engine: Electric
Transmission: 1-Speed Automatic Transmission
MPG: 132 MPG in the city & 298 MPG on the highway
Horsepower: 225
Torque: 258
The Ioniq 5 may be had with either a 58 kWh battery pack (with a delay in availability) or a 77.4 kWh battery pack. The Ioniq 5 range's entry-level model, powered by the smaller battery pack, has a single electric motor that turns the vehicle's rear wheels. Models of the Ioniq 5 with the bigger battery come standard with either rear-wheel drive or an extra motor in the front, turning the car into an all-wheel-drive system.
As part of our real-world range test, Edmunds put an AWD Ioniq 5 through its paces and found it to have a maximum range of 277 miles on a single charge. Although not as impressive as some of the other EVs we tested, that range should be more than plenty for the average EV user.
#10. 2023 Porsche Taycan
Price: $ 88,150
Engine: Electric
Transmission: 1-Speed Automatic Transmission
MPG: 79 MPG in the city & 80 MPG on the highway
Horsepower: 429
Torque: N/A
As Porsche's first electric vehicle (EV), the Taycan is a high-performance premium sedan. The Taycan has quickly become one of our top picks for best electric vehicle on the market. The experts at Edmunds were pleased by the Porsche's ability to serve as a practical everyday driver and, with the push of a button, provide supercar-level acceleration. According to the EPA's calculations, the standard Taycan can go around 200 miles, while the extended-range variant can travel up to roughly 227 miles on a single charge of its bigger battery.
FAQS About Best Electric Cars 2023
Which electric vehicle has the most buyers?
Last year's breakout star, the Tesla Model Y, is now the best-selling electric vehicle in the world. Due to the overwhelming demand for this small SUV, manufacturing of the Model Y was increased by 50% in 2022. This electric sports car in a crossover body is the Model 3's surefooted sister, and it's extremely speedy.
Would you recommend an electric car?
A recent study by Consumer Reports found that electric car users may save up to 60% on gasoline costs compared to those who drive gas-powered vehicles. CNBC reports that over the course of a vehicle's typical lifetime of 200,000 miles, the total cost of ownership for a gas-powered vehicle is $94,540, while the cost of ownership for a comparable electric vehicle is $90,160.
Can you tell me how long the battery in an electric vehicle typically stays charged?
In turn, this reduces travel time and the amount of time between charges. The typical battery guarantee offered by manufacturers is between five and eight years. On the other hand, experts expect that a battery for an electric vehicle would last between 10 and 20 years before it has to be changed.
Does anybody know how much money it takes to charge an electric vehicle?
The cost per mile is around $0.03 if the car uses 27 kWh of power while traveling 100 miles at an electricity rate of 10.7 per kWh. If power costs $10.7 per kilowatt-hour, it would cost around $6 to completely charge an electric vehicle with a 200-mile range.
Do battery-powered vehicles lose power while not in use?
When parked, electric vehicles do really lose charge. This is a negligible amount, and by adjusting a few settings on your vehicle, you may further reduce the drain on your battery.