2023 Toyota 4Runner Specs, Price, MPG & Features
The 2023 Toyota 4runner stands out as a tough, old-school body-on-frame midsize SUV in a market saturated with sleek, high-tech SUVs based on passenger cars. Despite its lack of efficiency, comfort, or technology, it remains popular because of its rugged good looks, off-road pedigree, and adaptability. The 4Runner, like many SUVs based on pickup trucks, excels in off-road conditions, can tow a substantial load, and has enough room for passengers and goods. While several competitors have added body armor and all-terrain tires to make themselves seem rougher and compete with the 4Runner, few are designed for off-roading.
The 4Runner will be 40 years old for the 2023 model year. To mark the occasion, Toyota releases the 40th Anniversary Special Edition, a limited run of the reliable and reasonably priced SR5 model. This 4Runner stuns with its heritage-inspired design package and its one-of-a-kind bronze wheels and badging. The original 4Runner was based on vintage Toyota trucks, which are commemorated by the vehicle's signature red, orange, and yellow racing stripes.
Some alternatives to the 4Runner are more practical for city driving and have more up-to-date features to consider if you're not a fan of the 4Runner's retro styling or don't require its amazing off-road performance. The Jeep Grand Cherokee and the Ford Bronco, which have just undergone redesigns, are capable off-road and come loaded with modern conveniences and amenities. The Honda Passport is another option; it boasts cutting-edge amenities and enough off-road performance for most people. Check out our Expert 2023 Toyota 4runner review to see the complete assessment of the 4Runner's performance, fuel economy, and more from our testing experts. The 2023 Toyota 4runner price starts at $40,390.
2023 Toyota 4runner specs
Price:$40,390
Drivetrain: Four Wheel Drive
Engine: 4.0 L Regular Unleaded V-6
Horsepower: 270 @ 5600
Torque: 278 @ 4400
Transmission: 5-Speed Automatic Transmission
Wheelbase (inches): 109.8
Length (inches): 190.2
Width (inches): 75.8
Height (inches): 71.5
Passenger / Seating Capacity: 5
EPA Fuel Economy, combined/city/highway (mpg): 17 / 16 / 19
Maximum Towing Capacity (pounds): 5000
Toyota 4Runner: What's New for 2023?
Attention all owners of the 2023 Toyota 4runner: For the 2023 model year, there will be a 40th Anniversary Special Edition. It's based on the SR5 Premium package and comes standard with 4WD and 17-inch alloy wheels in a bronze finish. There are only 4,040 units scheduled to be produced, and they come in three colors: white, Midnight Black Metallic, and Barcelona Red Metallic. For your protection, every new 4Runner is equipped with blind spot monitoring and rear cross-traffic alert as standard equipment.
Also Check: 2023 Toyota Prius Specs, Price, MPG & Features
Energy Consumption & Actual MPG
Even the most fuel-efficient 2023 Toyota 4runner model only achieves 16 mpg in the city & 19 mpg on the interstate, demonstrating the vehicle's dated engine choices. The V-6 Wrangler, on the other hand, is expected to reach 19 cities and 24 highway mpg. As part of our comprehensive testing, we drove a 4Runner at 75 mph on 2023 Toyota 4runner mpg the vehicle returned 22 mpg, which was better than we had anticipated.
Interior
There is an extra row of seats for two in the SR5, SR5 Premium, and Limited trim levels. The 2023 Toyota 4runner is a midsize SUV. Therefore it features the standard five seats inside. Starting with cloth, upper trimmings go through faux leather and, finally, genuine leather. In honor of its 40th anniversary, this limited edition release has bronze-colored contrast stitching.
It's been 13 years since this iteration of the 4Runner first debuted, so the dashboard may have appeared modern then, but interior design has gone on considerably since then. Nevertheless, it serves its purpose and is acceptable, with plenty of big, straightforward buttons.
It's also nice that the driver's seat can be adjusted electronically in 8 different ways and that the steering wheel is covered in leather. Each model's infotainment system is operated via a touchscreen display 8 inches in size and is compatible with Apple CarPlay, Android Auto, and the Amazon Echo.
There is a 40/20/40 split between the seats at the back (or the second row, if there is a third row). 2023 Toyota 4runner interior seats may be folded, reclined, and divided into two pieces. There is a big 32.9 inches of space for your legs here. That's not very good. Third-row legroom measures 29.3 inches, so it's best for youngsters.
The cargo space is convenient, especially with the available third-row seats that split 50/50 and fold flat. 89.7 cubic feet of space is available, with 47.2 cubic feet available beneath the second row.
Exterior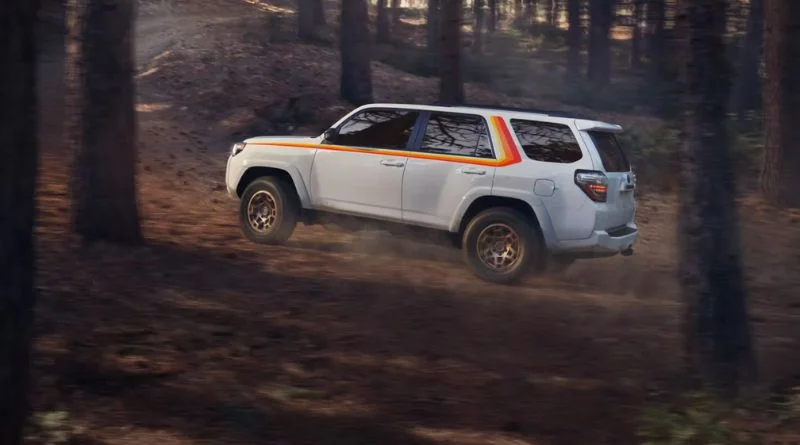 The 2023 toyota 4runner exterior SUV is attractive to those who value features like its high ground clearance (9.6 inches), wide approach angles (33 degrees), and low departure angles (26 degrees) (4-wheel-drive models only.)
The TRD Pro, as one would expect, looks the most robust thanks to its model-specific grille, 17-inch alloy wheels shod in all-terrain tires, specialist suspension components (made by the highly acclaimed Fox firm), and TRD roof rack. And by the way, TRD stands for Toyota Race Development, although it has more sway than just on the track.
The 40th Anniversary Special Edition is brand-new for 2018, and it comes in three different colors: white, Midnight Black Metallic, and Barcelona Red Metallic. The body is also enlivened with a red/orange/yellow framework echoing Toyota's off-road racing vehicles of the past.
The legacy grille treatment is also included on this model; instead of a Toyota emblem, the word Toyota is spelled out in all capital letters. Plus, bronze-finished 17-inch rims.
2023 Toyota 4runner trims Levels
>SR5 – MSRP From $39,640
While it may be the base model, the SR5 has many standard features. Cloth upholstery, a leather-wrapped steering wheel, 17-inch wheels, roof rails, a rear power window, skid plates, a rear seat that folds down in a 40/20/40 split, heated mirrors, remote keyless entry, a push-button starter, LED taillights, air conditioning, and a four-way manually adjustable passenger's seat are all included as standard equipment. Toyota's array of add-ons and bundles is difficult to navigate. You can get a set of running boards for $345 and a sliding rear luggage deck for $350. Depending on your chosen package for 2023 Toyota 4runner features, you may have a third row of seats and a premium sound system for up to $2,735.
>SR5 Premium – MSRP From $42,450
The SR5 Premium goes above and beyond the SR5 with features including heated front seats, a motorized passenger seat, and an auto-dimming rearview mirror.
The SR5 Premium has the same customization choices as the SR5, with the addition of a moonroof for an extra $630.
Also Check: 2023 Toyota GR Corolla Specs, Price, MPG & Features
>TRD Sport – MSRP From $42,500
Compared to the SR5, the TRD Sport upgrades the front seats with heating elements, the upholstery with synthetic leather, the hood with a scoop, the suspension with off-road components, and the inside trim with TRD logos. Automatic running boards may be had for the TRD Sport for $1,500.
>TRD Off-Road – MSRP From $43,485
The TRD Off-Road comes with a transfer case skid plate, matte black wheels, and TRD badges in addition to the normal 4WD, locking rear differential, terrain select system, all-terrain tires, and TRD emblems. The available features are identical to those of cheaper variants.
>TRD Off-Road Premium – MSRP From $47,295
The TRD Off-Road Premium combines the TRD Off-standard Road equipment with the SR5 Premium, thus the name. It has the same set of extras as the base model does.
>40th Anniversary Special Edition – MSRP From $47,805
The 40th Anniversary Special Edition is based on the SR5. However, it has a unique grille, outside stripes in yellow and orange, bronze wheels, and bronze stitching throughout the inside. There are no add-ons for this trim level.
>Limited – MSRP From $48,375
Leather seats, a sunroof, 20-inch wheels, chrome exterior elements, heated and ventilated front seats, automatic temperature control, driver seat memory, automatic headlights, a JBL sound system, a sport-tuned suspension, and GPS are all included in the Limited trim. Optional features for the Limited are the same as those for the base model.
>TRD Pro – MSRP From $54,605
The TRD Pro is the toughest in the collection, and it's built for severe off-roading. Off-road features include a TRD roof rack, front skid plate, TRD wheels, all-terrain tires, Fox dampers, and an off-road suspension. You can get many of the same upgrades on the TRD Pro available on less expensive trims.
Engine, Transmission, & Performance
Every 2023 Toyota 4runner engine is powered by a 4.0-liter V-6 that produces 270 horsepower and is mated to a five-speed automated gearbox. The antiquated engine offers mediocre performance; the last model we tested took 7.7 seconds to reach 60 mph in rear-wheel drive and 11.1 seconds in full-time four-wheel drive. The automatic's sluggish reflexes don't help smooth out the engine's jerky performance and downshifts sometimes demand forceful right-foot inputs to propel the 4Runner forward. Even so, the Toyota is easier to handle than the ungainly Wrangler. Our time behind the wheels of the off-road-oriented variant showed off the SUV's significant ground clearance, and its body-on-frame structure was backed by a weak foundation that absorbed a variety of terrain rather well. The 4Runner's steering is weak and vague, which may turn off some drivers, but it is adequate for navigating tight trails and parking garages. Although the Toyota drives like it's from the 1990s, it can hold its own against newer rivals, such as the V-6 Dodge Durango, when it comes to speed. The 2023 Toyota 4runner towing capacity of 5,000 pounds surpasses that of the Ford Edge and Wrangler but falls short of the 8,700-pound maximum of the more powerful Durango.
FAQs About 2023 Toyota 4Runner
Will the 4Runner be redesigned in 2023?
Unfortunately, the new Toyota 4Runner won't be coming out in 2023. (it could be 2024 4Runner or maybe even 2025 4Runner). There are no plans to give it a new exterior design or revamp the cabin. Nonetheless, there will be some substantial upcoming adjustments that should be discussed.
When can I buy a 2023 4Runner?
The new Toyota 4Runner 2023 is now available in the market for purchase.
Will the 2023 4Runner have better gas mileage?
The 2023 Toyota 4Runner will have fuel mileage of combined/city/highway (mpg): 17MPG combined, 16 MPG in the city and 19 MPG on the highway.
Will the 2023 4Runner be made in Japan?
Yes, the new 4Runner is made in Japan at Toyota's Tahara Plant in Aichi.
Are 4Runner and RAV4 the same?
No, 4Runner and RAV4 are not the same. The Toyota 4Runner has more standard horsepower and cargo room than the Toyota RAV4, but the RAV4 gets superior gas mileage while maintaining its class-leading performance.
Conclusion
Compared to the other midsize crossovers and SUVs crowding streets and suburban driveways in 2023, the Toyota 4Runner stands out. The 4Runner is a throwback in the truest sense of the word, with its pickup truck roots and genuine off-road capabilities. Enhanced variants have thicker underbody shielding, an electronically locking rear axle, stronger suspension parts, and knobbier tires. All 2023 Toyota 4runner horsepower have a 270-horsepower V-6, an automatic gearbox, and your choice of rear-wheel or all-wheel drive. Unfortunately, compared to the powertrains found in body-on-frame competitors like the Ford Bronco and Jeep Wrangler, that one is a relic. Although Toyota's 4.0-liter engine is known for being dependable, it consistently wastes gasoline at an alarming pace. There is enough room for passengers and stuff inside the truck, but the cabin is poorly made. This SUV is built on a truck platform. Thus, it handles and rides roughly on standard roads. The 4Runner has capabilities that set it apart from its contemporaries, but it's dated outside of those specific situations.